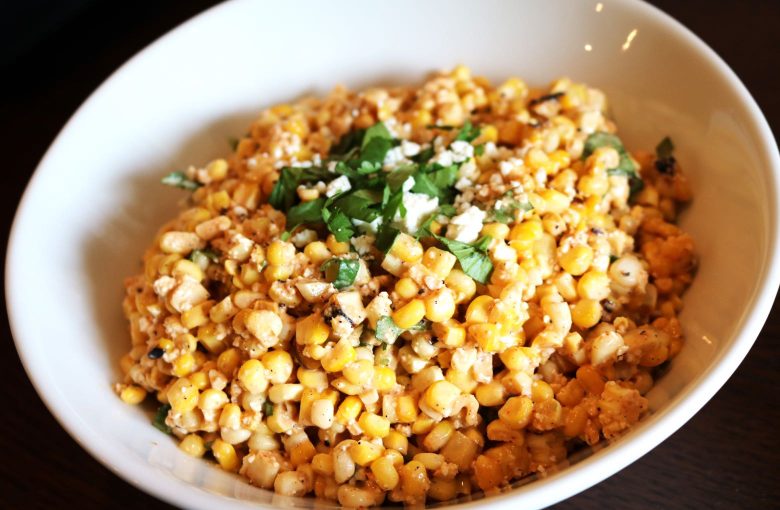 The Holiday weekend is almost here and I am busy thinking about all the yummies I am going to fix. One dish I know for sure is this Mexican Street Corn Salad. It is a perfect side for this Holiday weekend.

It is so much more than corn
Ok, obviously corn is a HUGE part of this dish but that is not all there is to it. There is also lime, cheese, herbs, chili powder, sour cream…and a few more things.
Let me tell you it all comes together to create a delicious corn salad, that you can serve warm or chilled, that everyone is sure to LOVE!!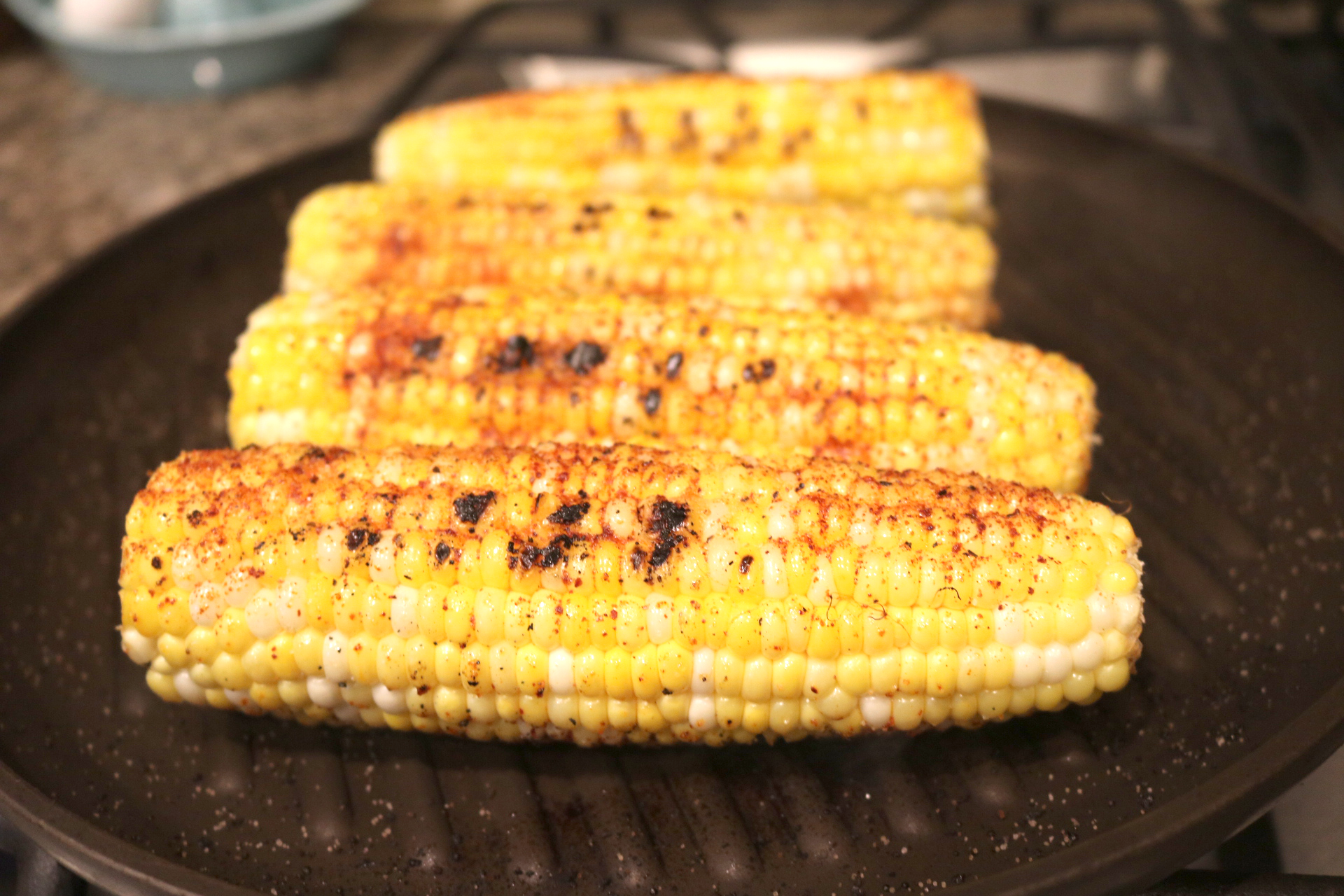 It starts with a little char
I have made this dish a few times. Sometimes I grill the corn outside and sometimes inside, and either is delicious, so this time I went with inside, just to save some time.
I sprayed the corn with a little olive oil spray and then seasoned with salt, pepper and chili powder and then let it get nice and charred. This will add a ton of flavor to the dish.
This is also my favorite way to eat corn on the cob period…I love to grill it so much.
If you are using thawed frozen corn, I would still sauté it in a pan with a little olive oil and spices to get a little char on it. It really does add so much flavor.

Take it off the cob
I have a simple little trick to get corn off the cob. I place a measuring cup or a bowl, upside down, in the middle of a baking sheet that has high sides. Place the cob on top of the cup and using a VERY sharp knife I run it down the side of the cob cutting off all the kernels. As you cut them they fall into the pan, making it super easy to grab them all up after you are done.
I didn't know this tip the first few times I cut the kernels off the cob and they went EVERYWHERE!! With this tip all the kernels stay in one place making it so much easier.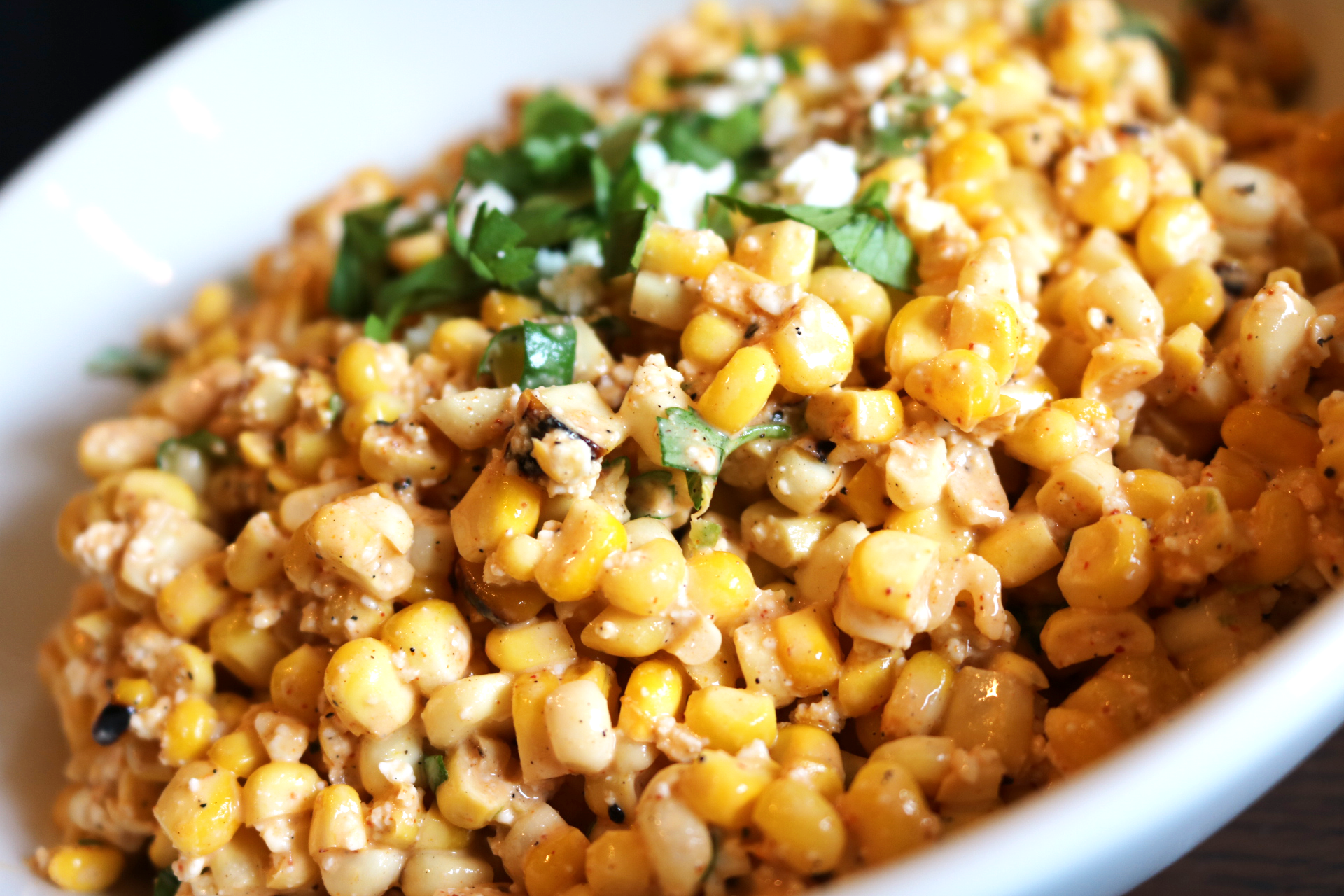 Now comes my favorite part…the DRESSING
To make this salad really something AMAZING I combined a few of my favorite things…sour cream, mayonnaise, lime juice, cilantro and cojita cheese (or queso fresco). For me I love either, but cojita cheese is my favorite.
All these flavors come together to make a rich & creamy dressing that really makes this dish so, so good. The corn is still the star of the dish but this dressing helps take it to the next level.
Love this so much!!
Chelle Chelle
8-10 servings
Mexican Street Corn
A quick and easy Mexican Street Corn Salad that is loaded with tons of flavor and perfect for your next summer get together
5 minPrep Time
20 minCook Time
25 minTotal Time
Ingredients
8-10 ears of corn on the cob
Olive oil spray
1 tablespoon chili powder
3 teaspoons salt
2 teaspoons pepper
Dressing
1/4 cup mayonnaise
1/4 cup sour cream
2 limes, juiced & zested
1/4 cup chopped cilantro leaves (about 1 bunch)
1/4 - 1/3 cup cojita cheese (or queso fresco)
salt & pepper to taste
Directions
Preheat grill or grill pan to medium heat
Spray corn with olive oil spray, or rub with olive oil
In a small bowl combine chili powder, salt & pepper
Sprinkle over all sides of the corn
Place onto grill and cook on all sides for 3-4 minutes per side, or until corn begins to brown and get tender
Remove from grill and let cool for about 5-10 minutes, or until you can handle it
In the middle of a large bowl place a small bowl, or measuring cup, upside down
Place cob on top of upside down bowl and using a very sharp knife carefully remove kernels by running knife down each side of the cob, letting the kernels fall into the larger bowl, repeat with remaining cobs
Set aside
In a small bowl whisk together mayonnaise, sour cream, lime juice & zest, and 1/2 of the cilantro until well combined
Pour over corn and stir to combine
Add in cojita cheese and remaining cilantro (reserving a little of both for a garnish), stirring until just combined
Taste and add in salt & pepper as needed
Serve immediately or chill until ready to serve
Top with remaining cheese and cilantro before serving
ENJOY!
Notes
Add in more/less lime juice & cheese to your preference.
To add some heat add in some jalapeño peppers or a dash to two of cayenne pepper
7.8.1.2
354
https://sparklesnsprouts.com/2017/06/29/a-must-make-holiday-weekend-side/
All images are the property of Sparkles n Sprouts, to use image please contact the webmaster at michelle@sparklesnsprouts.com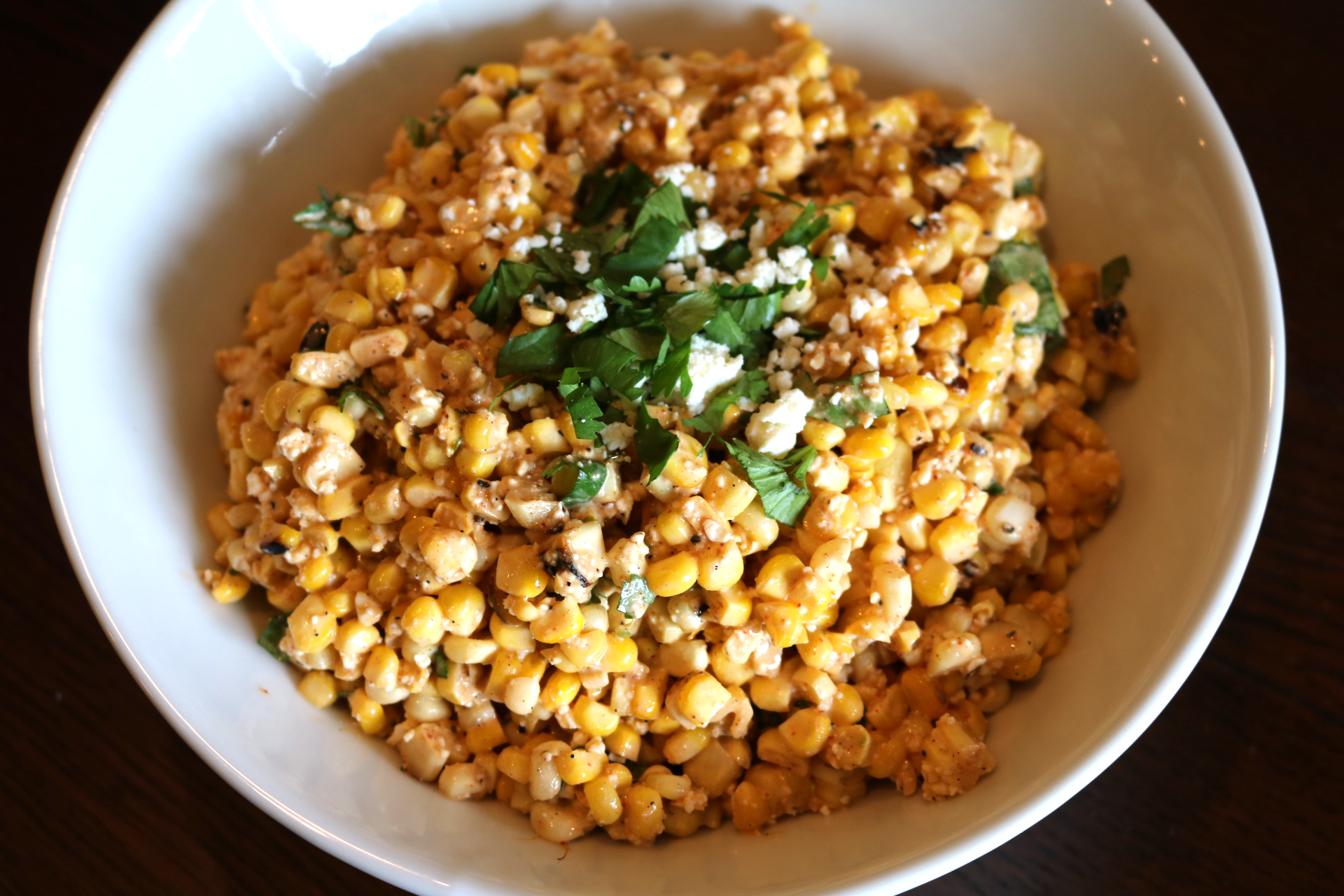 This is really is a must make for your next get together. It is a dish everyone is sure to LOVE!!!
Pin it NOW so you don't lose it!!