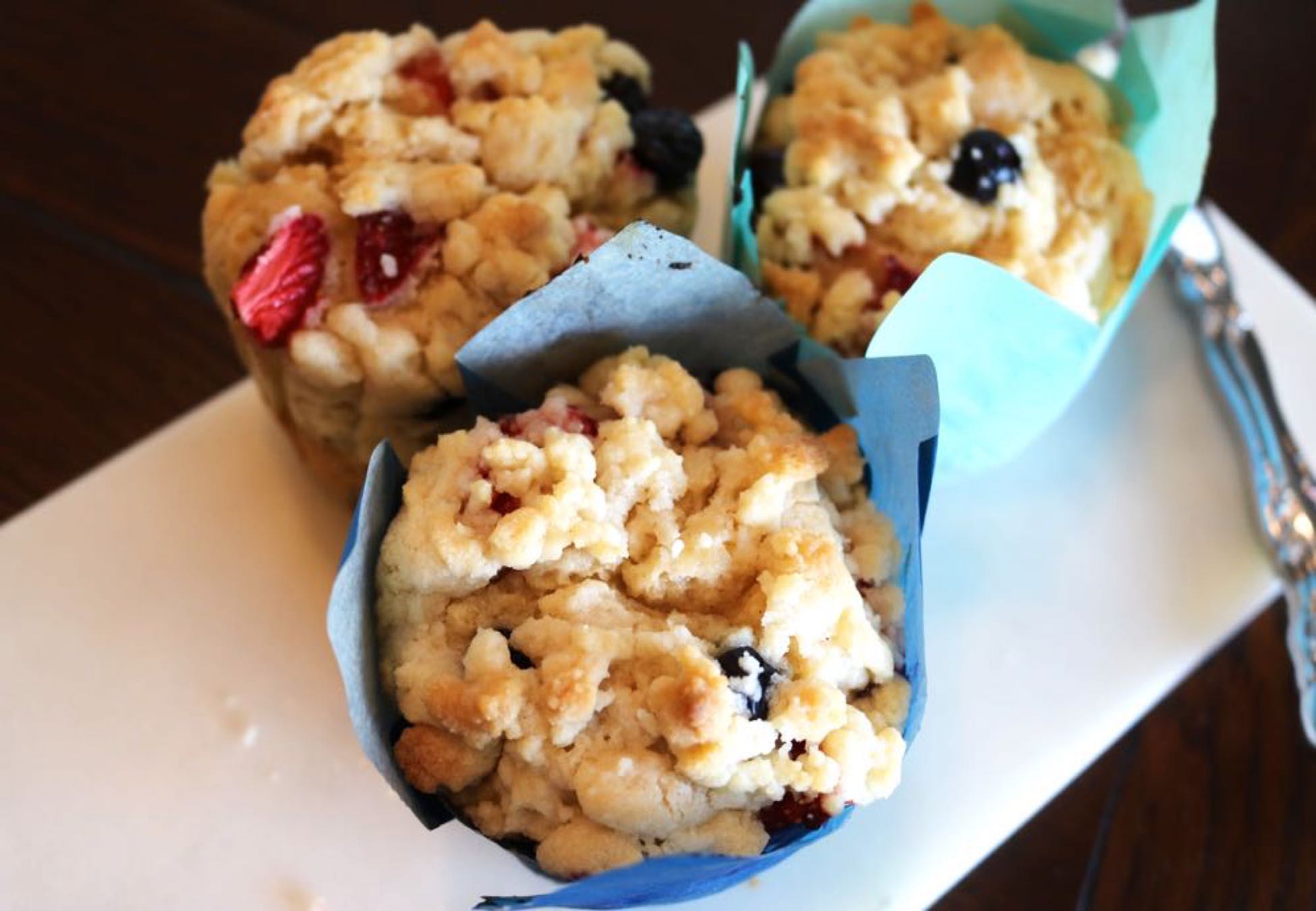 Triple the Berries…Triple the Yummy
I cannot get over all the beautiful berries that bursting at my local grocery store and farmers market. It seems everytime I go to the store I cannot help but buy several…they just look that good.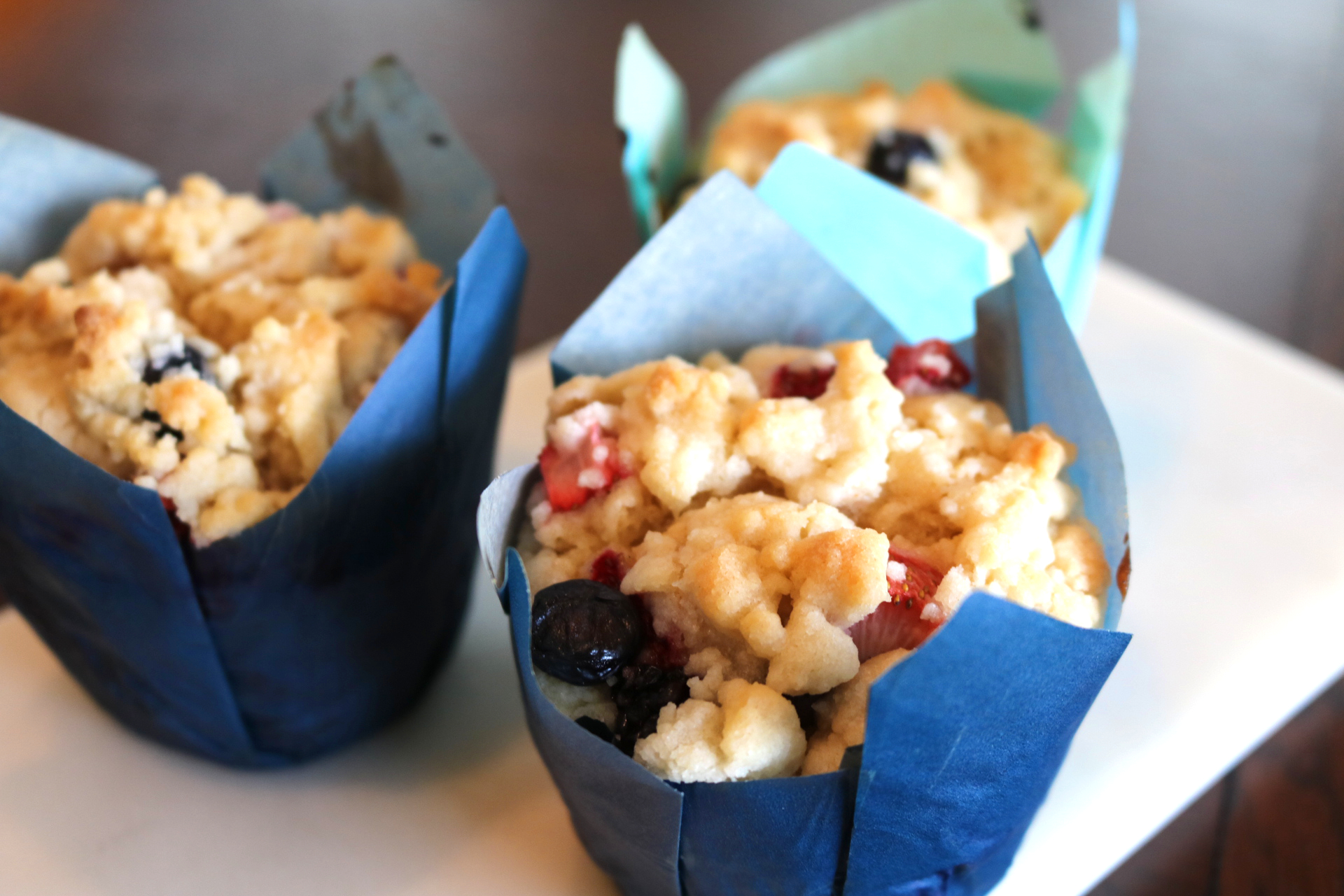 What to do with all these berries?
As much as I can't resist the berries I now have to figure out what to do with all of them. First I made my Berry Smoothie, and then I put some on ice cream. Next I made my Berry Tart and then I just ate them on their own. I used a lot of them but there was still some left…so what could I do next?
Make Triple Berry Muffins, of course.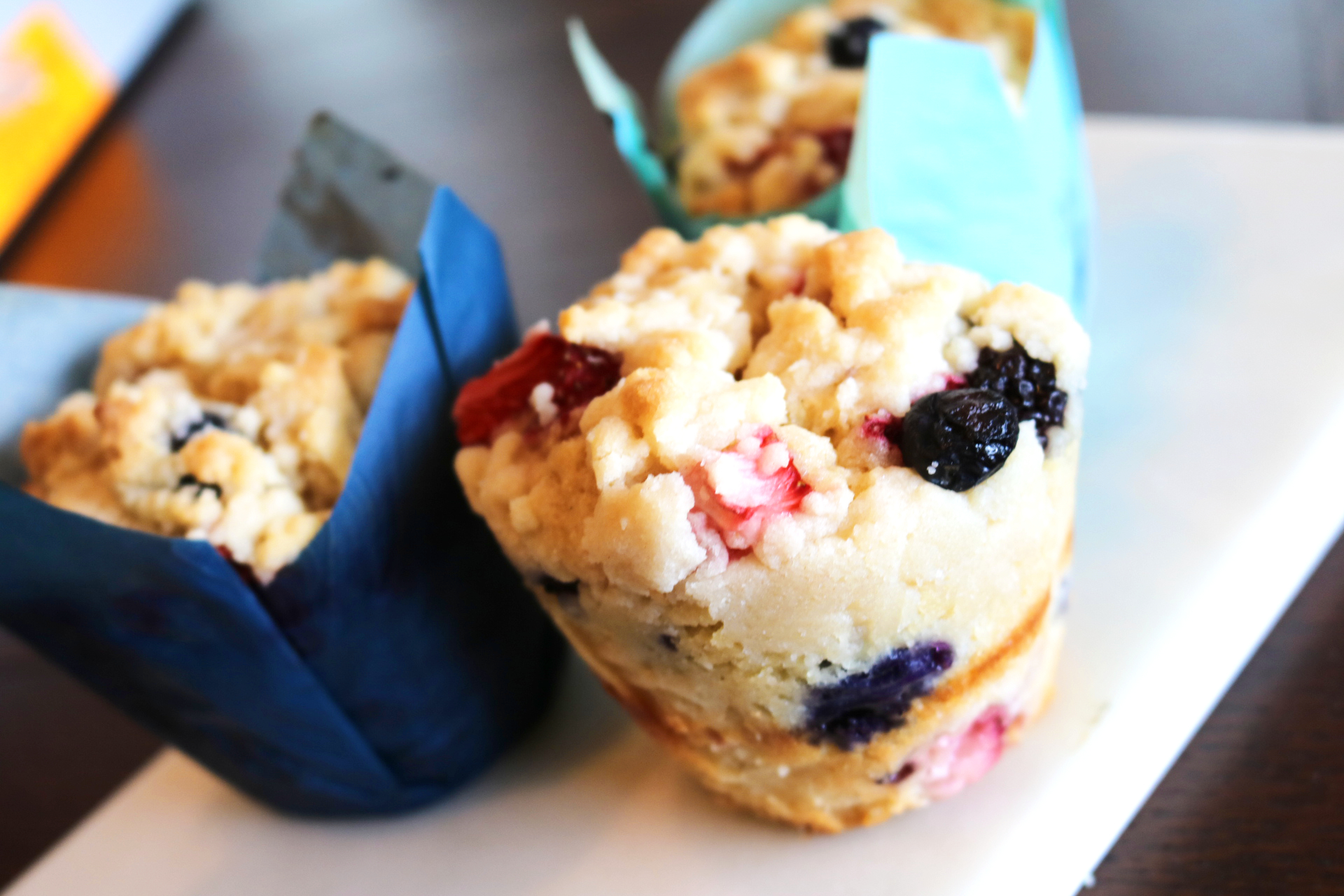 Bursting Berries in every bite!
For these muffins I went with a recipe that is light but still able to support all the berries…because I was going to be using A LOT of them. For this batch I went with blueberries, strawberries and blackberries. I cut the strawberries and blackberries to help them blend into the muffins easier, but they were still super yummy with each bite.
If you don't have all 3 berries on hand these muffins are great with just blueberries or a combo of whatever you have on hand. Just make sure to use all 3 cups of berries…that way you have berries in each and every bite.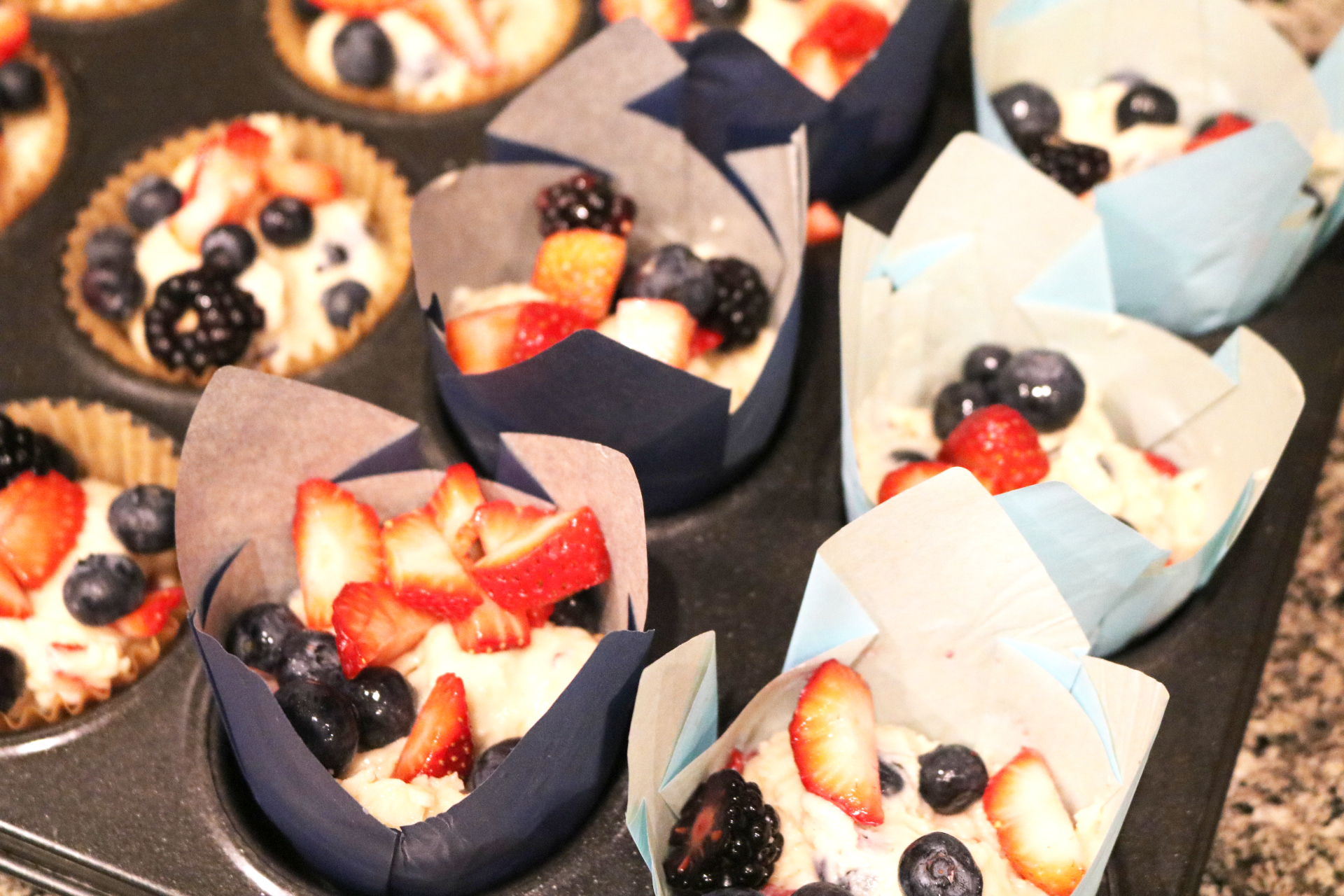 A little extra on top
For this recipe I used 1/2 of the berries in the batter and then I dropped the second 1/2 on top of the muffins. I love doing this with all my berry muffins.
It adds so much extra yummy to each bite, and it also makes them so pretty!!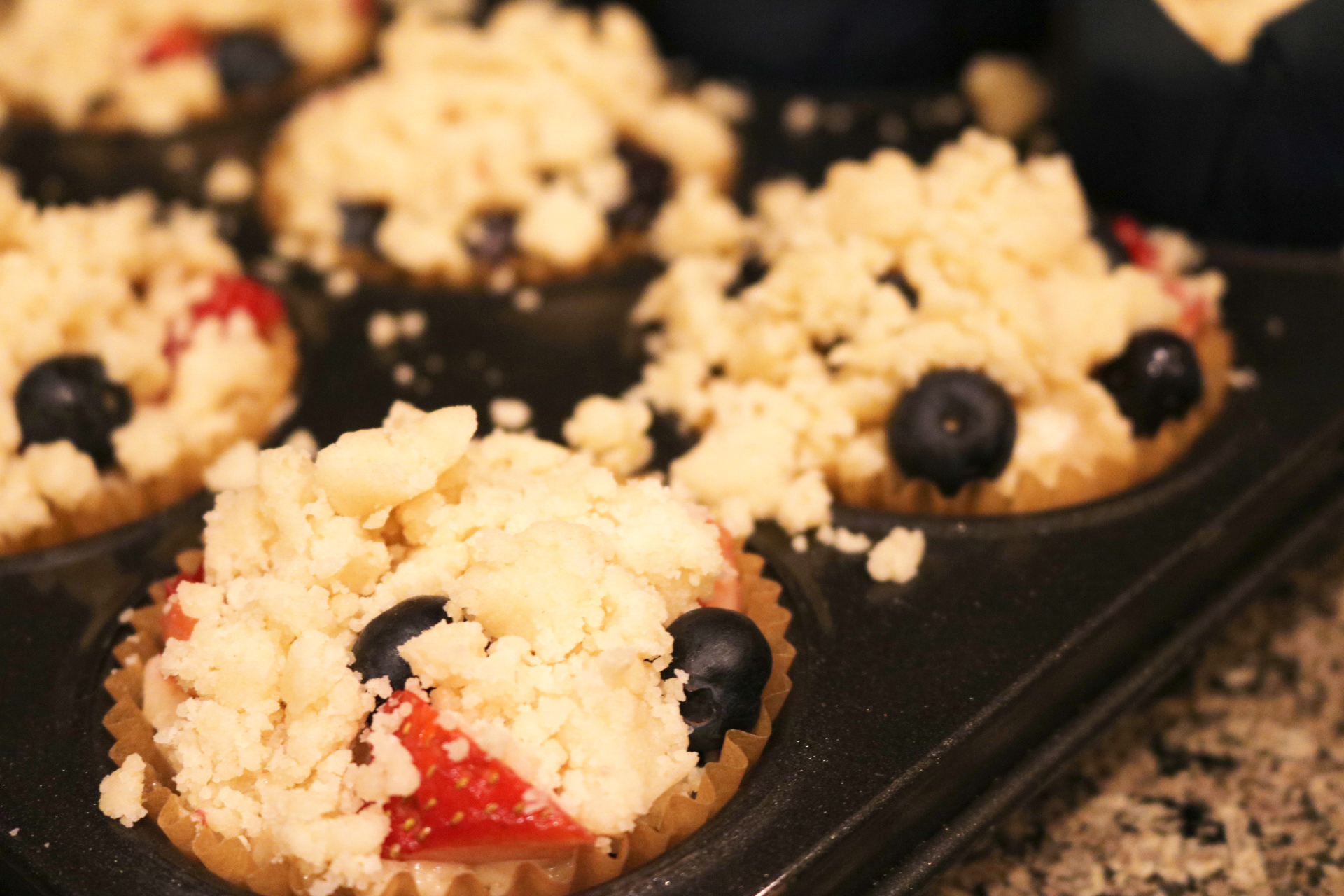 Oh yeah and we can't forget about the crumble…
Now I am going to tell you a secret my favorite part of this muffin is the top…the crumble. It is buttery, delicious and a perfect top to this berry filled muffin.
As you can see I piled it pretty thick. The crumble was also my brothers favorite part…it is so, so good!
Go ahead and start mixing
Chelle Chelle
12 muffins
Triple Berry Muffins
Light and fluffy muffins loaded with tons of berries making each bite a berrylicious bite.
20 minPrep Time
20 minCook Time
45 minTotal Time
Ingredients
Muffins
2 cups all-purpose flour
3 teaspoons baking powder
1/2 teaspoon salt
2 large eggs
1/2 cup sugar
1/2 cup, brown sugar
1 cup sour cream (or plain greek yogurt)
1/2 cup canola oil
1 teaspoon vanilla bean extract (or vanilla extract)
1 cup, strawberries, cut into quarters
1 cup blueberries
1 cup blackberries, cut in half
1 tablespoon all-purpose flour
Crumb Topping
1 cup all-purpose flour
3/4 cup sugar
1/2 cup butter, melted
Directions
Preheat oven to 400
Line a muffin tin with paper or silicone liners
In a medium bowl whisk together flour, baking powder and salt
In a large bowl whisk together eggs, sugar, brown sugar, sour cream, oil & vanilla
Add flour mixture into egg mixture and stir until just combined, making sore to not over mix
In the flour bowl toss together 1/2 of the berries and 1 tablespoon of additional flour
Add floured berries into muffin batter and gently stir until berries are just incorporated
Scoop batter into prepared muffin tin, dividing evenly between the 12 liners
Gently press in remaining fruit onto the top of muffins
In a small bowl (or the measuring cup you melt the butter in) mix together crumb ingredients until crumbly, adding in more flour of needed
Sprinkle crumb topping over muffins
Place into oven and reduce heat to 375 immediately
Bake for 18-22 minutes or until a toothpick inserted comes out clean and topping begins to brown
Remove and let stand for 5 minutes before serving
ENJOY!!
Notes
Use any combo of berries you prefer, or just blueberries if you prefer.
7.8.1.2
340
https://sparklesnsprouts.com/2017/06/14/triple-the-berries-triple-the-yummy/
All images are the property of Sparkles n Sprouts, to use image please contact the webmaster at michelle@sparklesnsprouts.com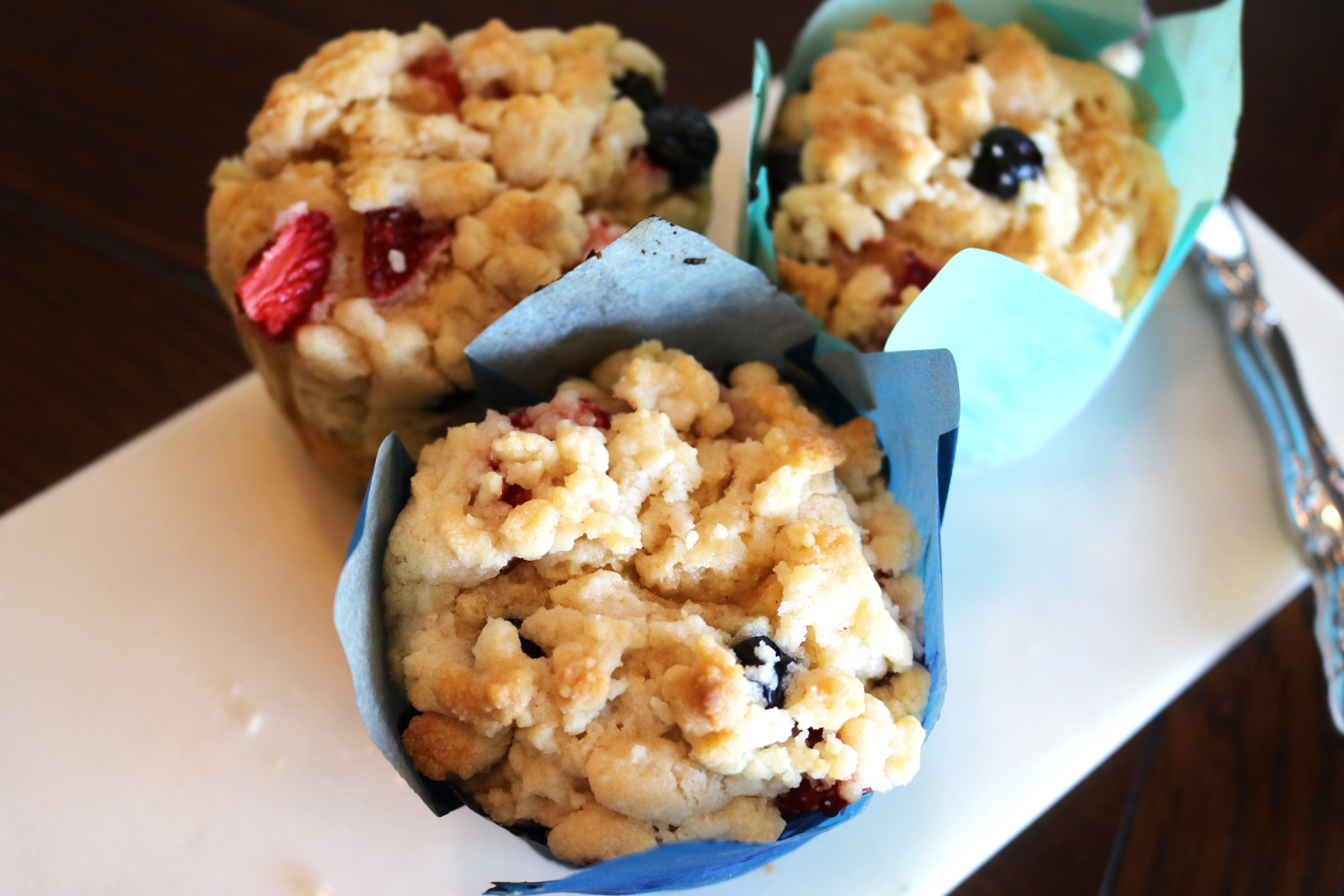 Not just for breakfast
I love these muffins so much I had them not only for breakfast but also for an afternoon snack and my dad had one for dessert after dinner. They are perfect to keep on hand this summer for a berrylicious treat anytime of the day.
These are definately our favorite muffin and I know they will be yours as well.