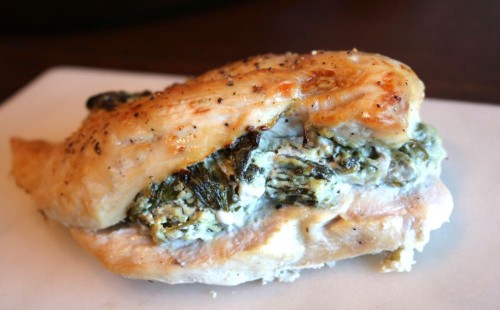 Spinach & Cheese Stuffed Chicken
Have you ever just stared into your freezer and wondered how in the world you are going to make something yummy for dinner with what you have? Well, that was me not too long ago and then it hit me…I am going to stuff some chicken.
I mean who doesn't love a little stuffed chicken every now and then?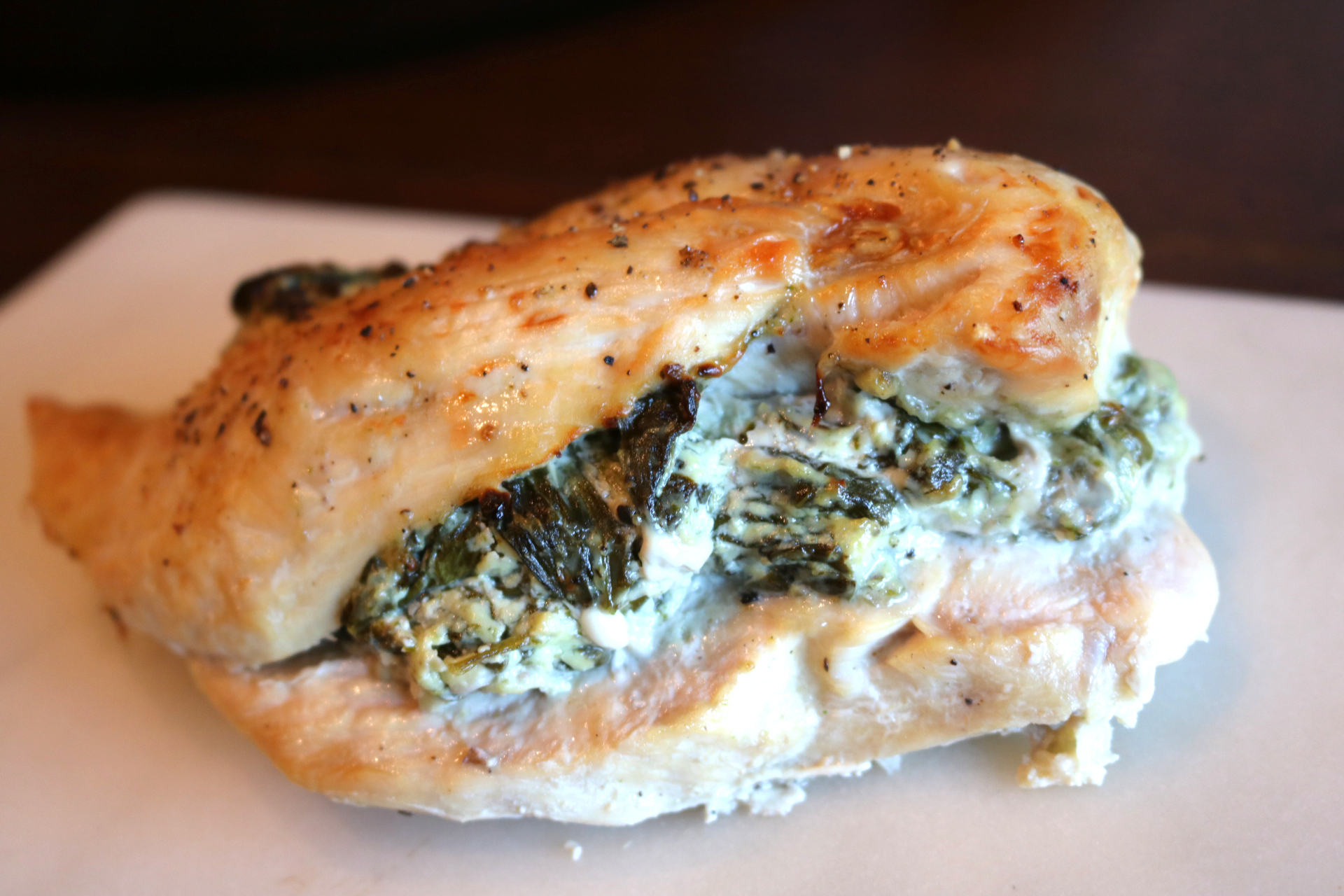 What to stuff it with…
Now that I decided to stuff chicken breasts what was I going to stuff them with? Off to the fridge I went and discovered spinach, garlic (I always have minced garlic), cream cheese and goat cheese.
I don't know about you but that sounded pretty good to me. So off I went.

Be careful not to cut thru the bird
In my opinion the most difficult part of this recipe is actually cutting the chicken breast, and not splitting it completely in half.
First you have to start with a super sharp knife. A sharp knife will make this job so much easier. Also make sure it is straight edge knife, and not serrated.
Secondly, start on the widest end and slice 3/4 of the way through the chicken breast. As you slice it open it so you can fill it easily. If you can master this step you will have no problem stuffing any chicken breasts going forward.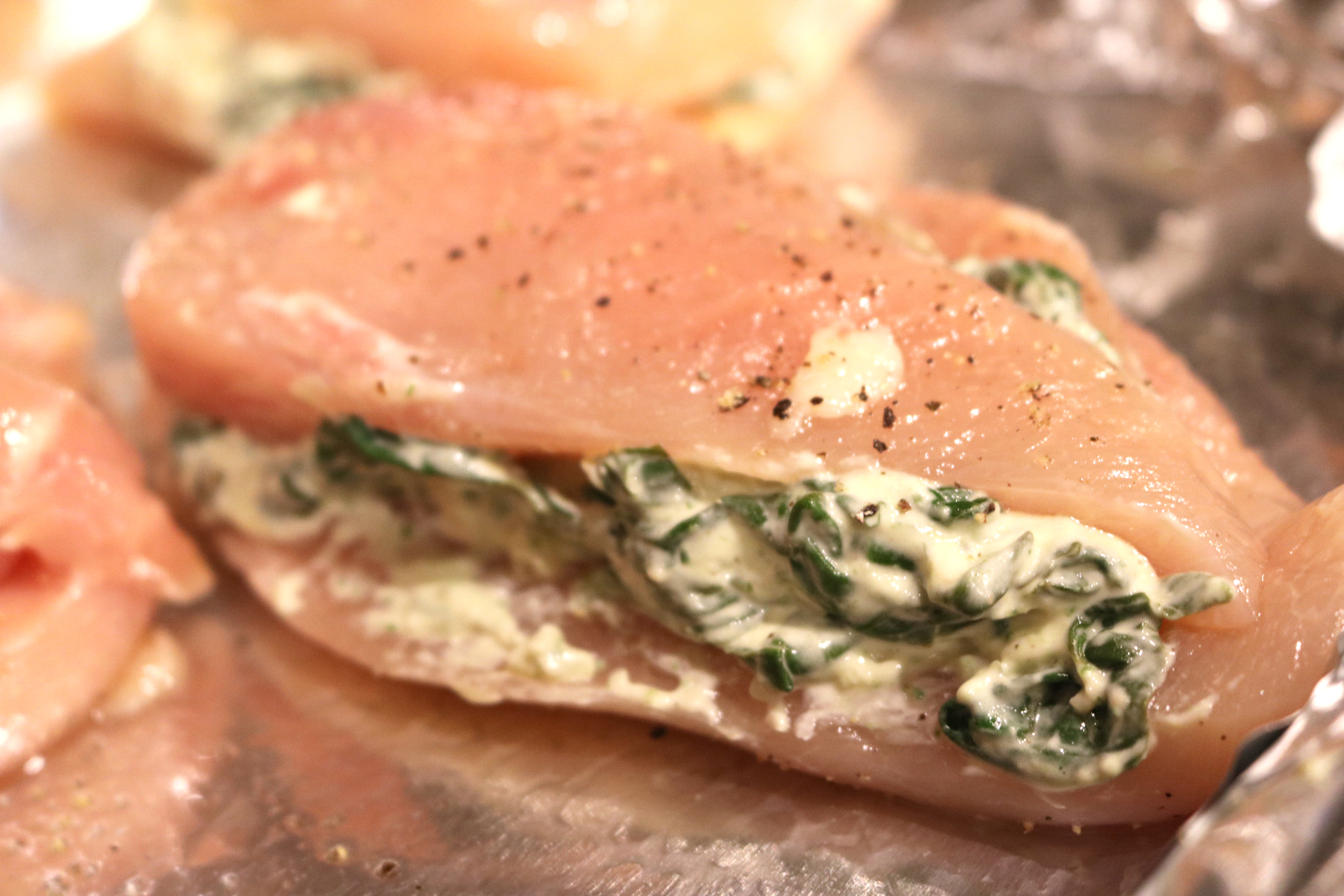 Making it easy…
To make this dish super easy I decided to quickly wilt the spinach in some olive oil and then stir in the goat cheese and cream cheese to make the filling super easy too spread.
Sometimes fillings can be a little difficult to spread but this one was so easy, especially since it was heated up a bit.
Come on you know you wanna try it…
Chelle Chelle
4 servings
Spinach & Cheese Stuffed Chicken
A hearty stuffed chicken that is loaded with tons of flavor, but only a few ingredients. Even better it comes together super fast making it a perfect option for dinner this week.
10 minPrep Time
30 minCook Time
45 minTotal Time
Ingredients
2 teaspoons extra virgin olive oil
2 cloves minced garlic
1 package Baby Spinach (I used a 10oz bag)
1 teaspoon salt
1 teaspoon black pepper
4 ounces goat cheese
2 ounces cream cheese
2 ounces grated parmesan cheese
1 1/2 pounds boneless, skinless chicken breasts
2 teaspoons salt
1 teaspoon black pepper
Directions
Preheat oven to 425
Line a rimmed baking sheet with foil and spray with nonstick spray, set aside
In a medium skillet heat olive oil over medium heat
Add in garlic and spinach, stirring to coat spinach with olive oil
Keep stirring until spinach is wilted down tender
Remove from heat and add in salt, pepper, goat cheese, cream cheese & parmesan cheese
Stir constantly until cheese is melted and mixture is well combined
Set aside
Using a sharp knife butterfly the chicken breasts, making sure to only cut about 3/4 of the way through
Season chicken with salt & pepper on inside and outside of the chicken
With the chicken laid open spread 1/4 of the spinach mixture and then fold chicken back over and place onto prepared baking sheet
Bake in the oven for 20-25 minutes or until chicken is just cooked through and a little browned on top
Remove and let stand for 4-5 minutes before serving
ENJOY!
Notes
Each chicken breast is 5 WW Smart Points
Nutritional Info
Calories 173 - Calories from Fat 99 - Total Fat 11 g - Saturated Fat 5.4 g - Monounsaturated Fat 4.3 g - Polyunsaturated Fat 1.1 g - Trans Fat 0 g - Cholesterol 33 g - Sodium 1925 mg - Potassium 494 mg - Total Carbohydrate 4 g - Dietary Fiber 1 g - Sugars 0 g - Protein 14 g
Vitamin A 140 % - Vitamin C 33 % - Calcium 12 % - Iron 17 %
7.8.1.2
333
https://sparklesnsprouts.com/2017/05/30/stuffed-chicken/
All images are the property of Sparkles n Sprouts, to use image please contact the webmaster at michelle@sparklesnsprouts.com

Make it just how you want
Ok I know some peeps are not fans of goat cheese and I understand that…so here are some additional options for the filling.
You could use just cream cheese, spinach, some chopped artichokes and garlic. You could also use cream cheese, arugula, sun dried tomatoes and some fresh herbs. You could also maybe combine cherry tomatoes, mozzarella and some basil.
The possibilities really are endless. Just have fun with it!