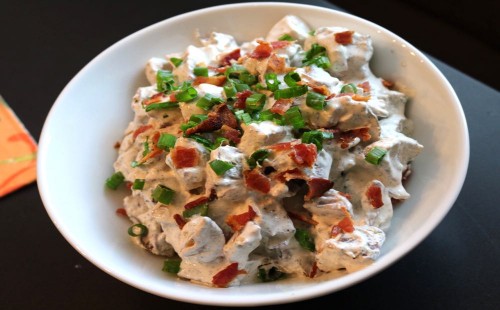 potato salad is a must have this weekend…
Memorial Day is fast approaching and that means it is time to start planning for the big BBQ you are going to be having and potato salad is a must have on our menu…and this potato salad is a delicious one!!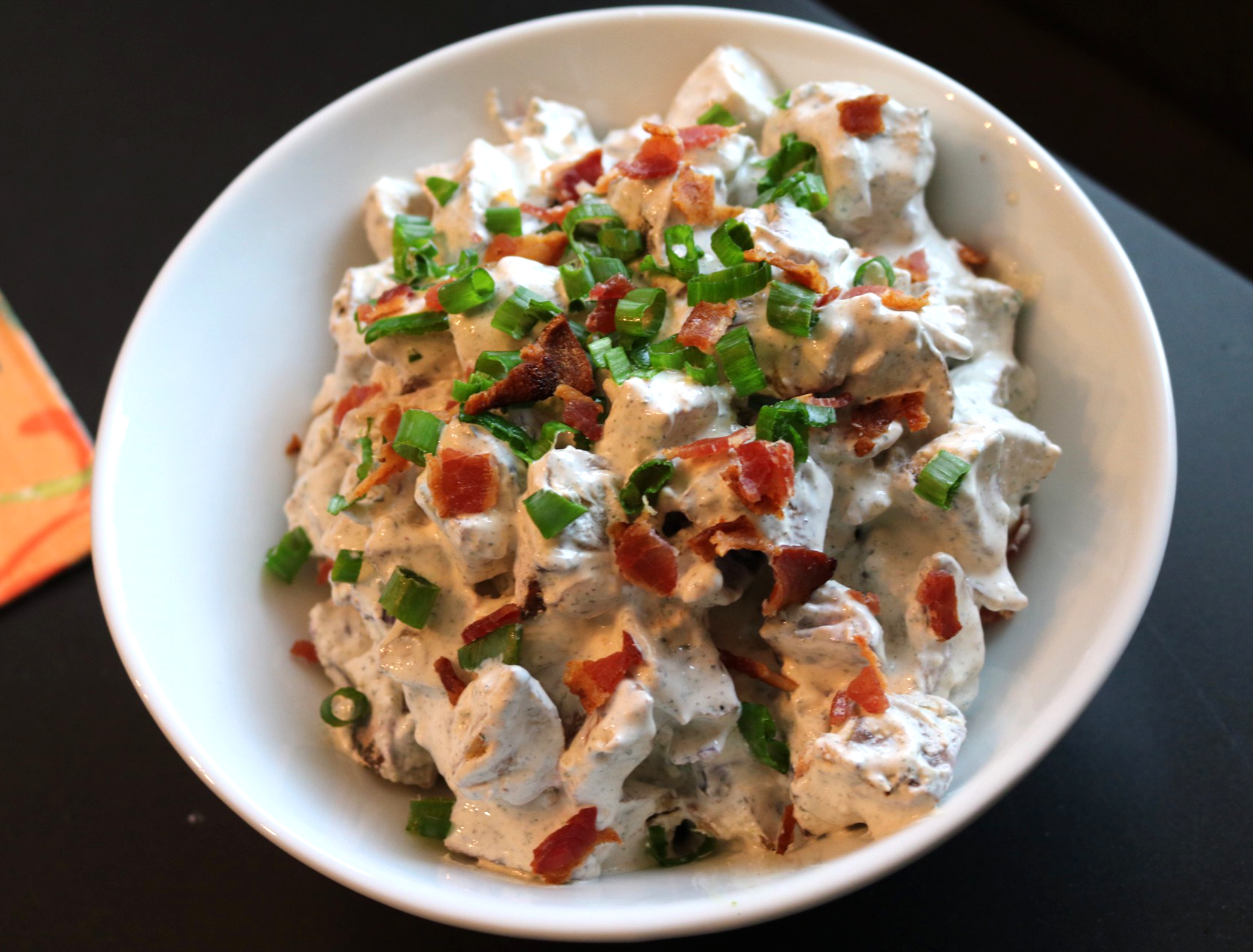 Now I have made my fair share of potato salads over time but this definately one of my favorites. It all starts with the bacon. I mean any recipe that starts with bacon has to be yummy. Next comes the potatoes, I decided to roast the potatoes in just a tad bit of bacon grease (it's just a little)…I mean I could have just stopped there and been so, so happy but it only gets better.
A litte extra something
To really take this potato salad to the next level I added in some ranch seasoning (my homemade recipe is here) and some other goodies like sour cream, mayo, mustard and some Worcestershire sauce. Yes, I said Worcestershire sauce…it adds a depth and a tang to the recipe that is a little unexpected but so, so good.
I then topped it all off with some green onions, I just love the combo of bacon, green onions and potatoes.
A classic (with a twist)
MJ
12 servings

Ranch Potato Salad

A fun take on a traditional potato salad with lots of flavor and tons of yummy goodness

10 minPrep Time

1 hrCook Time

3 hrTotal Time

Ingredients

1/2 lb bacon

3 lbs red potatoes, washed and cut into bite size pieces

1 tsp extra virgin olive oil

2 tsp salt

2 tsp pepper

2 cups reduced fat sour cream

1 tbsp mayonnaise

3 tbsp ranch seasoning (1 whole package or you can use homemade)

1 tsp dijon mustard

1 tsp worcestershire sauce

2 tsp garlic powder

1 tsp salt

1 tsp pepper

1/4 cup chopped green onions, divided

Directions

Preheat oven to 425

Line a rimmed baking sheet with several layers of foil

Place a baking rack (or cooling rack) onto foil

Line baking rack with bacon, trying not to overlap slices

Bake in oven for 20-25 minutes, or until bacon is starting to crisp

Remove from oven and place bacon onto paper towel lined plate

Remove baking rack from pan and drain grease from pan leaving a tbsp in the pan (leave the foil in place)

Place cut potatoes onto pan

Drizzle olive oil over potatoes, and toss to coat potatoes

Sprinkle salt & pepper over potatoes, tossing once again

Place pan back into oven and cook for 30-45 minutes, or until potatoes are tender

Remove from oven and let potatoes cool on pan for 15 minutes

In a large bowl whisk together sour cream, mayonnaise, ranch seasoning, mustard, worcestershire sauce, garlic powder, salt, pepper, 1/2 of the chopped green onions and 1/2 of the bacon crumbled

Reserve 1/2 cup of the sauce to be added in later

Add in potatoes to the large bowl, in batches if needed, and gently toss to coat completely

Cover bowl and place into the refrigerator for at least 2 hours, but longer is better

When ready to serve...stir in reserved ranch sauce, 1/2 of the remaining bacon and onions until well combined

Sprinkle the rest of the bacon and onions on top

Serve & ENJOY!!

Notes

Each serving is 8 WW Smart Points: Nutritional Info Calories 249 Calories from Fat 124 Total Fat 13.7g Saturated Fat 5.8g Trans Fat 0.0g Cholesterol 37mg Sodium 1060mg Potassium 693mg Total Carbohydrates 21.2g Dietary Fiber 2.2g Sugars 1.5g Protein 10.5g Vitamin A 4% - Vitamin C 18% - Calcium 6% - Iron 7% Nutrition Grade B+

7.8.1.2

74

https://sparklesnsprouts.com/2017/05/26/ranch-potato-salad/

All images are the property of Sparkles n Sprouts, to use image please contact the webmaster at michelle@sparklesnsprouts.com
Now I know some of you may be questioning my addition of ranch seasoning to a crowd favorite like potato salad, but trust me it is AMAZING!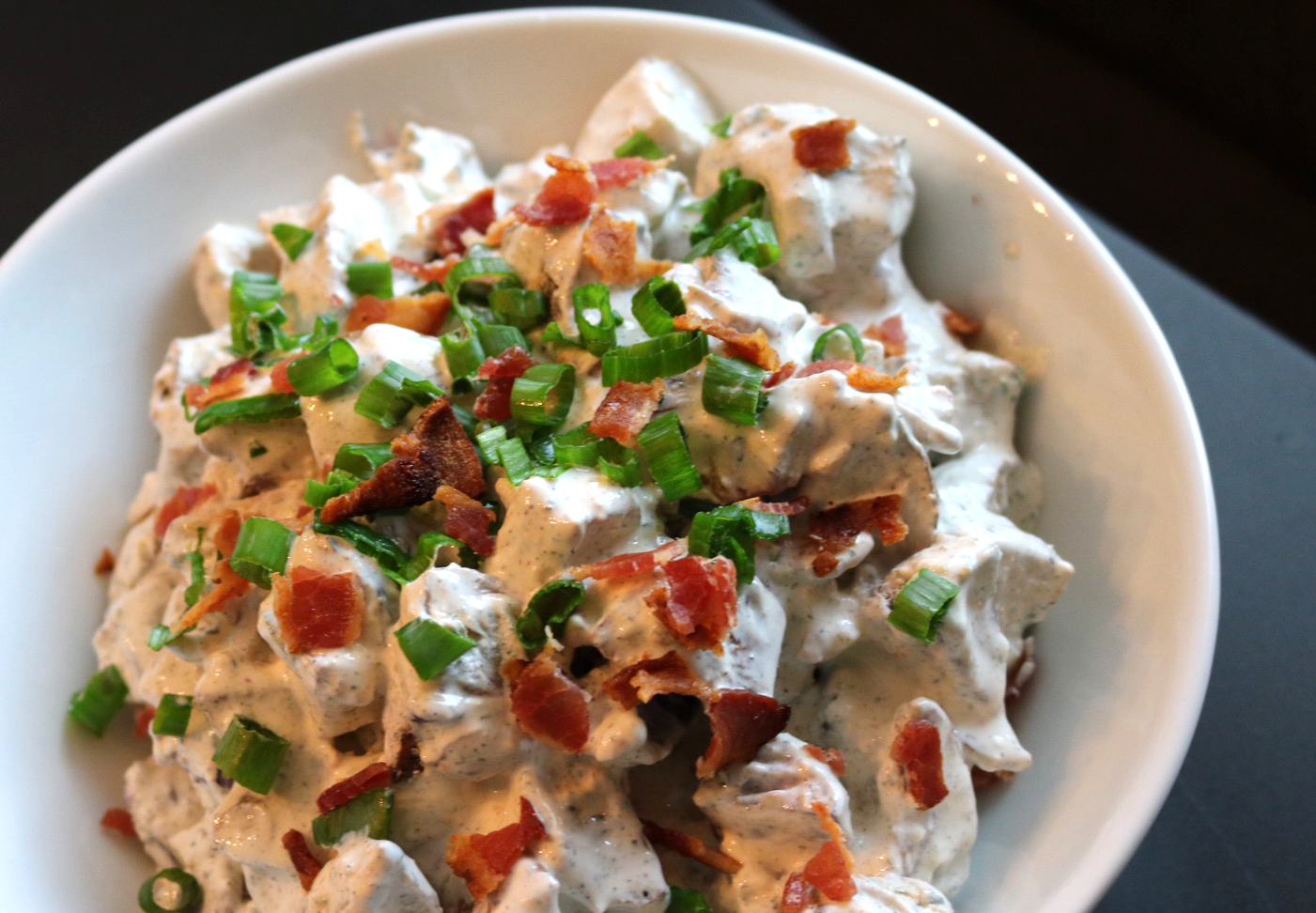 Whether you have a favorite potato salad already or not, I would encourage you try this recipe…it is a great recipe that everyone is sure to love!!