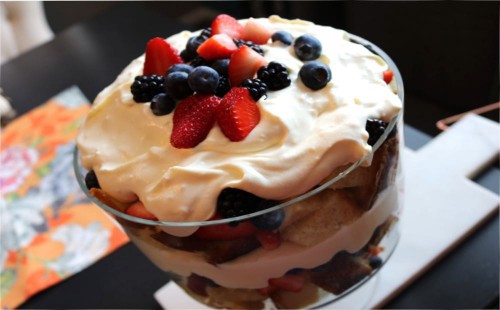 Celebrate with this berry trifle
The first long weekend of the summer is here. School is getting out. The days are getting longer and it is time to enjoy it all with family & friends. Trust me this berry trifle is a perfect way to enjoy it all!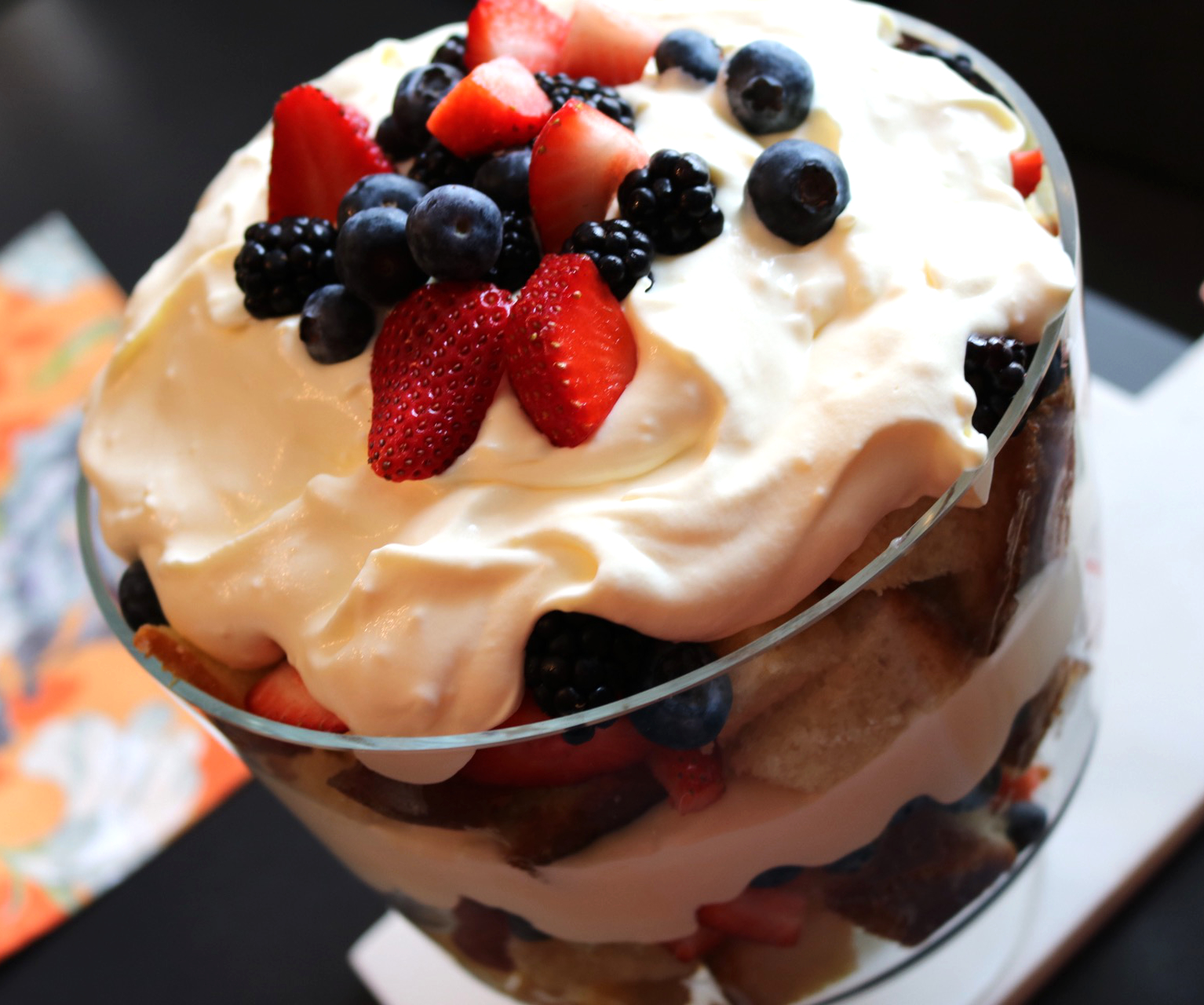 Berrylicious Everything
Walking through the produce section of my local grocery stores and farmers markets I am overwhelmed with all the beautiful berries. With the long Holiday weekend here I want to highlight them in this amazing triple berry trifle.
Even better it is red, white and blue making it perfect for Memorial Day (& the 4th of July too). Ok really it is perfect for any summer party you have coming and it is so pretty!!
Trifle Fun
Now I know the idea of a trifle might sounds somewhat intimidating to some of you, but don't be it is really simple. Not only is it simple but it is also beautiful making it a perfect dessert.
Another great thing about trifles is you can put almost anything in them. There is just something so yummy about the layers of cake, fruit and cream making it a treat everyone will love.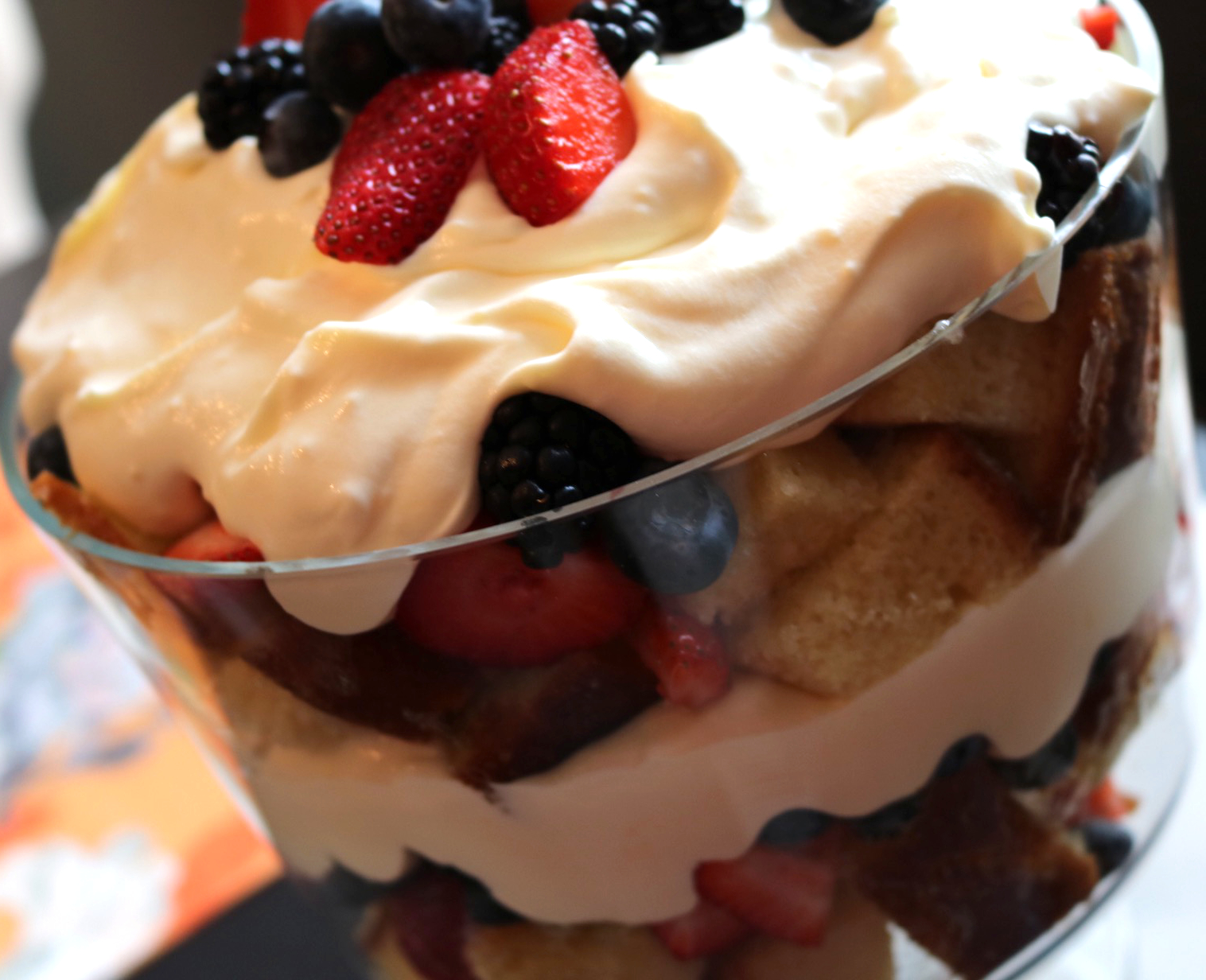 Simple and so good
For this trifle I kept it simple. I started with store bought pound cake (shhhh don't tell anyone). Next came the delicious vanilla whipped pudding cream that really made this something to remember. Lastly come the berries and they really do make this trifle sparkle and shine.
Change it up a bit
Do you love chocolate? If so, you could change it all up and make it with a chocolate cream and just strawberries for a chocolate covered strawberry trifle. Oe you for a lemon berry trifle add in lemon juice & zest to the cream and voila you have a lemon berry trifle…the possibilities are really endless (just don't add meat in it, remember from the Friends episode) ok sorry, moving on, I promise.
You got this
MJ
12 servings
Berry Trifle
A rich but still light berry trifle perfect for your Memorial Day or 4th of July Celebrations.
Ingredients
2 cups heavy cream (also called whipping cream)
1 cup sour cream
1 cup whole milk
1 package (3.12 oz) instant vanilla pudding mix
1 pound cake, cut into cubes (I used a sour cream pound cake from my grocery store)
2 cup strawberries, sliced
2 cups blueberries
1 cup blackberries
1 lemon, zested (optional, for garnish)
Directions
In the bowl of a stand mixer whip heavy cream, on high, until soft peaks form
In a medium bowl whisk together sour cream, milk & pudding mix until thick
Fold pudding mixture into whipped cream
In a large trifle bowl place 1/2 of the pound cake into the bottom
Add in 1/3 of the berries
Top with 1/2 of the pudding mixture
Top with remaining pound cake, then another 1/3 of the berries and the remaining pudding mixture
Top with remaining berries
Sprinkle lemon zest over the top, if using
Place into refrigerator for at least 2 hours or until ready to serve
Serve & ENJOY!!
Notes
Each serving is 11 WW Smart Points:
Nutritional Info
Calories 253 Calories from Fat 153 Total Fat 17 g Saturated Fat 10.6 g Monounsaturated Fat 5 g Polyunsaturated Fat 0.8 g Trans Fat 0 g Cholesterol 94 g Sodium 151 mg Potassium 146 mg Total Carbohydrate 22 g Dietary Fiber 1 g Sugars 8 g Protein 3 g Vitamin A 14 % - Vitamin C 27 % - Calcium 7 % - Iron 0 %
7.8.1.2
73
https://sparklesnsprouts.com/2017/05/26/berry-trifle/
All images are the property of Sparkles n Sprouts, to use image please contact the webmaster at michelle@sparklesnsprouts.com
Perfect for a party
Another fun way to serve this would be in mason jars or bowls for individual servings. This would be perfect for parties, or for a fun weekend BBQ…kids and adults both will love it! You could also make a variety of the trifles if making individual ones…making something a little special for everyone.
Whether you are having a big get together this weekend or are planning something for later this summer (like the 4th of July) this would be a perfect treat for everyone to enjoy.

PS…remember to say thank you this weekend to those who have served or are serving. Print out these cards for a quick way to say Thank YOU!!