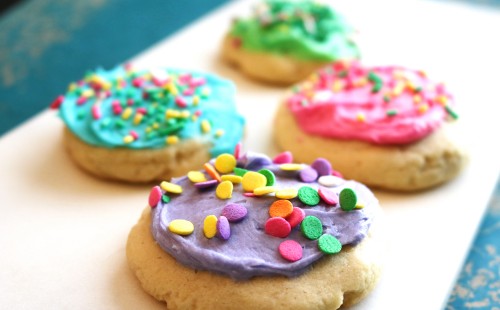 no rollin here for these sugar cookies…
Summer is here. The kids are almost out of school (or maybe they already are) and that means it is time to BAKE! What do you like to bake int he summer…how about cookies? How about no roll sugar cookies? OK perfect…lets start there!!
I just love the light texture of the cookie with the sweet frosting that is colored in all the best summer colors…or any colors you want.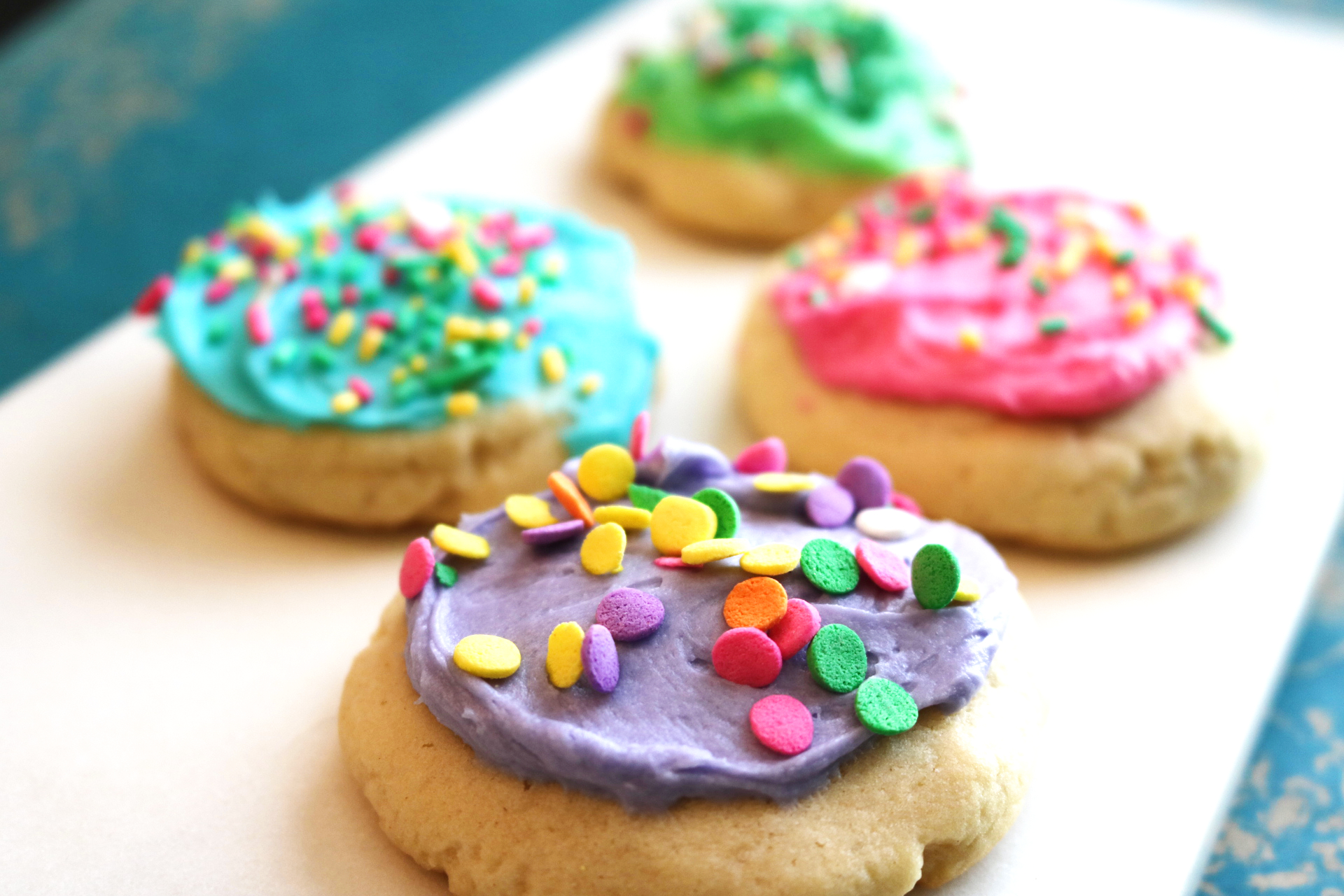 No rolling here
The one problem I have with frosted sugar cookies though is that most of them require you to refrigerate them, then roll them out, then bake them, let them cool then finally frost them. Now I understand that they are totally worth it in the end but sometimes I just don't have the time for all that business…so after many attempts and possibly a bad cookie (or two) I have found a recipe that is just as amazing as a traditional rolled sugar cookie but with half the work.
The trick to these cookies is that they do not brown, so you don't bake them until the edges start to brown like your favorite chocolate chip cookie…if you cook them until they brown the cookie will be super dry and very cakey, not light and airy.
Cookie Time!
MJ
60 cookies
No Roll Sugar Cookies
Light and airy sugar cookies topped with a delicious butter cream that come together super quick because no chilling or rolling is required
20 minPrep Time
10 minCook Time
1 hrTotal Time
Ingredients
Cookies:
5 cups all purpose flour
1 tsp baking soda
1 tsp cream of tarter
1/2 tsp salt
1 cup powdered sugar
1 cup sugar
1 cup butter, room temperature
3/4 cup oil
2 tbsp fat free plain greek yogurt
2 eggs
1 tbsp vanilla
Whipped Butter Cream Frosting:
1 cup butter, room temperature
4 oz reduced fat cream cheese
2 tsp vanilla
1/2 tsp salt
3 1/2 - 4 1/2 cups powdered sugar
Directions
Preheat oven to 350
Line a cookie sheet with parchment paper, or with a silicone mat
In a large bowl whisk together flour, baking soda, cream of tarter & salt, set aside
In the bowl of a stand mixer beat together sugars & butter until light, about 2-3 minutes
Add in oil, yogurt, eggs & vanilla until just combined, scraping down the sides as necessary
Slowly add in flour mixture, mixing until just combined
Roll dough into 1 inch balls and gently flatten into a disk using a flat bottomed glass (or your hand)
Bake for 9-11 minutes or until center is just set, you don't want them to brown or they will become too cake and dry
Let cool on baking sheet for 3-4 minutes and then remove to a wore rack to cool completely before frosting
To make the frosting:
In the bowl of stand mixer beat together butter & cream cheese until smooth and light, about 5 minutes
Add in vanilla & salt, mixing until just combined
Scrape down sides
Slowly add in powder sugar, in 1/2 cup increments until desired consistency is reached, I used 3 1/2 cups
Divide frosting into small bowls and add food coloring (just a little at a time) to reach the colors you prefer
Once cookies have cooled completely gently frost each cookie with desired amount of frosting and sprinkle with any decorations you prefer
Serve immediately or store in an airtight container for up to 7 days (but I don't think they will last that long)
ENJOY!!
Notes
Each cookie is 8 WW Smart Points:
Nutritional Info Calories 172 Calories from Fat 86 Total Fat 9.6g Saturated Fat 4.6g Trans Fat 0.0g Cholesterol 23mg Sodium 116mg Potassium 16mg Total Carbohydrates 20.4g Sugars 12.4g Protein 1.6g Vitamin A 4% - Vitamin C 0% - Calcium 1% - Iron 3% Nutrition Grade F
7.8.1.2
78
https://sparklesnsprouts.com/2017/05/24/sugar-cookies/
All images are the property of Sparkles n Sprouts, to use image please contact the webmaster at michelle@sparklesnsprouts.com
No time…no problem
My brother, Trey, who lives in Missouri and is a cattle rancher has been asking me to make these cookies for a couple of months so when my parents decided to go up there for a few days I decided to whip up a batch and surprise him. Of course, me being me, I didn't decide this until the day they were leaving but it was okay because the beauty of these cookies is I was able to mix them, bake them, and ice them all in about 2 hours which let me get them to my parents just in time before they left. I don't know if I will ever go back to the traditional rolled sugar cookies again…they really are that good.
Good anytime of the year
Whether you are looking for a fun summer cookie, or you want to keep this recipe until Christmas rolls back around (which will be here before we know it) trust me these will become a favorite for sure.
For some extra fun you could use some lemon extract to make a lemon sugar cookie or use almond extract for a lovely almond cookie, or for Christmas use peppermint extract…just replace 1/2 of the vanilla extract with the extract of your choice. I will be experimenting with several other flavors as the new seasons come…along with fun frosting colors (I use these gel colors for the best vibrant colors)…it kinda makes me giddy just thinking about it.
Hope these no roll cookies will find a way into your kitchen very soon…everyone will thank you!