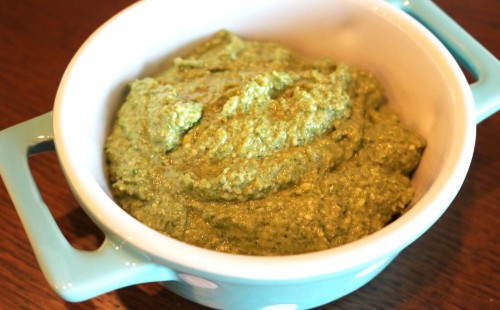 Are you a pesto fan? I am for sure…I love pesto anyway, anyhow. Especially when it is changed up a bit.

Arugula for the change-up
I am a big fan of basil. I love using it in my red sauce for pasta or for a simple bruschetta, but for pesto I prefer arugula. It adds a bit of peppery bite to the pesto without it being overpowering. I also love the color. It is not too dark, and not too light…it is the perfect green.
Now I know this is not the traditional option, but then again when do I keep things traditional? And if you want to be traditional use basil for sure, or combine basil and parsley.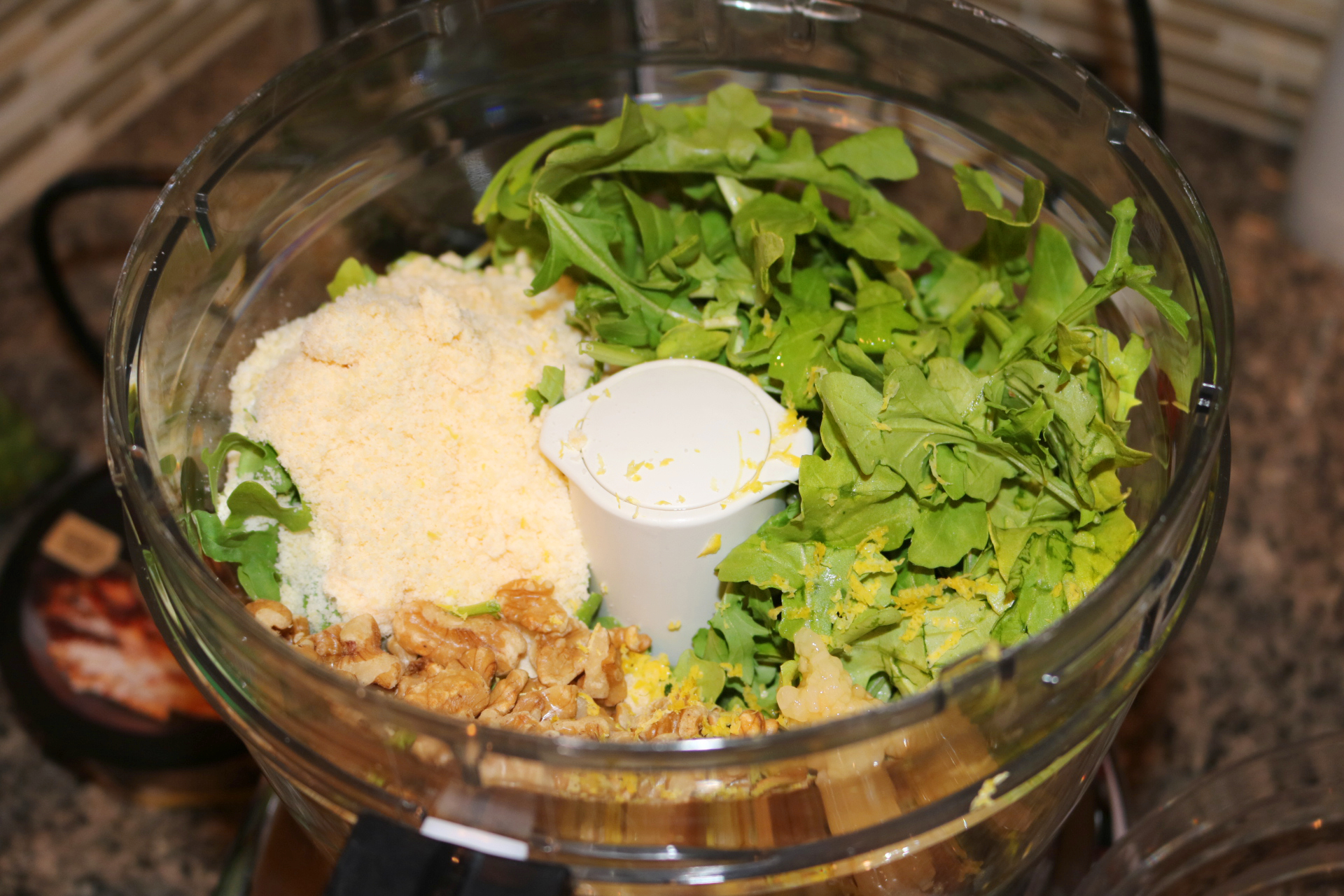 Break out the food processor
Anytime I can use my food processor I have to admit I get a little giddy. There is just something so fun about using this amazing machine. I use it to slice potatoes (like for this au gratin ), to shred carrots, to chop nuts, puree dressings or make this pesto. Really it is one of my most favorite kitchen tools (with the exception of my Kitchen Aid Mixer).
If you are looking for a good one I love my Cuisnart one. You get a ton of blade options with one, making it a perfect kitchen companion.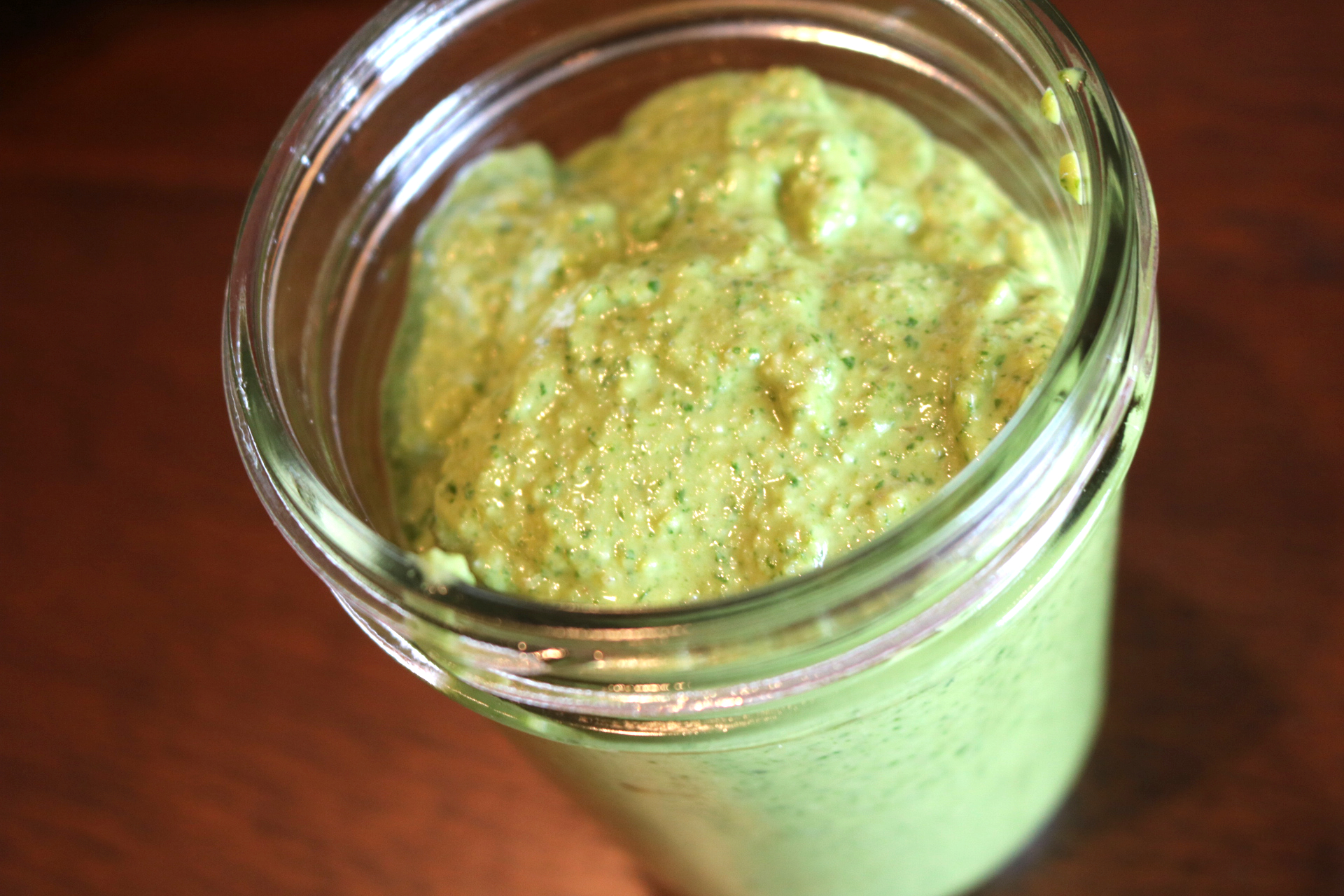 Brighten it up a bit
To add another layer of flavor and some brightness I always use lemon juice and lemon zest in my pesto. Some recipes only call for lemon juice, which is good, but the zest adds that little something extra. It is that little extra that people don't know what it is but will ask you about…and I won't tell them if you don't, totally up to you.
You could also use lime juice if you would like, or a combo of the two. Be creative…make it fun!
You can never have too much pesto
Chelle Chelle
Pesto
A quick and easy pesto that you can customize to make it something you and your family will love
5 minPrep Time
10 minTotal Time
Ingredients
2-3 cups Arugula, Basil or any combo of greens and/or herbs you prefer
1/2 cup toasted walnuts or pine nuts **see notes below for tasting instructions
1/2 cup grated parmesan
2-3 garlic cloves (I used minced, but you could use whole cloves)
1 lemon, zested & juiced
1-2 teaspoons salt
1 teaspoon pepper
1/2 - 3/4 cup extra virgin olive oil
Directions
In the bowl of a food processor layer in all ingredients, except for the olive oil
Pulse a few times until the greens begin to break down
With the processor on drizzle in olive oil, mixing until desired consistency is reached - I wanted a thicker pesto so I used less olive oil, for a thinner pesto use more olive oil
Use immediately or store in an airtight container in the refrigerator until ready to use
Enjoy on anything and everything
Notes
**To toast nuts place in a single layer in a small saucepan and heat over medium heat until they are just fragrant, making sure to keep them moving so they do not burn
7.8.1.2
330
https://sparklesnsprouts.com/2017/05/18/a-new-pesto-love/
All images are the property of Sparkles n Sprouts, to use image please contact the webmaster at michelle@sparklesnsprouts.com

Why Homemade?
OK, now I know you might be wondering why in the world we have to make homemade when there are so many options at the grocery store. And your right, there are some great options out there…but personally I love this homemade option.
I make homemade simply because I can pick and choose what goes in it and what flavors I want to highlight, like the arugula in this version. You can also control the fat and calories. Don't get me wrong it is not a low calorie option, but at least it is not as bad as most store bought options.

So many ways to use it
Once you have it made you can use it on almost anything. I love it in pasta, on a sandwich, on a salad or in chicken salad or risotto (recipes coming soon). The possibilities are endless.
Trust me I usually have a jar in my fridge, and use it all the time.