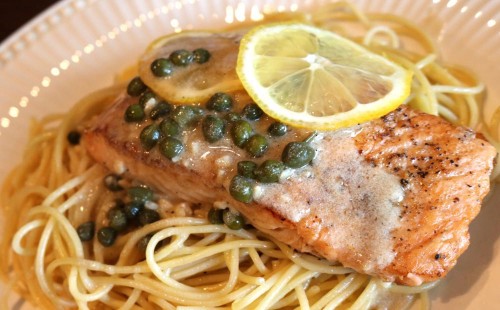 a little caper to make dinner something special
I am a BIG, BIG fan of capers. There is just something so wonderful about these salty, briny little balls of goodness. I use them in my chicken salad (check back soon for that recipe), I use them in place of olives in A LOT of recipes and I use them in dips and spread for appetizers.
As good as those all are my favorite way to use a caper is in a picatta.
Just like this one!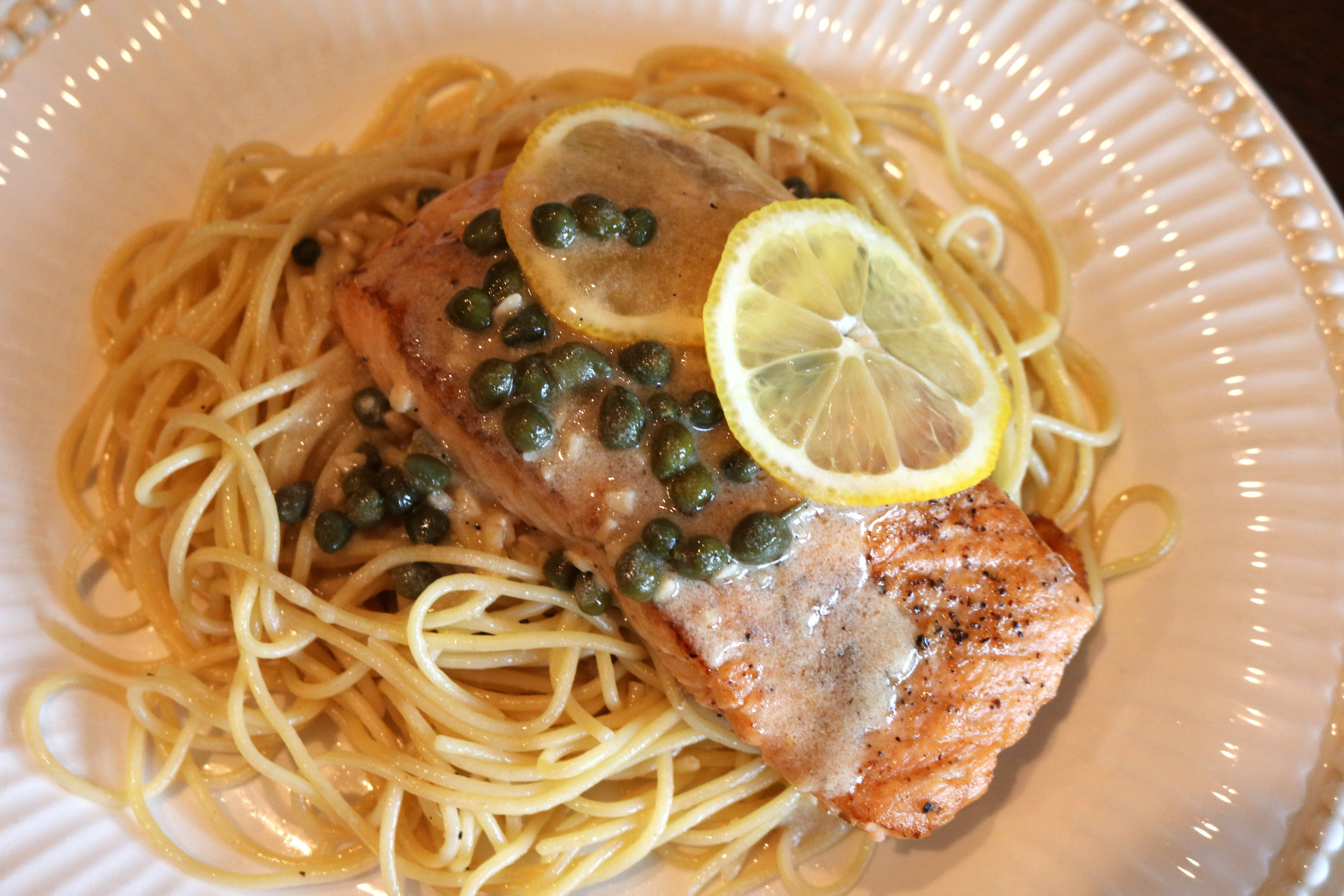 Salmon Piccata (in no time)
Ok, Ok I know what some of you might be thinking…Picatta sounds kinda fancy, but trust me it really isn't, it just looks fancy. In my book those are the best recipes, the ones that look like they took forever in reality they only took about 30 minutes with just a few ingredients.
I was able to create this beautiful dinner in just about 40 minutes, but that included letting the fish thaw. Everything start to finish in under a hour makes this a perfect dinner for any night of the week….or maybe your next special occasion like Mother's Day.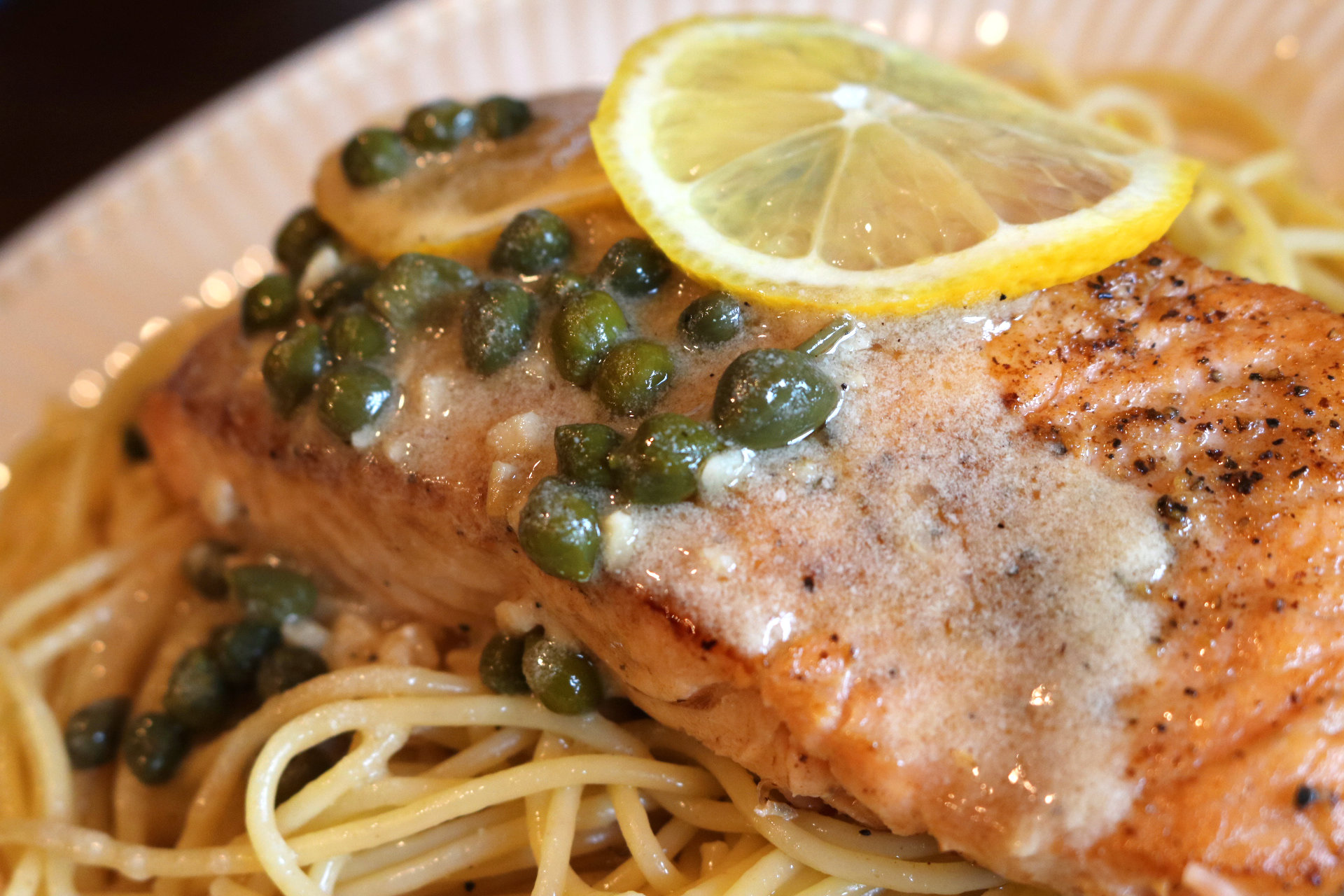 The sauce is everything
The salmon is delicious but what makes this dish something super special is the sauce. It is a simple combo of garlic, white wine, chicken stock, lemon, capers, and a little half & half. As simple as it may sound when it comes all together it is AMAZING!!
The sauce is super light, but still very rich making this dish perfect for a summer dinner. It is filling but not overly heavy…I love dinners like that.
To lighten it up even more use zucchini noodles or over a bed of roasted veggies or sautéed spinach.
It is time to Piccata
MJ
4 servings
Salmon Piccata
A light but very flavorful dish that is loaded with tons of yummy without a ton of guilt
10 minPrep Time
20 minCook Time
30 minTotal Time
Ingredients
1 tablespoon butter, divided
16 ounces, boneless & skinless salmon filets, cut in 4 oz portions
2 teaspoons salt
2 teaspoons black pepper
1 teaspoon garlic powder
1 tablespoon extra virgin olive oil
4-5 garlic cloves, minced
1/4 cup dry white wine
1 cup chicken stock
3-4 tablespoons fresh lemon juice
3 tablespoon capers, drained
1/2 cup half & half
Directions
In a large skillet, with high sides, heat 1/2 tablespoon butter on medium heat
Pat salmon filets dry with a paper towel
In a small bowl combine salt, pepper & garlic powder
Sprinkle evenly over salmon, making sure to season both sides
Place salmon into hot skillet and cook for 3-4 minutes on each side, until desired doneness is reached
Remove salmon to a plate and cover with foil to keep warm
To the same skillet add in remaining butter and olive oil
Stir in garlic and cook for 1 minute
Add in wine and bring to boil, cooking until the majority of the liquid is evaporated
Stir in chicken stock and lemon juice, cooking for 4-5 minutes, or until sauce has started to thicken a bit
Remove skillet from heat and stir in cappers and half & half until well combined
Serve immediately over the salmon with pasta, potatoes or veggies
ENJOY!
Notes
Each serving is 9 WW Smart Points
Nutritional Info Calories 324 - Calories from Fat 171 - Total Fat 19 g - Saturated Fat 5.8 g - Monounsaturated Fat 9.4 g - Polyunsaturated Fat 2.7 g - Trans Fat 0 g - Cholesterol 89 g - Sodium 1561 mg - Potassium 670 mg - Total Carbohydrate 5 g - Dietary Fiber 0 g - Sugars 0 g - Protein 26 g
Vitamin A 9 % - Vitamin C 12 % - Calcium 6 % - Iron 6 %
7.8.1.2
321
https://sparklesnsprouts.com/2017/05/12/salmon-piccata/
All images are the property of Sparkles n Sprouts, to use image please contact the webmaster at michelle@sparklesnsprouts.com
Not a salmon fan…that's ok there is always chicken
If you want to use chicken, I would recommend using boneless, skinless chicken breasts and pounding them out until they are about 1/2 inch thick, this will ensure thy cook evenly and quickly. Make sure to season them well, just as the salmon is seasoned.
Whether you are making this for a quick weeknight dinner or for a special occasion, it is sure to be a hit with all.