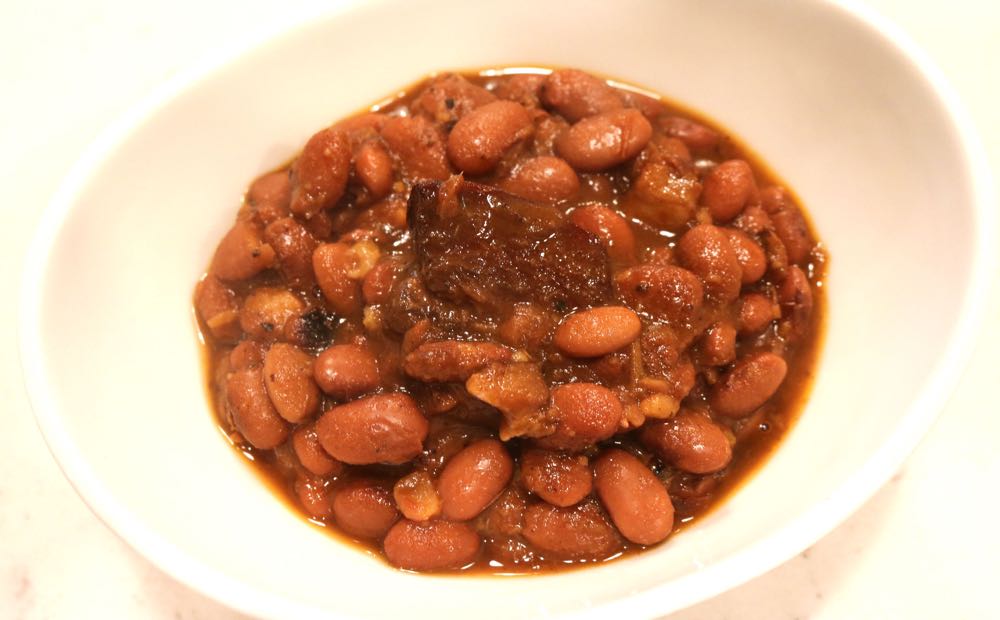 Are you a refried bean or charro bean person? Me, I am a charro bean person. I just love the hint of heat in each bite…and now I can make them at home!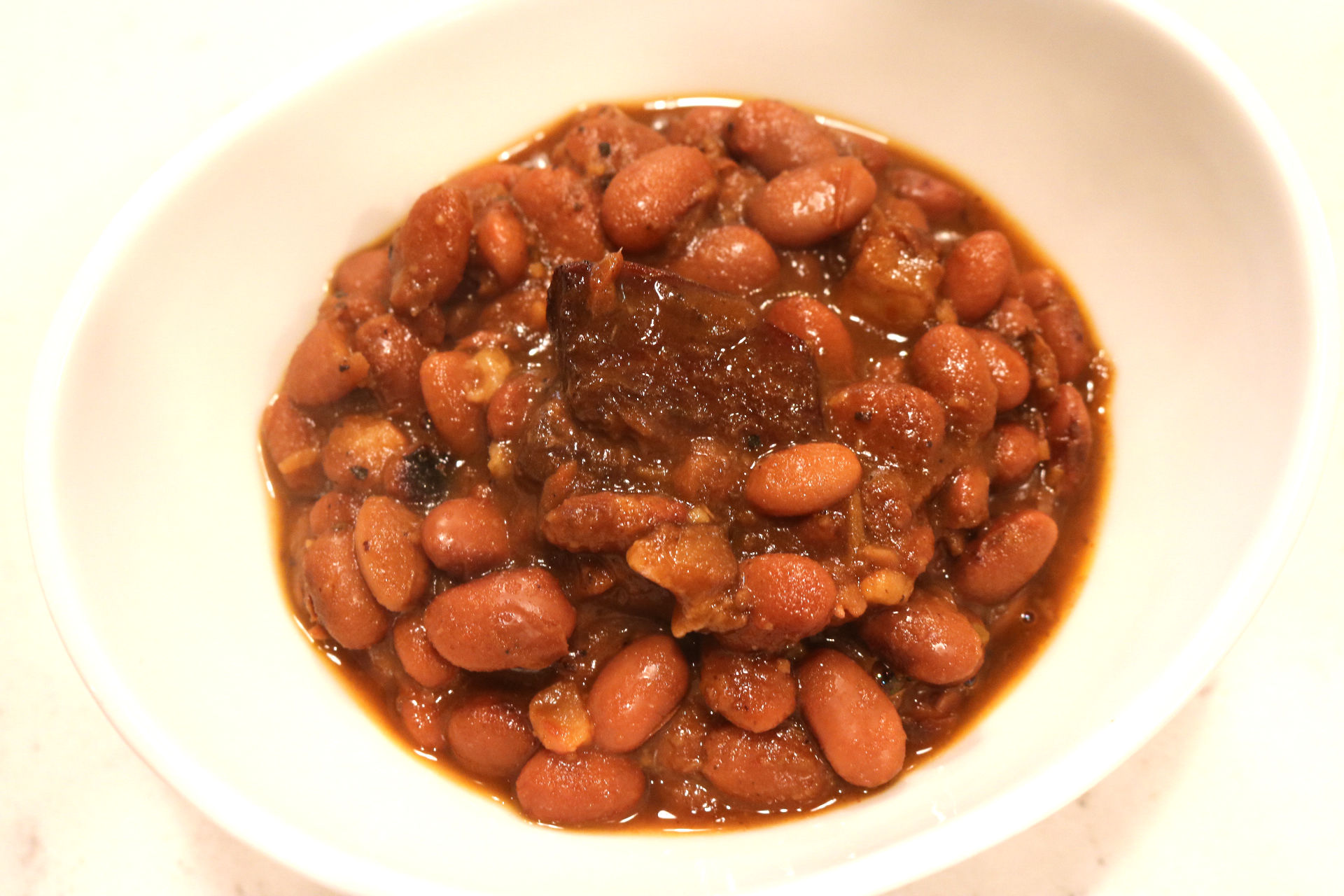 It all starts with bacon
Yep…you read that right. These Charro Beans start with bacon. You can use your favorite bacon but I highly recommend either bacon ends or thick cut bacon. These beans are going to be cooking for a while and the chunks of bacon will cook down better and in the end add in some great flavor.
I mean just look at that big hunk of bacon in the middle of the beans in the picture above…does it get any better??
If you don't have bacon ends or thick cut bacon on hand, thats ok, just know it will cook down and you may not have as many bits of bacon running through your beans, but the flavor will still be there!

OK…it really starts with the beans
Dry beans have always been a little intimidating to me. The idea of having to plan out, to let them soak and then let them cook for hours…it seemed like quite the commitment. That was until I made my first round of pinto beans and then I was sold.
You can season them however you want, taste them as they cook and when they are done they are AMAZING!
For these Charro Beans I used the traditional choice of pinto beans, but you could use black beans or kidney beans if you wanted. Any of the above will be so good!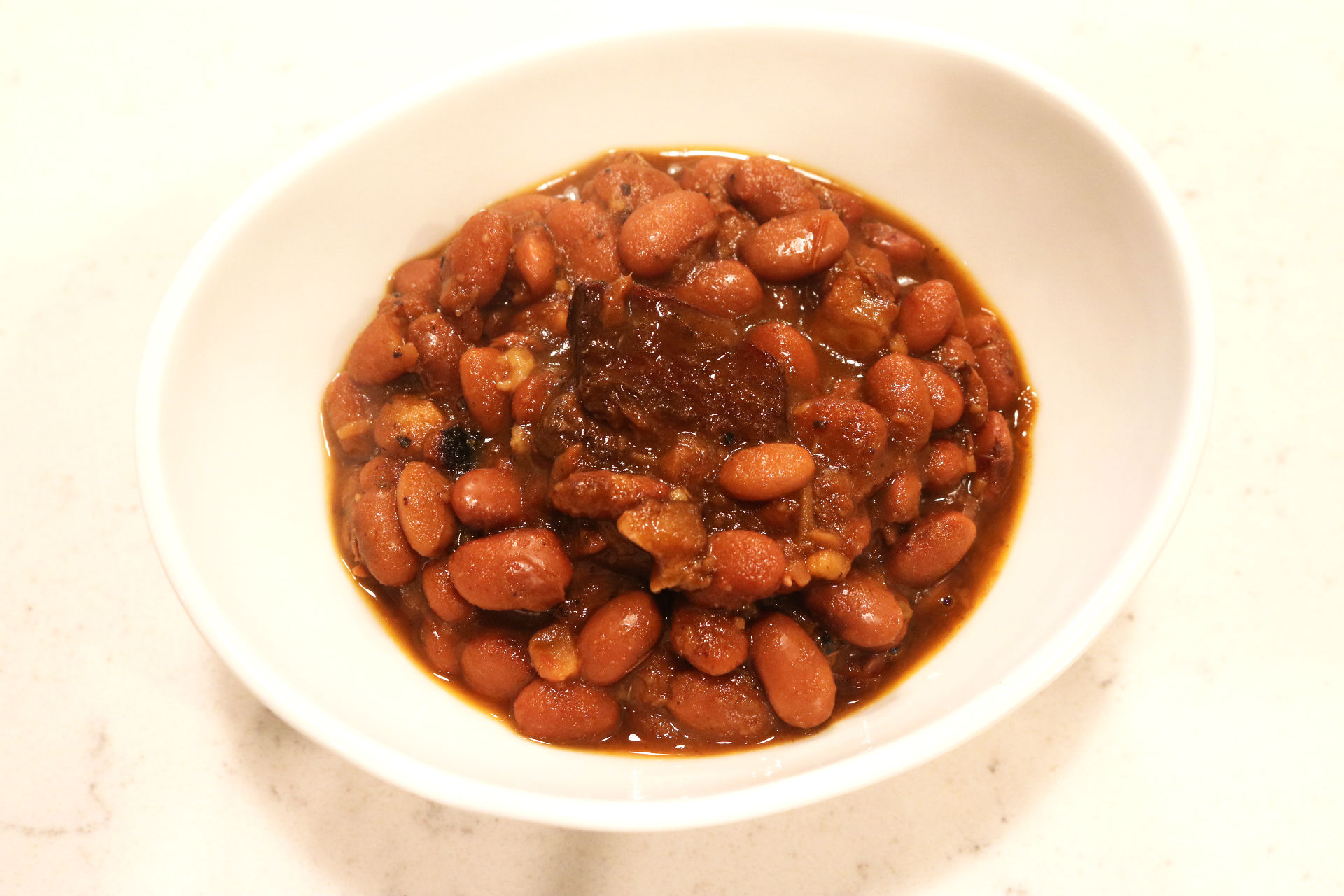 Get to soakin'
MJ
12 servings (about 1/2-3/4 cup)
Charro Beans
Mexican inspired Charro Beans that are a perfect side for your next Taco Tuesday or your Cinco de Mayo celebrations
12 hrPrep Time
4 hrCook Time
16 hrTotal Time
Ingredients
1 pound dry pinto beans
2 teaspoons salt
1/4-1/2 pound bacon, chopped
1 medium Onion, chopped
1 tablespoon chili powder
2 cloves garlic, minced
1 can Rotel diced tomatoes & Green chilies
4 - 6 cups Chicken stock
1 bay leaf
Directions
Place dry beans into a large bowl
Fill bowl wth water until beans are covered completely
Stir in salt
Set aside and let soak for at least 12 hours (or overnight)
-- When ready to cook --
Drain beans and rinse
Place large stock pot over medium heat
Add in bacon and cook for for a few minutes until some fat begins to be rendered
Add in onion & chili powder and cook for another 3-4 minutes or until onion is beginning to soften
Stir in garlic & Rotel tomatoes, cooking for another 1-2 minutes
Add in beans, 4 cups chicken stock and bay leaf
Bring mixture to a boil and then cover and reduce to a simmer
Let cook for 3-4 hours, stirring every 20-30 minutes and adding in more liquid as needed, until beans are tender and majority of liquid has cooked down
Taste and adjust seasoning as needed, I did not need to add in any additional seasoning but taste to make sure
Serve & Enjoy
Notes
Each serving is 8 WW Smart Points
Nutritional Info
Calories 285 - Calories from Fat 54 - Total Fat 6 g - Saturated Fat 2.1 g - Monounsaturated Fat 2.8 g - Polyunsaturated Fat 0.9 g - Trans Fat 0 g - Cholesterol 8 g - Sodium 830 mg - Potassium 1154 mg - Total Carbohydrate 41 g - Dietary Fiber 10 g - Sugars 2 g - Protein 16 g
Vitamin A 7 % - Vitamin C 12 % - Calcium 9 % - Iron 17 %
7.8.1.2
326
https://sparklesnsprouts.com/2017/05/03/charro-beans/
All images are the property of Sparkles n Sprouts, to use image please contact the webmaster at michelle@sparklesnsprouts.com
A little extra heat
I like a little heat, but not a ton of heat. For this recipe I used some chili powder & green chilies to add in just a little heat. If you wanted to amp up the spice you could add in chopped jalapeños, hot sauce, cayenne pepper or more green chilies.
The beauty of this recipe is you really can make it perfect for your and your family. Just make sure to get the beans soaking ASAP, because this is a recipe you didn't want to pass up.

Serve them up
I served them with fajitas (like these) but they would also be delicious with cornbread, with rice or with your favorite tacos or enchiladas. Truly the possibilities are endless.
I may have even put them on eggs the next morning…maybe.