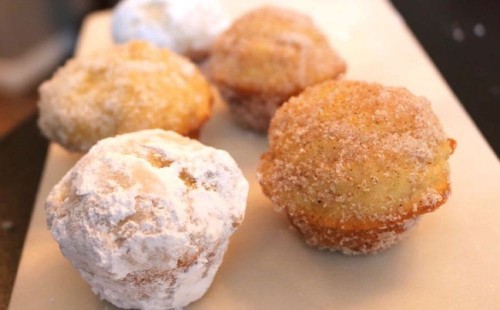 It's a muffin puff kinda morning…
I do not have enough words in my vocabulary to tell you all how much I love these muffin puffs.  Yes, you read that right, I am in LOVE with a little treat we call a muffin puff.  Trust me they are as cute as they sounds and as yummy as they look.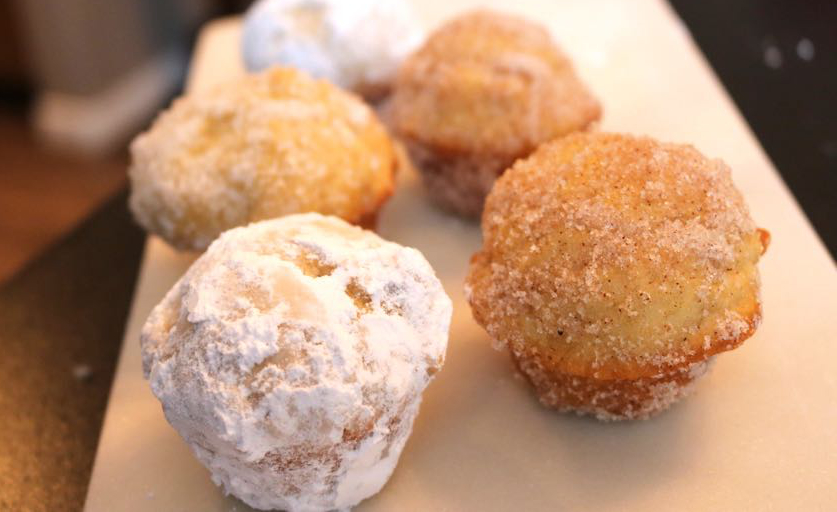 What is a puff?
Simply put it is a cross between a muffin and donut hole, but there is nothing simple about these bites.
First, they are easy to make like muffins.  Mix everything together and then bake it off in cute mini muffin pans.  I LOVE mini muffin pans.  Don't you?  Some of the best bites I have come from mini muffin pans, and muffin puffs are some of the best.
Get them baked and then you can brush them with butter, you can dip them if you want, & then comes the fun part.  YOU ROLL THEM, and roll them and roll them.
I seriously can eat all of these…that is why I have to share them with anyone and everyone.
What do you roll them in?
ANYTHING!!  I am serious, let your imagination go and get to dipping.  For this go around I kept it simple with one little surprise.
First I use sifted powder sugar, it is a favorite among most everyone.  I also used cinnamon sugar that I keep on hand all the time, and then a straight sugar option.
My favorite puff, though, is my expresso sugar one…the puff is dipped in espresso powder mixed with sugar.  That's right espresso powder and sugar come together to make a puff to remember.
You can also use sprinkles, chopped nuts, melted chocolate, crushed cookies…the possibilities are endless.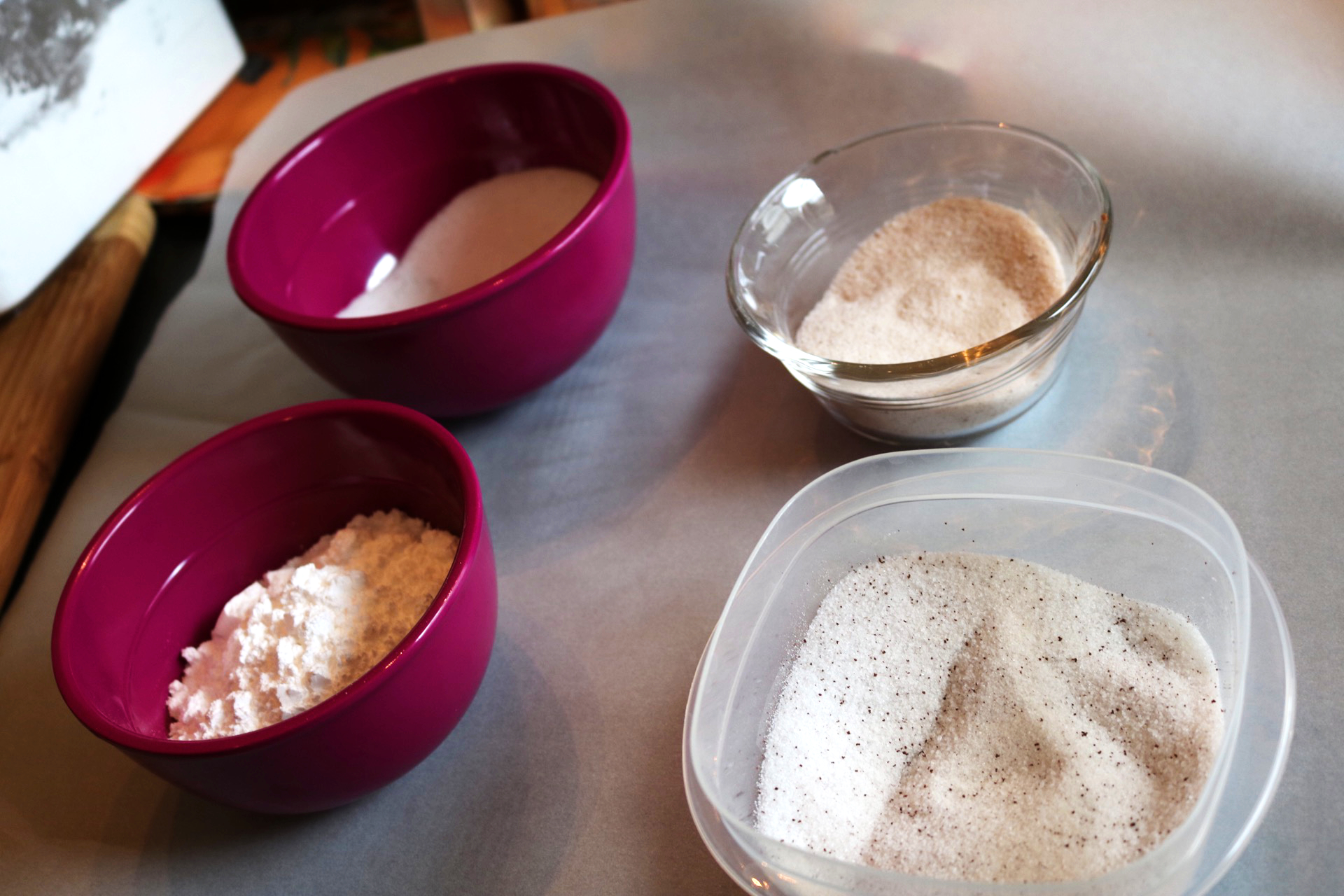 Get to mixing…
MJ
40 muffin puffs
Muffin Puffs
Light and airy mini muffin puffs that are perfect for a fun morning treat. Dip them in anything you like making them perfect for your family!!
20 minPrep Time
15 minCook Time
45 minTotal Time
Ingredients
For the Puffs
12 tablespoons butter, softened to room temperature
3/4 cup sugar
1/4 cup brown sugar
2 large eggs
1 tsp vanilla extract
3 cups all-purpose flour
3 teaspoons baking powder
1/4 teaspoon baking soda
1 teaspoon salt
1/2 teaspoon ground cinnamon
1 1/4 cups milk (I used whole but any variety will work)
For Dipping
1 cup butter, melted
1/2 cup sugar/cinnamon mix
1/2 cup confectioner's sugar, sifted
1/4 cup espresso powder & 1/4 cup sugar
Sprinkles
Nuts
Melted Chocolate
Directions
Preheat oven to 350
Spray 2 mini muffin tins with nonstick spray, set aside
In the bowl of a mixer, or a large bowl, cream together butter and sugars
Add in each egg one at a time, scraping down the sides as needed
In a bowl whisk together flour, baking powder, baking soda, salt & cinnamon
Add in 1/3 of the flour mixture to the butter mixture, and mix until just combined
Add in 1/2 of the milk, repeat with additional 1/3 of the flour and then remaining milk and last of the flour, mixing until just combined
Making sure to not over mix
Using a small cookie scoop, fill the mini muffin tins
Place in oven and bake for 14-16 minutes, or until puffs begin to brown and spring back when touched
Remove from oven and let cool for 5 minutes in the pan
Remove from pan and place on a cooling rack
Melt the butter for dipping
Using a pastry brush, brush the puff with butter and then roll in your preferred topping
I did some in plain sugar, some in cinnamon sugar, some in powdered sugar and some in sugar with ground espresso (just for something different), dustin off any excess
Place on to cooling rack and serve immediately or stop in an airtight container to serve at a later time
ENJOY!!
Notes
Each puff is 7 WW Smart Points
Nutritional Info
Calories 151 - Calories from Fat 72 - Total Fat 8 g - Saturated Fat 4.2 g - Monounsaturated Fat 3.4 g - Polyunsaturated Fat 0.4 g - Trans Fat 0 g - Cholesterol 32 g - Sodium 158 mg - Potassium 30 mg - Total Carbohydrate 17 g - Dietary Fiber 0 g - Sugars 8 g - Protein 1 g
Vitamin A 6 % - Vitamin C 0 % - Calcium 4 % - Iron 0 %
7.8.1.2
179
https://sparklesnsprouts.com/2017/04/19/muffin-puffs/
All images are the property of Sparkles n Sprouts, to use image please contact the webmaster at michelle@sparklesnsprouts.com
Get everyone involved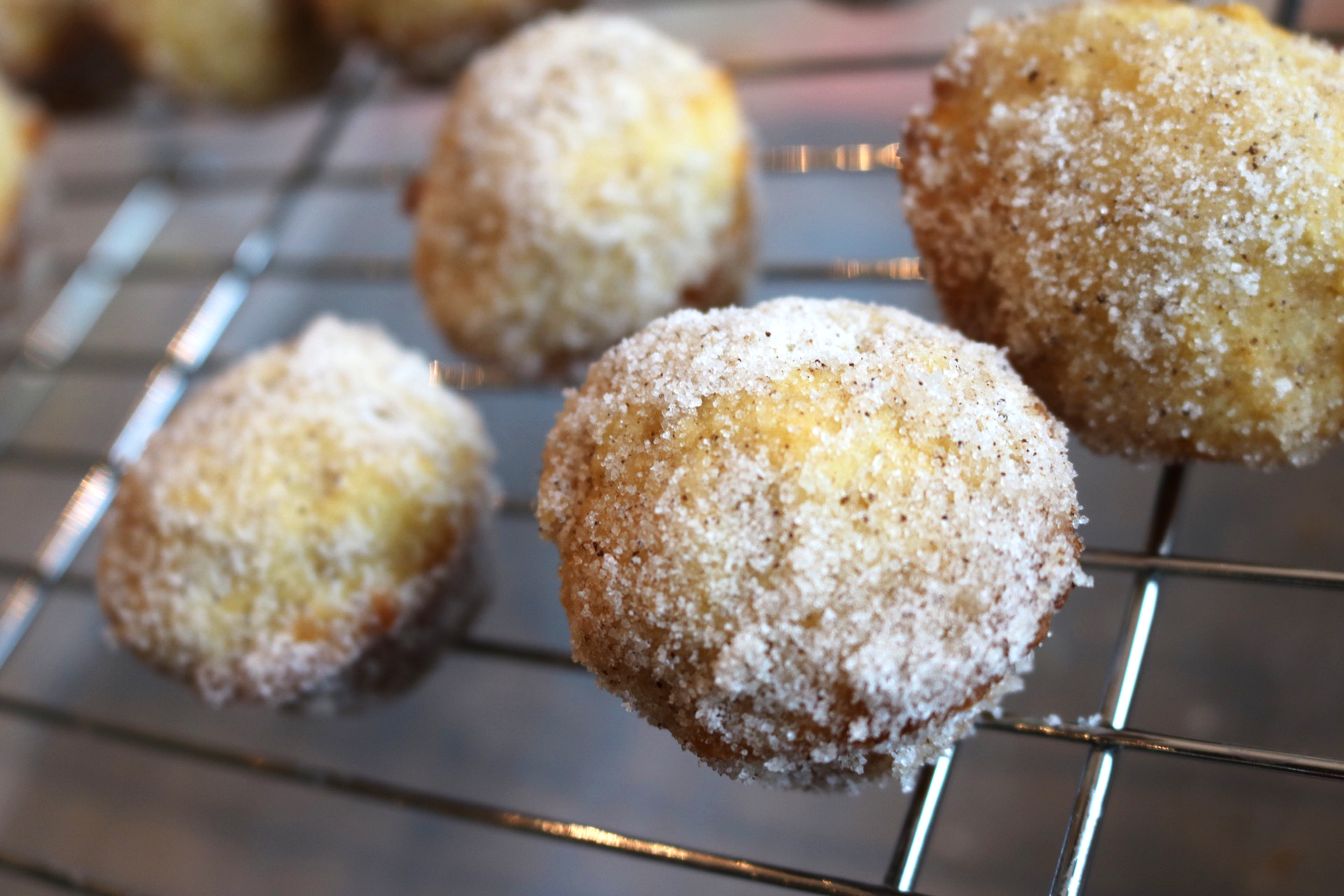 These puffs are a perfect treat to get the kids involved, and you will all LOVE it.  Better yet, get the adults rolling too.  Everyone should get a little messy and creative.
I am definitely going to make these my niece and nephew very soon.  Plus, in my opinion, anytime you can put a little extra love and personality into something it will always be AMAZING!!
My MeeMaw always said a messy kitchen creates the best food, and I agree with your 100%!