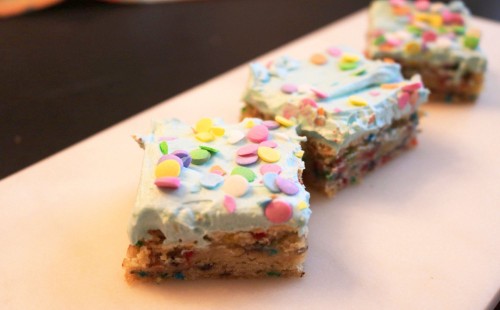 you've been good all week
I can't believe the first full week of 2017 is already gone.  So what are your New Years resolutions?  I have made a few and will share them next week but would love to hear about yours this weekend.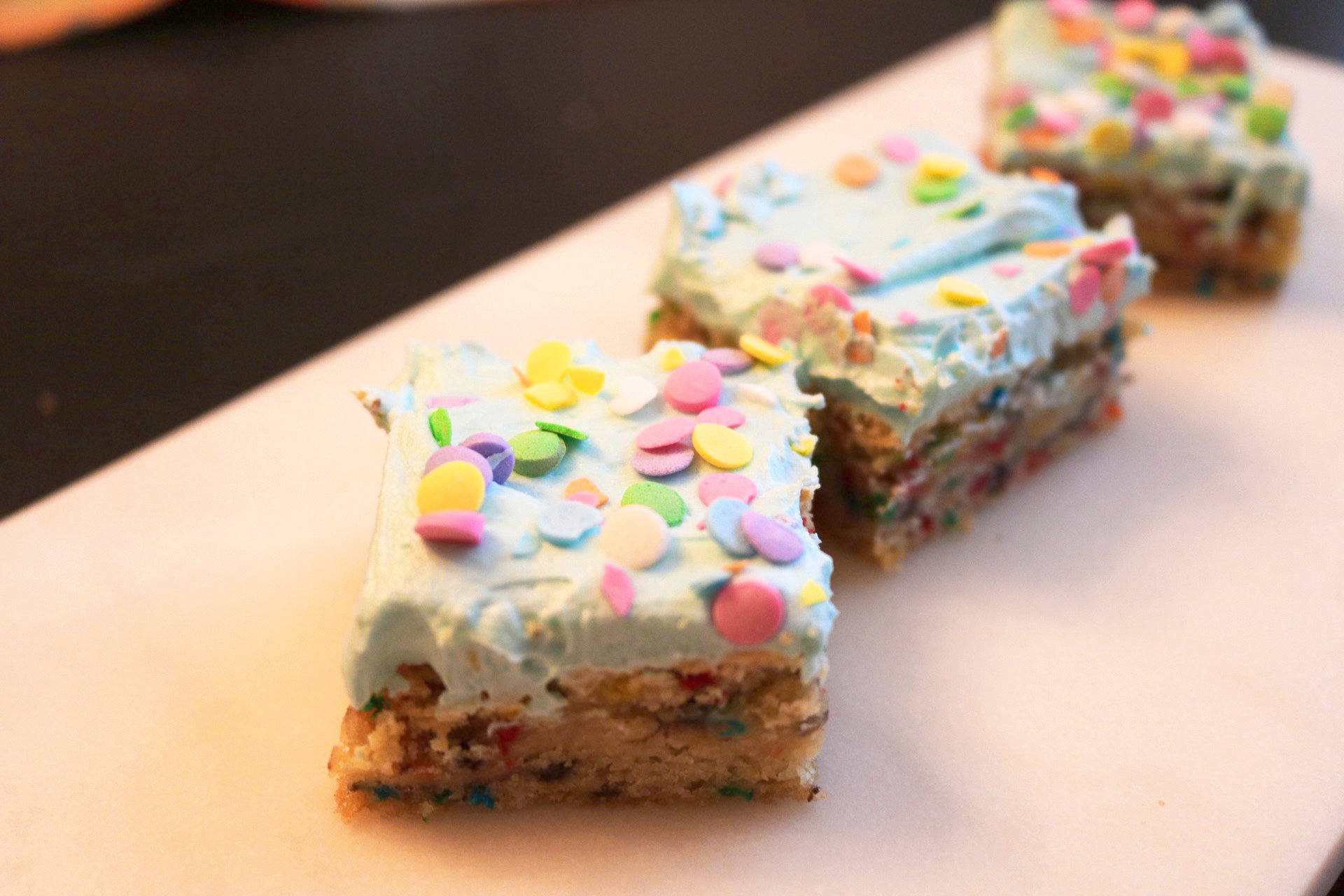 If you are apart of the 50% of the country who wants to lose weight or at least adopt a healthier lifestyle I applaud you.  I am all about that, but I am also about moderation and enjoying life and these sugar cookie bars are perfect for the moderation and enjoying part.  They just make me smile.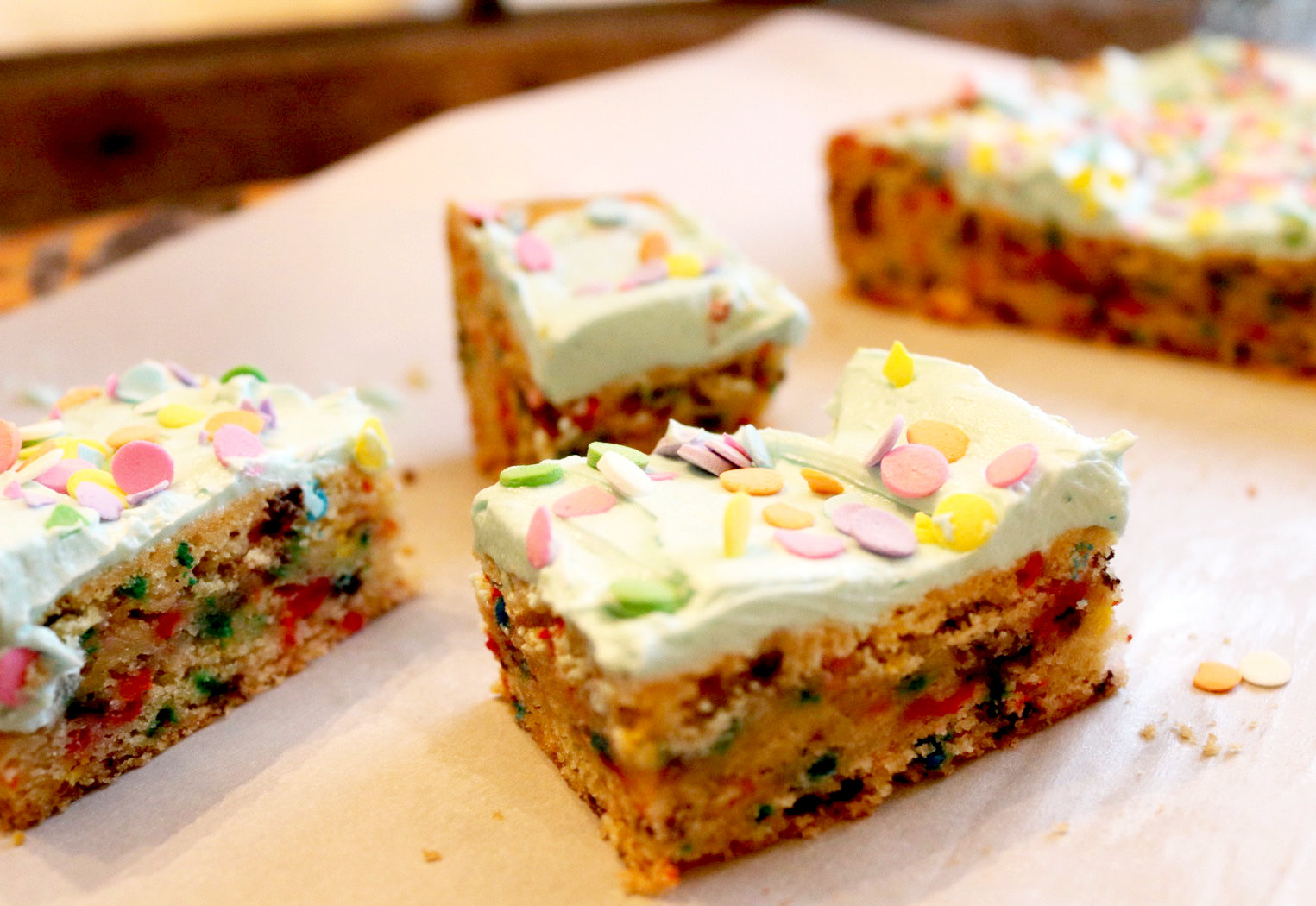 Sprinkles, Sprinkles and more Sprinkles
Sugar cookies are a favorite of mine.  I especially love the ones with sprinkles on top.  Growing up my MeeMaw always made crispy sugar cookies but over the years I have come to love a chewy sugar cookie and now I am IN LOVE with sugar cookie bars.  They are moist and chewy making for a perfect bite each time.
As I mentioned before I love sprinkles on top of my sugar cookies, but I decided to take it to another level…I put sprinkles inside the cookie bars.  Not only are they pretty on the outside but they are pretty and colorful on the inside as well.  I tell you these bars just put a smile on my face, it's like the kid in me comes out.
I used rainbow sprinkles, both big and small, but you can use whatever colors you choose.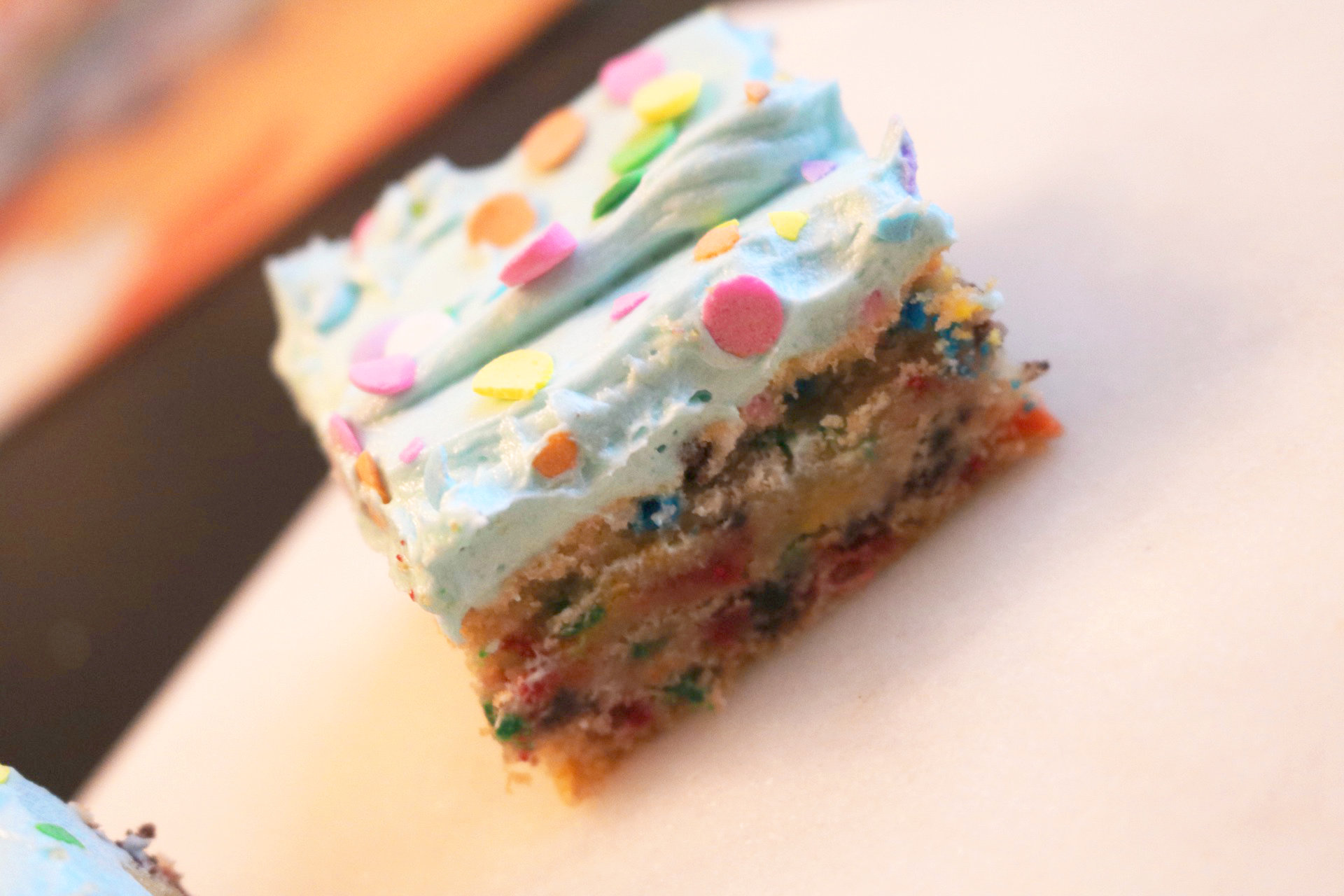 The icing on the cake (or cookie)
As much as I love cupcakes & cakes I am super picky about the icing on them.  I do not like a heavy icing,  I prefer a light and airy icing.
To make this icing light I started with butter and let it whip until it was very light in color and then I slowly added in the powdered sugar.  I whipped it until it was light in consistency after each addition of the powdered sugar…it takes a little more time, but for me it makes for a perfect airy frosting.
Salt is also added to the icing.  I feel this helps to counter the super sweet powered sugar and just adds a little depth to the icing.  Don't worry it is still sweet.
Now for the color, I wanted to make this batch with an icy blue color icing.  You can make your frosting any color you want.  With Valentines coming a pretty pink or vibrant red would be perfect and so fun!
These will make you happy
MJ
36 bars
Sugar Cookie Bars
Chewy, buttery and delicious sugar cookie bars topped with a delicious buttercream making them a favorite treat everyone will love
20 minPrep Time
25 minCook Time
2 hr, 45 Total Time
Ingredients
1 cup butter, softened
3/4 cup granulated sugar
3/4 cup, brown sugar
3 large eggs
1 large egg yolk
1 tablespoon vanilla extract
3 cups all-purpose flour
1 teaspoon salt
2 teaspoons baking powder
3 teaspoons cornstarch
1 1/2 cups rainbow sprinkles, divided
Frosting
3/4 cups butter, softened
2 cups confectioner sugar
1 teaspoons vanilla extract
1/2 - 1 teaspoon salt
3-5 tablespoons, whipping cream
Food coloring, as desired
Directions
Preheat oven to 350
Line a 9x13 pan with parchment paper, set aside
In the bowl of a stand mixer cream together butter and sugars until light and fluffy
Add in eggs, yolk & vanilla mixing until just combined, scraping down the sides as necessary
In a medium bowl whisk together flour, salt, baking powder, cornstarch and 1 cups of the sprinkles
Slowly add in flour mixture to butter mixture, until just combined, making sure to not over mix
Press batter into prepared pan
Bake for 24-26 minutes or until top and edges are lightly browned and center is set
Remove from oven & let cool in the pan completely
When bars are cool make frosting
In the bowl of a stand mixer, or large bowl, whip butter until light
Slowly add in confectioners sugar, mixing until smooth, scraping down the sides as needed
Add in vanilla & salt, mixing until just combined
Add in cream, 1 tablespoon at a time, until desired consistency is reached (I used 3)
Add 1 drop of food coloring (if using) at a time until desired color is reached
Frost cookie bars and top with remaining sprinkles
Cut and ENJOY!!
Notes
Each bar is 11 WW Smart Points
Nutritional Info Calories 230 - Calories from Fat 90 - Total Fat 10 g - Saturated Fat 5.5 g - Monounsaturated Fat 4.3 g - Polyunsaturated Fat 0.5 g - Trans Fat 0 g - Cholesterol 48 g - Sodium 157 mg - Potassium 48 mg - Total Carbohydrate 31 g - Dietary Fiber 0 g - Sugars 19 g - Protein 1 g Vitamin A 6 % - Vitamin C 0 % - Calcium 3 % - Iron 0 %
7.8.1.2
219
https://sparklesnsprouts.com/2017/03/15/sugar-cookie-bars/
All images are the property of Sparkles n Sprouts, to use image please contact the webmaster at michelle@sparklesnsprouts.com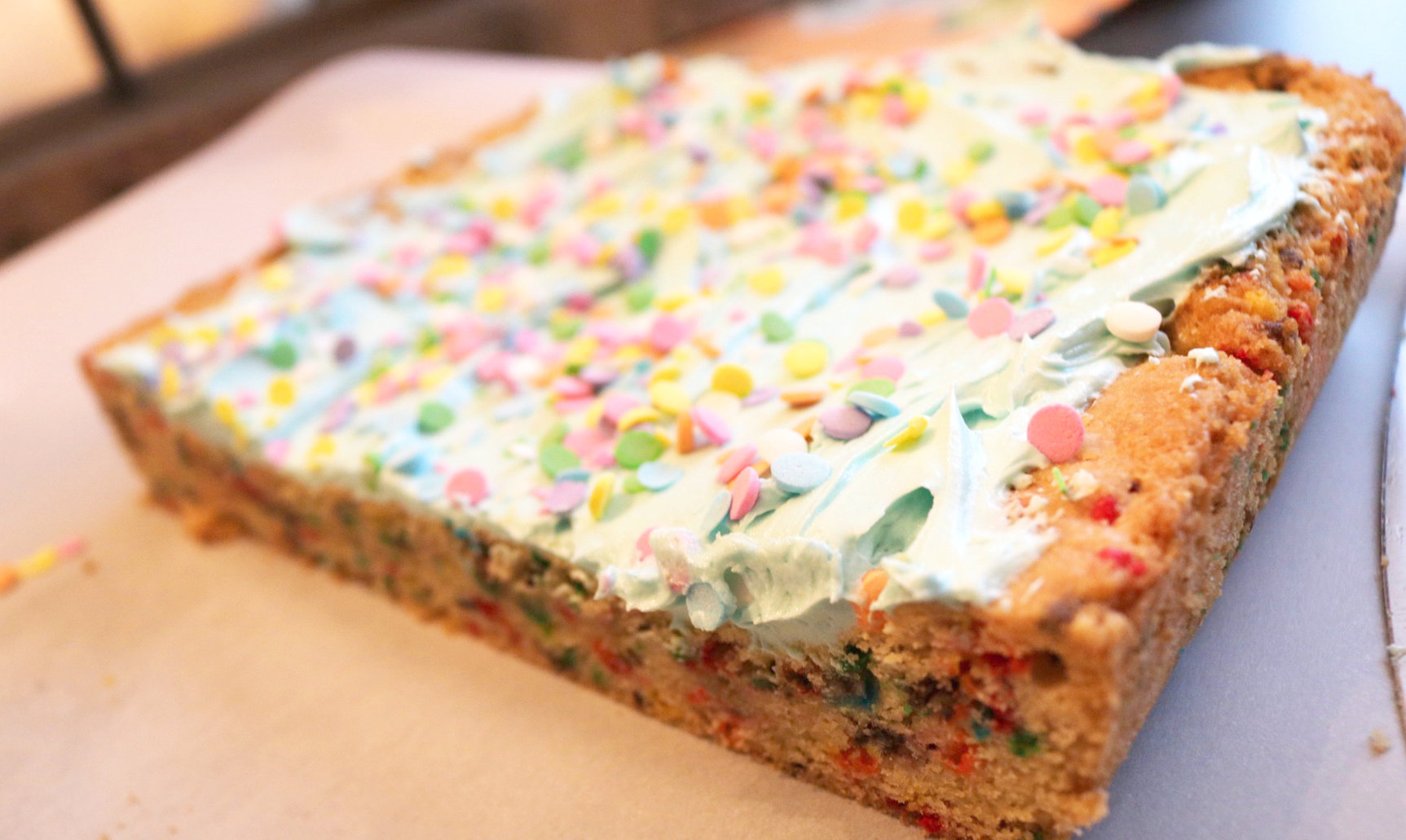 Whether you are trying to eat healthier or not these cookie bars a splurge everyone will love…and I won't tell anyone if you don't!
Make today sparkle -MJ