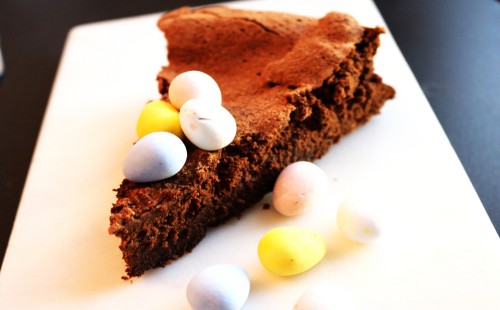 a flourless cake like no other…
Spring is coming and it is time to start thinking about fun desserts and this Flourless Chocolate Cake is a must make!!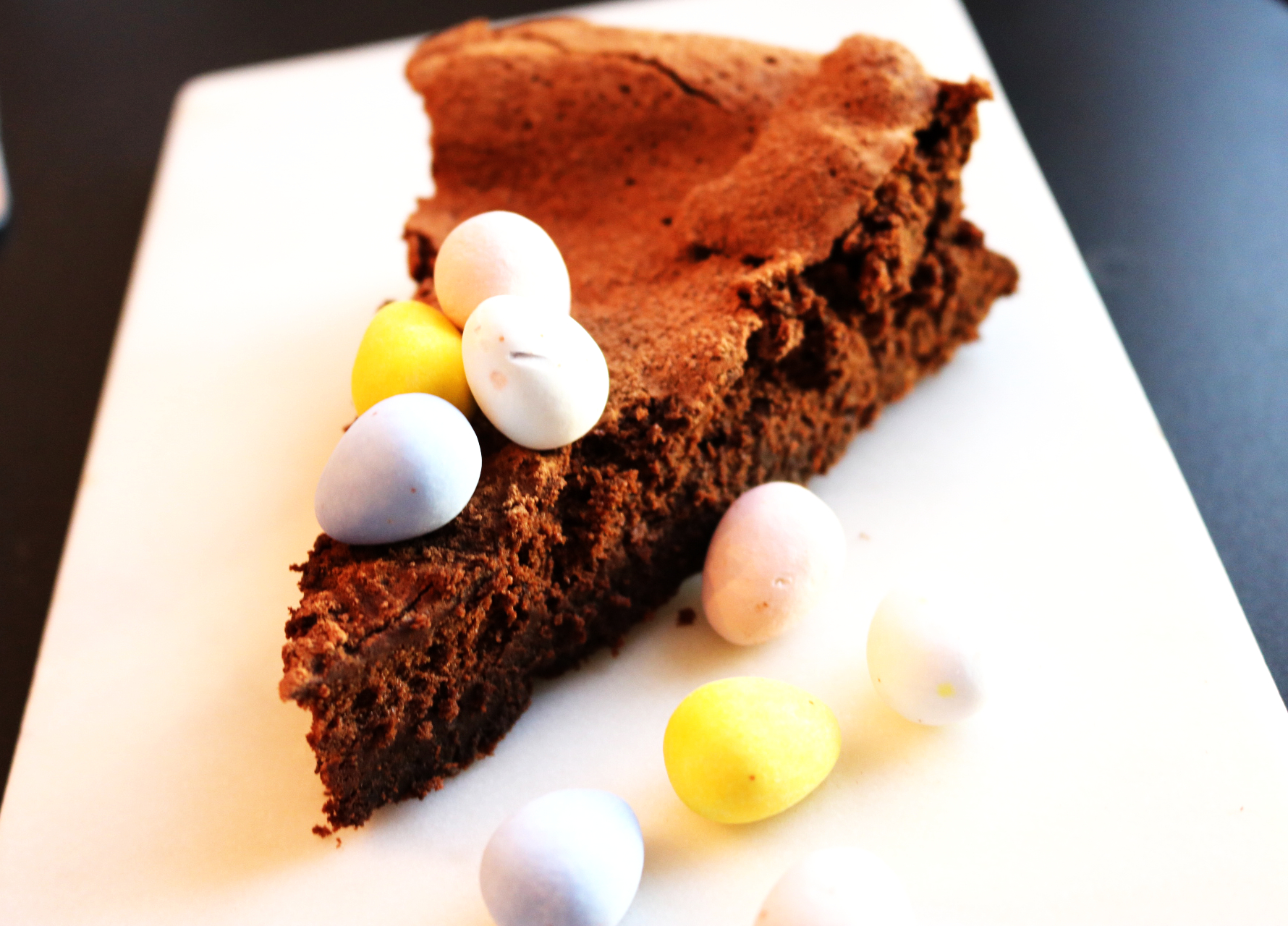 No Flour Needed
I have always been a big fan of flourless chocolate cakes, anytime it is on a menu I will order it (unless there is something caramel) but I have never made one at home.  With Spring coming it is the perfect time to make this super decadent treat.  
Now I know there are more traditional desserts for Spring like carrot cake,  cupcakes, or maybe a fruit option, but for me it is all about chocolate (with a little kick).
Amping it up a bit
One of my favorite additions to almost every chocolate dessert is espresso powder.  It really helps bring out the richness of the chocolate but it also gives it an extra depth of flavor that makes it truly something special.  You won't necessarily taste it but it adds that little something special that everyone will be asking what it is.
Now I know you may not be too excited about the espresso part, but trust me it is amazing and no one will know it is espresso unless you tell them.
LOVE, LOVE, LOVE
MJ
10 servings
Flourless Chocolate Espresso Cake
A rich, dense and delicious flourless chocolate cake with just a hint of espresso in each bite perfect for this Easter or any other special day
10 minPrep Time
30 minCook Time
1 hrTotal Time
Ingredients
3 tbsp butter
6 oz bittersweet chocolate, chopped
6 eggs, separated
1 cup sugar, divided
3 tbsp espresso powder
1/2 tsp salt
1 tbsp vanilla
1/4 cup cocoa powder
Directions
Preheat oven to 350
Spray a 9" springform pan wth nonstick spray, and place a round piece of parchment paper into the bottom of the pan (this will make transferring the cake a lot easier)
In a saucepan melt butter and chocolate over low heat, stirring often, as soon as it is melted remove from heat and let cool
In the bowl of a stand mixer whisk egg yolks, on medium high speed, with 1/2 cup of the sugar until thick and pale, about 3-4 minutes
Add in espresso powder & salt, whisking on medium for about 1 minute
With the mixer on low add in vanilla & chocolate mixture until just combined, scraping down the sides as needed
In a clean bowl whisk the egg whites, on medium-high, until foamy
Increase mixer speed to high and slowly add the remaining 1/2 cup of sugar until stiff peaks form, about 4-5 minutes
Gently fold egg whites into chocolate mixture, working in 3 batches, making sure to not over mix
Pour batter into prepared pan
Bake for 30-35 minutes, or until the middle is just set
Transfer pan to a wire rack to cool completely, middle will collapse a little
Carefully remove the sides of the pan and move to a serving platter
Sift cocoa powder over cooled cake
Cut and serve
ENJOY!!
Notes
Each slice is 12 WW Smart Points
Nutritional Info
Calories 245 Calories from Fat 103 Total Fat 11.4g Saturated Fat 6.7g Cholesterol 111mg Sodium 192mg Potassium 184mg Total Carbohydrates 32.0g Dietary Fiber 1.2g Sugars 29.2g Protein 5.1g Vitamin A 5% - Vitamin C 0% - Calcium 5% - Iron 7% Nutrition Grade D
7.8.1.2
47
https://sparklesnsprouts.com/2017/02/22/flourless-chocolate-cake/
All images are the property of Sparkles n Sprouts, to use image please contact the webmaster at michelle@sparklesnsprouts.com
A little something to finish it off
I topped the cake with cocoa powder, just for the extra but of chocolatey deliciousness, but it was also be great with some powder sugar sifted over it as well.  I served it with fresh whipped cream, but a little ice cream would be amazing…oh trust me this would have been the ultimate dessert (with some salted caramel sauce).  
On its own it is pretty amazing…trust me everyone will love this chocolate treat!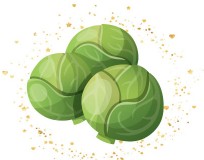 Happy (almost) Spring – MJ