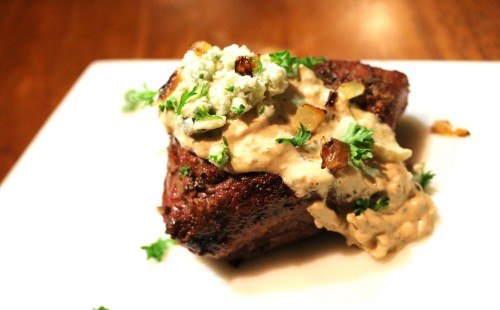 Valentines Day is almost here and I don't know about you but I love to have a special dinner at home rather fighting the crowds…and this year it is all about steaks.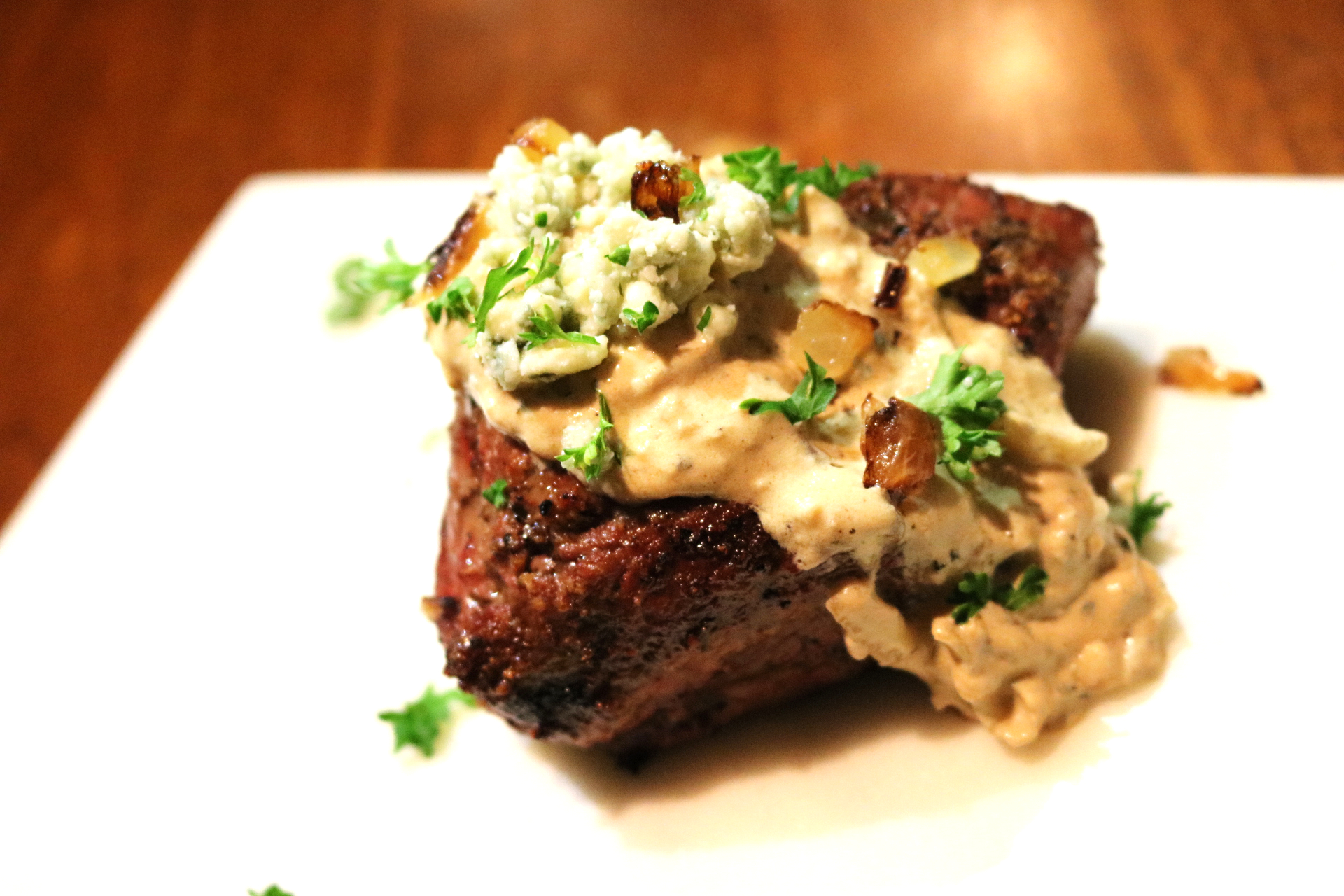 Not your ordinary steak
The Hubby loves steaks, and is always up to grilling his favorite cut of meat but this time it is going to be so much more than just a grilled steak…he just doesn't know it yet.
First off we need to season the steaks.  Most of the time I like to keep things simple with just a little salt & pepper but for this steak I want something a little different so I am going to add in some garlic powder, onion powder and even some chili powder (just for fun).   If you are not into the extra seasoning just stick to salt & pepper, it will still be delicious.
Now to make this steak dinner a little more special I am going to top it off with a delicious onion & blue cheese sauce.  I told you this was not going to be your ordinary steak dinner. 
A little onion and blue cheese
Almost every time we go out to one of our favorite steak places I always find myself ordering blue cheese to go on top of my steak, and even when we cook them at home I always make sure to have some crumbles close by as The Hubby loves it too.  I also love onions with a steak, so I decided it was time to combine the two in a delicious cream sauce.  
So while the steaks are grilling I started working my magic in the kitchen.  It all started with some butter (everything good starts with butter) and some olive oil.  Next come the onions.  I thinly sliced the onions and then let them get browned in the butter/olive oil (again everything good starts with butter).  
Now comes the cream.  Can it get better than butter and cream?  All I have on hand is fat free half & half (I use this for my coffee) and it works perfect in this sauce.  It is still rich and velvety without a ton of fat and calories.  

Brining it all together
When the butter, onions and cream all together a beautiful sauce is made.  Once the sauce is nice and thick the magic happens when you add in the blue cheese.  I understand not everyone is a fan of blue cheese, but this sauce will turn everyone into a blue cheese fan.  
It adds a bit of kick and saltiness tot he sauce without being to over powering.  Just give it a shot, I think you might be surprised just how good it is.
Dinner for 2
MJ
4 servings
Grilled Steak & Blue Cheese Onion Sauce
Well seasoned steak with a rich blue cheese & onion sauce, making this a steak dinner better than most resturants that you can make at home for a lot less money and anytime you want.
5 minPrep Time
20 minCook Time
30 minTotal Time
Ingredients
1 1/2 lbs NY strip steak, cut into 6oz medallions
1 tbsp course ground pepper (or fresh ground)
2 tsp salt
2 tsp garlic powder
1 tsp onion powder
1 tsp chili powder
2 tbsp butter
1 tbsp extra virgin olive oil
1 onion, sliced
1 tsp pepper
1 tsp salt
1 cup fat free half & half (or regular fat half & half)
1/2 cup crumbled blue cheese
Optional Garnish:
Chopped parsley
Additional blue cheese crumbles
Directions
Preheat grill to medium high heat
Remove steaks from refrigerator and let them sit at room temperature for 15-20 minutes to allow the chill to come off of them
In a small bowl combine pepper, salt, garlic powder, onion powder & chili powder
Sprinkle over steaks (on all sides) as they are coming to room temperature
Place steaks onto grill, cooking on each side for 5-6 minutes, before flipping and cooking to desired temperature
Once cooked remove from grill and allow to rest for at least 5 minutes before serving
While steaks are cooking in a medium skillet with high sides, melt butter and olive oil over medium heat
Add in sliced onion, pepper & salt cooking until onions begin to brown and soften, tossing often to keep them from burning, about 7-8 minutes
Gently stir in half & half bringing it a simmer, allowing it to cook down and thicken a bit
Remove from heat and stir in blue cheese, until fully incorporated
Taste and adjust seasoning as needed
Serve over steaks (or chicken)
Top with any additional garnishes your prefer
ENJOY!
Notes
Each serving (6 oz steak & 1/4 of the sauce) is 10 WW Smart Points
Nutritional Info
Calories 370 Calories from Fat 170 Total Fat 18.9g Saturated Fat 9.1g Trans Fat 0.0g Cholesterol 121mg Sodium 2130mg Potassium 742mg Total Carbohydrates 6.9g Dietary Fiber 1.5g Sugars 2.4g Protein 44.1g Vitamin A 10% - Vitamin C 5% - Calcium 13% - Iron 22% Nutrition Grade C-
7.8.1.2
43
https://sparklesnsprouts.com/2017/02/11/keeping-it-a-little-blue/
All images are the property of Sparkles n Sprouts, to use image please contact the webmaster at michelle@sparklesnsprouts.com
Valentines at home can be just as romantic and delicious as your favorite steak house.  To take this dinner to the next level pair it with some brussel sprouts and potatoes.  Also don't forget the dessert.  Maybe some flourless chocolate cake or these brownies.  Really anything chocolate since it is Valentines Day.Make today sparkle – MJ
Make today sparkle – MJ