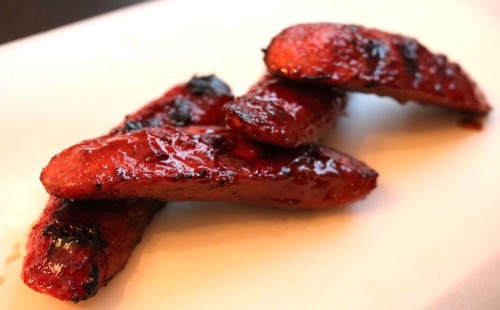 The Super Bowl is just a week away, and that means it is time to start thinking about the food.  In our house we will have a dip of some sort, like this Party Dip or this Dill Pickle Dip.  We will also be grilling. Since we do live in Texas, grilling is almost a requirement and these sausages are definitely on the menu.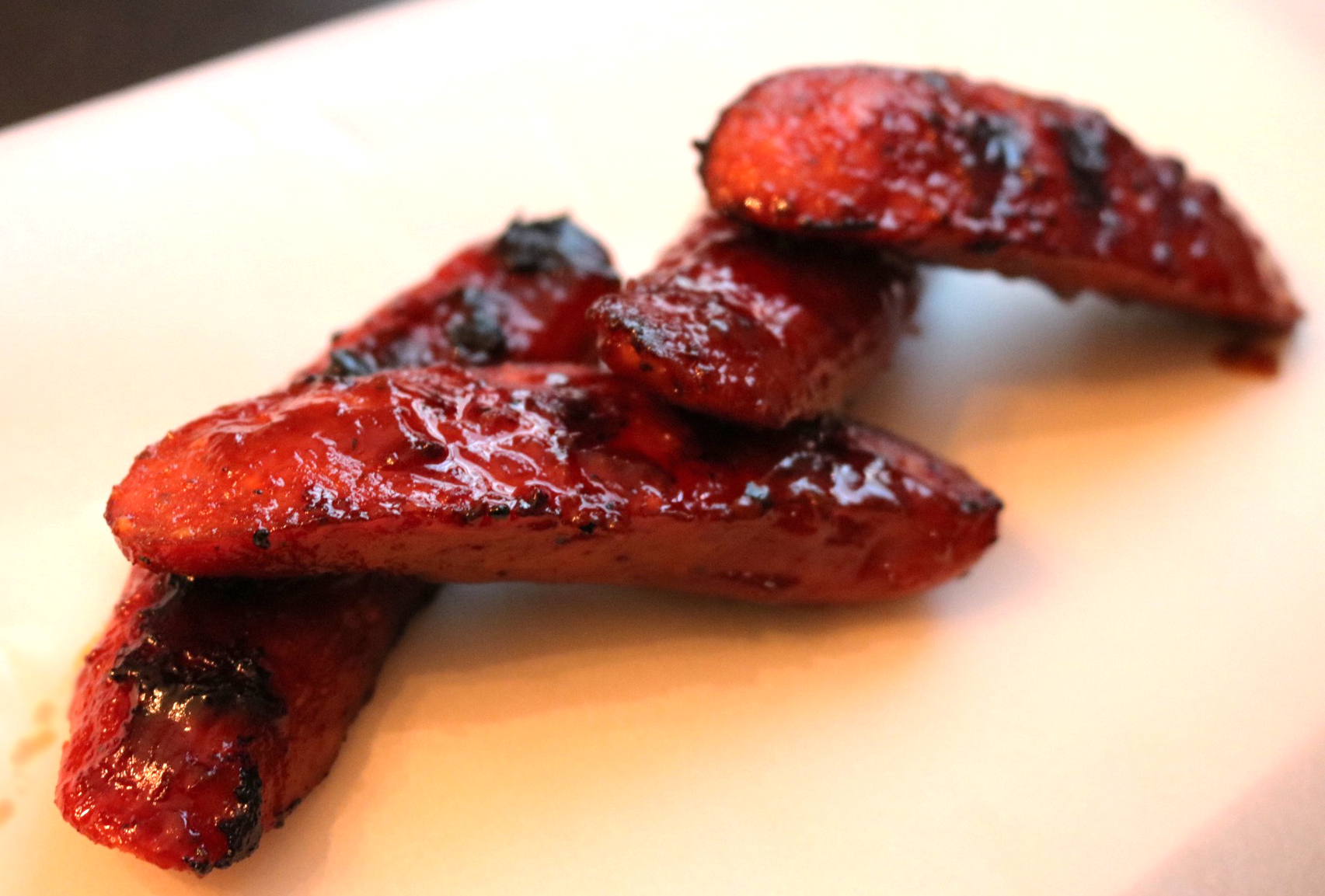 A little sweet & a little heat
The Hubby loves a little sweet with his heat and these grilled sausages offer a bit of sweet for sure.  To bring a little sweet with a little heat I start with my Homemade BBQ Sauce.  This sauce is my go to sauce that I always have on hand.   It is a perfect balance between sweet and spicy, and when mixed with a few other yummies it becomes the perfect glaze for these grilled sausages.
A few other yummies you may be asking?  How about some molasses, Worcestershire sauce, apple cider vinegar and come spices?  I tell you this combo is so good and when grilled becomes the perfect sticky, sweet & spicy kick to make these sausages AMAZING!

No grilling silly…it is WINTER
If it is too cold to grill…no worries.  When I was getting ready to make this dish it actually started pouring rain.  I mean POURING!  The wind was blowing making the rain go side ways.  There was no way I was going to have The Hubby go out and grill in that weather.  So out came the grill pan.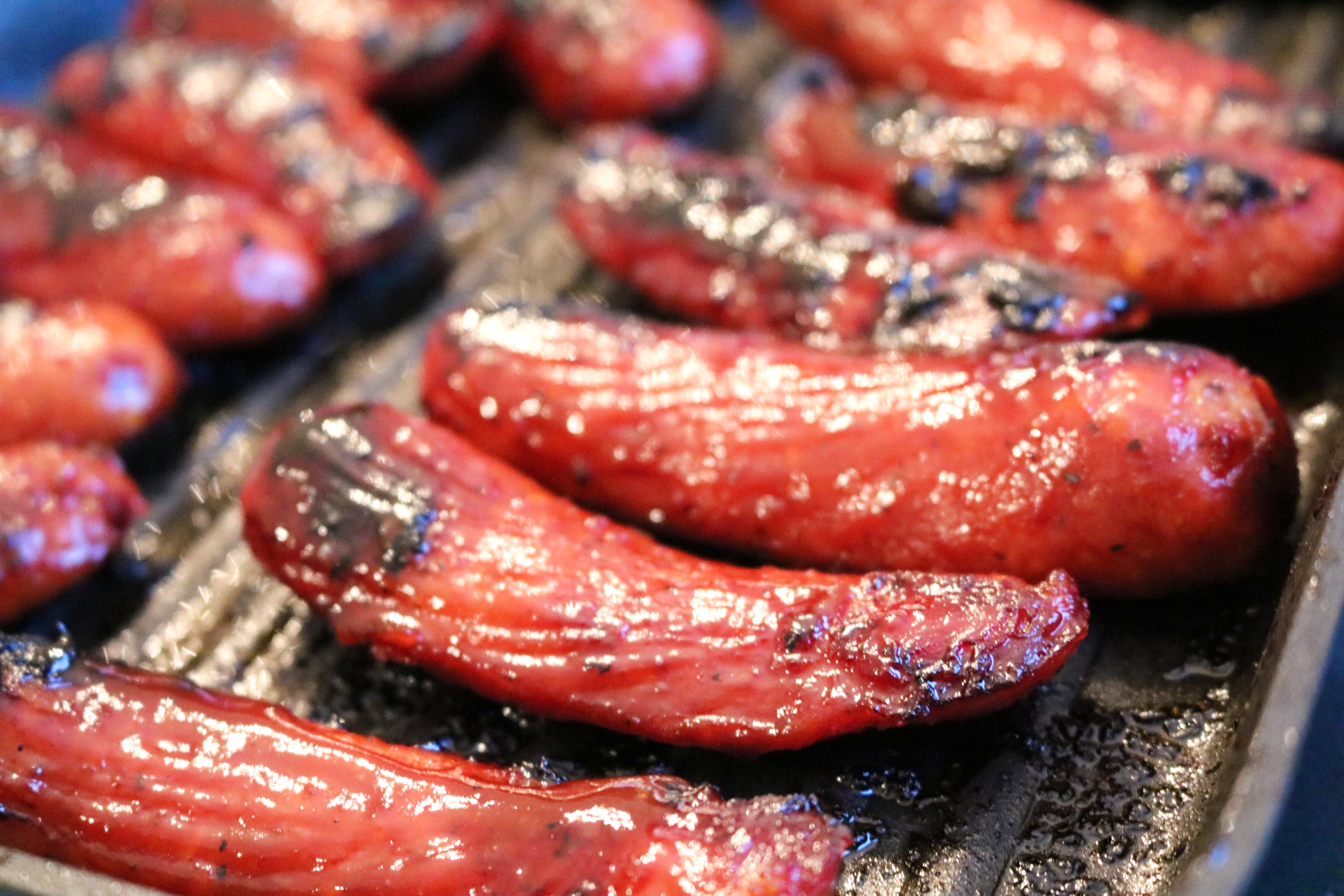 Grill Pan Love
My grill pan is one of my favorite pans.  We use it panini's, grilled cheeses, even toast.   It is my go to pan a lot of the time.  I have gone through a few over the years but this one is my favorite.  It is big enough for fit a good amount of food in the pan and it cleans up in no time.  I love any pan that cleans up easily.
If you don't have a grill pan, don't worry you can still make these in a regular skillet or on a griddle.  Trust me you need to make these anyway you can.
sticky, sweet goodness
MJ
8 servings
Sweet & Sticky Grilled Sausage
Sweet & sticky grilled sausages that are perfect for a quick weeknight dinner.
10 minPrep Time
12 minCook Time
25 minTotal Time
Ingredients
8 links smoked sausage
2 cups barbecue sauce (I used my homemade Sweet & Spicy BBQ Sauce, but any variety will work)
1/2 cup molasses
3 teaspoons Worcestershire sauce
2 tablespoons apple cider vinegar
1 tablespoon garlic powder
1 tablespoon chili powder
2 teaspoons black pepper
2 teaspoons salt
1 teaspoon paprika
1/4 teaspoon cayenne pepper (optional)
Directions
Preheat grill or grill pan to medium high heat
Rub grill with vegetable oil, or spray grill pan with nonstick spray
Cut each link in half lengthwise, you want it to be long like a hot dog just split in half
In a bowl whisk together BBQ sauce, molasses, Worcestershire sauce, apple cider vinegar, garlic powder, chili powder, pepper, salt, paprika & cayenne pepper (if using) until well combined
Taste and adjust seasoning as needed
Place sausage onto grill, cut side down
Cook for 2-3 minutes, flip and brush sauce over grilled side
Repeat flipping and basting until sausage is heated through and have some char marks, about 10-12 minutes total
Make sure to baste generally as the sauce will cook down and give a nice glaze to the sausages
Remove sausages from grill and serve with any remaining sauce
ENJOY!
Notes
Each serving (1 whole sausage or 2 halves) is
Nutritional Info
Calories 264 - Calories from Fat 108 - Total Fat 12 g - Saturated Fat 4.3 g - Monounsaturated Fat 0.5 g - Polyunsaturated Fat 7.6 g - Trans Fat 0 g - Cholesterol 40 g - Sodium 1570 mg - Potassium 453 mg - Total Carbohydrate 26 g - Dietary Fiber 1 g - Sugars 17 g - Protein 11 g
Vitamin A 9 % - Vitamin C 8 % - Calcium 6 % - Iron 6 %
7.8.1.2
212
https://sparklesnsprouts.com/2017/01/28/sweet-sticky-grilled/
All images are the property of Sparkles n Sprouts, to use image please contact the webmaster at michelle@sparklesnsprouts.com
For a party I would cut them into bite size pieces after they are cooked, or you could leave them whole and serve with buns.  However you serve them, everyone is sure to LOVE them!!
For some Super Bowl Party ideas make sure to follow me on Facebook & Pinterest!!
Make today (and your party) Sparkle – MJ