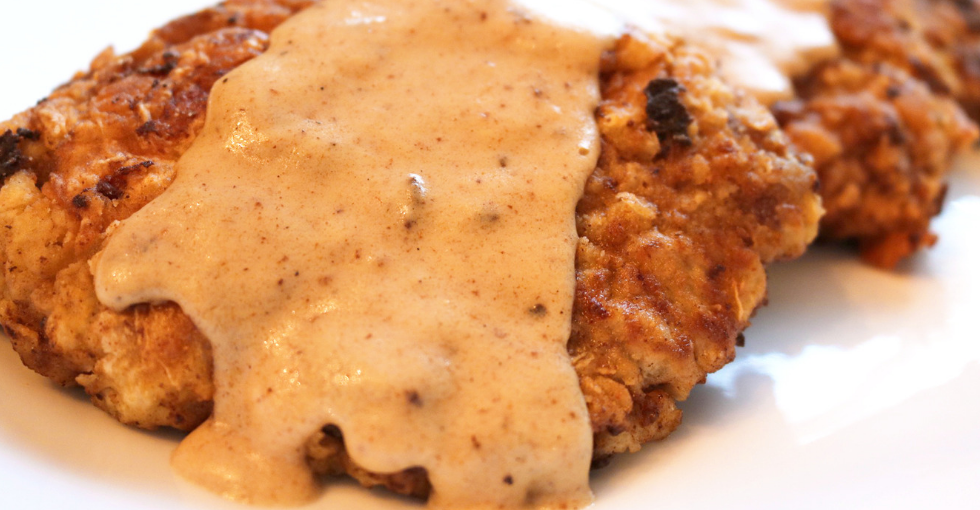 Ok…as you know I am a Texas girl through and through. I was born in Dallas but have lived in the Houston area since I was 2. This girl is a big fan of BBQ, Tex-Mex and CHIKEN FRIED STEAK. In my world a good chicken fried steak can turn any bad day into a GREAT day.

I was scared
Chicken Fried Steak is one of those dishes that I have always been a little scared to make. Ok maybe not a little, maybe I am a lot scared to make. It is one of those dishes with 1000 memories attached to it, and I don't want to mess it up.
Finally though one day my mom said it was time to tackle it and I always listen to my momma. She said she would help me, so if she was willing to help I thought I could give it a shot.
the more tender the more better
For chicken fried steak to be AMAZING the steak has to be tender and the crust has to be crisp and full of flavor. We will talk all things crust in a second, but right now lets talk steak.
There are several meats you can use for a good chicken fried steak but in my family we use cube steak. I love this choice for several reasons. It is already tenderized and that means I don't have to pound away for what would seem like hours. I also love it because I can get it in single serving sizes from the butcher at my local store. It not only saves time but it just makes the whole process a little easier.
If you want to use rib eye or something like that make sure to pound it out to make it super tender.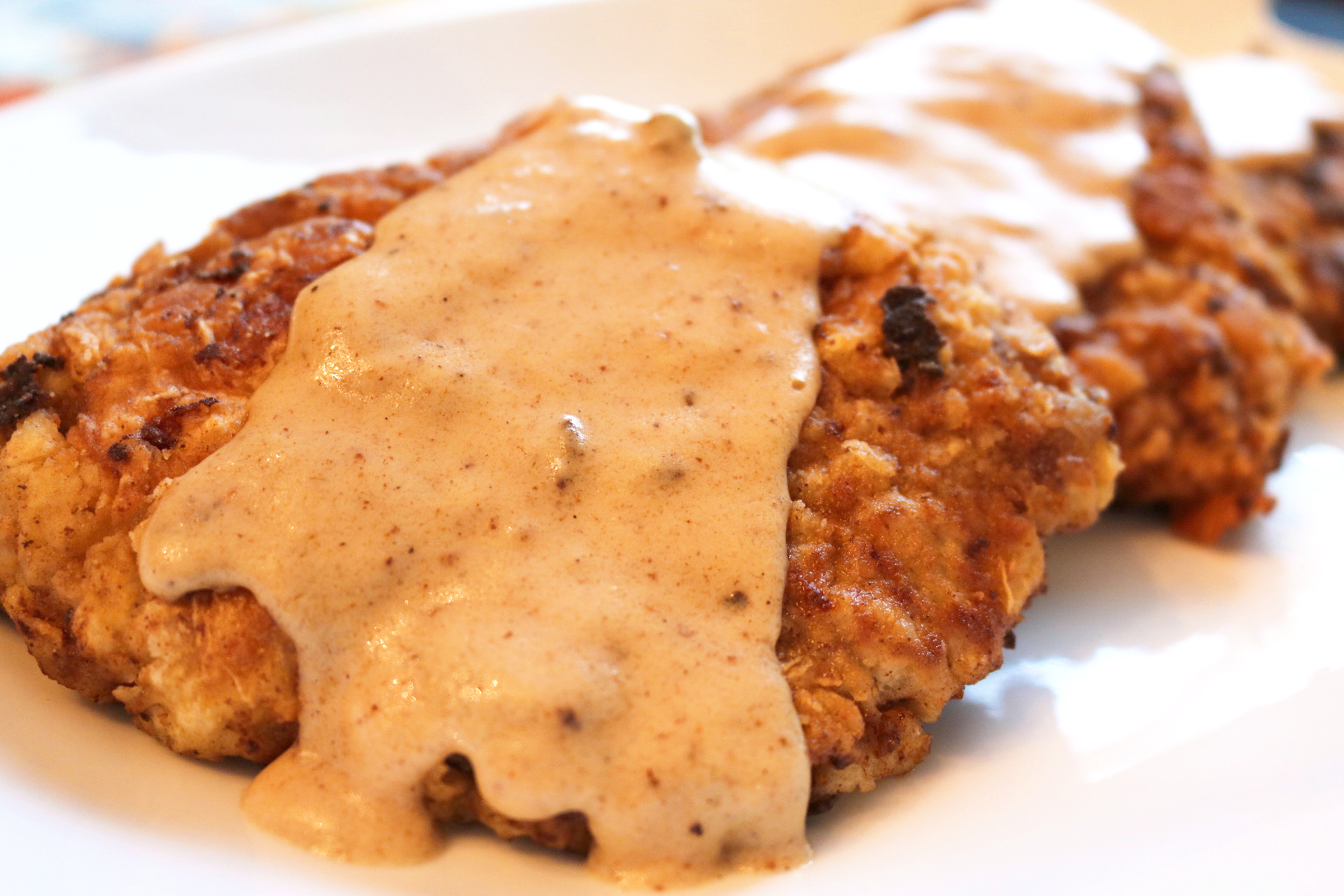 Let's talk about the crust…
A good chicken fried steak has to have a good crispy crust and my mom uses a very simple mixture to make a delicious crust. All she uses is milk, eggs, flour & seasoning and I have to be honest I am a little shocked finding out just how simple it is. I guess I should know by now but simple is usually best.
It is important to remember that this is where the seasoning comes from for the chicken fried steak. When you think you have seasoned it enough, go ahead and season it a little more. As mom says "it's fine, just trust me".
Mom always uses Lowry's seasoning salt, but you use whatever all purpose seasoning you like and have on hand. Just make sure to season it enough.
Time to Fry…don't worry the gravy is coming
MJ
8 servings
Honey's Chicken Fried Steak & Gravy
Tender and super crispy chicken fried steak that is loaded with tons of flavor and topped with a creamy gravy making it a perfect dinner treat
15 minPrep Time
45 minCook Time
1 hr, 10 Total Time
Ingredients
Chicken Fried Steak
1 cup oil, for frying, adding more if needed
3 pounds cube steak, cut into individual servings
4 large eggs
2 cups milk (whole or buttermilk)
4 tablespoons seasoning salt, divided
3 cups all-purpose flour
Gravy
3 tbsp reserved oil from frying skillet
1/2 cup all-purpose flour
2 cups milk
2 teaspoons salt
2 teaspoons black pepper
Directions
Heat oil in a large skillet on the stove or in an electric skillet
In a flat bottom bowl whisk together eggs and milk until well combined
In a separate flat bottom bowl whisk together flour & 3 tablespoons of seasoning salt
Sprinkle remaining seasoning salt over cube steak
Dredge each individual cube steak into flour, then dip into egg mixture and then back into flour mixture
Place into hot oil and cook on each side until golden brown, about 3-4 minutes per side
Remove pieces to a paper towel lined rimmed baking sheet
Repeat until all steak is cooked
>>Making the Gravy<<
Pour off oil, reserving 3 tablespoons
Using the same skillet heat reserved oil over medium high heat
Whisk in flour until smooth making a roux, allowing to cook for 3-4 minutes
Stir in milk in 1/2 cup intervals, bringing to a boil and whisking until smooth before adding more
Add milk until desired consistency is reached
Stir in salt & pepper, tasting and adjusting seasoning as needed
Serve with chicken fried steak
ENJOY!!
Notes
Each serving is decadent and delicious
Nutritional Info Calories 706 - Calories from Fat 387 - Total Fat 43 g - Saturated Fat 10.6 g - Monounsaturated Fat 19.1 g - Polyunsaturated Fat 9.9 g - Trans Fat 0 g - Cholesterol 176 g - Sodium 3408 mg - Potassium 650 mg - Total Carbohydrate 38 g - Dietary Fiber 1 g - Sugars 5 g - Protein 37 g
Vitamin A 6 % - Vitamin C 0 % - Calcium 13 % - Iron 28 %
7.8.1.2
197
https://sparklesnsprouts.com/2017/01/26/honeys-chicken-fried-steak-gravy/
All images are the property of Sparkles n Sprouts, to use image please contact the webmaster at michelle@sparklesnsprouts.com
Time for gravy
Down here we have to have gravy on chicken fried steak and it better be a creamy gravy. Want to know a little secret? When you season your chicken fried steak enough you will not need to season the gravy very much.
I love that so much, there is so much seasoning already in the gravy just a little salt & pepper makes it good and done. Trust me this gravy is not only good on the chicken fried steak it is AMAZING on biscuits. You might want to whip up these butter biscuits and serve with your chicken fried steak.
I also am a big fan of making more gravy then I need and then reheating for breakfast the next day. Yes it is that good and I am from the south.