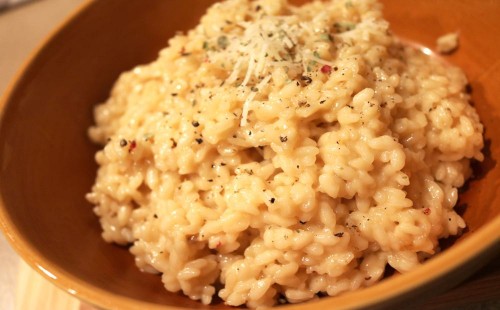 Weeknight Risotto…yes for real
I am a HUGE risotto fan.  Almost anytime it is on a menu I will probably order it, but I also love to make it at home.  Even better, over time The Hubby has learned to LOVE risotto too.

you've got this…
So I know some of you are thinking there is no way I can make risotto on a weeknight.  It takes way to long and there is so much to it…but just wait.  This weeknight risotto only has a few ingredients and comes together pretty quick making it perfect or dinner tonight.
The beauty of this risotto is that it is perfect for the beginner risotto maker.  The first time I made risotto I was so nervous.  All you ever hear (or see on Food Network) is how long it takes and how much care you have to give it.  Don't get me wrong, it does take a little while and you do have to stir it quite a bit but it is not as bad as I thought…it is actually kinda fun.

Just a few things and your ready…
All you need to make it happen is chicken stock, risotto, olive oil, garlic, salt, pepper and cheese (if you want).  If you are anything like me you probably have all of that in your pantry right now.  If you don't have chicken stock you can use chicken broth, or water with chicken bouillon cubes, or just plain water.  Just know you might need to add in some additional salt if not using stock.
For the cheese I used grated parmesan, but you can use whatever hard cheese you prefer.

Get to stirring
To make this risotto extra special yummy I always "toast" the risotto before adding in any liquid.  It helps to add some body to the dish and a little nuttiness, that really adds some great flavor.  It is important to stir the risotto constantly as it toasts, you don't want it or the garlic to burn, so it is best to keep it moving.
Once you start adding in the liquid you will want to stir it in and then stir it fairly frequently as the liquid cooks out.  Stirring it helps break down the grains of risotto which helps to create the creamy dish we all love.
Weeknight treat in the making
MJ
4 servings (about 1/2 cup each)
Weeknight Risotto
A creamy risotto with tons of flavor that can be made in less than 30 minutes and perfect for dinner tonight
5 minPrep Time
25 minCook Time
30 minTotal Time
Ingredients
3 cups chicken stock
2 teaspoons extra virgin olive oil
1 cup risotto
3 cloves garlic minced
1 teaspoon salt
1 teaspoon black pepper
1/4 cup grated parmesan
Directions
In a small saucepan bring chicken stock to a simmer
While chicken stock is hearing, add olive oil to a medium size saucepan and heat over medium heat
Add in dry risotto and cook for 2-3 minutes until lightly toasted
Stir in garlic and cook for an additional 2 minutes, stirring often
Add in 1 ladle of chicken stock, salt & pepper and stir until stock is absorbed
Continue adding stock 1 ladle at a time, stirring often, until risotto is tender and creamy and most of the stock is used
When ready to serve stir in grated parmesan until cheese is just melted
Serve & ENJOY!!
Notes
Each serving is 5 WW Smart Points
Nutritional Info
Calories 166 - Calories from Fat 18 - Total Fat 2 g - Saturated Fat 1 g - Monounsaturated Fat 1.5 g - Polyunsaturated Fat 0.3 g - Trans Fat 0 g - Cholesterol 3 g - Sodium 517 mg - Potassium 41 mg - Total Carbohydrate 27 g - Dietary Fiber 1 g - Sugars 0 g - Protein 6 g
Vitamin A 0 % - Vitamin C 0 % - Calcium 5 % - Iron 6 %
7.8.1.2
291
https://sparklesnsprouts.com/2017/01/18/weeknight-risotto-yes-for-real/
All images are the property of Sparkles n Sprouts, to use image please contact the webmaster at michelle@sparklesnsprouts.com
It's ok to treat yourself…
Now I know this is not the most healthy of dishes, but every once in a while it is ok to treat yourself a little….right?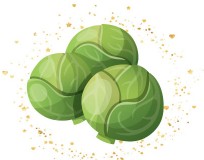 Make today (& this week) sparkle – MJ