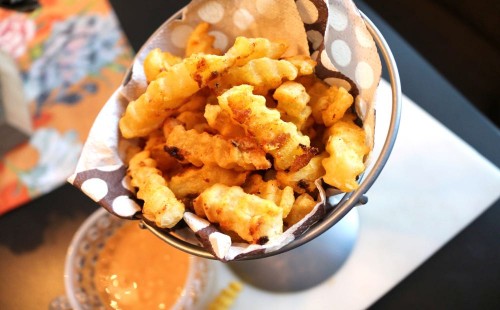 frozen has never been so fancy
Not too long ago I was in the middle of a crazy week and The Hubby wanted to grill.  I always loves it when he grills but I didn't have any sides for the burgers.  And then I looked in the freezer and saw the answer…frozen fries.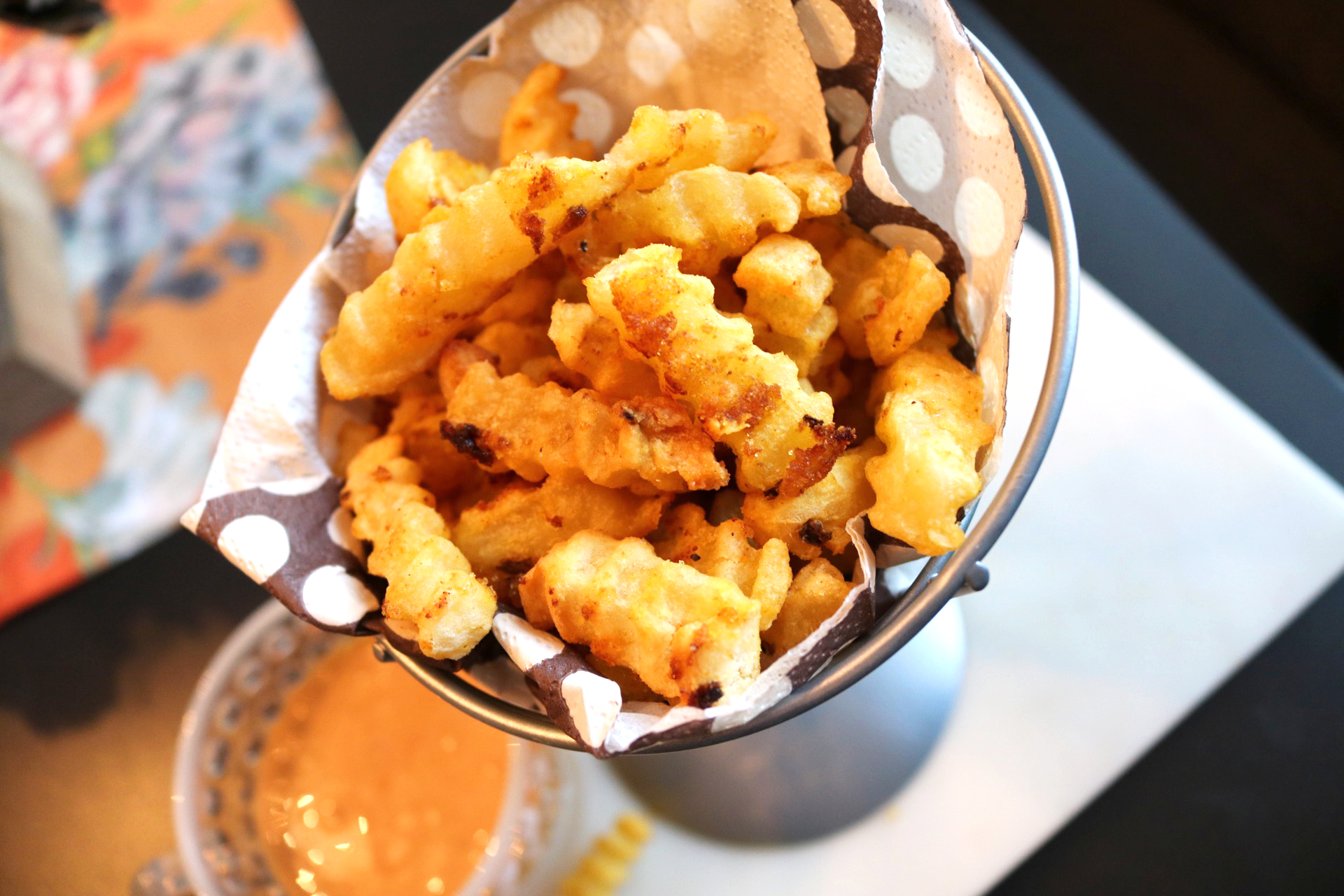 Now it's time to make them fancy
Me being me I can't just bake them as directed on the package, I have to fancy them up a bit.  So how do you make frozen fries fancy, you ask?  It really is quite simple…just a few shakes here and there and there you go…Fancy Fries.
First spread them out onto a baking sheet and spray (or drizzle) some olive oil over them.  Then comes the fun, you sprinkle a little seasoning salt, a little brown sugar and some chili powder.  The combo of the saltiness from the season salt and the sweet from the sugar and smoke (and heat) from the chili powder combine to create the perfect seasoning for some fancy fries.
When they came out of the oven they were  golden brown, crispy and seasoned perfectly, and even better The Hubby didn't even know they were frozen, he thought I made them from scratch.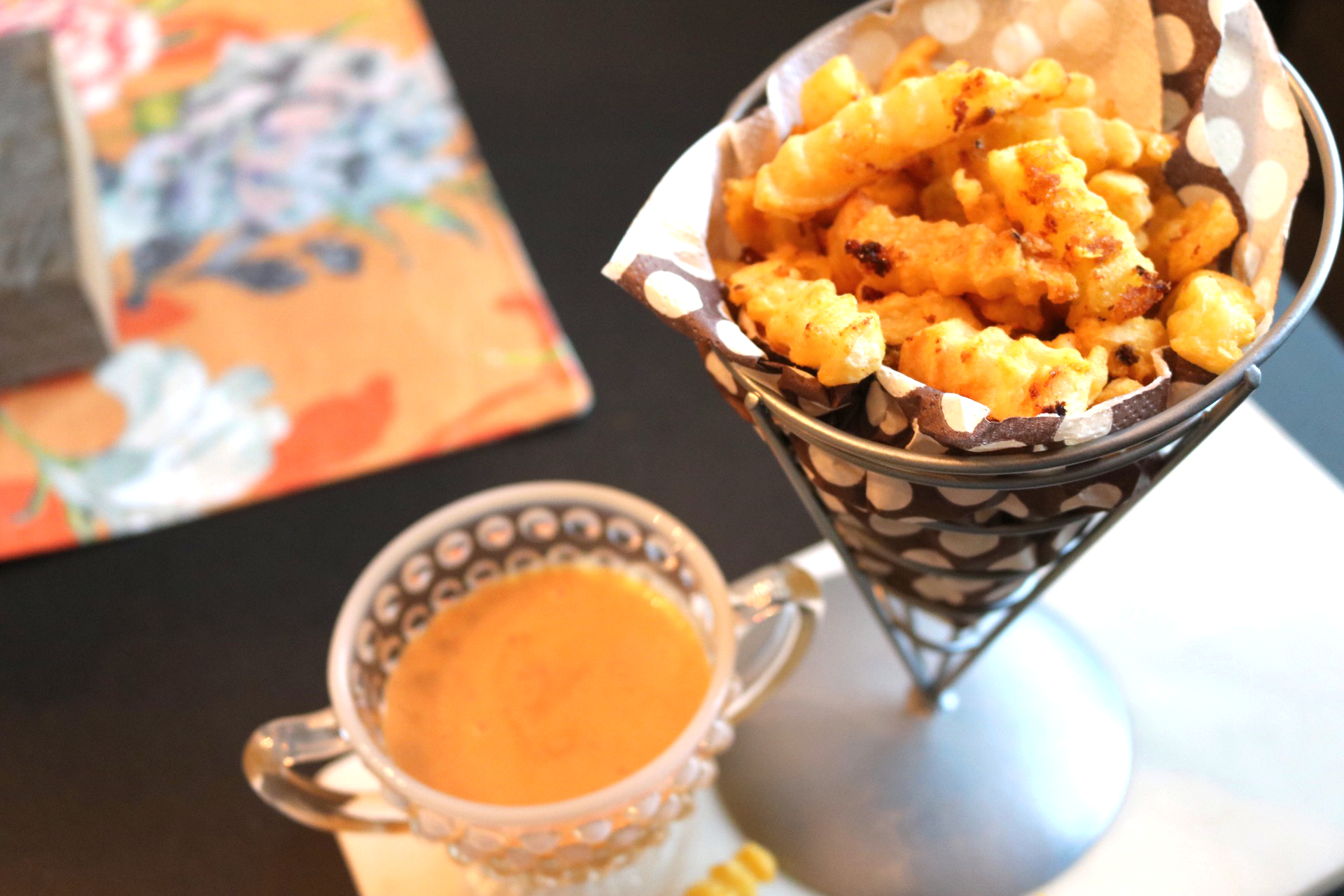 Fancy fries deserve a Fancy sauce
I love to dip fries in yummy sauces.  The Hubby is good with just ketchup, but not me.  I like to mix a few things together to make a yummy sauce.
One of my favorite dipping sauces is this quick Honey BBQ sauce.  It is made with stuff you already have on hand, and can be personalized to your own taste in no time at all.
For me I like a creamy sauce that has a little kick, and this sauce has all that and more.  I started with some bottled BBQ sauce (or you can use this Homemade BBQ sauce) and then some mayo, honey and mustard and then a few spices.
There is one one little surprise for this sauce…fresh lime juice. I just love the bit of acidity it adds.  It will be the one thing that people can't figure out, and I love that ALWAYS!
The Fancier the better…
MJ
8 servings
Fancy Fries & Honey BBQ Dipping Sauce
Frozen fries taken to the next level with a little seasoning making them taste like homemade. Pair the fancy fries with a Honey BBQ Dipping Sauce to make for a perfect side dish that everyone is sure to love
15 minPrep Time
30 minCook Time
45 minTotal Time
Ingredients
Fancy Fries
1 package (9 oz) frozen french fries (I used Ore Ida extra crispy)
olive oil spray
2 tablespoons Seasoning Salt
1 tablespoon brown sugar
1 tablespoon chili powder
Fry Sauce
1/4 cup mayonnaise
1/4 cup barbecue sauce
1 tablespoon mustard
1 tablespoon honey
1 teaspoon molasses
1 teaspoon Worcestershire sauce
1 teaspoon salt
1 teaspoon black pepper
1 teaspoon chili powder
1/2 teaspoon garlic powder
1/2 lime, juiced
Directions
--For the Fries--
Preheat oven according to instructions on bag
Line a rimmed baking sheet with parchment paper
Lay frozen fries into a single layer on the sheet pan
Spray with olive oil spray (or any cooking spray you prefer)
In a small bowl combine season salt, brown sugar and chili powder
Sprinkle half of the seasoning mixture over the fries
Place fries into oven
Cook for 1/2 of the recommended time
Remove and toss fries and sprinkle with remaining season salt
Place back into oven and continue cooking until done
Remove and serve immediately with sauce
--For the Sauce--
In a small bowl combine all the ingredients until smooth
Taste and adjust seasoning as needed
Serve with fries (or on anything else...it is THAT good)
Notes
Each serving is 5 WW Smart Points
Nutritional Info
Calories 141 - Calories from Fat 72 - Total Fat 8 g - Saturated Fat 1.9 g - Monounsaturated Fat 4 g - Polyunsaturated Fat 1.9 g - Trans Fat 0 g - Cholesterol 1 g - Sodium 1416 mg - Potassium 189 mg - Total Carbohydrate 16 g - Dietary Fiber 2 g - Sugars 4 g - Protein 1 g Vitamin A 8 % - Vitamin C 5 % - Calcium 1 % - Iron 0 %
7.8.1.2
235
https://sparklesnsprouts.com/2017/01/13/frozen-has-never-been-so-fancy/
All images are the property of Sparkles n Sprouts, to use image please contact the webmaster at michelle@sparklesnsprouts.com
You can make any meal a little fancy with frozen fries and a super yummy sauce that everyone will love.
Make today sparkle – MJ