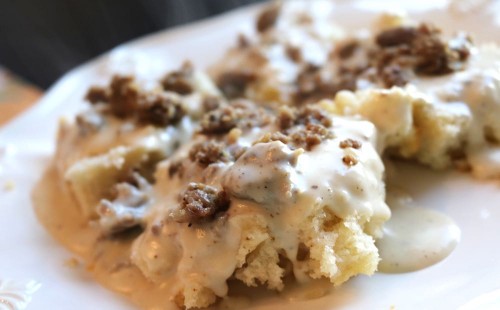 When you ask The Hubby what he wants for breakfast his typical answer usually is biscuits and gravy.  Now his new favorite biscuits are these butter biscuits and his favorite gravy is this sausage gravy…so I bring you The Hubby's Dream Breakfast.
Don't be afraid of gravy (like I used to be)…
So when I first started cooking there were 2 things that I just couldn't get the hang of…gravy and crust.  Now I know some of you are probably laughing and shaking your head and trust me I did as well.  I would ask myself why I couldn't get these simple recipes down each time I would try to make them…and then I finally did.    And really it just happened.  I kept trying to make them and then one day it worked, and all of a sudden I could do it.  And now I can't stop making them.
Now whether you have mastered gravy or not, this super simple recipe is a must make (like for breakfast tomorrow).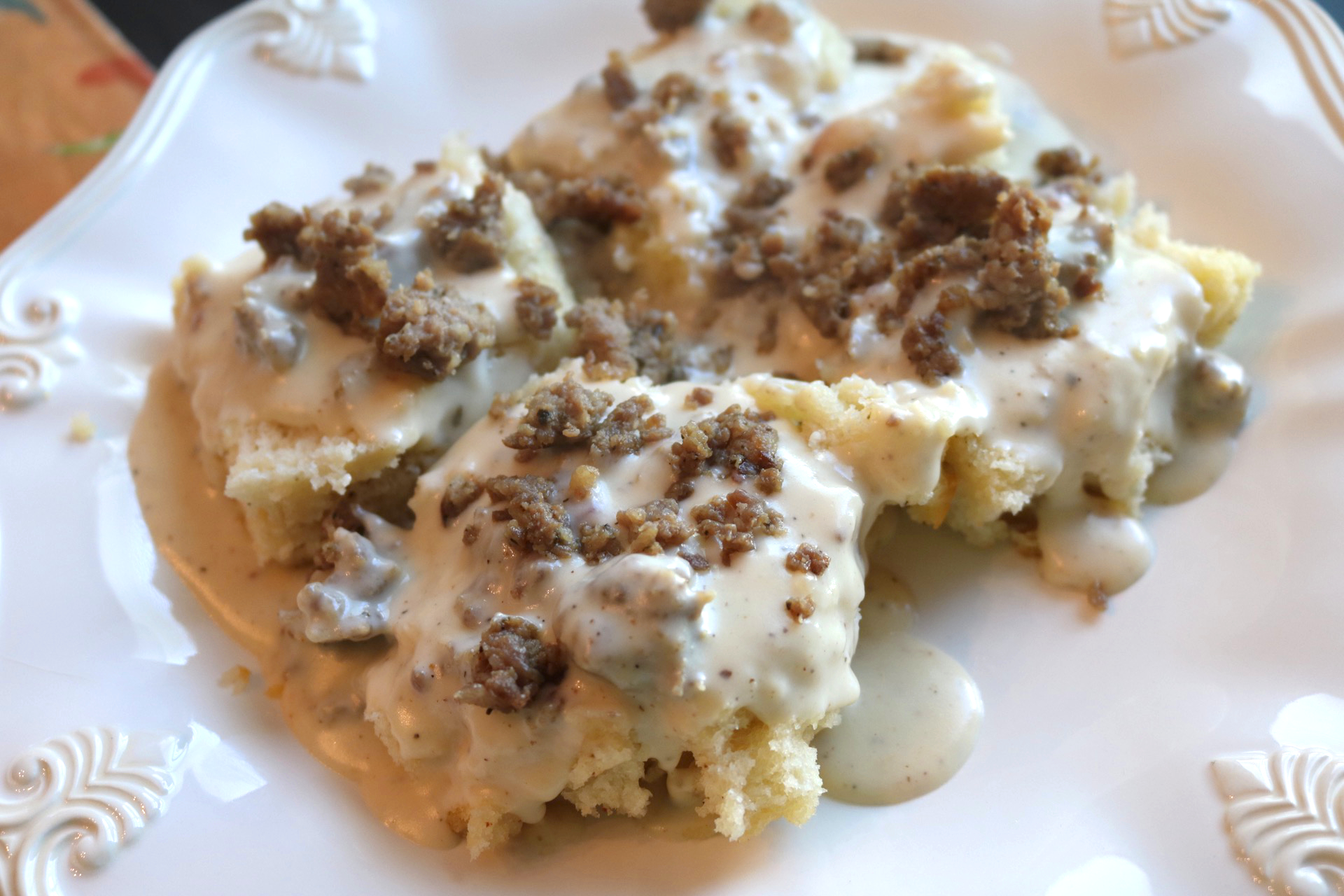 Sausage (or bacon) is key…
Growing up my MeeMaw always put sausage in her gravy.  The Hubby grew-up with gravy made from bacon grease.  Now I have used both…and both are great…in the end it really is all about the grease.
Now for me I have found that my cast iron skillet is my best tool for gravy making.  First I fry up the sausage (or bacon) in the skillet.  I drain the grease into a metal container or another heat proof container, keeping most in the pan.
Then the roux happens…this was the part I has trouble with in the beginning.  You have to let it cook long enough for the flour taste to cook out, you see I would always try to rush the process and the gravy never tasted just right.  The lesson I finally learned is to let the roux cook for a good 4-5 minutes, stirring often to really let that deep flavor develop from the grease and all the flour taste to cook out.  Trust me you will be glad to learn this lesson now, and not years from now.
Keep in mind depending whether you use sausage or bacon, will depend on how much extra salt is needed in the end.  I have found I need less salt with bacon, but that is just our preference.
Keep whisking…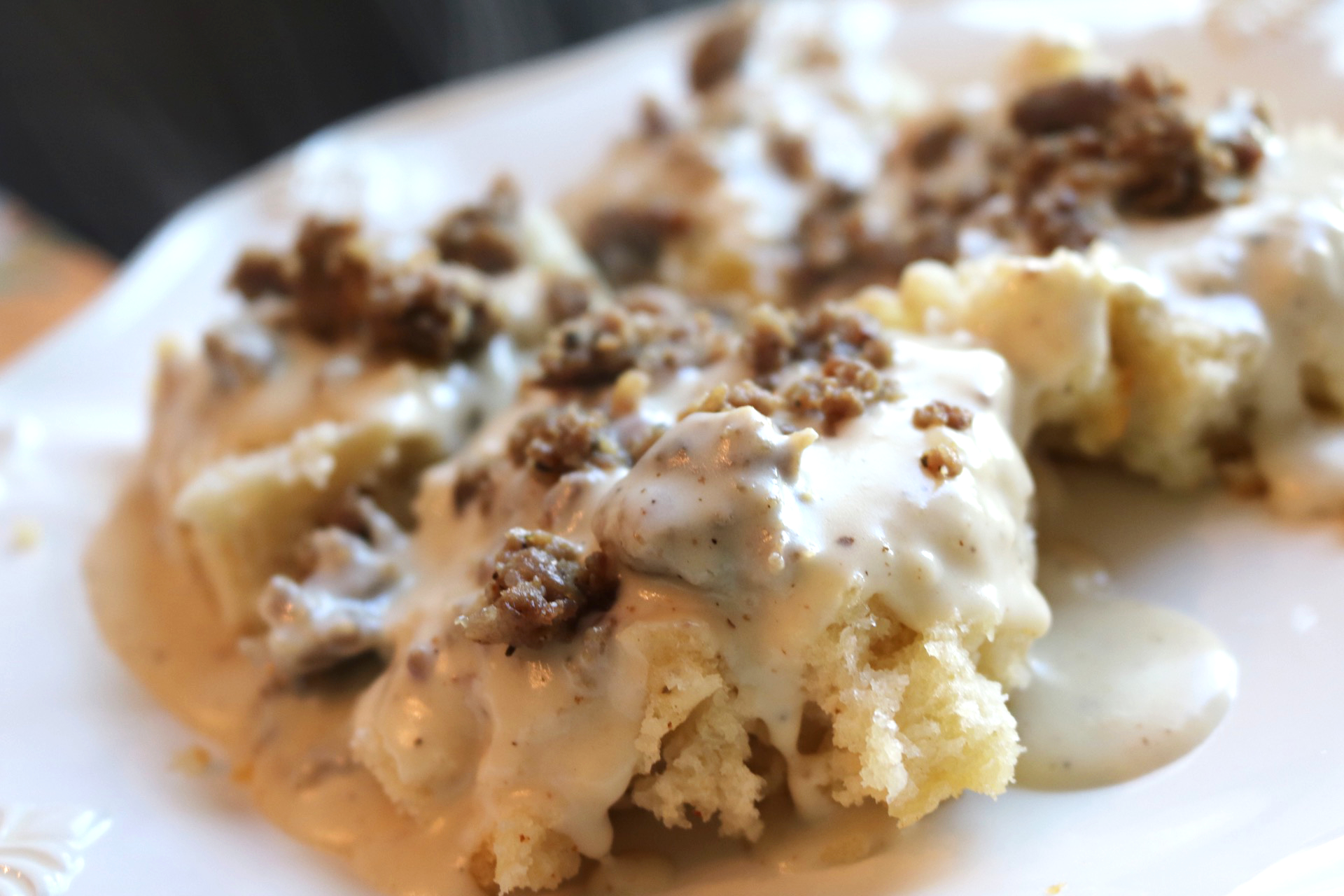 Now once the roux has cooked through it is time to whisk in the milk.  I like to use whole milk for my gravy, but I have used almost all varieties and they all work…the whole milk just makes for a richer gravy.  In my book rich gravy is the best gravy so whole milk is my favorite for sure.
Once you get the gravy to right consistency, just be patient it will happen…trust me it will happen.  Ok so once your patience is throughouly tested it is time to add in the crumbled sausage or bacon.  Then you taste it.  Be careful though, it is HOT and I don't want you to burn your tongue.  I normally have to add in some salt and pepper to really round out the gravy and then voila your done.
Now I know I just made it sound super easy, and really once you get the hang of it is…I know from experience it can be done.
Get your gravy on…
MJ
10 servings
Sausage Gravy
Rich and creamy homemade gravy with bits of sausage in each bite
5 minPrep Time
20 minCook Time
25 minTotal Time
Ingredients
1 pound breakfast pork sausage
1/4 cup all-purpose flour
2 cups milk
1 tablespoon black pepper
2 teaspoons salt
Directions
In a large skillet brown sausage over medium high heat, breaking it up as it cooks
Once sausage is cooked through remove to a paper towel lined plate to drain, reserving the drippings in the skillet
Whisk in flour and cook for 4-5 minutes, stirring often
Whisk in milk and bring to a boil, stirring often until gravy begins to thicken
Add in pepper and 1 teaspoon salt, taste and add in more as needed
Continue cooking until desired consistency is reached
Serve over your favorite biscuits
Notes
Each serving (about 1/4 cup) is 6 WW Smart Points
Nutritional Info
Calories 171 - Calories from Fat 108 - Total Fat 12 g - Saturated Fat 4.3 g - Monounsaturated Fat 5.5 g - Polyunsaturated Fat 1.7 g - Trans Fat 0 g - Cholesterol 35 g - Sodium 778 mg - Potassium 182 mg - Total Carbohydrate 5 g - Dietary Fiber 0 g - Sugars 2 g - Protein 8 g
Vitamin A 3 % - Vitamin C 0 % - Calcium 6 % - Iron 6 %
7.8.1.2
254
https://sparklesnsprouts.com/2016/12/25/gravy-please/
All images are the property of Sparkles n Sprouts, to use image please contact the webmaster at michelle@sparklesnsprouts.com
I hope you are able to take a minute and enjoy this week with family and friends, and maybe even some biscuits and gravy to really make this Holiday something to remember.
Make everyday sparkle – MJ