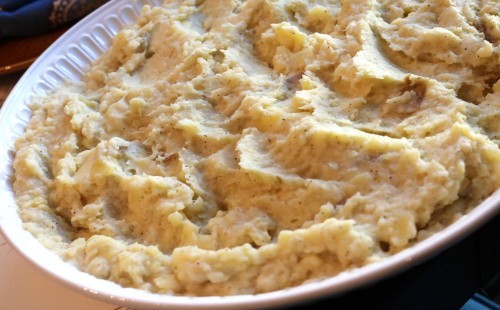 Mashed potatoes are a must have at all of our Thanksgiving celebrations and our Pot Luck Thanksgiving was no exception, but these have a little twist that surprised everyone.
Make sure and check back often to get these recipes very soon…

Pot Luck Fun
One of the best parts of a Pot Luck dinner is never really knowing what is going to be coming through the door.  And while this is a Thanksgiving Pot Luck I did have a pretty good idea of what to expect my Sis-in-Law really surprised me.
She said she was bringing the mashed potatoes and I LOVE mashed potatoes so I was super excited. Only she told me a secret…there is cauliflower in the mashed potatoes.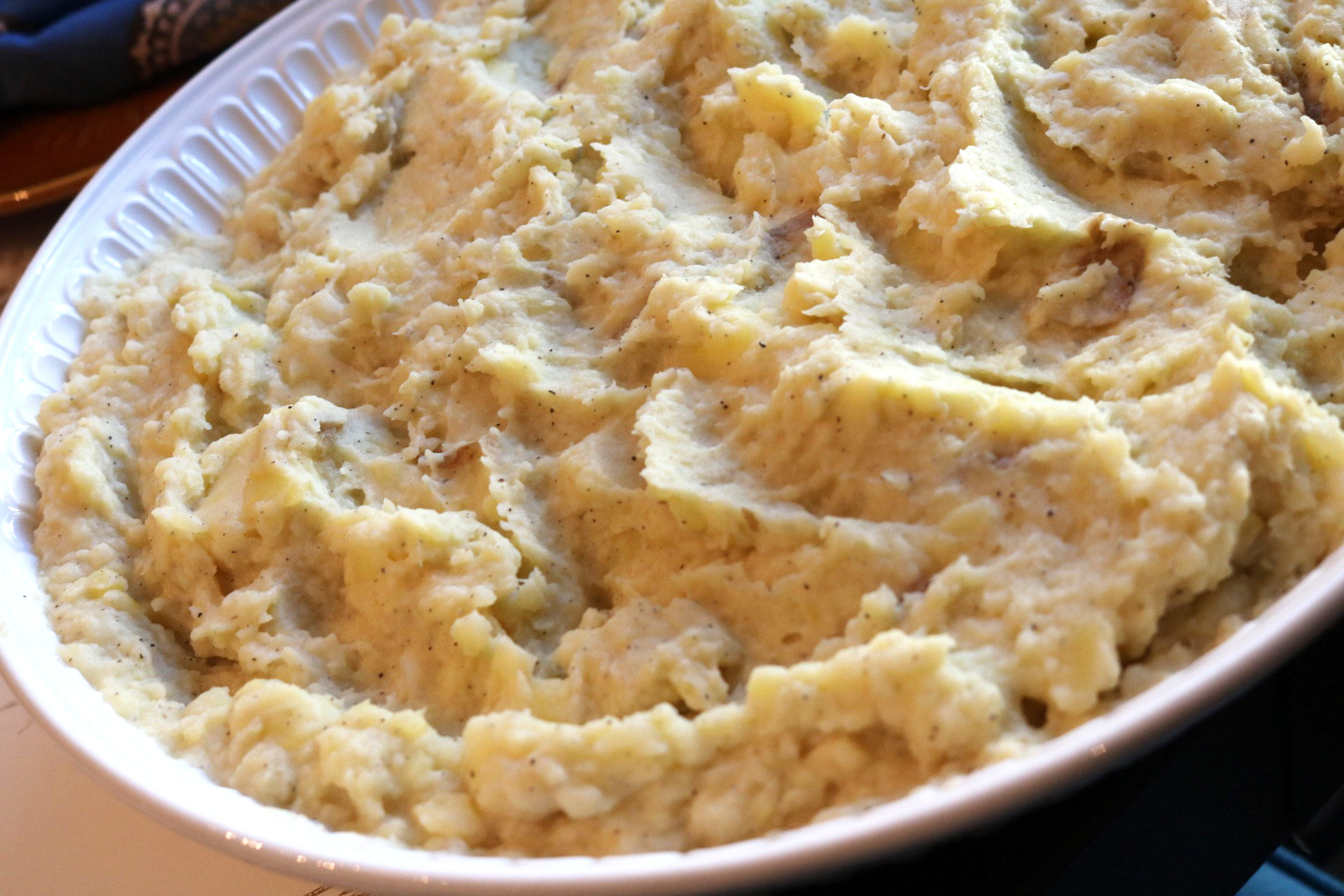 The Cauliflower Bandwagon
Yep my sweet sis-in-law decided to jump head first into the cauliflower bandwagon and decided to "secretly" make Potato &  Cauliflower Mash.  The trick is she didn't tell ANYONE, other than me, that these are not your traditional mashed potatoes.
The beauty is they look just like your regular run of the mill mashed potato..I mean look at the picture.  Would you ever guess there is a veggie hiding in there?  I didn't.  They are fluffy, light and seasoned to perfection with just a hint of butter.  She also left on some skins to give it some great texture.

The Taste Test
Being that we didn't tell anyone before dinner we decided to get everyones feedback and then let the cat out of the bag.  So everyone went through the line and filled up their plates.  All you could hear were "yumms" and "wow everything is so good".  So after everyone had their fill, we decided to let the cat out of the bag.
Well lets just say no one could believe they had just had a Potato & Cauliflower Mash.  Everyone thought they were traditional mashed potatoes.  Even the pickiest of eaters… LOVED them!!
See look at their faces…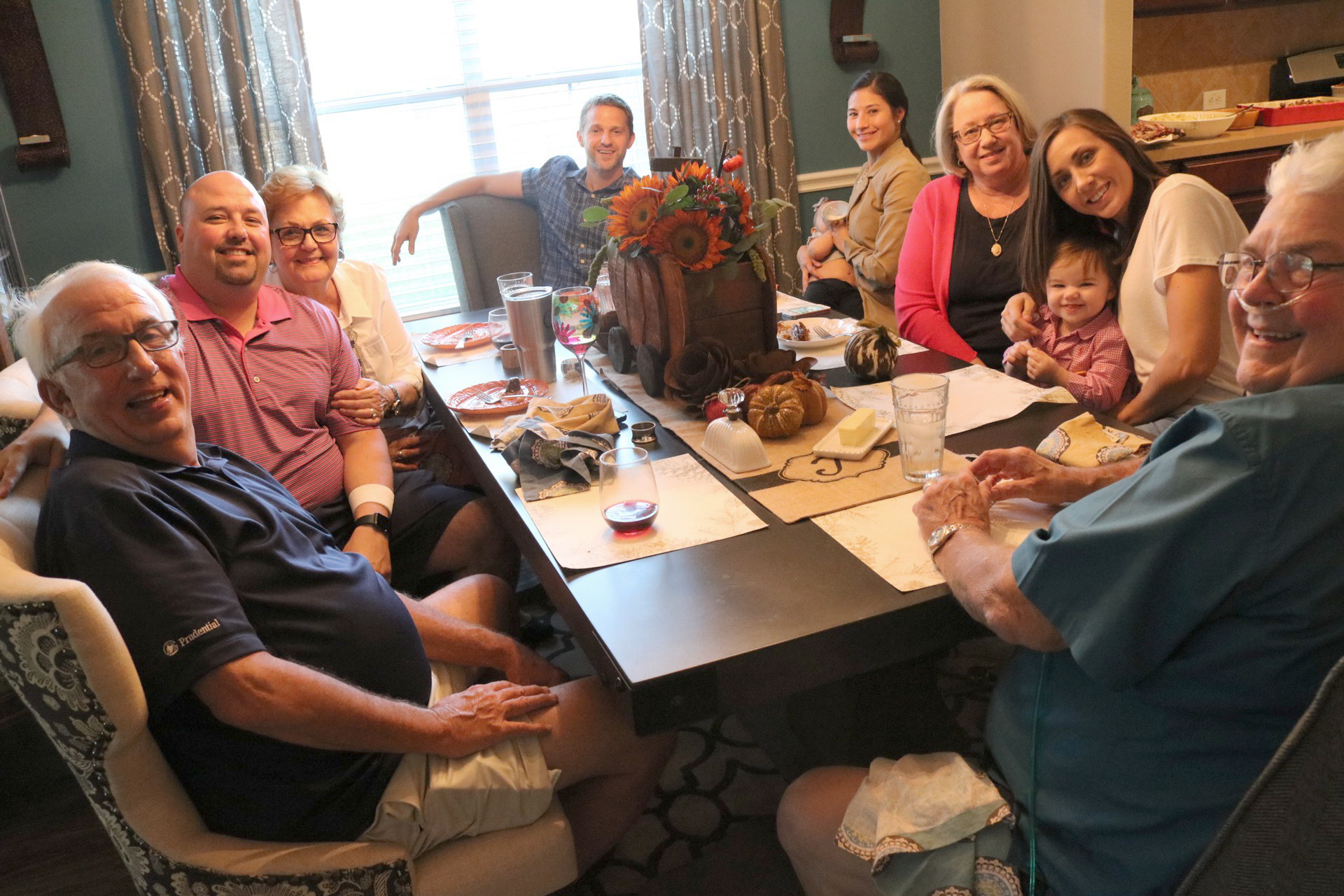 They not only loved the mashed potatoes but they also loved everything else as well.  Even my niece Audra loved them…I mean how cute is she!  I could eat her with a spoon!!
Just trust me & The Sis-In-Law
Sis-In-Law
8 servings
Potato Cauliflower Mash
Better for you mashed potatoes...but no one will ever know (unless you tell them).
10 minPrep Time
30 minCook Time
50 minTotal Time
Ingredients
5 pounds yukon gold potatoes
1 medium head, Cauliflower
3 garlic cloves, minced
2 teaspoons salt
1 tablespoon extra virgin olive oil
2 tablespoons butter, melted
1/2 cup milk - 2%
2 teaspoons salt
3 teaspoons black pepper
Directions
Fill a large stock pot half way with water
Peel half of the potatoes and then cut all potatoes into 1/2 inch cubes and place into stock pot
Break off cauliflower florets and place into stock pot
Add garlic and salt to water
Bring water a boil and then reduce to a simmer and cook for 15-20 minutes, or until potatoes are fork tender
Drain potatoes and cauliflower
Place back into stock pot or into the bowl of a stand mixer
Mash with a hand masher, or mix with a paddle attachment until potatoes and florets are broken down
Add in olive oil, butter, milk and remaining salt & pepper
Mash (or mix) until desired consistency is reached
Taste and adjust seasoning as needed
Serve & ENJOY!
Notes
Each serving is 8 WW Smart Points
Nutritional Info
Calories 300 - Calories from Fat 36 - Total Fat 4 g - Saturated Fat 1.5 g - Monounsaturated Fat 2 g - Polyunsaturated Fat 0.4 g - Trans Fat 0 g - Cholesterol 6 g - Sodium 524 mg - Potassium 1546 mg - Total Carbohydrate 60 g - Dietary Fiber 8 g - Sugars 4 g - Protein 8 g
Vitamin A 2 % - Vitamin C 150 % - Calcium 7 % - Iron 11 %
7.8.1.2
271
https://sparklesnsprouts.com/2016/11/09/mashed-potatoes-with-a-healthy-twist/
All images are the property of Sparkles n Sprouts, to use image please contact the webmaster at michelle@sparklesnsprouts.com
Don't worry I wont tell
If you want to surprise everyone this Thanksgiving, I won't tell.  Don't worry they will LOVE them as much as we all did.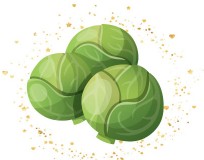 Make today (& Thanksgiving) Sparkle – MJ