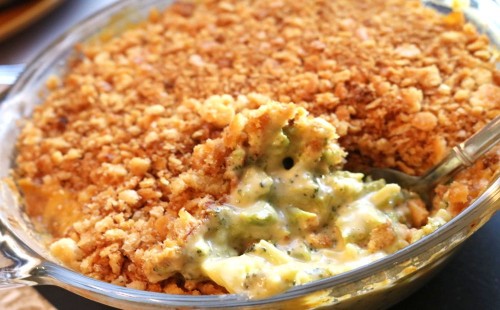 It has a veggie in it, so it's healthy… right?
The life of a food blogger is fun no doubt, but when it comes to the Holidays it can get a little hard to come up with new recipes each year.  So this year I decided to have a Friends and Family Early Thanksgiving Pot Luck Dinner and have everyone bring their favorite dish.  And this is just the beginning of the yummies that showed up that day.  Make sure and check back for all these other recipes that will be posted in the next few days.
Coming Soon….

For The Hubby
When you ask The Hubby what he wants on the Thanksgiving table his first response is broccoli and cheese casserole.  So when my Mother-in-law said she would be able to make it I knew The Hubby was going to ask her to make his favorite, and of course she obliged being the sweet mom she is.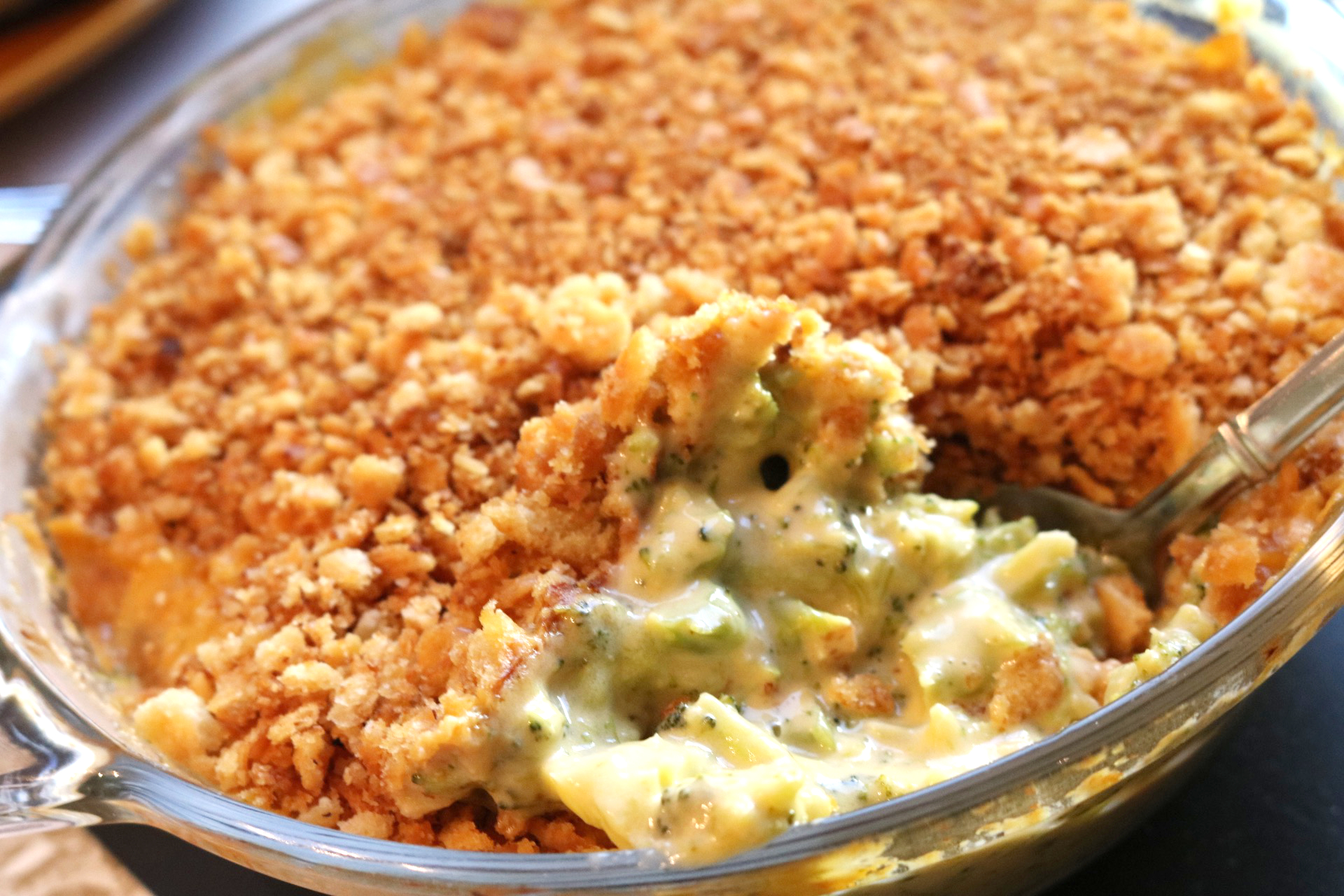 Cheez please….
One of the first Holidays after we were married I asked my Mother-in-Law for the recipe of this beloved casserole, and I have to admit I was a little surprised.  You see after I had some at my first Thanksgiving with his family I never would have thought the cheesy goodness came from a jarred cheese.
Yep you read that right…the cheesy goodness comes from Cheez Whiz.

Now onto the healthy part
For the broccoli you can use fresh but my mother-in-law always used frozen and just cooked it real quick in the microwave.  She likes to use the frozen broccoli bits but if you cannot find those just chop up the broccoli once it is cooked.
For fresh broccoli make sure you steam it or roast it until it is tender before mixing with cheez.
You can add some salt & pepper if you would like but I have not found it necessary thus far.

Can we talk about the topping please?
Ritz crackers & butter come together to make a crunchy, buttery topping for this already delicious casserole.  Does it get any better than Ritz and butter for a topping?  Not in my world.
You could leave it off if you want but trust me you don't want too…it is one the best parts of the casserole (in mu humble opinion).
Bringing it all together
Barbara (The Hubby's Mom)
10 servings
Broccoli & Cheese Casserole
A rich, cheesy and delicious broccoli and cheese casserole perfect for all your Holiday gatherings.
10 minPrep Time
40 minCook Time
1 hrTotal Time
Ingredients
2 (10 oz) packages, broccoli florets
1 large jar Cheez Whiz
2 sleeves Ritz crackers, crushed
1 cup butter, melted & divided
Directions
Preheat oven to 350
Spray a casserole dish with nonstick spray, set aside
Cook broccoli according to package instructions
Once cooked, cut into bite size pieces and pay dry with a paper towel
In a large bowl stir together broccoli, cheez whiz and 3/4 cups melted butter
Pour into prepared casserole dish
Combine crushed crackers with remaining remaining 1/4 cup melted butter
Sprinkle over top, in a single layer
Bake for 30 minutes, or until crackers are browned
Remove from oven and let cool for 10 minutes, at least, before serving
ENJOY!!
Notes
Each serving is 9 WW Smart Points
Nutritional Info
Calories 223 - Calories from Fat 189 - Total Fat 21 g - Saturated Fat 10 g - Monounsaturated Fat 9.7 g - Polyunsaturated Fat 0.8 g - Trans Fat 0 g - Cholesterol 51 g - Sodium 410 mg - Potassium 148 mg - Total Carbohydrate 7 g - Dietary Fiber 1 g - Sugars 1 g - Protein 2 g Vitamin A 24 % - Vitamin C 63 % - Calcium 3 % - Iron 0 %
7.8.1.2
267
https://sparklesnsprouts.com/2016/11/07/broccoli-cheese-casserole/
All images are the property of Sparkles n Sprouts, to use image please contact the webmaster at michelle@sparklesnsprouts.com
A big THANK YOU to my mother-in-law for bringing this dish to our (early) Thanksgiving Pot Luck and for sharing this recipe with everyone.
I hope this dish will make it to your Thanksgiving table…your friends and family will be so happy you did!!

Make today (& this Thanksgiving) Sparkle – MJ