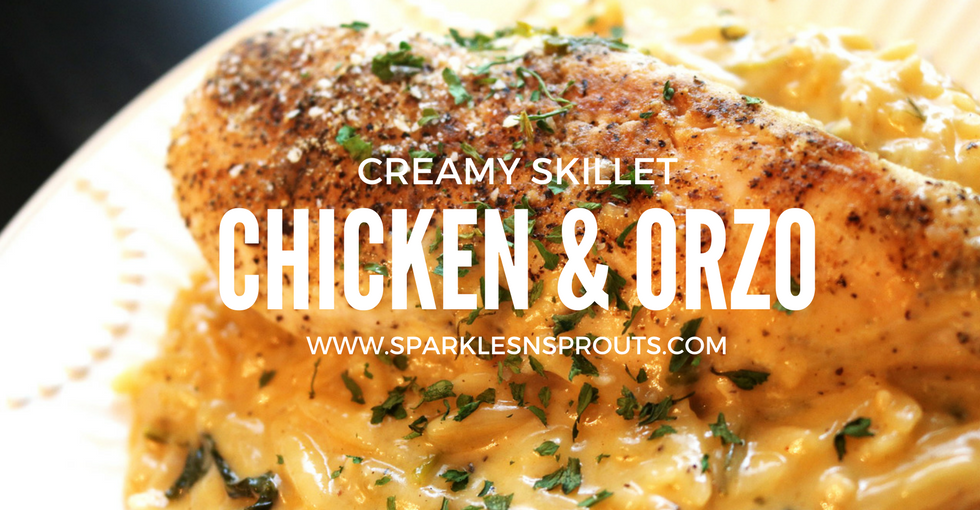 So what are your thoughts on orzo?  Do you love it as much as I do?  Probably not as I am a HUGE orzo fan (along with couscous)…ok anything in the pasta family but especially orzo.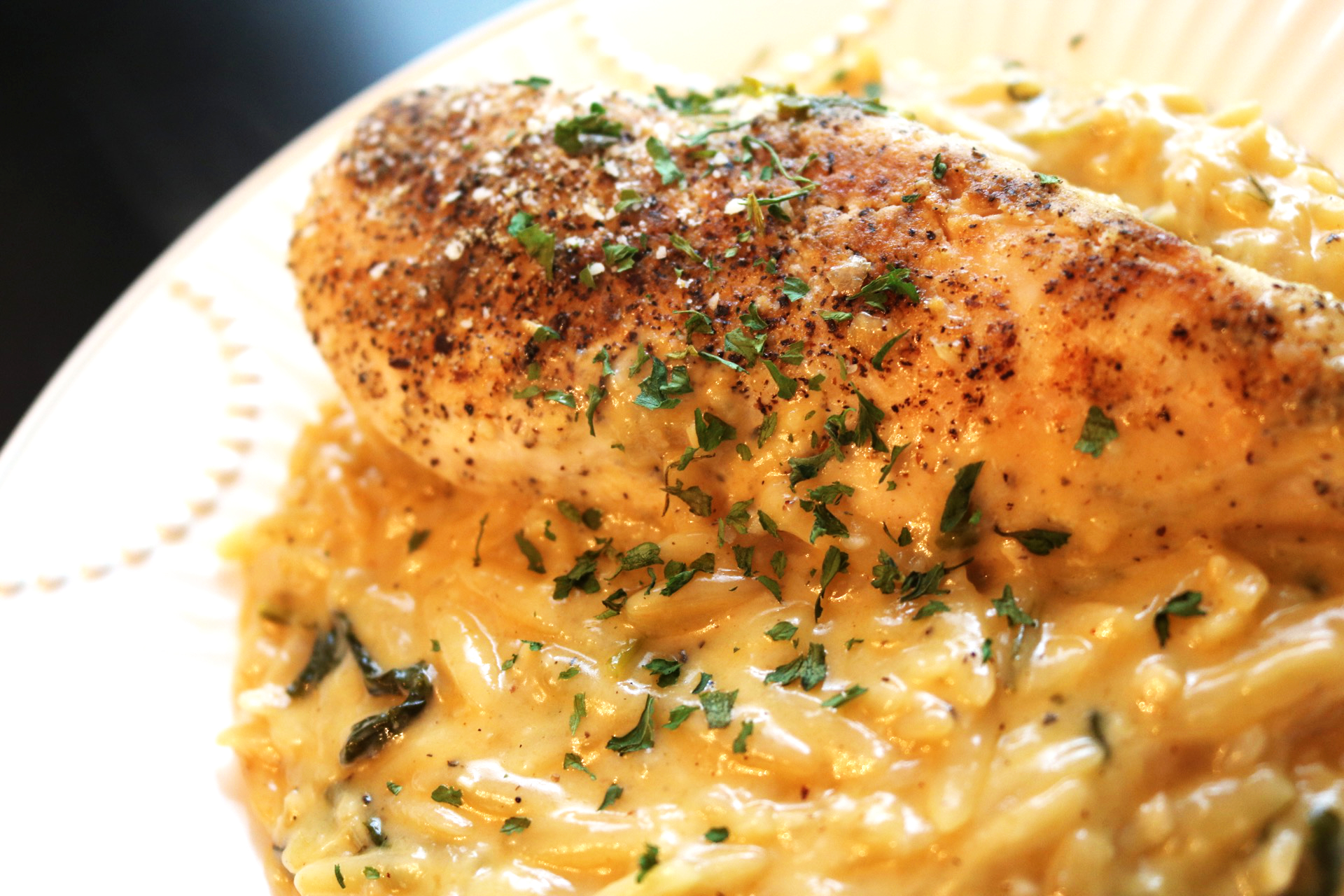 It's start in the browning…
Now the orzo makes this dish special but what really takes it over the top is the chicken and creamy sauce.
To start building the flavor and to make the chicken stand out it all starts with browning it.  When you season it (really well) and then put it in a HOT skillet magic happens.  A deep brown crust starts to form and creates a delicious seal that keeps are the yummy juices inside the chicken…where they belong.  Now as good as that sounds…it is just the beginning.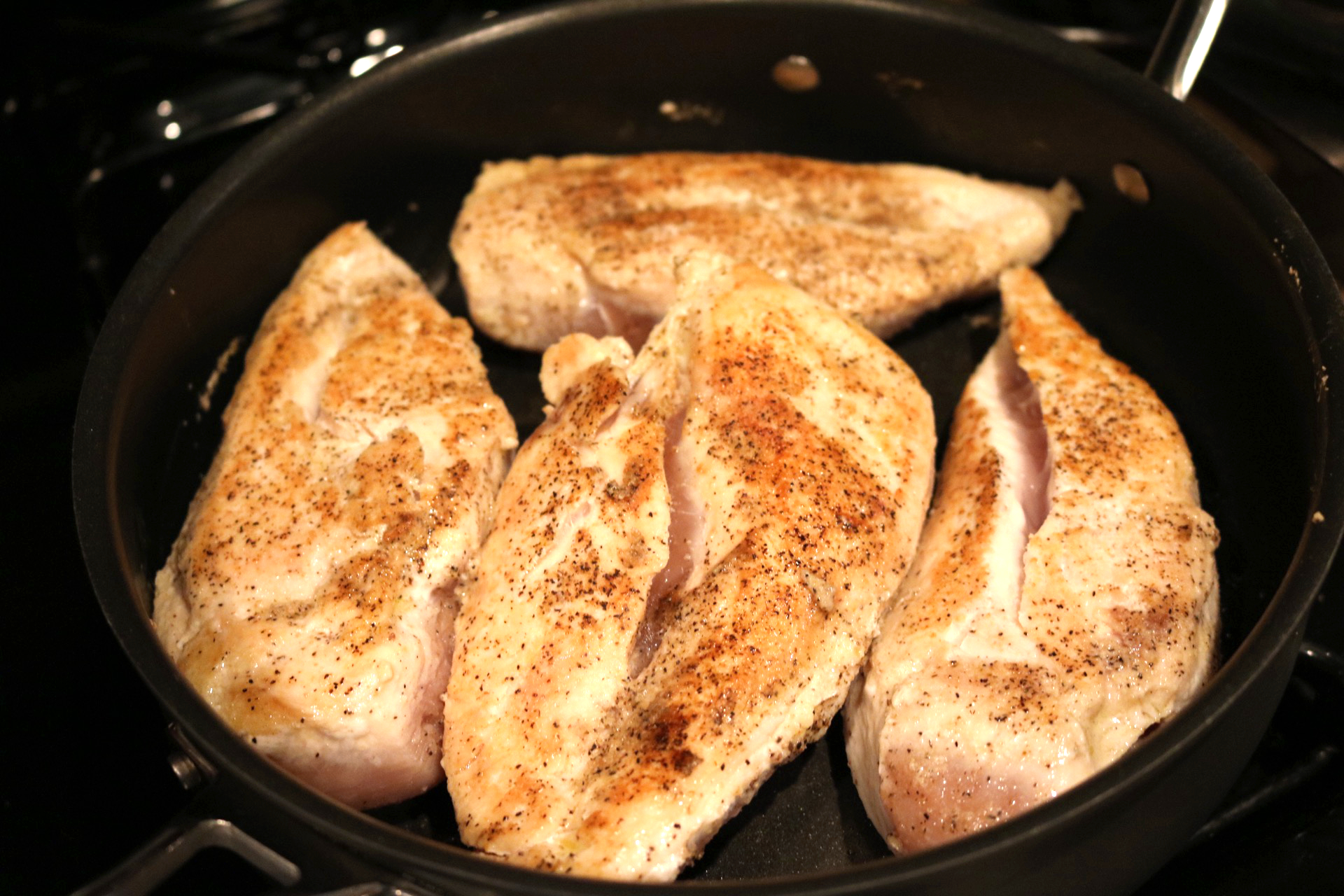 All together now
Now after the chicken is all nice and brown it is time for the real fun to begin.  It is time to start building even more flavor…so let's start with some onions and garlic.  I mean come on most good dishes seem to start with one of the two so lets just use both…I mean why not?
A key step in this process is to add in the orzo after the onion and garlic have softened a bit to allow it to toast a little.  Yes, I said let the orzo toast a little.  I know it may sound crazy, I thought it was a little crazy, but I have to tell you, it really adds in some great flavor.  Just trust me…give it a chance.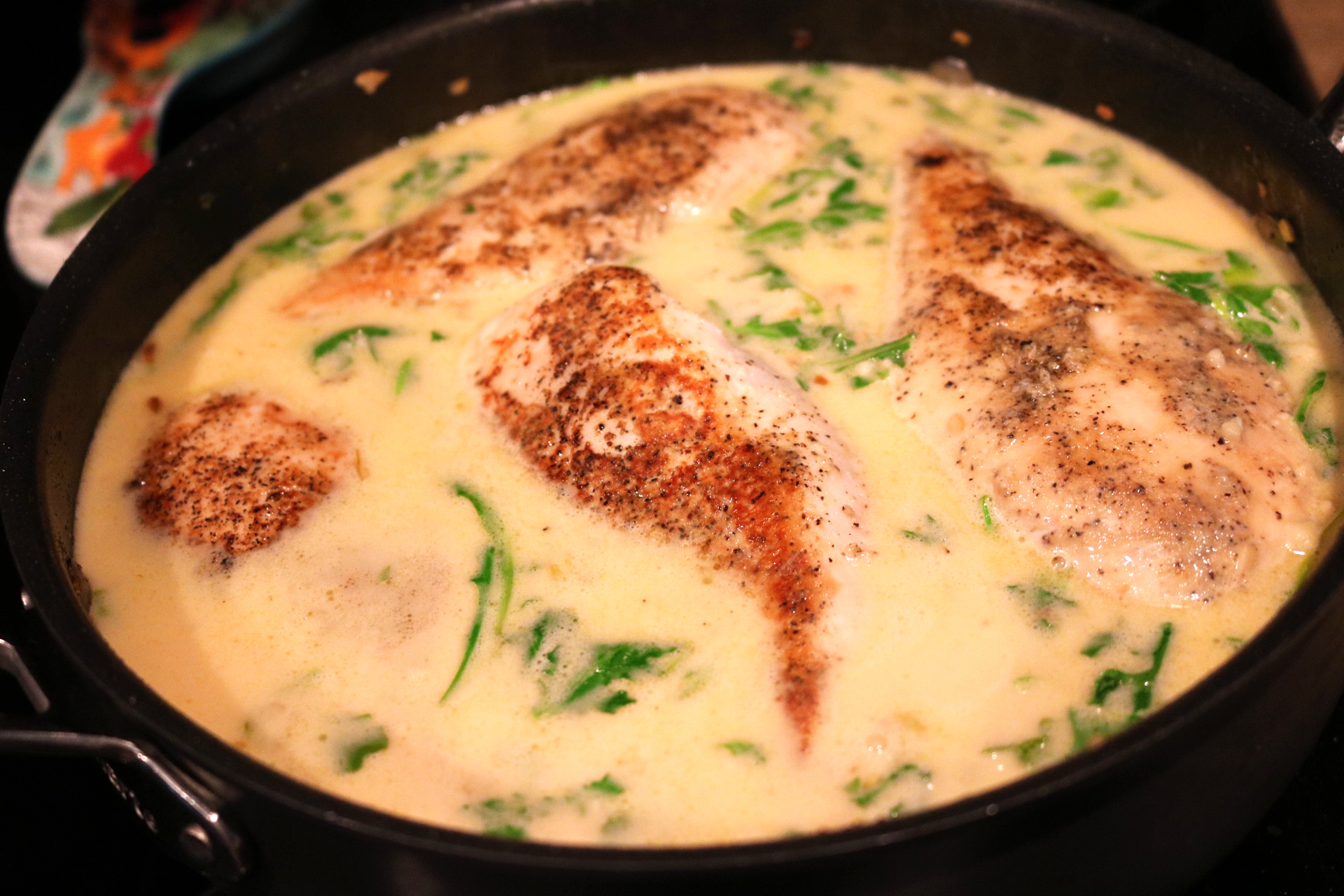 So after the orzo has had time to toast for a minute or two it is time to add in the liquid and a little bit of healthy to the mix.  Yes, I said a little healthy something…don't worry I won't tell anyone if you don't.    You can use kale, arugula or a spring mix…whatever you have in hand.  I threw in some spinach,  but almost any green will work.
After everything is combined, nestle the chicken in and then let it cook…in a matter of minutes yu will have a rich and creamy chicken dish everyone will love.
The How To…
MJ
4 servings
Creamy Skillet Chicken & Orzo
A quick skillet chicken dish that is loaded with tons of flavor and creamy orzo, making this one pan dinner a perfect weeknight treat
10 minPrep Time
45 minCook Time
1 hrTotal Time
5 based on 10 review(s)
Ingredients
4 chicken breasts, bone and skin removed (each should be 4-5 oz)
1 tbsp all purpose seasoning
2 tablespoon extra virgin olive oil
1 large Onion, chopped
1 teaspoon salt
1 teaspoon black pepper
1 tablespoon minced garlic
1 cup orzo pasta
2 cups Chicken stock
1/2 cup fat free half and half (you could use full fat version or cream)
2 cups fresh spinach
1/4 cup grated parmesan
1-2 tablespoons chopped parsley (optional)
Directions
Pat chicken dry with a paper towel
Sprinkle chicken, on both sides with all purpose seasoning,
In a large skillet, with a lid, heat 1 tablespoon olive oil over medium heat
Add in chicken sear on each side for 3-4 minutes, or until it is nicely browned. chicken will not be cooked through but will finish cooking later
Remove chicken from skillet and set aside
Heat remaining 1 tablespoon of olive oil in same skillet over medium heat
Add in chopped onion, salt & pepper and cook until onion begins to soften, about 4-5 minutes, stirring often
Stir in garlic & orzo, cooking for an additional 1-2 minutes, stirring often - this toasts the orzo a little giving it some added flavor
Stir in chicken stock, half & half & spinach
Place chicken back into pan, nestling it into the orzo
Cover pan and cook for 20-25 minutes chicken reaches 165 degrees and most of the liquid is absorbed
Remove chicken, set aside
Remove pan from heat and stir in parmesan cheese
Serve with fresh chopped parsley
ENJOY!!
Notes
Each servings (1 chicken breast and about 3/4 cup orzo) is 9 WW Smart Points
Nutritional Info
Calories 464 - Calories from Fat 67 - Total Fat 9 g - Saturated Fat 2.6 g - Monounsaturated Fat 3.9 g - Polyunsaturated Fat 2.2 g - Trans Fat 0 g - Cholesterol 143 g - Sodium 1125 mg - Potassium 1060 mg - Total Carbohydrate 49 g - Dietary Fiber 10 g - Sugars 3 g - Protein 68 g
Vitamin A 30 % - Vitamin C 17 % - Calcium 17 % - Iron 17 %
7.8.1.2
198
https://sparklesnsprouts.com/2016/08/24/creamy-skillet-chicken-orzo/
All images are the property of Sparkles n Sprouts, to use image please contact the webmaster at michelle@sparklesnsprouts.com
I know this time of year can be super crazy, but don't worry…this dish will make dinner a breeze.  You can get this going after you get home from work, school & activities and it will be something everyone loves.

Make today sparkle – MJ