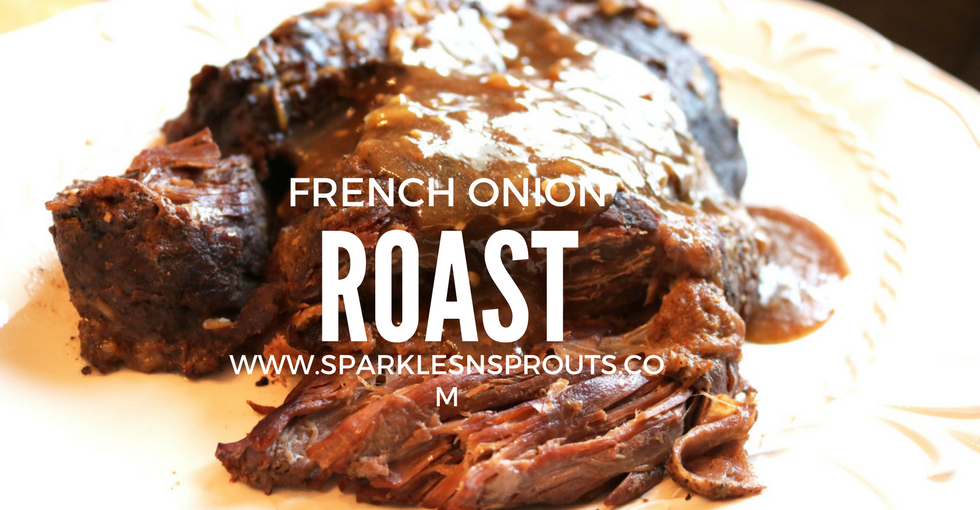 When someone asks me what my favorite meal is one of my top answers is roast and potatoes. This French Onion Roast is a super yummy version of my classic recipe, and you won't believe how easy it is.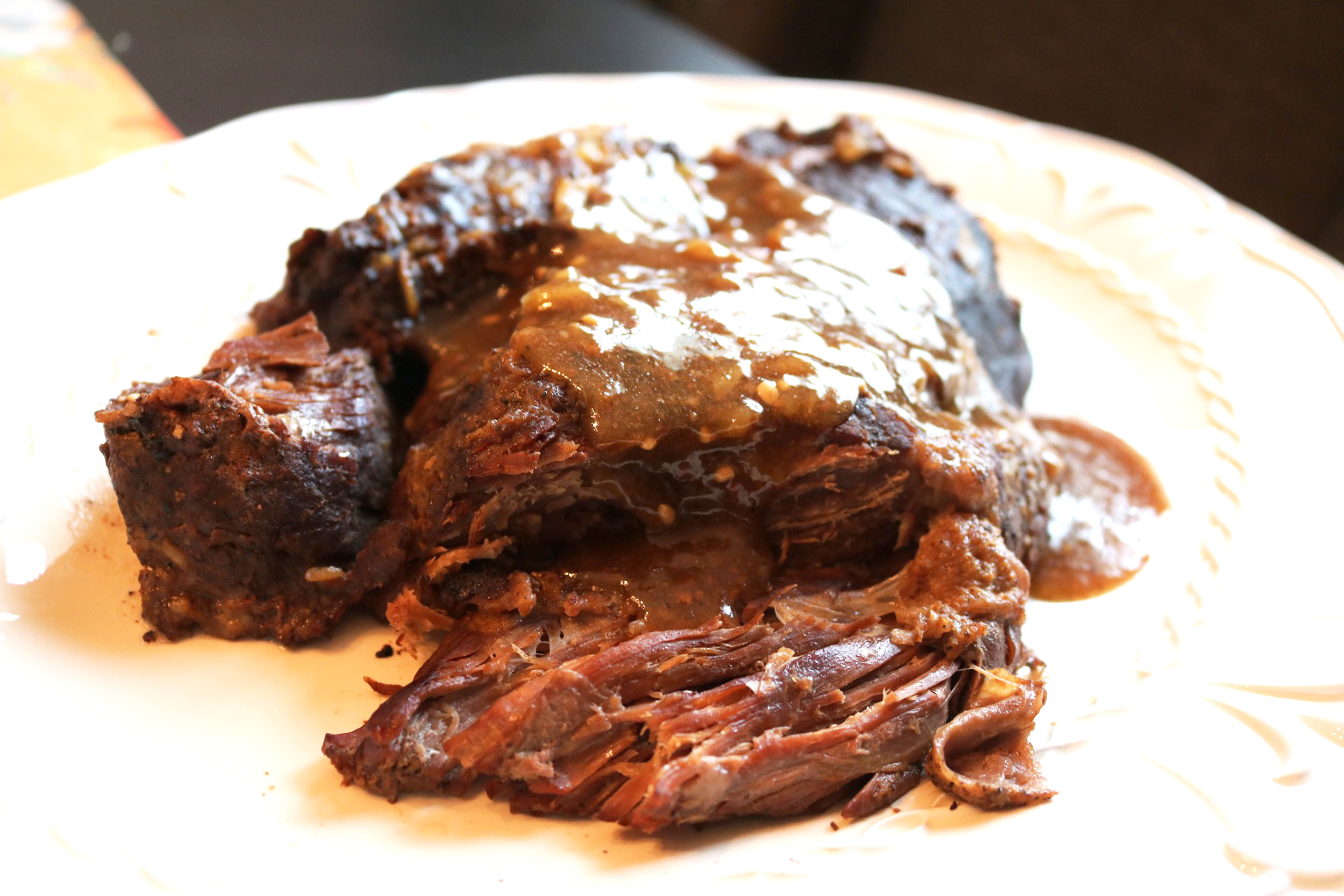 What makes this so special?
Three words…French Onion Soup Mix (sorry it is 4 words).
Add in this little envelope of goodness and the result is AMAZING!! It has the perfect mix of spices, salt, and onion bits giving this roast just that little something extra. You know what I am talking about that little something that makes people ask what your secret is.
Who knew you secret could be so simple as one envelope of soup mix?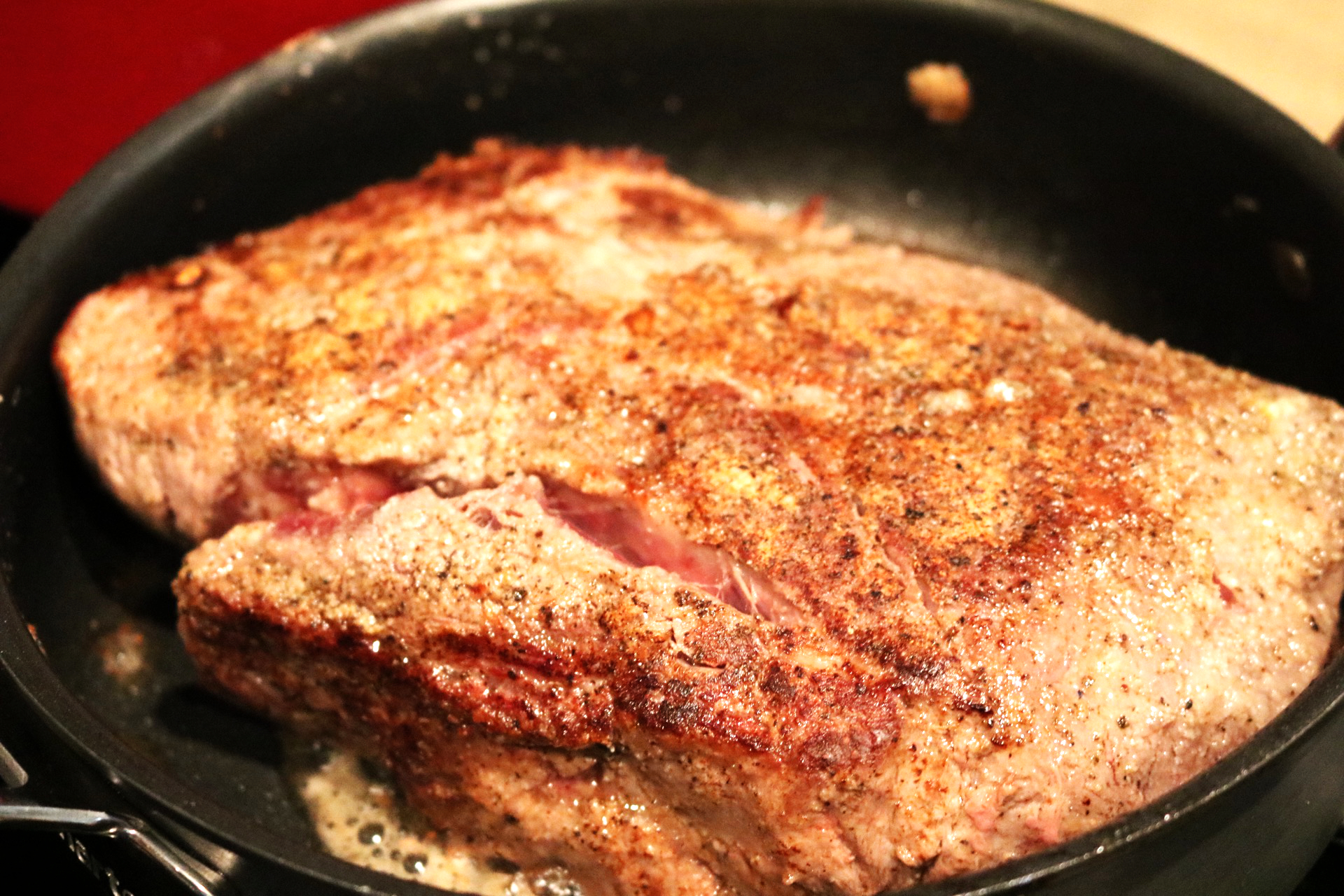 A MUST DO…
There is one thing you have to do to make any roast something to remember…you have to sear it. This is one of the steps that my mom taught me. She always said it is what made her roast so perfect every single time. As I started cooking my own roasts I tried to skip this step once (ok maybe twice) but I quickly learned it was a VERY important piece of roast making.
Even when I make roasts in the slow cooker I always sear them. I have to say that I know it does dirty another pot and it can seem like a wasted step but I promise it is all worth it. Yes, even the extra pot to clean is worth it.
Why is it so important? It seals in all the juices and creates a delicious crust that helps bring out the seasoning in each bite.
You know you want to make it…
MJ
10 servings
French Onion Roast
A super tender and very flavorful roast and gravy that is a perfect treat for dinner this week
10 minPrep Time
8 hrCook Time
8 hr, 10 Total Time
5 based on 1 review(s)
Ingredients
4 pounds chuck roast
2 tablespoons salt
2 tablespoons black pepper
1 tablespoon garlic powder
2 tablespoons vegetable oil
1 packet onion soup mix
2 cups beef stock
For the gravy
2 tablespoon water
2 tablespoon cornstarch
Directions
Preheat oven to 350
Trim roast of most visible fat
In a bowl combine salt, pepper & garlic powder
Spread salt mixture all over roast
Heat vegetable oil in a large oven proof stock pot over medium high heat
Place roast into stock pot and sear roast on all sides (about 3-4 minutes per side)
Once roast is seared on all sides sprinkle onion soup mix over the roast
Pour beef stock into pot
Cover and place into oven
Bake for 2-3 hours, or until roast falls apart
Remove roast from pot and place on a platter to keep warm
To make gravy whisk together water and cornstarch
Whisk cornstarch into stock pot and bring to a boil
Continue stirring until gravy is thickened
Serve immediately
>>To make in a slow cooker, sear roast and then move it to a large slow cooker and sprinkle soup mix and add in beef stock. Cook on low for 7-8 hours or on high for 3-4 hours, or until roast is tender. To make gravy remove roast and place on a platter to keep warm. Whisk in cornstarch mixture and heat on high for 8-10 minutes, stirring often, until gravy is thickened
Notes
Each serving is 9 WW Smart Points
Nutritional Info
Calories 261 - Calories from Fat 180 - Total Fat 20 g - Saturated Fat 7.9 g - Monounsaturated Fat 8.8 g - Polyunsaturated Fat 1.7 g - Trans Fat 0 g - Cholesterol 61 g - Sodium 1206 mg - Potassium 311 mg - Total Carbohydrate 2 g - Dietary Fiber 0 g - Sugars 0 g - Protein 15 g
Vitamin A 0 % - Vitamin C 0 % - Calcium 2 % - Iron 11 %
7.8.1.2
216
https://sparklesnsprouts.com/2016/08/10/roast/
All images are the property of Sparkles n Sprouts, to use image please contact the webmaster at michelle@sparklesnsprouts.com

There is just one more thing…
THE GRAVY!! For me roast is not complete without a rich and creamy gravy to slather over the meat and mashed potatoes. FYI…I have mashed potatoes with every roast.
The beauty of this roast is that the addition of the french onion soup mix helps to make this gravy AMAZING. It adds just the right amount of onion bite and seasoning to make this gravy perfect. Trust me it really is perfect!! You need to make this ASAP…you really do!!