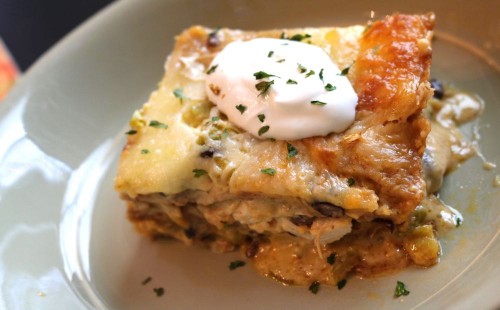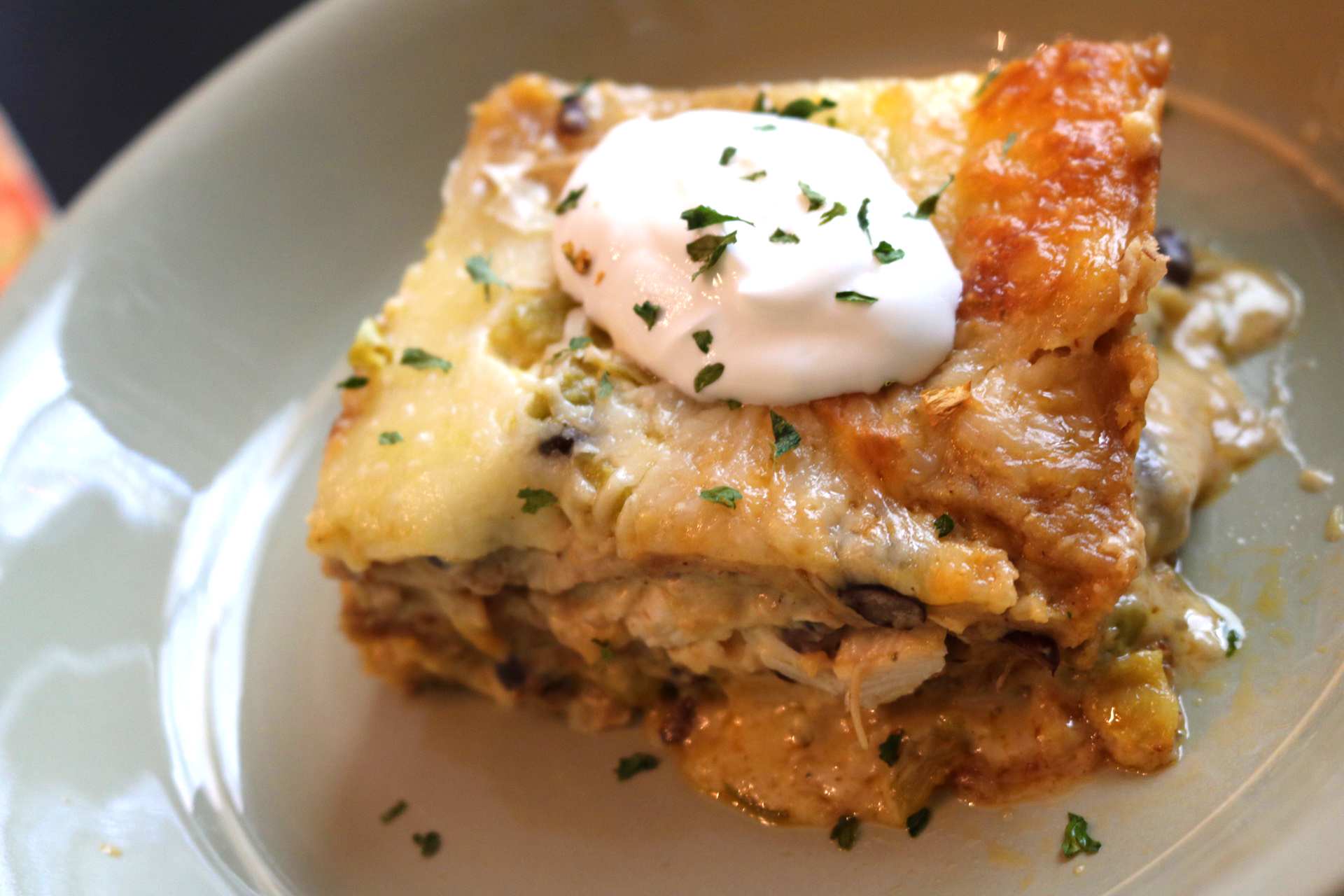 It is Monday!!  Where did the weekend go?  Also, did you know that simmer is also over?  Yay…it is crazy school starts in 2 weeks.
Monday needs easy…EVERYTHING
When Monday rolls around I know I love it when I can feed my peeps something yummy and EASY…because lets be real who wants to slave away for hours in the kitchen on Monday.
When I was growing up my mom loved making casseroles…and now I love them so much.  They are perfect for a family, as they can feed a lot.  They make great leftovers…meaning you can have meals for a couple of days (always a plus) and you can usually throw them together in no time…making it so EASY
This enchilada stack casserole is all those and MORE!
Bring on flavor…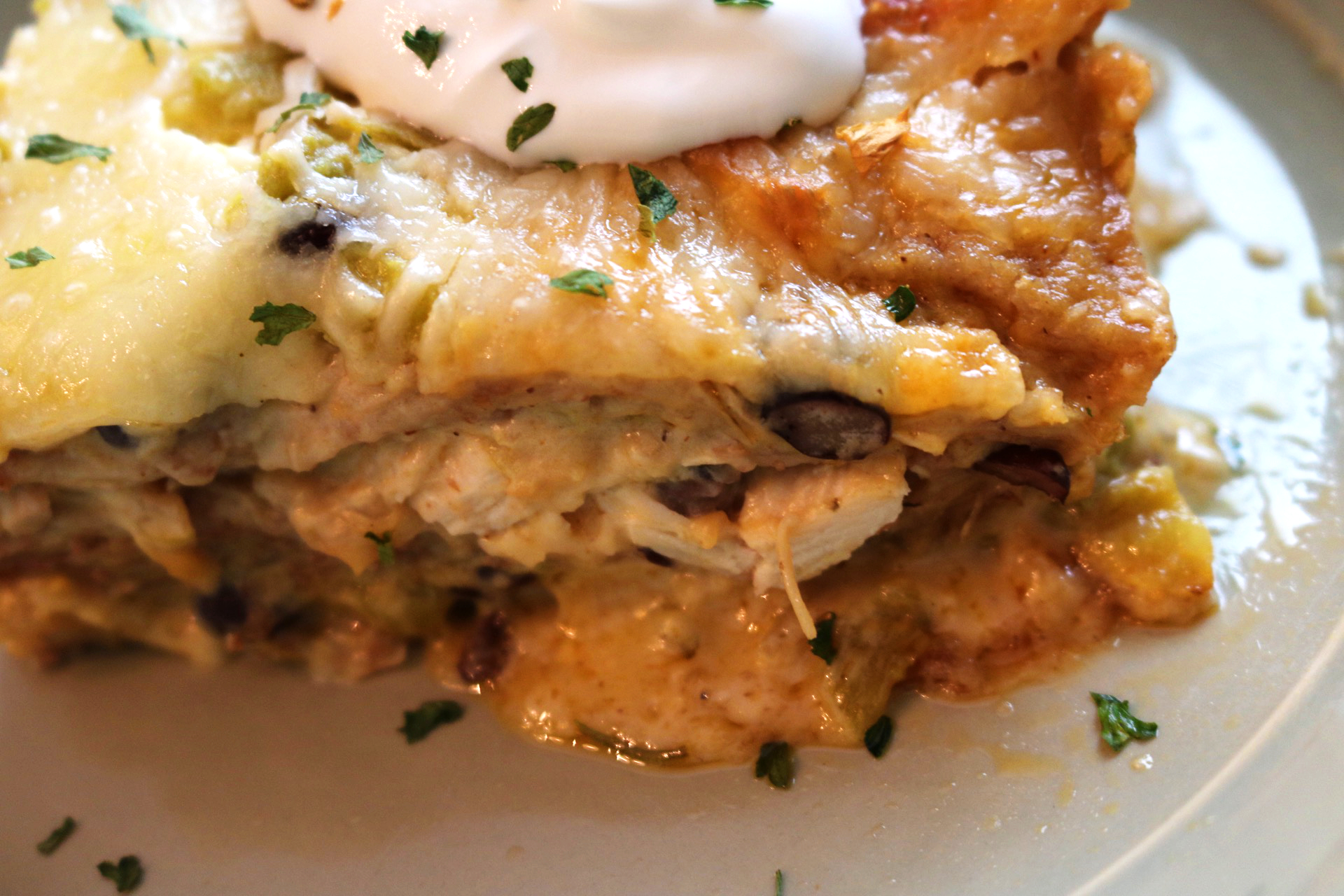 This casserole is stacked with flavor in each layer.  First of all I used whole wheat tortillas which I LOVE.  In my opinion they have so much more flavor than the traditional flour, and I love them in casseroles so much.
I also used rotisserie chicken to make it super easy.  Rotisserie chicken is my go to for casseroles.  The chicken is already seasoned and when you pull it apart you can use what you need for the casserole and then save the rest (if you have any left over after snacking) for lunch the next day.
Next comes the green chilies.  They add a nice little hint of spice without being too much.  They are a perfect addition when combined with the sour cream sauce.
I also added in some black beans (I love black beans) and of course there is cheese.  Lots of cheese, an enchilada casserole has to have cheese.
PS…The sour cream sauce is perfection in this casserole and makes it so rich and delicious, but without a ton of fat and calories.  I could go on and on about this sauce, but I will leave it at it is perfection.
The recipe…
MJ
16 servings
Chicken Enchilada Stack
A rich and delicious enchilada stack that brings together all the best of your favorite chicken enchiladas all in a casserole
20 minPrep Time
1 hrCook Time
1 hr, 40 Total Time
Ingredients
4 cups rotisserie chicken, skinned and shredded
2 tablespoons butter
1 small onion, chopped
2 garlic cloves, minced
2 tablespoons all-purpose flour
2 cups chicken stock, low salted
2 teaspoons chili powder
1 teaspoon salt
1 teaspoon pepper
1 1/2 cup light sour cream
4 oz can green chiles,chopped
1 15 oz can black beans, drained & rinsed
12 tortillas, whole wheat
2 cups, shredded Mexican Blend or Cheddar Cheese
Directions
Preheat oven to 350
Spray a large casserole dish with nonstick spray, set aside
In a saucepan melt butter over medium heat
Add in onion and cook for 3-4 minutes, or until onion begins to soften
Add in garlic and cook for another 1-2 minutes, stirring often
Whisk in flour and cook for 3-4 minutes
Add in chili powder, salt & pepper stirring until well combined
Add in chicken stock, whisking until mixture comes to a boil
Reduce heat and let simmer until sauce has thickened
Once sauce is smooth and has thickened remove from heat
Stir in sour cream & green chilies stirring until smooth and well combined
Ladle 1/2 cup sour cream sauce into prepared pan
Place 4 tortillas in the bottom, cutting them to fit as needed
Place 1/2 of the chicken over the tortillas
Sprinkle 1/4 of the black beans & cheese over chicken
Spoon 1/4 of the sauce over the cheese, repeat with remaining tortillas, chicken, beans, and sauce, finishing with the sauce and cheese on top
Cover with aluminum foil and bake for 30 minutes
Remove foil and continue baking for another 20 minutes or until sauce is bubbly and cheese is browned
Remove and let stand for 10 minutes before cutting
Serve with additional sour cream & ENJOY
Notes
Each serving is 9 WW Smart Points
Nutritional Info
Calories 254 - Calories from Fat 108 - Total Fat 12 g - Saturated Fat 6.2 g - Monounsaturated Fat 3.8 g - Polyunsaturated Fat 0.4 g - Trans Fat 0 g - Cholesterol 36 g - Sodium 477 mg - Potassium 47 mg - Total Carbohydrate 25 g - Dietary Fiber 3 g - Sugars 2 g - Protein 11 g
Vitamin A 4 % - Vitamin C 0 % - Calcium 11 % - Iron 0 %
7.8.1.2
205
https://sparklesnsprouts.com/2016/08/08/stack-it-up/
All images are the property of Sparkles n Sprouts, to use image please contact the webmaster at michelle@sparklesnsprouts.com
Layer it up…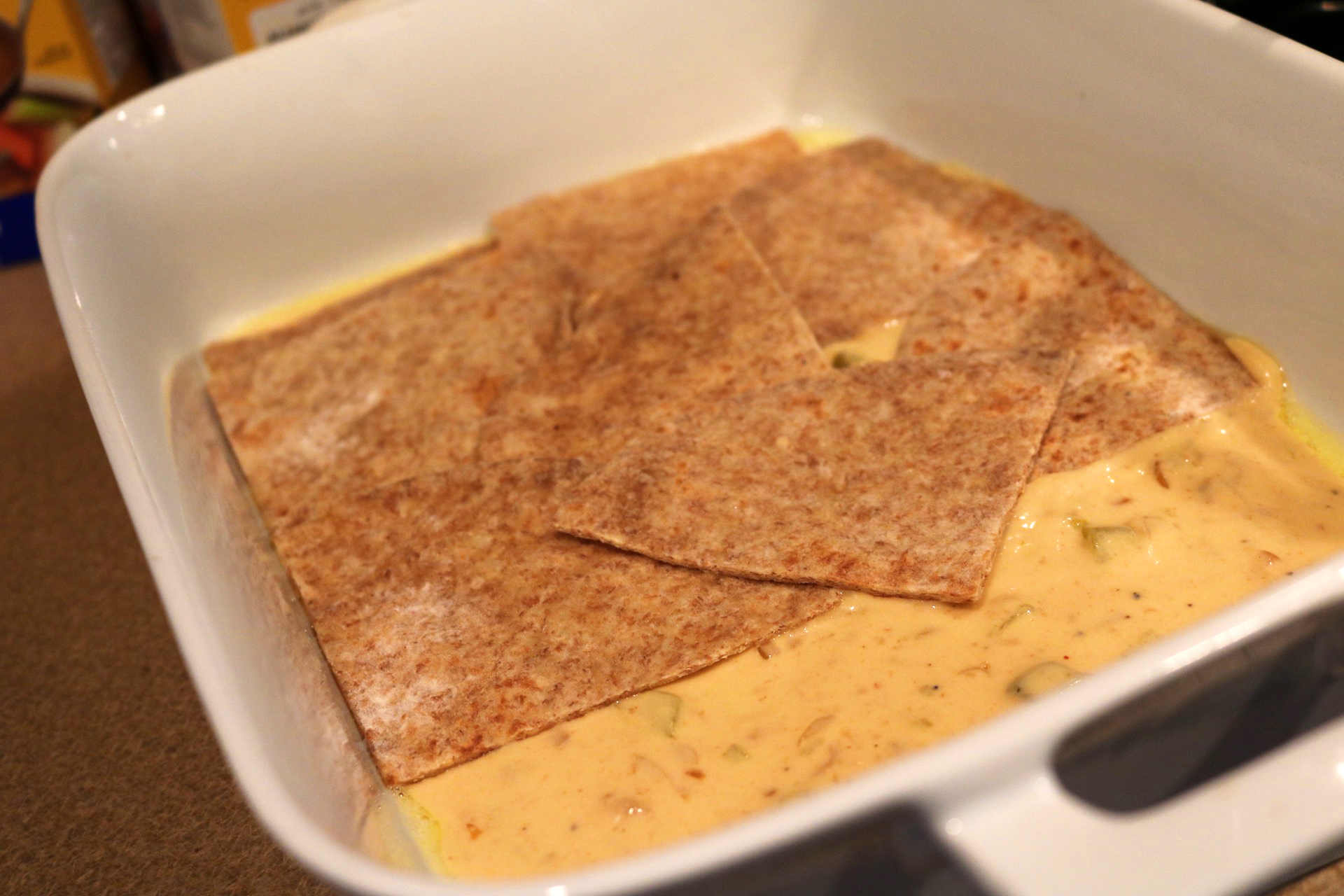 The key to this casserole is the layers.  First you start with the perfect green chile sour cream sauce, then comes the tortillas, chicken, beans (I LOVE THE BEANS in this), cheese and then you repeat it all over again.
As the casserole cooks all the layers come together to make a delicious cheesy casserole that is loaded with tons of flavor in each bite.
Change it up
If chicken is not your thing feel free to use ground beef or leave the meat out all together for a vegetarian option.  You could also cook down some mushrooms for that meaty taste.  The possibilities are truly endless for for this casserole, making it a perfect option for dinner this week!

Remember to make this week sparkle (& delicious) – MJ