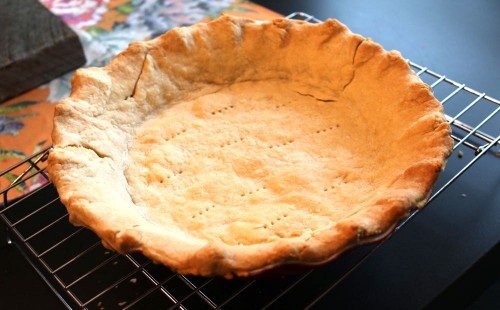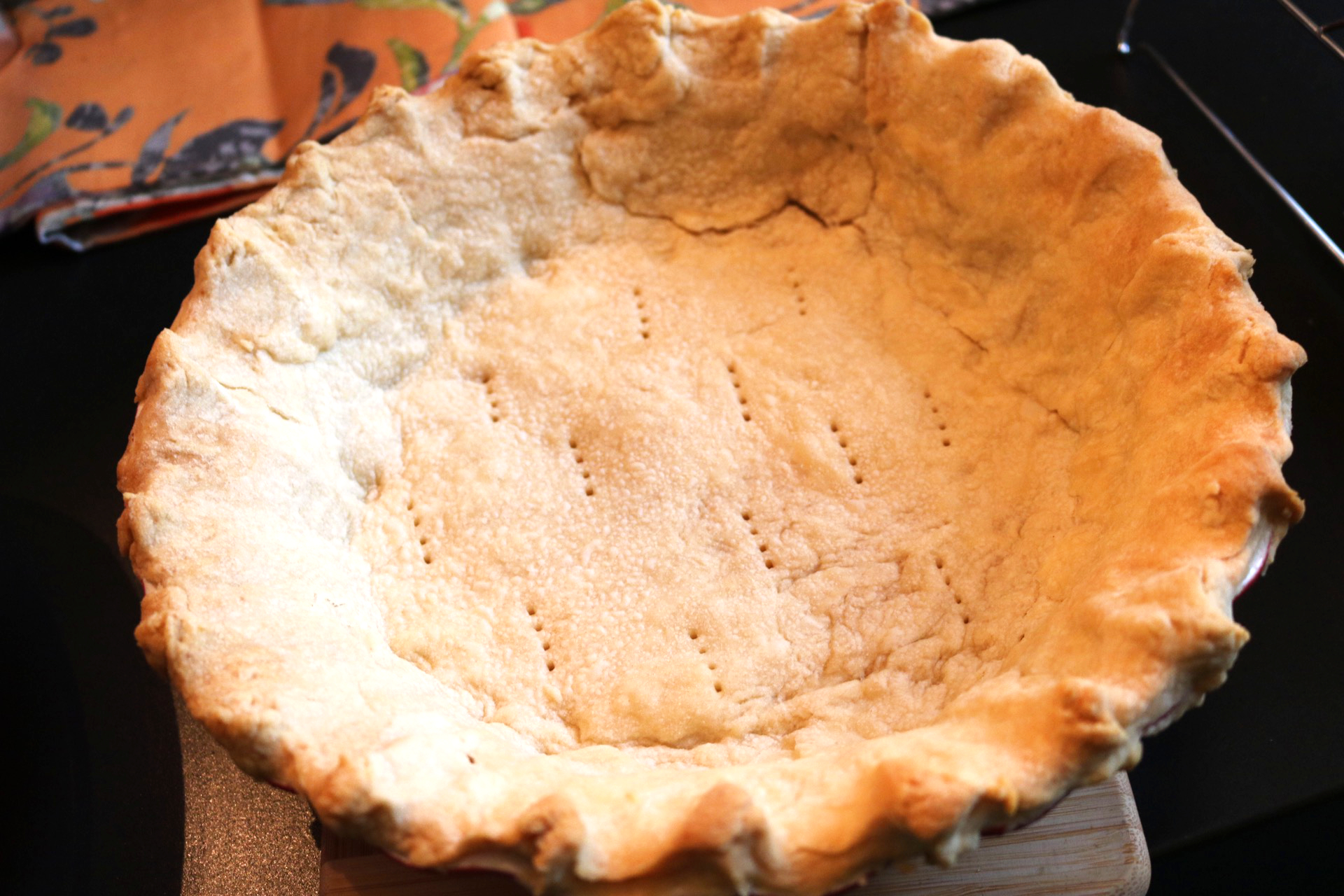 Do you make your own pie crust? Did you just look at me (thru the computer) like I am a crazy person? I know, I know, why make your own crust when you can buy it? Well, the short answer is…it is so much better and its easy!!
It's easy?
YES!! You throw everything into a food processor and voila your done. I mean you still have to roll it out but pretty much it's done.
I love this because you don't really have to worry about over working the dough and it has come out perfect each time I have made this version. Plus I am little crazy and anytime I can use my food processor I get so excited…and when you add in how much I love crust, well lets just say there was some dancing involved.
I understand the struggle…
Let me tell you a story about a girl who grew up loving pie crust. This girl's mom (lets call her Honey) would make pie crust all the time, and she would eat it with strawberries & ice cream…like their own version of strawberry shortcake. As this girl grew up she was determined to make pie crust just like Honey had, and then she tried.
Well, lets just say it was not so great, it was tough, not flaky and not like she remembered. She tried and tried again and again and then she found a recipe where the food processor did the work. She gave it one more try and much to her surprise it turned out AMAZING! It was flaky, tender and SOOOOOOO good. Her hope was restored and she decided it was time to make a pie!
Well, the little girl is me and let me tell you I understand the struggle that comes with making pie crust that is delicious …. but just trust me, after many, many failed attempts I have finally found a recipe that is almost fool proof.
Look how pretty it is…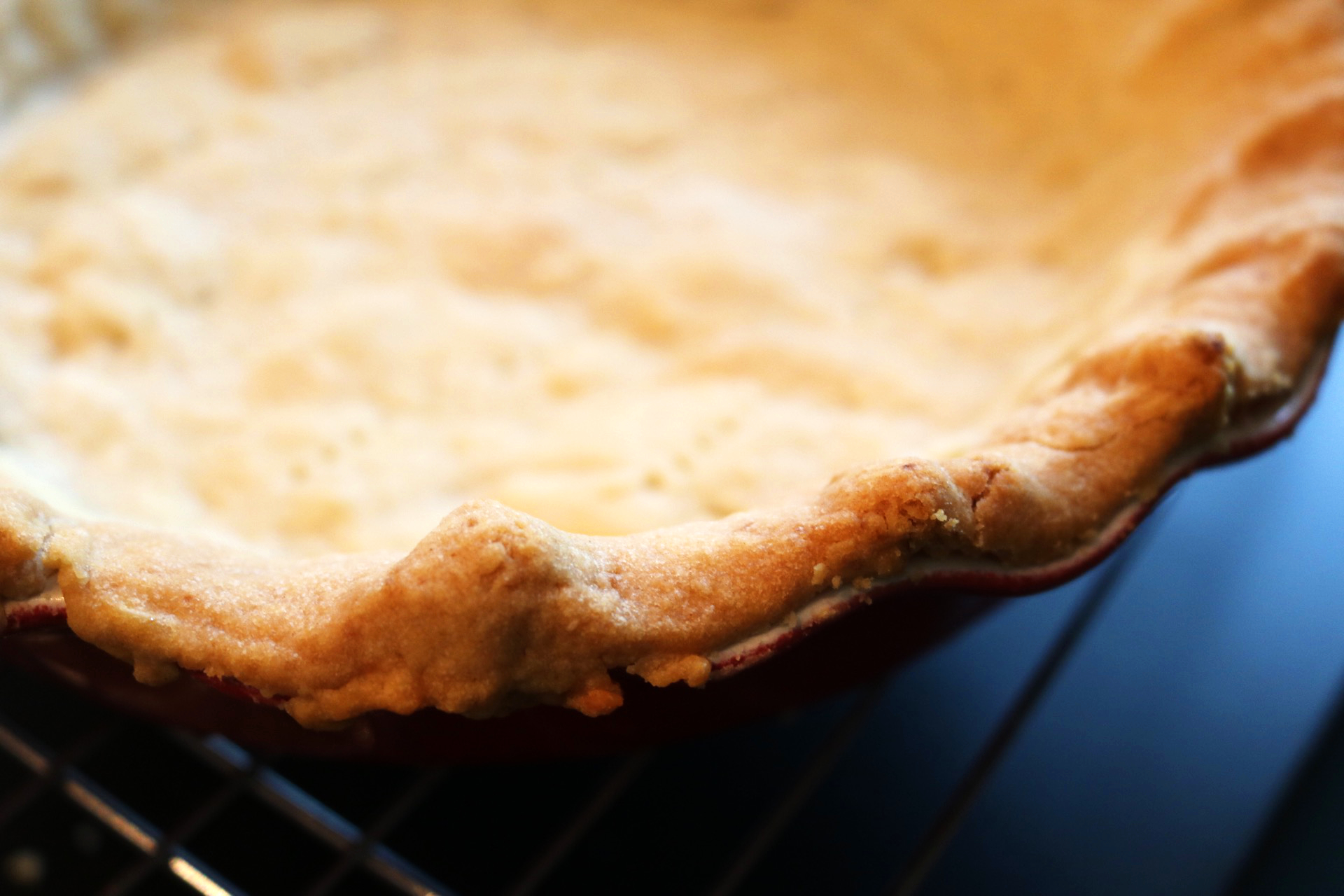 When the crust came out of the oven I have to tell you I almost cried. I was so excited at how pretty it was, and it was SOOOOO flaky.
Now I have to tell you I was so nervous that I made a test crust to make sure it was good before I made the pie filling, and not only was it flaky it was pretty.
I had never made a pretty pie crust in an actual pie pan, so this was a VERY big deal to me, and once again there was some dancing happening in the kitchen. I am so glad The Hubby loves when I dance because it happens at least 2-3 times a day. There might be some singing involved as well…just saying.
You can do it…
MJ
4 pie crusts
Easy Pie Crust
A homemade flaky pie crust that comes together in no time and is sure to make your next pie something to remember
15 minPrep Time
20 minCook Time
35 minTotal Time
Ingredients
4 cups all-purpose flour
1 tablespoon sugar
2 teaspoons salt
1 cup shortening
3/4 cup cold butter, cubed
1 tablespoon white vinegar
1 large egg
1/2 cup cold water
Directions
In the bowl of a food processor, or a large bowl you can use a pastry blender in, combine flour, sugar & salt
Add in shortening and butter and mix, or cut in, until shortening & butter look like little peas
In a small bowl whisk together vinegar, egg and water
Add in vinegar mixture
Combine just until dough forms
Remove from bowl and divide into 4 balls
Flatten each ball into a disk that is about 3/4 - 1 inch thick
--To use immediately--
Roll disk into a 10" in circle, rolling out from the center, trying to keep dough level
Carefully place into pie plate
Press into pie plate making sure to get it into the corners
Using s fork place a few holes into the bottom of the crust to help ensure it will not puff up
If crust tears, patch it with leftover crust from the edges
Crimp edges using your fingers or a fork
Trim excess dough
Either fill crust or blind bake crust
--To blind bake--
Preheat oven to 350
Bake for 15-20 minutes or until crust is golden brown and flaky
Remove and let cool before filling
--To freeze--
Wrap each in plastic wrap
Place into freezer
To use after frozen, let thaw on kitchen counter
Proceed to roll out
Notes
This recipe makes 4 10" pie crusts
7.8.1.2
193
https://sparklesnsprouts.com/2016/07/28/easy-pie-crust/
All images are the property of Sparkles n Sprouts, to use image please contact the webmaster at michelle@sparklesnsprouts.com
Two in one…
The beauty of this recipe is that you get two crusts in one recipe. So you can make two filled pies (like this chocolate cream pie) or you could do a double crust pie. Now I am craving an apple pie…oh maybe a peach pie, blueberry anyone…oh no now i have to make pie.