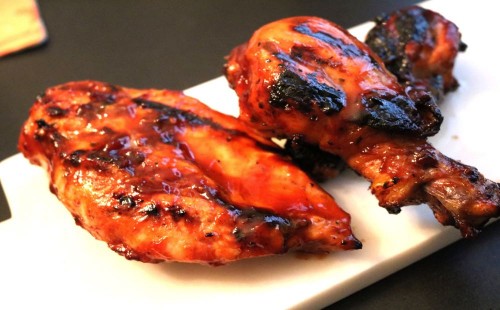 grilled BBQ chicken at it's best…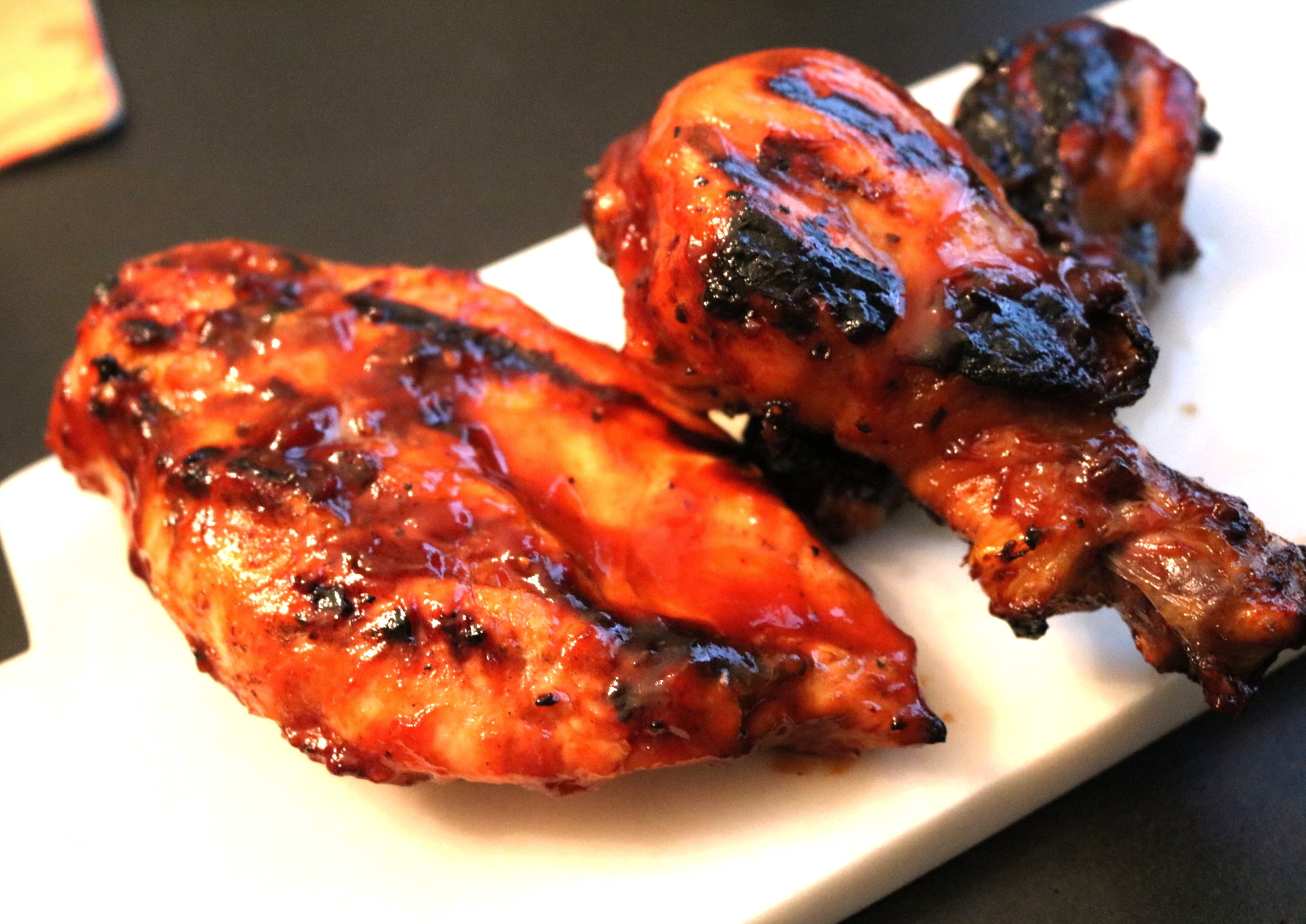 Cooking on the grill is one of my most favorite things ever!  Let me be clear…when The Hubby cooks on the grill it is one of my most favorite things…especially when it is this chicken!!
Start it off right
I start this BBQ chicken off with my most favorite marinade.  I find it gives the chicken a lot of flavor and also helps to tenderize the chicken a little.
If you do not have time to marinade, thats ok, just make sure to season it well.
What cuts are best?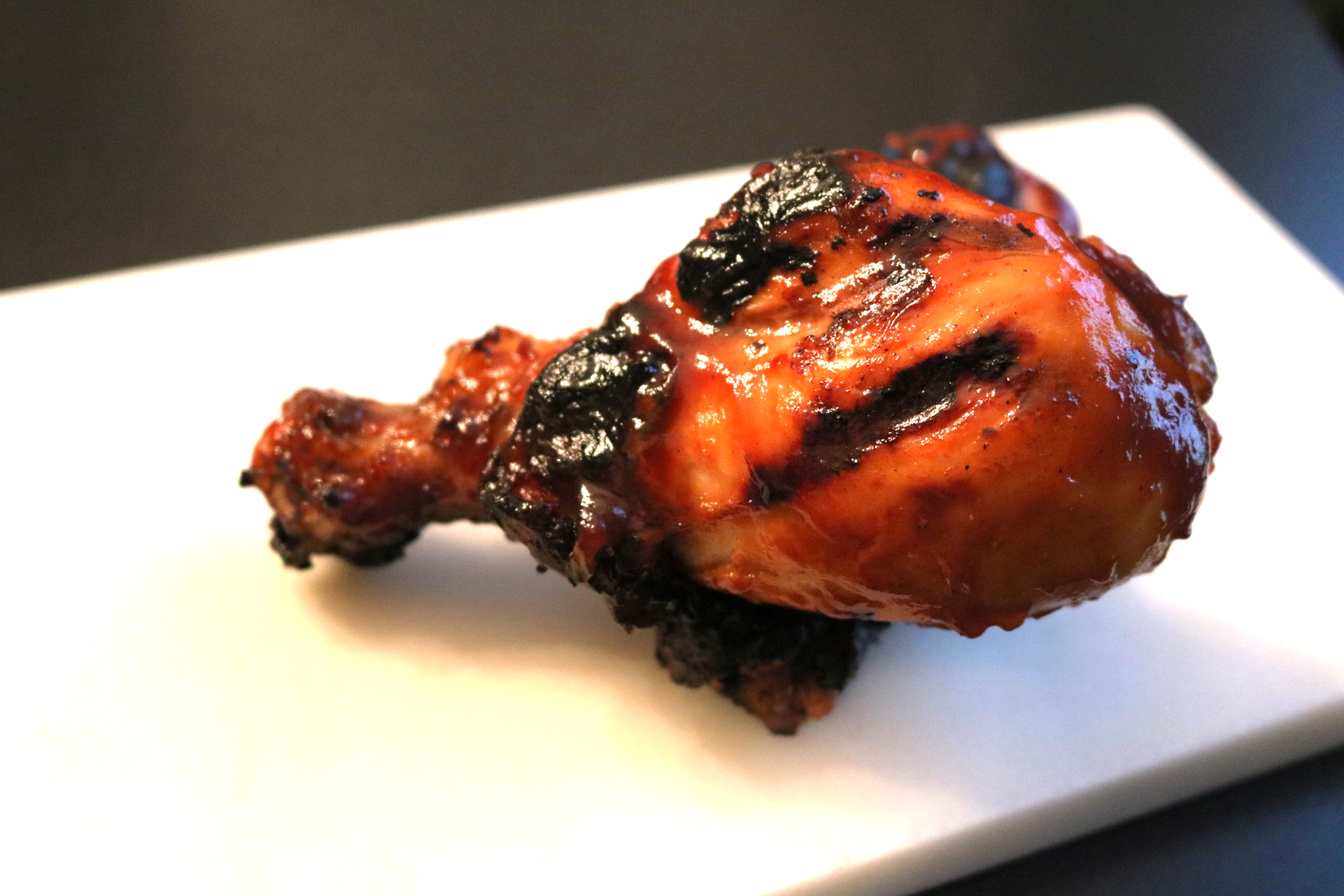 With chicken there are so many options.  You could grill chicken breasts, drumsticks, thighs to the whole leg quarter.  Whatever cut you choose make sure to adjust cooking time as needed until chicken reaches at least 165 degrees.
Make sure to not over cook it though as it can dry out really fast, another good reason to marinate the chicken.
NOW the sauce…
In my humble opinion, I think the sauce is what really sets this chicken apart from other grilled chicken.  For me I use my homemade BBQ sauce , but feel free to use whatever sauce you and your family love.
I like a sauce that is a little sweet and a little spicy.  When grilled the flavors with intensify and make a party in your mouth…trust me there will be a party, and a good party for sure!!
Heat up the grill…
MJ & The Hubby
Serves 2 pieces of skinless chicken
126
Grilled BBQ Chicken
A super flavorful grilled chicken that is loaded with tons of flavor. Use your favorite BBQ sauce (homemade or bottled for a BBQ chicken everyone will love!
2 hrPrep Time
15 minCook Time
2 hr, 15 Total Time
Ingredients
3 pounds, chicken pieces - I used skinless breasts and drumsticks
The BEST Chicken Marinade - (http://bit.ly/chnkmrn) optional
2 tablespoons olive oil
1 teaspoon salt
1 teaspoon black pepper
1 teaspoon chili powder
2 cups BBQ sauce (homemade like this one - http://bit.ly/swspbbqsc - or store bought)
Directions
Pat chicken pieces dry with a paper towel
Place chicken into marinade (http://bit.ly/chnkmrn) - if using
Place chicken into refrigerator for 2-4 hours, or overnight
-----To grill -----
Preheat grill to medium heat
Remove chicken from marinade
In a small bowl whisk together olive oil, salt, pepper & chili powder
Brush over chicken pieces
Place chicken onto grill
Cook for 4-5 minutes per side
Pour 1 cup of BBQ sauce into a bowl
Brush BBQ sauce over cooked chicken
Repeat with second side
Remove and brush remaining sauce over chicken and serve remaining with chicken
ENJOY!!
Notes
Each serving is 5 WW Smart Points
Nutritional Info Calories 139 - Calories from Fat 63 - Total Fat 7 g - Saturated Fat 1.4 g - Monounsaturated Fat 4.7 g - Polyunsaturated Fat 1.5 g - Trans Fat 0 g - Cholesterol 17 g - Sodium 1089 mg - Potassium 203 mg - Total Carbohydrate 11 g - Dietary Fiber 1 g - Sugars 6 g - Protein 5 g
Vitamin A 3 % - Vitamin C 10 % - Calcium 2 % - Iron 6 %
7.8.1.2
187
https://sparklesnsprouts.com/2016/07/27/grilled-bbq-chicken/
All images are the property of Sparkles n Sprouts, to use image please contact the webmaster at michelle@sparklesnsprouts.com
LOVE ME SOME BBQ
Now that the chicken is marinated and it has been cooked to perfection on the grill it is time to dig in and get your fingers a little sticky and enjoy everything there is to love about BBQ chicken.
Trust me the more sauce there is the better is it…and the messier you get the better the meal…trust me these are real things!!
Get messy and make today sparkle – MJ