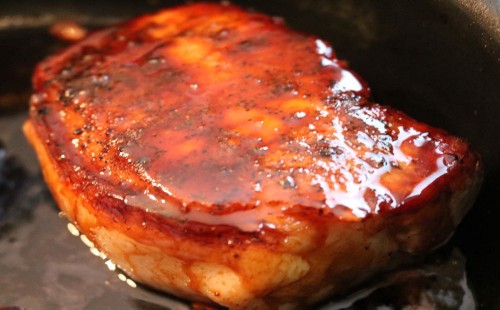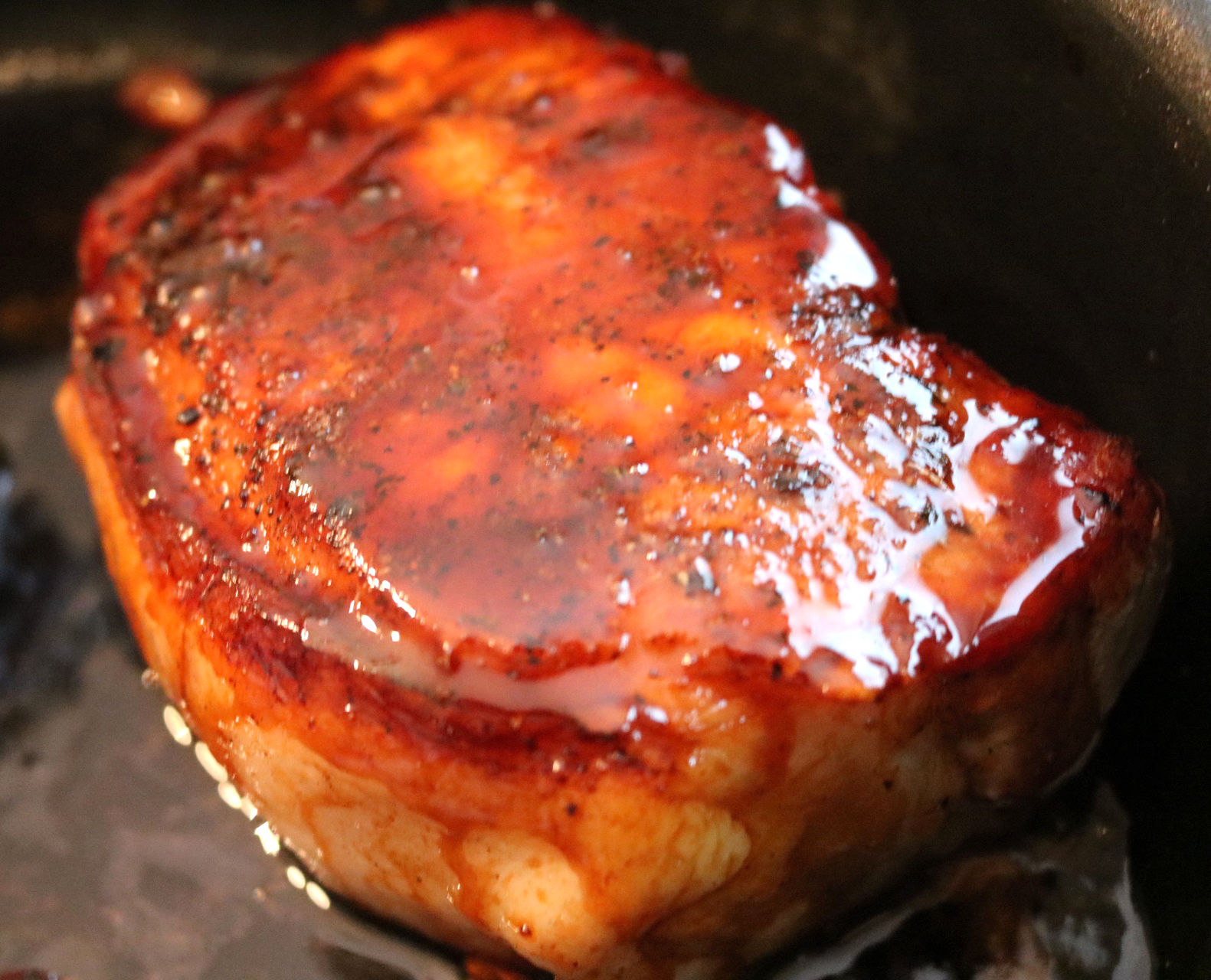 Pork chops are a go to dinner for The Hubby and I.  I just love how versatile it is and how EASY it is to prepare.
The other white meat…
Those commercials always made me laugh so hard.  This one still makes me laugh…I don't know that I have ever danced in excitement over pork…but these people do!  I will say though after having these pork chops, I might have done a little booty shake out of shear enjoyment…I'm just saying maybe I did.
I LOVE versatility
One of the best things about pork is it's versatility.  You can grill them, roast them, marinate them, dry rub them, top with sauces, eat plain, skewer them, chop up for a salad, slow cook and pull apart for sandwiches …you can do really anything you want with pork.  For The Hubby though is favorite is a pork chop wither roasted or grilled.
One of our favorite pork cuts is the center cut chop.  It feels so decadent but with just a fraction of the decadent fat & calories you normally have.    Even though it is thick, pork cooks so quickly that you get a juicy pork chop with a nice crust.  You could use bone in chops if you prefer, just adjust cooking time as needed…again love the versatility.
Why maple?
The Hubby loves maple anything, but especially with pork.  Being the awesome wife I am I decided to go with a maple glaze that had a little kick (I like a little kick) to help balance it all out.  I have to admit I do love the stickiness of the glaze, it just seems so perfect for pork.
If you are not too into the sweet, cut back on the molasses, add in more chili powder and maybe a splash of sriracha to really amp it up even more.  You could also throw in some lime or lemon juice with some fresh herbs to brighten it up a bit (especially for the summer).
Oven or Grill?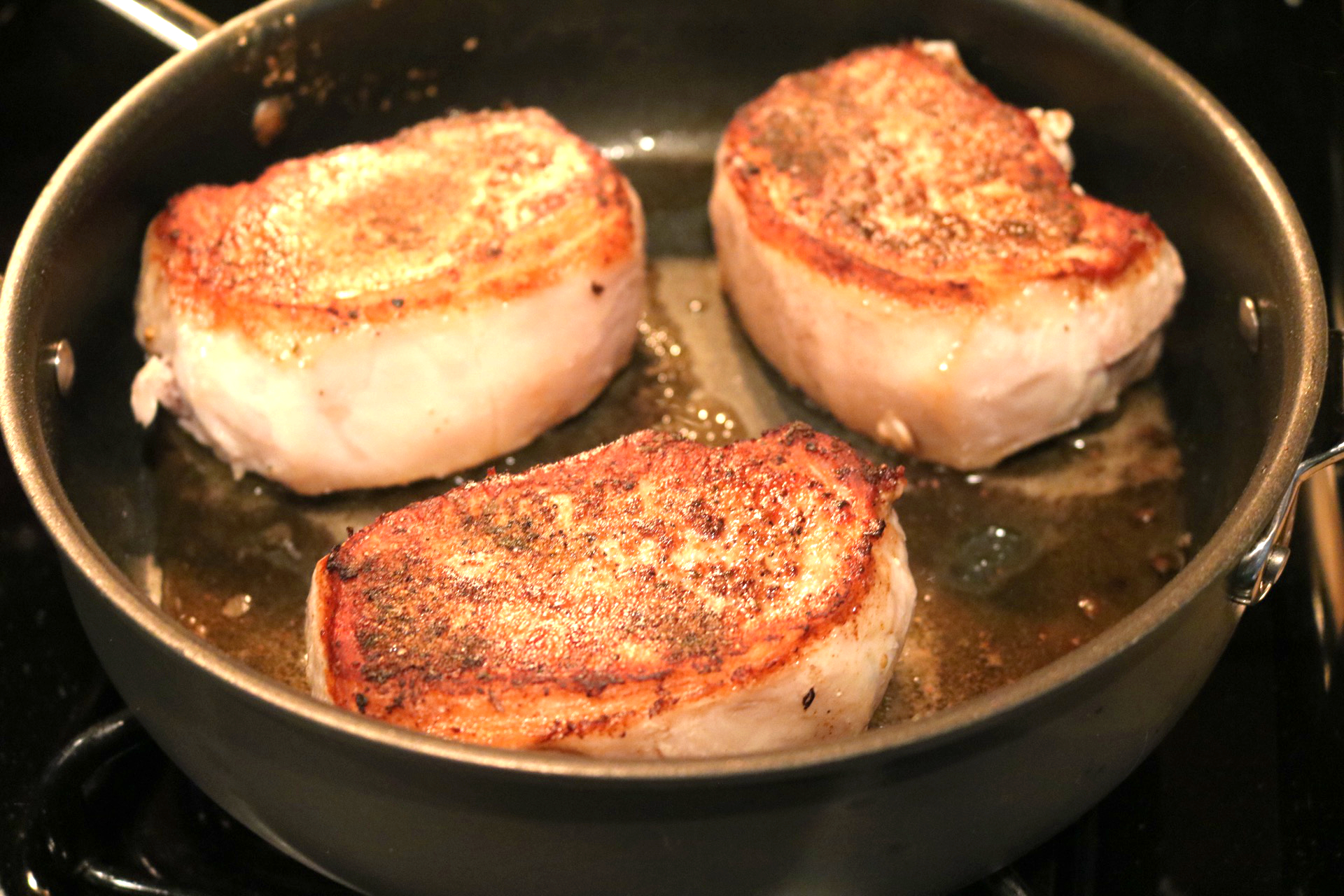 This is always a question in our home.  The Hubby is  always wanting to cook on the grill if he can.  When I started to develop this recipe the intent was to cook the chops on the grill, but then the weather happened.  I am talking about days and days of rain, and unfortunately we do not have a covered patio & I just couldn't ask The Hubby to cook in the rain so inside we came.
Whether you cook inside or out make sure you get a nice sear & crust on the chops.  It really helps keep the chops moist and tender.
If cooking inside preheat the pan on high and cook for a few minutes on each side and then throw everything into the oven.  If using the grill, sear on the hot part of the grill and then finish cooking on the cooler part.  All the specific directions are in the recipe below.
Get to cooking…
MJ
4 servings
Maple Glazed Pork Chops
A sweet glazed pork chop cooked to perfection and in no time making it a perfect weeknight dinner
10 minPrep Time
25 minCook Time
40 minTotal Time
Ingredients
1 1/2 pounds boneless center cut pork chops
2 teaspoons salt
2 teaspoons black pepper
2 teaspoons garlic powder
1/4 cup maple syrup
1/4 cup molasses
1 tablespoon balsamic vinegar
1 teaspoon chili powder
1 teaspoon ground ginger
1 teaspoon salt
1 teaspoon black pepper
2 tablespoons extra virgin olive oil
Directions
Preheat oven to 350
Pat pork chops dry with a paper towel
Season with salt, pepper & garlic powder, on both sides of each pork chop, set aside
In a small saucepan whisk together maple syrup, molasses, vinegar, chili powder, ginger, salt & pepper
Bring to a boil over medium high heat, and continue cooking for an additional 4-5 minutes, or until sauce thickens and reduces a little, pour 4 tablespoons into a small bowl, keeping remaining sauce in saucepan over low heat
In a large oven proof skillet heat olive oil over medium heat
Sear pork chops in skillet, cooking on each side for 4-5 minutes or until golden brown
Once both sides are seared brush with 4 tablespoons of maple sauce
Place into oven and cook for 10-15 minutes or until desired doneness is reached, brushing with maple glaze half way through
Remove and let sit for 5 minutes before serving
Brush with glaze once again and then serve remaining with the pork
ENJOY!!
**Grilling option**
Preheat half of the grill to high heat and the other half to medium heat
Season pork chops
Place pork chops onto hot side of grill to sear, cooking 2-3 minutes pre side
Once seared on both sides move to medium heat side
Baste with sauce as you grill
Once cooked though remove and let sit for 5 minutes before serving
Baste once more
Serve & ENJOY!
Notes
Each serving (pork chop with glaze) is 10 WW Smart Points
Nutritional Info Calories 377 - Calories from Fat 90 Total Fat 10 g - Saturated Fat 2.2 g - Monounsaturated Fat 6.6 g - Polyunsaturated Fat 1.3 g - Trans Fat 0 g - Cholesterol 93 g - Sodium 2068 mg - Potassium 1189 mg - Total Carbohydrate 30 g - Dietary Fiber 0 g - Sugars 23 g - Protein 38 g Vitamin A 0 % - Vitamin C 0 % - Calcium 8 % - Iron 17 %
7.8.1.2
152
https://sparklesnsprouts.com/2016/07/13/maple-glazed-pork-chops/
All images are the property of Sparkles n Sprouts, to use image please contact the webmaster at michelle@sparklesnsprouts.com
Weeknight or Weekend?
The beauty of these pork chops is you can make them either during the week or for a lazy weekend meal.  They come together super quick, and easy making them perfect for either.
PS…everyone is going to love them, so you might want to stock your freezer with pork chops now.

Remember make today sparkle – MJ