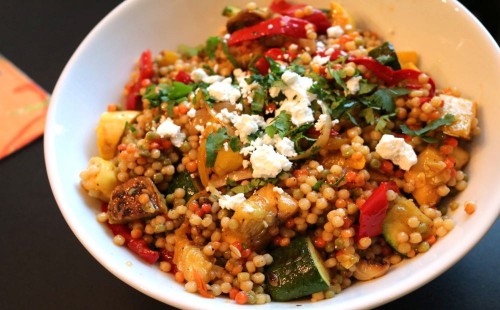 couscous like never before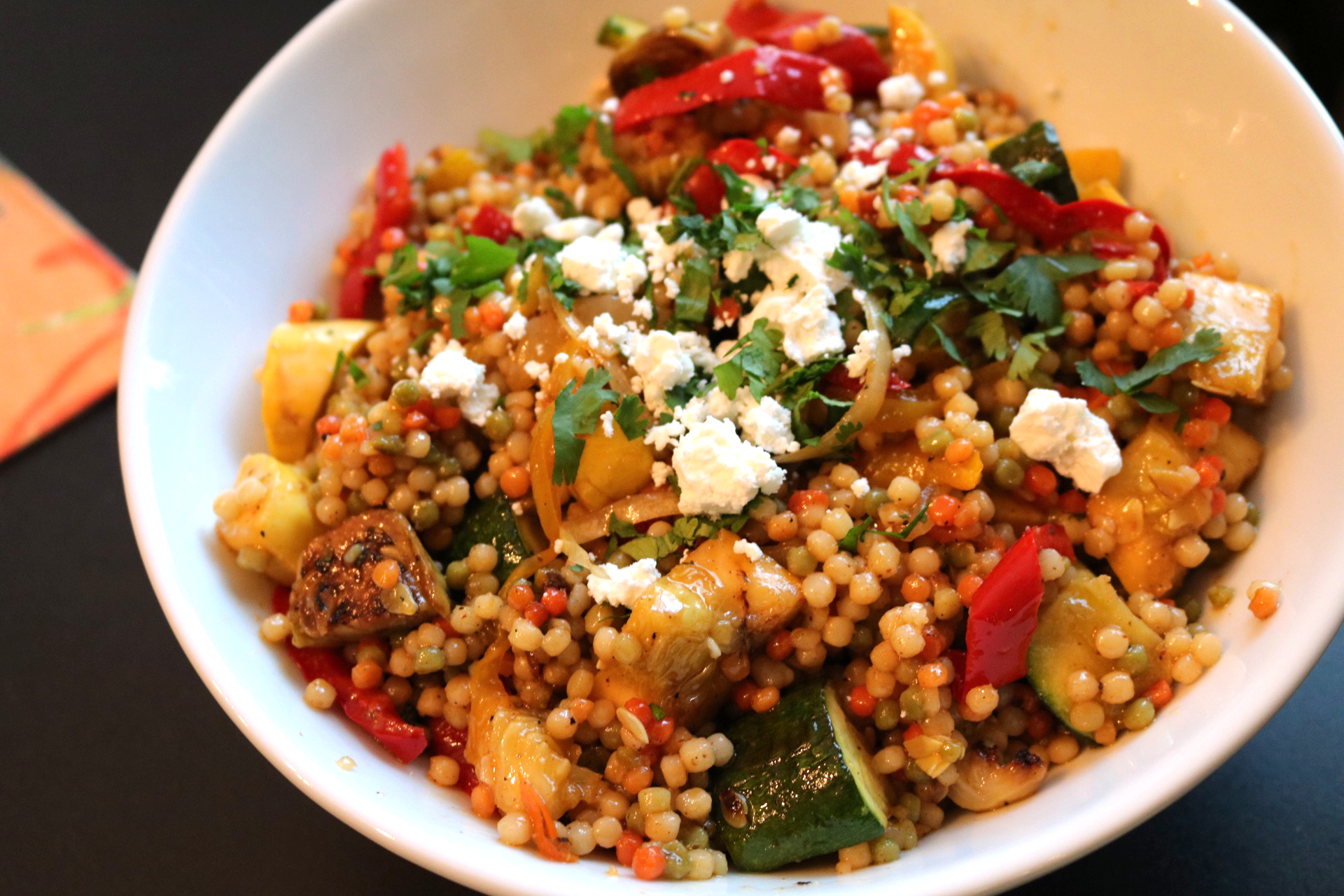 A coucous salad is a must have for me in the summer.  Anytime I go to a restaurant that has a couscous side dish option it is always at the top of my list, only behind mac-n-cheese.
Why Couscous?
First, couscous is little pasta balls.  They have a delicious texture and can mixed with a variety of flavors making it a perfect ingredient for almost anything.
Couscous is also delicious warm or cold.  I served this salad warm the first night and then ate it cold for lunch the next 2 days and it was DELICIOUS either way!!
Veggies AGAIN?
Yesterday I posted a new favorite grilled recipe…Grilled Veggies.  Now these veggies are AMAZING on their own but when you add them to this couscous with the dressing it takes everything to the next level.  Yep you read that right…the next level.
If you do not have grilled veggies no worries, you can roast veggies real quick and throw them into the salad.  For this salad I used peppers, onions, brussels sprouts, squash & zucchini, but any combo you like would work great.  You could also use raw veggies if you wanted…you can make this perfect for you!
The Dressing is EVERYTHING!
The veggies are so important is this salad but what brings it all together is the dressing.  I use this dressing on anything and everything.  It is a little sweet and a little tangy making it a perfect dressing for your favorite salad, drizzled over grilled meats or as a marinade.  It is so versatile!!
For this salad I used my original dressing recipe but you could add in some Sriracha for a little extra kick, or some fresh herbs and lemon, instead of lime, for a lemon herb dressing perfect for summer.    Change it up and make it perfect for you!
Get your Couscous on…
MJ
10 servings
Grilled Veggie Couscous
A new take on pasta salad loaded with tons of veggies and a light dressing making each bite perfect
20 minPrep Time
10 minCook Time
2 hr, 30 Total Time
Ingredients
2 1/2 cups chicken stock
2 cups Israeli couscous
2 teaspoons salt
3 cups
Grilled
(or roasted) vegetables, chopped into bite size pieces - I used peppers, onions, brussels sprouts, squash & zucchini
1/2 cup crumbled goat cheese (or feta)
For the dressing
1/4 cup olive oil, extra virgin
2 teaspoons apple cider vinegar (or any vinegar of your choice)
1 tablespoon honey
1 teaspoon Worcestershire sauce
2 limes, zest and juice
2 teaspoons salt
2 teaspoons black pepper
Directions
In a large pot with a lid bring chicken stock to a boil
Stir in couscous and salt
Cover pot and reduce heat to simmer
Let cook for 7-9 minutes, or until liquid is absorbed and then fluff with a fork
Remove from a heat and set aside
While couscous is cooling make the dressing
In a bowl whisk together olive oil, vinegar, honey, Worcestershire sauce until well combined
Add in juice of both limes and the zest, with salt & pepper
In a large bowl stir together couscous and veggies until well combined
Drizzle half of the dressing over couscous and stir to combine
Stir in half of the cheese, reserving the rest until ready to serve
You can serve immediately or cover and store in the refrigerator until ready to serve, I prefer this salad being chilled for at least 2 hours before serving, but it is also great at room temperature
If serving immediately, taste and add more dressing as needed
If serving later, cover dressing and store in the refrigerator until ready to serve and add dressing as needed
Top salad with remaining cheese and serve
ENJOY!
Notes
Each serving is 5 WW Smart Points
Nutritional Info
Calories 147 - Calories from Fat 36 - Total Fat 4 g - Saturated Fat 0.9 g - Monounsaturated Fat 2.7 g - Polyunsaturated Fat 0.4 g - Trans Fat 0 g - Cholesterol 1 g - Sodium 622 mg - Potassium 303 mg - Total Carbohydrate 23 g - Dietary Fiber 1 g - Sugars 3 g - Protein 5 g
Vitamin A 6 % - Vitamin C 143 % - Calcium 4 % - Iron 0 %
7.8.1.2
173
https://sparklesnsprouts.com/2016/07/12/grilled-veggie-couscous/
All images are the property of Sparkles n Sprouts, to use image please contact the webmaster at michelle@sparklesnsprouts.com
Cheese, please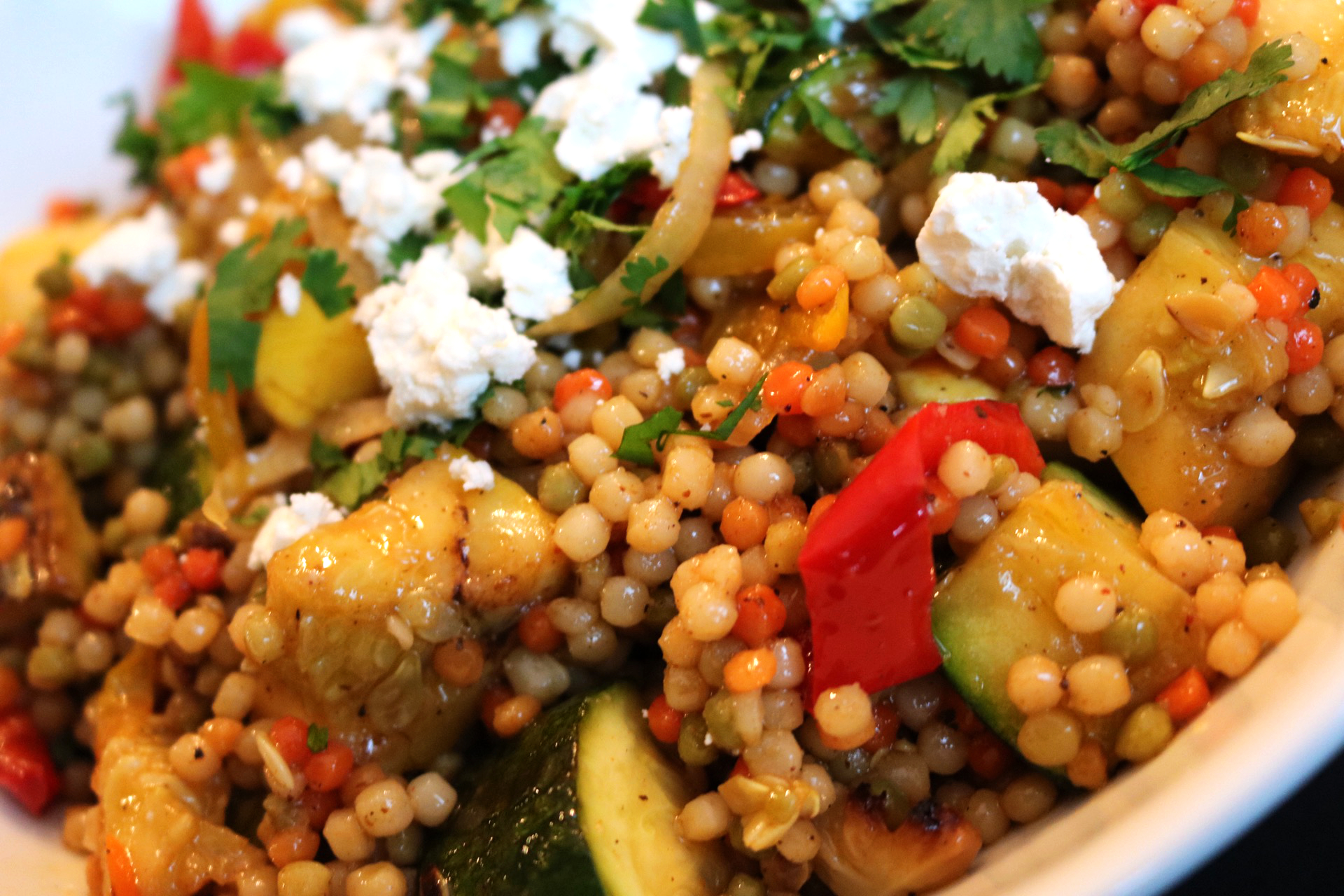 I love a little cheese in my pasta salads (ok in any salad) and for this salad I decided to use goat cheese.  Now I know some of you may not be goat cheese fans, and I can understand that.  Feta cheese or mozzarella would be great in this as well…I just love the creaminess & tang the goat cheese brings but use whatever you would like.
Make it your own
The greatest thing about this salad is that you can make it your own.  Use your favorite combo of veggies, make the dressing spicy or herby.  Use whatever cheese you wish..make this a salad that you and your peeps will CRAVE!
This salad is perfect for this summer, and even better you can enjoy it without much guilt…gotta love that!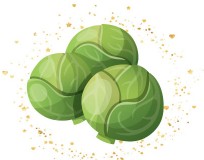 Remember make today sparkle – MJ