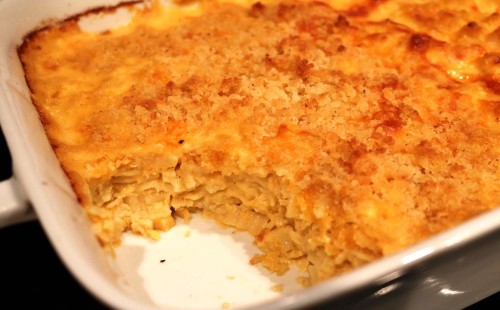 I cannot even begin to tell you how much I LOVE a creamy mac-n-cheese.   I am not a picky mac-n-cheese eater.  I will throw down the blue box or a homemade pot of cheese and noodles anytime, anywhere and be so HAPPY!
Noodles, noodles and more noodles…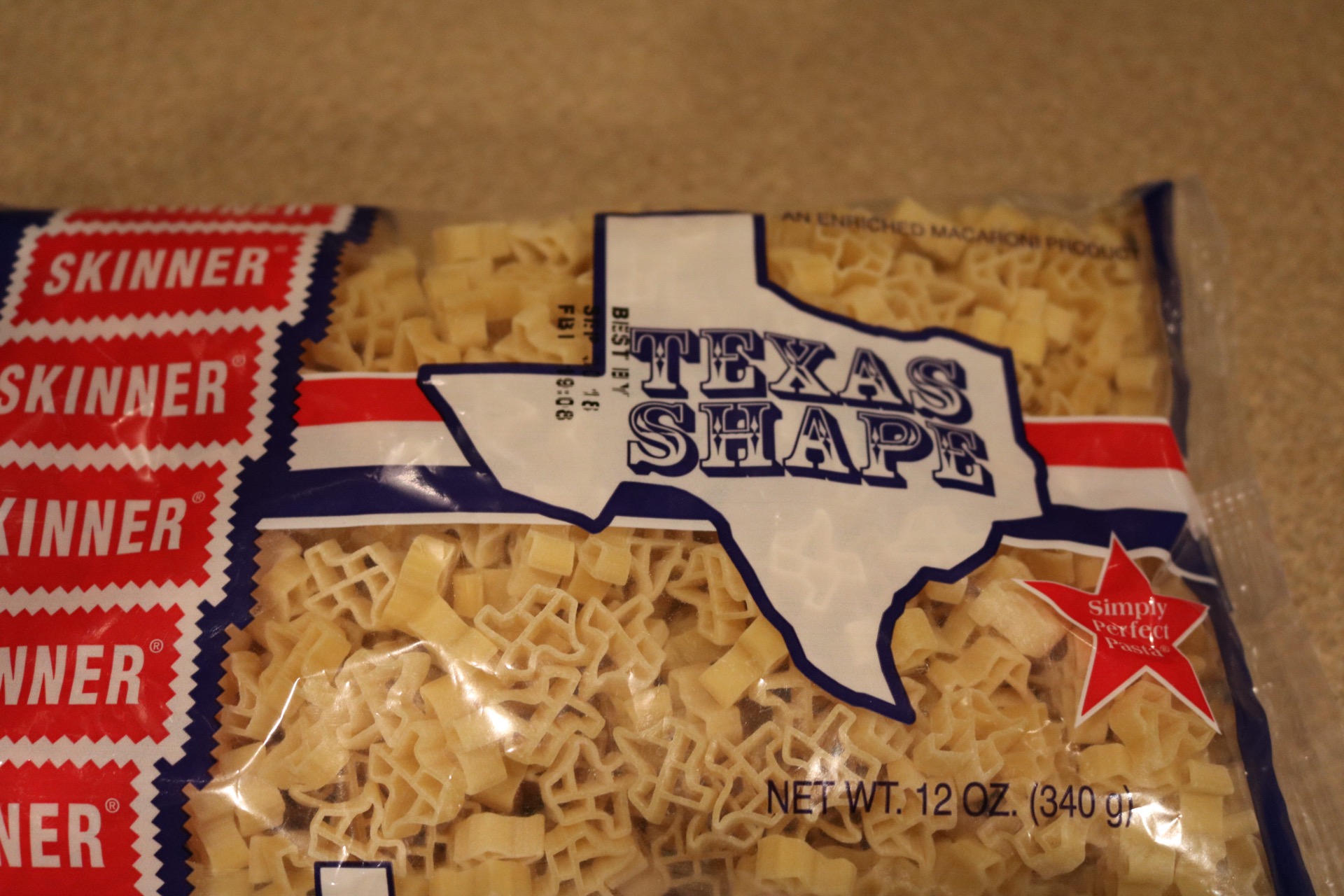 Now there are a ton of noodles you can choose from for your mac-n-cheese.  You can use the traditional macaroni, or a corkscrew noodle like fusilli, or a even a penne.  I typically use a short cut pasta, I just feel it makes for a better cheese to noodle ratio, but use a long pasta if you would like.
As much as I love the traditional pasta options, there is one I love even more…a Texas shaped pasta.  Yes, Texas shaped pasta.  I know it may sound a little crazy but yes we have Texas pasta in Texas.  Does you state have pasta shaped like it?  I would love to see a California pasta (you could get some good cheese in that noodle) or maybe Missouri pasta?
Let me know if you have your own state pasta.
Cheese please…
As much as I love pasta I am all about the cheese.  Now as I said above I am not picky at all when it comes to mac-n-cheese.  I am also not picky about my cheese in mac-n-cheeese as long as there is a lot of it.
For this version I kept it traditional with cheddar cheese.  I did throw in a little Mexican blend as well, for a little extra something, but it was really all about the cheddar.
If cheddar is not your favorite you could use a gruyere, or a combo of cheeses, just make sure they melt well…you don't want a clumpy mac-n-cheese.  It should be smooth and creamy like the pic above.
Baked or not…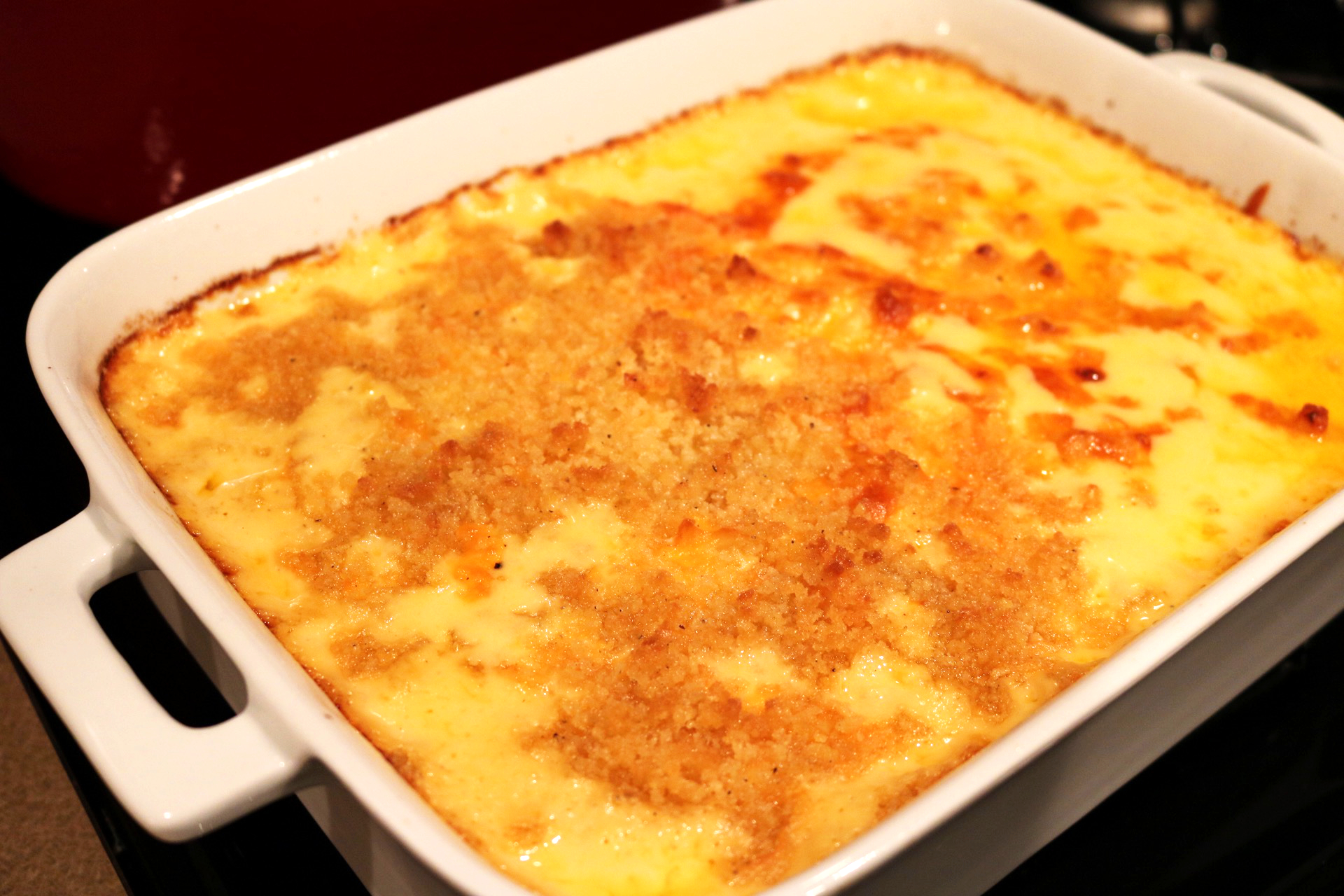 Growing up we typically had a creamy homemade stovetop mac-n-cheese.  My mom and dad would make it from Velveeta and it was AMAZING, but these days I am all about the baked versions.
Now as I was mixing up this mac-n-cheese there was a part of me that just wanted to stop and devour the creamy & cheesy mac-n-cheese directly from the stove but I decided to stick with the plan and bake it.  
If you wanted to stop at the stove, I would recommend reducing the milk by 1/2 cup, this will give you a thicker and creamier mac-n-cheese.
One of my favorite things about a baked mac-n-cheese is the crunchy topping.  I love me some buttered breadcrumbs on top of the cheesy mac-n-cheese, but The Hubby is not a fan.  To make everyone happy I did half topped and half without…its all about the compromise right?  Both are delicious, but I really do love the topped half A LOT!!
It's Mac-n-Cheese Time…
MJ
16 servings

Creamy Baked Mac-n-Cheese

A creamy and very cheesy baked mac-n-cheese that is loaded with tons of flavor that everyone will love. Trust me this will become your go-to mac-n-cheese recipe for sure!!

25 minPrep Time

35 minCook Time

1 hr, 15 Total Time

Ingredients

16 ounces pasta shells

1 tbsp salt

3 tablespoons butter

2 clove garlic, minced

3 tablespoons all-purpose flour

2 cups milk

2 teaspoons onion powder

2 teaspoons chili powder

1/2 teaspoon nutmeg freshly grated (optional)

1 1/2 cups, shredded cheddar cheese, divided

1/2 cup, shredded mexican blend cheese, or another melting cheese you prefer

2 cups breadcrumbs, Panko

1/2 cup butter, melted

Directions

Preheat oven to 425

Spray a large casserole dish with nonstick spray, set aside

In a large stockpot fill half way with water

Begin to heat over high heat and bring to a boil

Stir in salt

Add in pasta and cook until tender, my pasta took about 8 minutes

Drain and set aside

In a large pot melt butter over medium heat

Add in garlic and cook for an another 1-2 minutes, or until it is fragrant, stirring often

Whisk in flour, stirring constantly, for 2-3 minutes to allow flour taste to cook out

Whisk in milk, whisking often, letting mixture come to a boil and all lumps be eliminated and a smooth mixture start to thicken

Stir in onion powder, chili powder and nutmeg (if using)

Continue stirring until mixture is thick and coats the back of a spoon

Remove form heat and stir in 1 cup cheddar cheese and mexican blend cheese (or another cheese you prefer) until smooth and cheese is melted

Stir in cooked pasta

Pour pasta and sauce into casserole dish

In a small bowl mxi together breadcrumbs and melted butter

Sprinkle over pasta

Place into oven and bake for 25-30 minutes or until breadcrumbs are golden and cheese is bubbly

Remove and let stand for 5 minutes before serving

ENJOY!!

Notes

Each serving is 11 WW Smart Points

Nutritional Info

Calories 308 - Calories from Fat 126 - Total Fat 14 g - Saturated Fat 7.3 g - Monounsaturated Fat 4.7 g - Polyunsaturated Fat 1.9 g - Trans Fat 0 g - Cholesterol 37 g - Sodium 189 mg - Potassium 110 mg - Total Carbohydrate 34 g - Dietary Fiber 0 g - Sugars 2 g - Protein 9 g Vitamin A 11 % - Vitamin C 0 % - Calcium 14 % - Iron 6 %

7.8.1.2

169

https://sparklesnsprouts.com/2016/07/07/creamy-baked-mac-n-cheese/

All images are the property of Sparkles n Sprouts, to use image please contact the webmaster at michelle@sparklesnsprouts.com
Everyone will love you…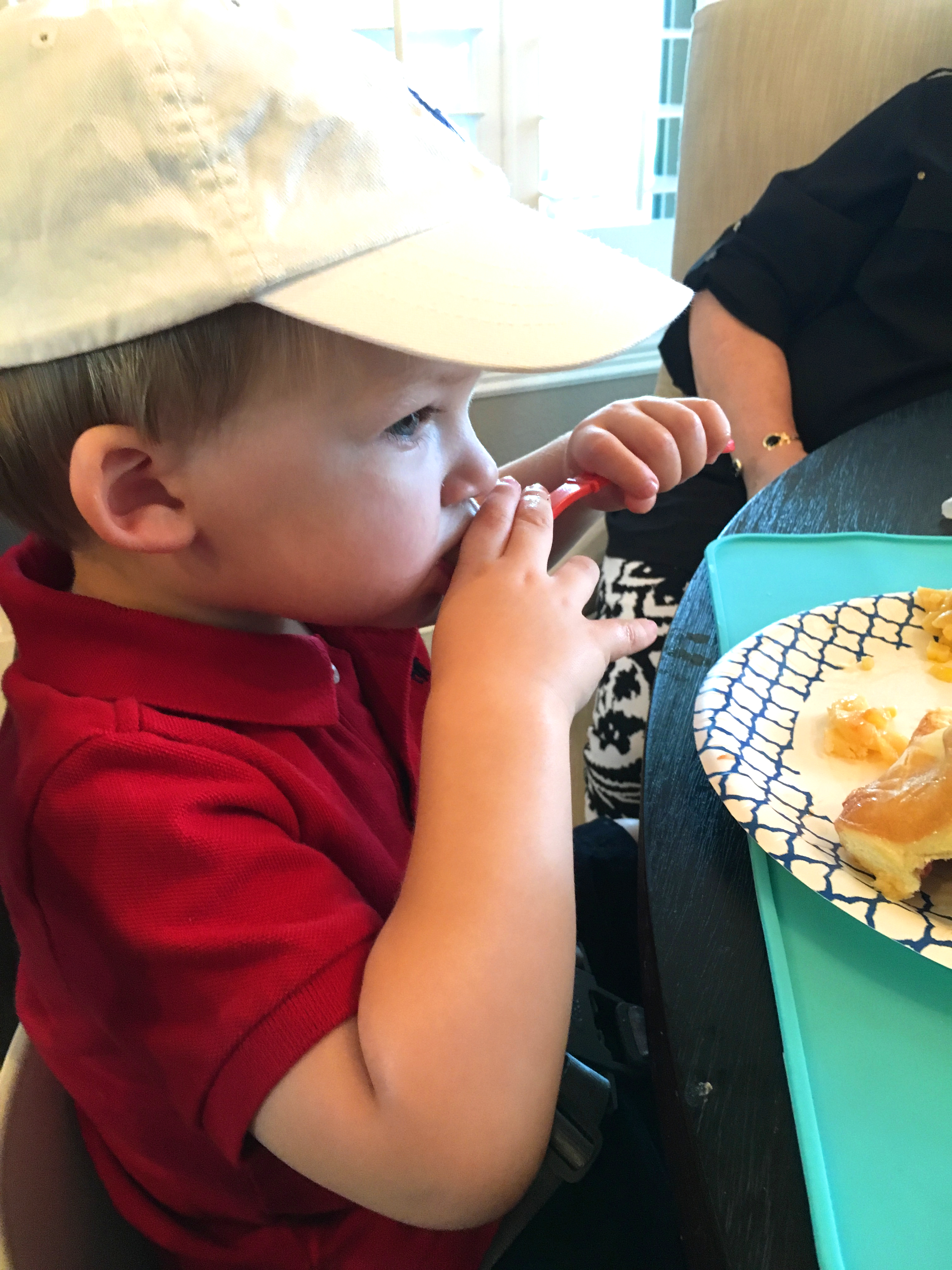 When I made this version, I made it for a family dinner.  I am not the only mac-n-cheese lover in my family.  The sis-in-law and The Dad also LOVE mac-n-cheese as much as I do (maybe even more) so I was eager to hear their reviews.
To say they loved it would be an understatement.  Now I am not saying that to toot my own horn, but I am telling you the truth.  THEY LOVED IT!  My mom and brother even loved it too.  
But the one only one that really matters to (my nephew Wes) REALLY LOVED IT.  If you look really close you can see it on his plate, I had to work fast as he was eating it up super quick!  That always make my heart so happy!
Whether you are having a BIG family dinner or just looking for a quick dinner that everyone will love this creamy mac-n-cheese needs to be on the menu…you will LOVE it!!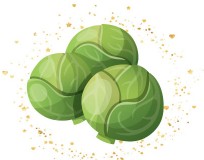 Make today sparkle (& maybe a cheesy) – MJ