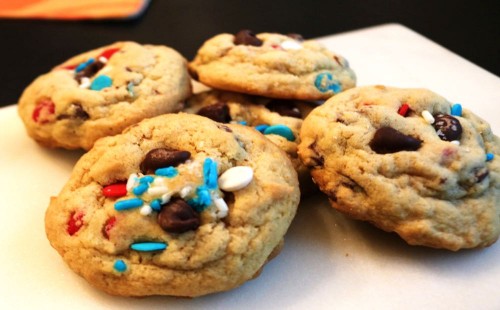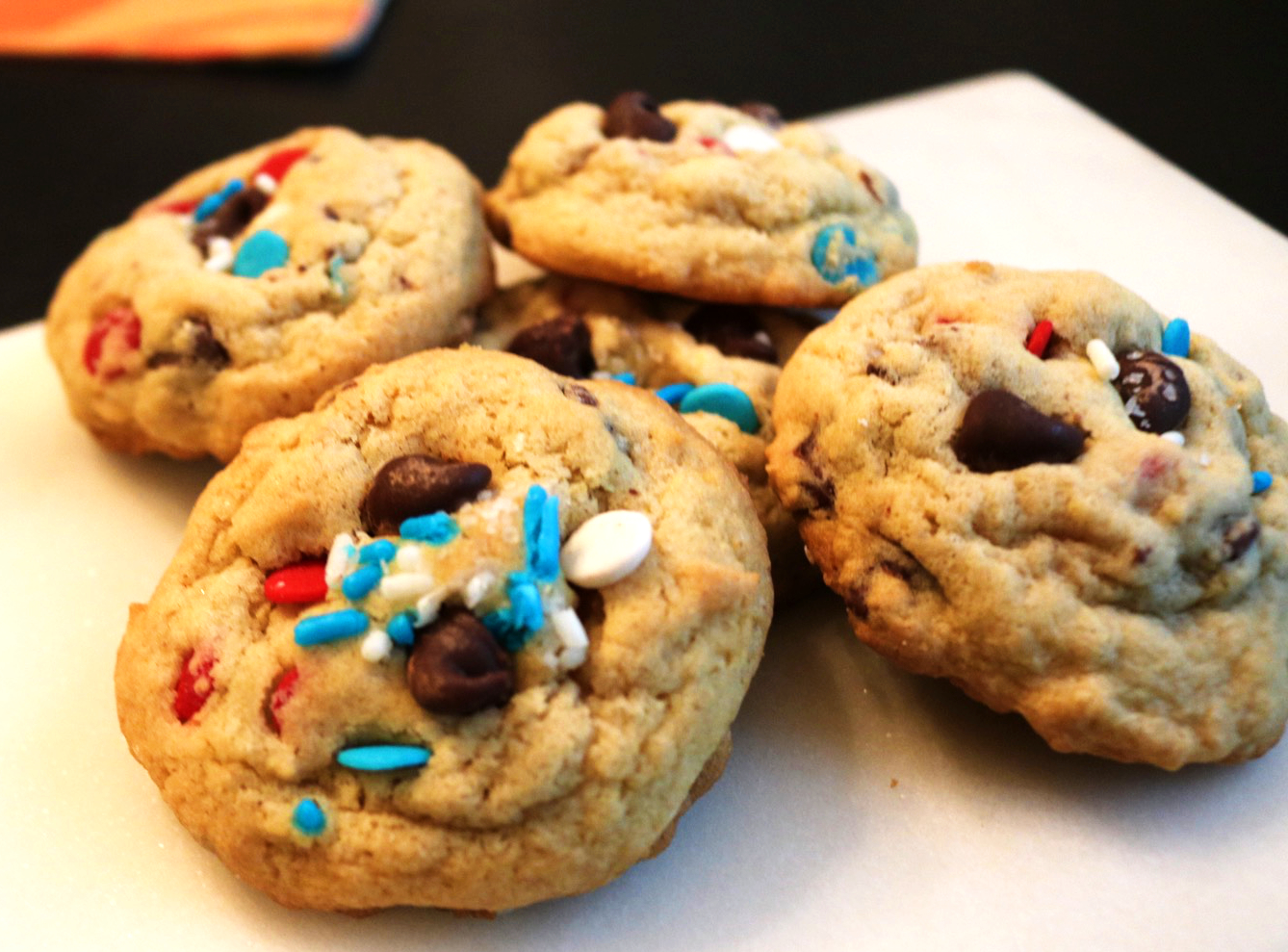 The 4th of July is just around the corner (like next week) and these cookies are a perfect way to celebrate!!
These are not just chocolate chip cookies?
So what makes these so special?  Simple, pudding.  Yes there is pudding mix in the cookies, making them super moist and tender and oh so good!!
The pudding also adds another layer of vanilla goodness giving these cookies something people will remember.
Sprinkles everywhere!
To make these already delicious cookies even more fun I threw in some sprinkles.  Now you could use any sprinkles you have on hand, but I went with red, white and blue for the upcoming Holiday.  Not only are they pretty but perfect for your 4th of July party…plus the kids will LOVE the sprinkles for sure.
It took me some hunting to find the sprinkles, for some reason my grocery store did not have them out yet and Hobby Lobby didn't have any either, but I did find some at Michaels (finally).
Funny story… I couldn't drive at the time (it was right after my surgery) and The Sweet Hubby drove me around to 3 stores, on a Saturday, just so I could find these super festive sprinkles.  I know he was so over it and could care less about the sprinkles, but he was quite the trooper and stick it out, in return he got a snow cone…so it was a win, win for everyone.
Super Quick & Easy
As I mentioned these cookies are delicious, and so cute but they are also SOOOOO EASY!  The come together super quick with ingredients you probably have on hand and then bake for 8-9 minutes and they are ready to go.
There is no chilling, or waiting for these cookies…they are mix, bake and eat.  I love those kind!!
For the recipe…
MJ
30 cookies
Pudding cookies
Light & fluffy cookies loaded with tons of flavor perfect for this summer. I used red, white & blue sprinkles for the 4th of July but any color combo of sprinkles will be perfect!!
PTH20MPrep Time
PTH8MCook Time
35 minTotal Time
Ingredients
1 cup butter, softened
3/4 cup, packed brown sugar
1/4 cup sugar
1 package (3.12 oz) vanilla pudding mix
2 large eggs
2 teaspoons vanilla extract
2 1/4 cups all-purpose flour
1 teaspoon baking soda
1 teaspoon salt
1 1/2 cups chocolate chips, semi sweet, divided (or any chocolate chips you prefer)
3/4 cup rainbow sprinkles, or sprinkles of your choice, divided
1 tsp sea salt
Directions
Preheat oven to 374
Line a cookie sheet with parchment paper, set aside
In a stand mixer, or with a hand mixer, cream together butter and sugars until light and fluffy
Add in pudding mix, eggs & vanilla extract, mixing until combined
In a medium bowl whisk together flour, baking soda & salt
Add in flour mixture to the pudding mixture in 3 parts, mixing until just combined
Stir in 1 1/4 cups chocolate chips and 1/2 cup sprinkles until combined
Using a small cookie scoop, place cookie scoops onto prepared pan
Bake 8-9 minutes, or until cookies are just set, they may look undercooked but that is ok
Immediately add in additional chocolate chips and extra sprinkles on top of the cookies
Let cookies cool on baking sheet for at least 5 minutes, cookies will continue cooking while they cool
Remove cookies to cooling rack
Serve & ENJOY!
>>Store in an airtight container for a few days
Notes
Each cookies is 8 WW Smart Points
Nutritional Info
Calories 176 - Calories from Fat 81 - Total Fat 9 g - Saturated Fat 4.9 g - Monounsaturated Fat 2.5 g - Polyunsaturated Fat 0.3 g - Trans Fat 0 g - Cholesterol 28 g - Sodium 180 mg - Potassium 33 mg - Total Carbohydrate 23 g - Dietary Fiber 0 g - Sugars 14 g - Protein 2 g Vitamin A 4 % - Vitamin C 0 % - Calcium 1 % - Iron 0 %
7.8.1.2
170
https://sparklesnsprouts.com/2016/06/27/pudding-cookies/
All images are the property of Sparkles n Sprouts, to use image please contact the webmaster at michelle@sparklesnsprouts.com
For some added fun
Get the whole family involved (if you have time) and let them stir int he sprinkles or add some extra on top.  This could be a fun (and messy) activity that the lids are sure to love.

Remember to make everyday Sparkle – MJ