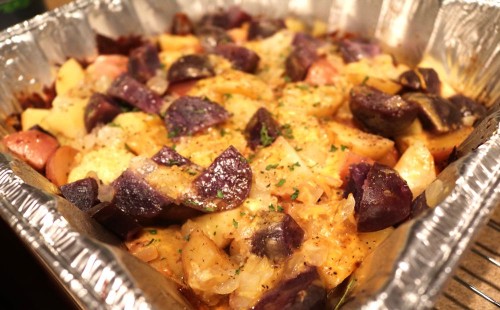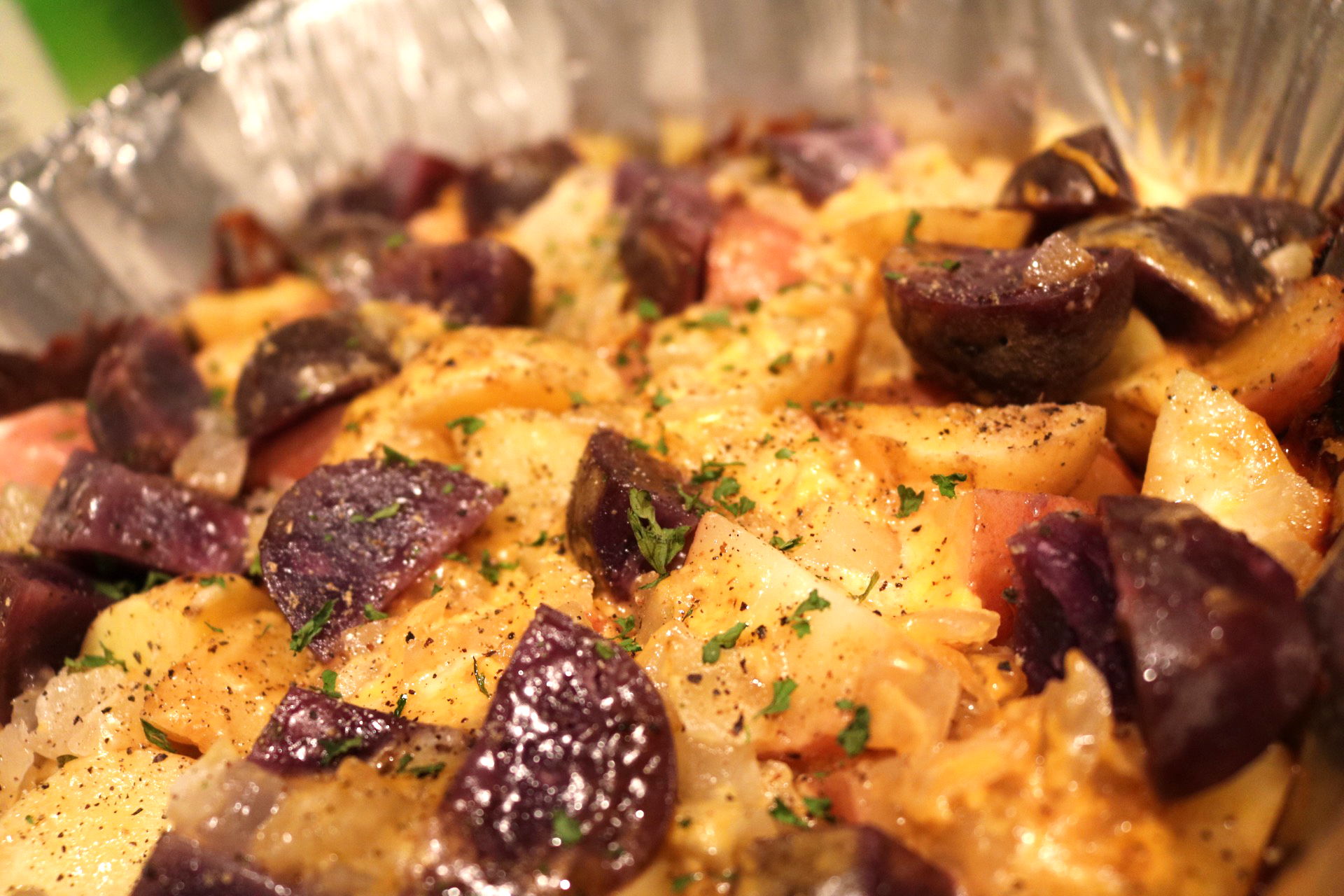 Grilling has been about all The Hubby and I have been doing lately.  Summer is here and I don't know about you but heating the house up wth my oven is not so fun…so out to the grill (or campfire) we go.
Grilling more than just meat
Grilling is not just for the main portion of your meal, it can also be for your sides.  Some of my favorite grilled sides are veggies, especially onions and peppers but tonight we wanted to do something a little different.  
The Hubby and I decided to grill some potatoes in a pan to make a delicious potato and cheese casserole.  This cheesy campfire potato casserole is all made in one pan, making it perfect for a weekend treat or a camping adventure.   
Over a fire or on a grill
Now I have never been that big on camping but for those of you who do love it, these potatoes would be a perfect dish to make.  You can season them with just about anything.  You could even add in some leftover bacon from breakfast or some smoked sausage for an even better cheesy potato dish.  
You don't have to cook the potatoes for anytime before, just cut them up and thrown them in the pan.  Top the potatoes with some chopped onions, spices and cheese to make a dish to remember.  
Perfect for summer…
As I mentioned I have never been a big fan of camping.  We did go camping once or twice when I was a kid (in an RV), but never in a tent. The one thing I remember more than anything about that trip were the potatoes my mom made almost every meal.    They were golden brown and so delicious it didn't matter what else she fixed.  All I wanted were those potatoes.  
I understand these potatoes are not fried but they definitely bring me back to those days of my mom's potatoes.  They are crispy and tender all in the same bite. To amp it up a bit, these potatoes have bits of onion and cheese running through them…which in my book makes them just as good (if not better).
Whether you will be making these on a campfire or on a grill…they are perfect for summer!!
MJ & The Hubby
8 servings
Cheesy Campfire Potatoes
Tender and cheesy potatoes made on the grill (or over a fire) perfect for your next BBQ or camping trip.
20 minPrep Time
45 minCook Time
1 hr, 10 Total Time
Ingredients
2 pounds new potatoes, cut into bite size pieces
1 large onion, chopped
1 tablespoon extra virgin olive oil
2 teaspoons salt
2 teaspoons black pepper
2 teaspoons garlic powder
2 tablespoons Worcestershire sauce
2 tablespoons parsley flakes
2 tablespoons butter
1 cup, shredded Mexican Blend or Cheddar Cheese
Directions
Preheat grill to medium high heat
Spray an aluminum pan with nonstick spray (I used a disposable one, these are perfect for the grill)
Chop potatoes into bite size pieces and place into pan
Chop onion and place over potatoes
Drizzle olive oil potatoes and onions, tossing to coat
Sprinkle salt, pepper & garlic powder over potatoes and toss again to coat everything evenly
Drizzle Worcestershire sauce & parsley flakes over the top
Cut butter into small cubes and scatter over potatoes
Spread cheese in an even layer over everything
Cover with aluminum foil
Place onto grill and cook for 30-45 minutes, or until potatoes are tender
Remove and serve
ENJOY!!
Notes
Each serving is 7 WW Smart Points
Nutritional Info
Calories 201 - Calories from Fat 81 - Total Fat 9 g - Saturated Fat 4.7 g - Monounsaturated Fat 3.8 g - Polyunsaturated Fat 0.5 g - Trans Fat 0 g - Cholesterol 22 g - Sodium 746 mg - Potassium 535 mg - Total Carbohydrate 24 g - Dietary Fiber 2 g - Sugars 1 g - Protein 6 g Vitamin A 5 % - Vitamin C 38 % - Calcium 13 % - Iron 6 %
7.8.1.2
166
https://sparklesnsprouts.com/2016/06/23/loaded-campfire-potatoes/
All images are the property of Sparkles n Sprouts, to use image please contact the webmaster at michelle@sparklesnsprouts.com
Some for everyone…
I used a square pan which will feed 6-8 people, but you could make a bigger batch as needed.  If you are going to be feeding a lot of people you can use a rectangle pan & double the recipe to feed 12-16 people easily.  This would be a perfect pot luck dish as well, and could be cooked in the oven if needed.  
Whether you are camping or grilling in your back yard,remember to make today Sparkle – MJ
PS…these would be great for the 4th of July!!