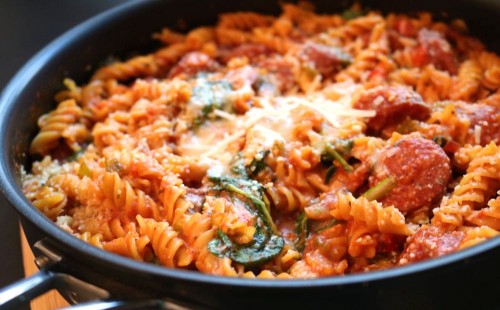 one pan pasta…perfect for tonight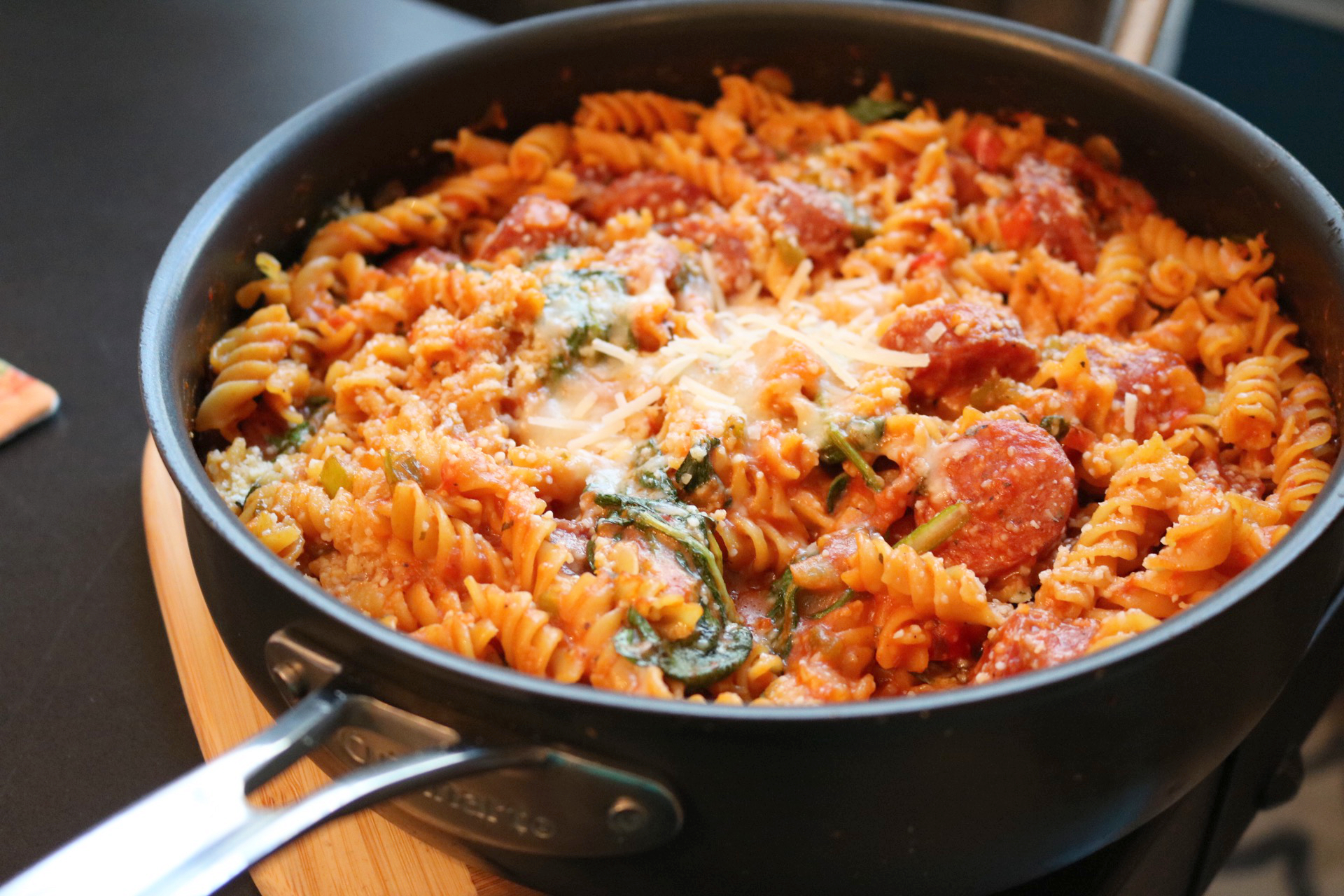 Summer is definitely here in SE Texas and summer hasn't even officially started yet. Along with a large part of the country out temps are in the 90's and feel like the 100's.
When the weather is like this the last thing I want to do is have the oven on for a terribly long time and have a ton of pots and pans to clean up after. This dish is perfect as you cook everything in one pot. Prep & clean-up are super easy, perfect for summer cooking.
People make claims that their dishes are one pot wonders and then it turns into one pot, a skillet & few cutting boards here and there. This dish is a one pot dish & one cutting board and plate, and if you prep the sausage when prepping other items it is a one pot (& plate) dish. Of course you could serve your pasta on the plate you placed the brown sausage. I hate to clean up if you haven't noticed.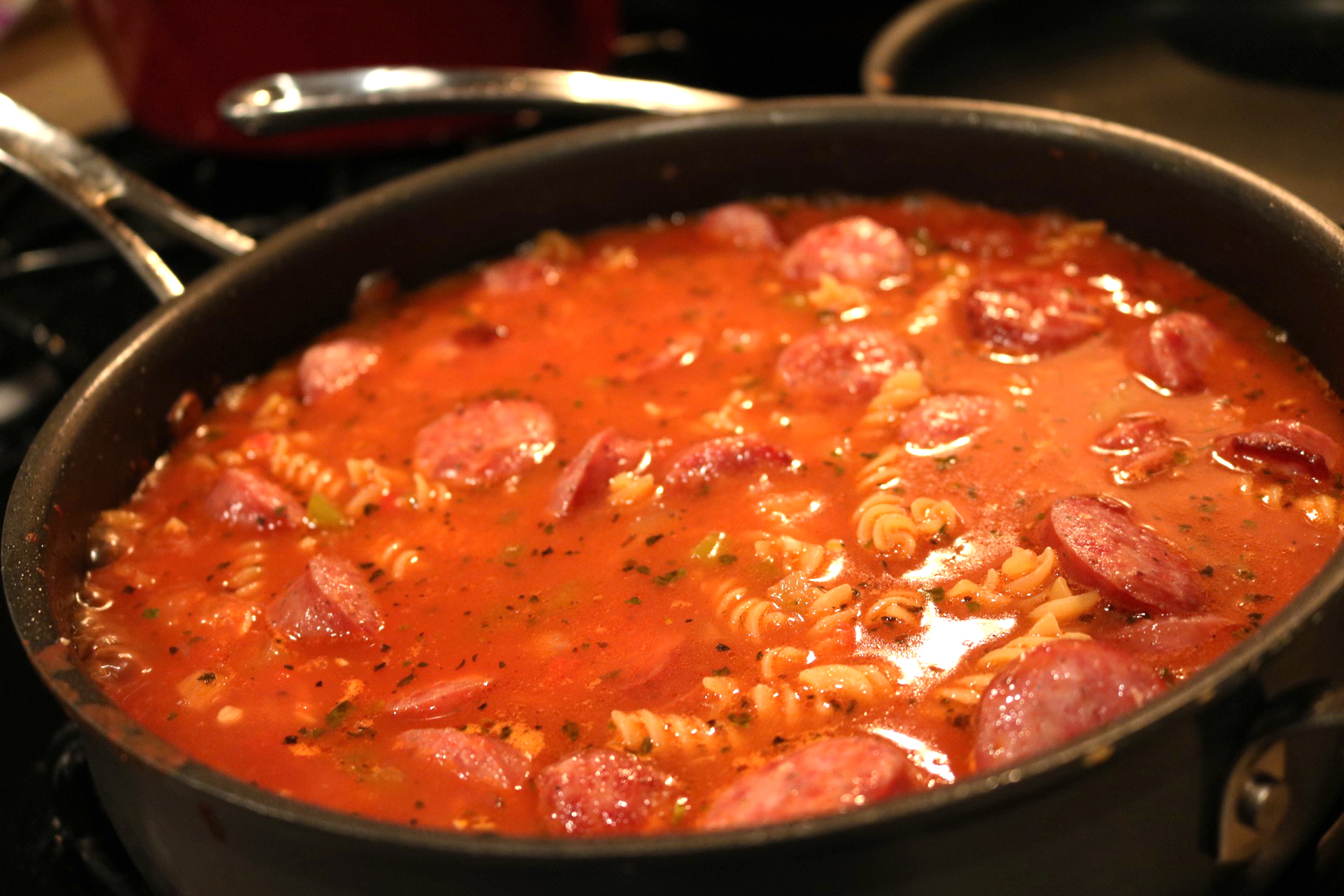 How this dish is better
To start with I browned the sausage to give it a nice crust adding flavor and keeping it nice and juicy. Then in the same pot I browned the onions and garlic before adding in the tomato sauce and pasta. I find that this process really helps to build flavor without a lot of added fat and calories, as it reduces the total amount of oil needed.
As you can see once everything is added there is just enough liquid to cover the pasta. This allows the pasta to cook evenly and the sauce to thicken all at the same time.
My pasta trick
I love cooking pasta in liquid other than water, and most of the time I cook almost all my pasta in chicken or veggie stock. I feel it adds a little more flavor without a ton of salt, which is better for everyone in the long run. Cooking the pasta in the tomato sauce, cream and chicken stock makes it a super rich dish in no time.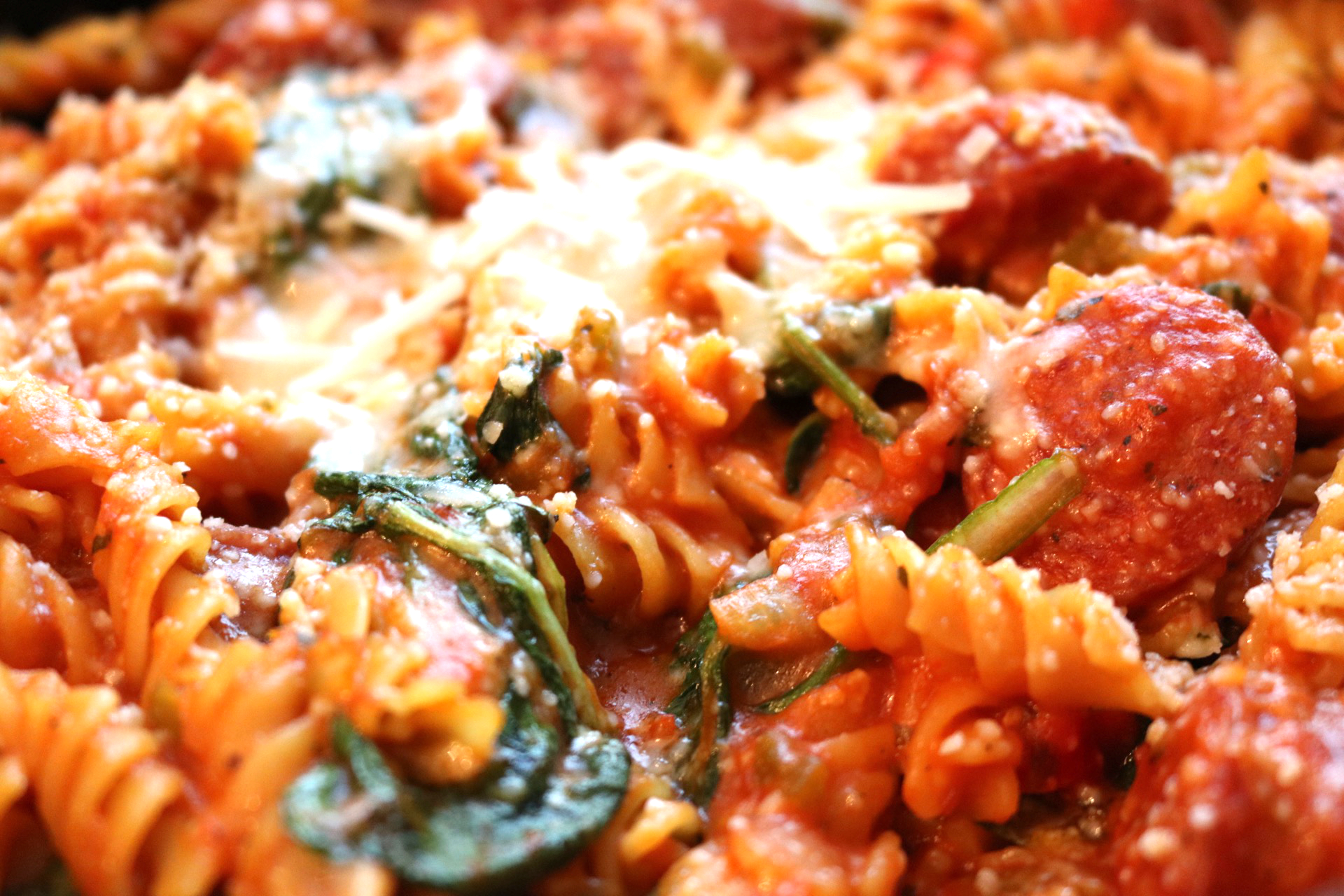 My sneak attack
Because this is a rich dish, and to add some color and something healthy I stirred in some spinach right at the end. I love how the green just peeks through giving this already pretty dish another level of color and depth. Lets be honest anytime we can sneak in a veggie it is good thing. You can use arugula if you would like, or leave it out, just try it. You will love it!
I mean c'mon…look how pretty it is!!
Not only does it look impressive, but it is so good everyone is sure to be a fan.
You can make this-
MJ
6 servings
One Pan Sausage & Spinach Pasta
A one pan sausage & spinach pasta that is rich, creamy and cheese with bits of sausage and spinach in each bite making for a complete meal in almost no time.
10 minPrep Time
25 minCook Time
35 minTotal Time
Ingredients
12 oz Smoked Turkey Sausage (or pork), cut into bite size pieces
2 teaspoons extra virgin olive oil
1 large onion, chopped
2 garlic cloves, mined
2 tsp salt
1 tsp pepper
1/2 tsp red pepper flakes (optional)
1 can (16 fl oz) tomatoes canned, crushed
2 tablespoons fat free half & half (or regular, your choice)
2 cups chicken stock
12 ounces whole wheat spiral pasta
3 cups fresh spinach, chopped
1/4 cup grated parmesan
1/4 cup, shredded Italian cheese blend
Directions
In a large skillet, with high sides and a tight fitting lid, brown sausage on all sides over medium high heat
Remove sausage to a plate, reserving the remaining oil
Add in olive oil letting it heat up a little over medium high heat
Stir in onion, scraping up anything left on the pan from the sausage, and cook until onion begins to soften, about 3-4 minutes
Stir in garlic, salt, pepper & red pepper flakes (if using) and cook for 1 minute
Slowly stir in tomatoes, half & half, chicken stock, & pasta
Bring mixture to a boil, stirring often to keep pasta from sticking
Cover pot and reduce heat to a simmer
Let cook for 10-12 minutes or until pasta is tender and sauce has thickened some
Add in spinach & parmesan, stirring until spinach is wilted
Sprinkle Italian blend cheese over the top and cover pan once again to allow cheese to melt (or place under a broiler if you wish)
Remove lid and serve
ENJOY!!
Notes
Each serving is 13 WW Smart Points:
Nutritional Info Calories 433 - Calories from Fat 135 - Total Fat 15 g - Saturated Fat 5.3 g - Monounsaturated Fat 6.2 g - Polyunsaturated Fat 2.8 g - Trans Fat 0 g - Cholesterol 40 g - Sodium 789 mg - Potassium 442 mg - Total Carbohydrate 50 g - Dietary Fiber 2 g - Sugars 5 g - Protein 21 g Vitamin A 33 % - Vitamin C 18 % - Calcium 14 % - Iron 22 %
7.8.1.2
156
https://sparklesnsprouts.com/2016/06/15/one-pan-sausage-pasta/
All images are the property of Sparkles n Sprouts, to use image please contact the webmaster at michelle@sparklesnsprouts.com
Feel free to use any short pasta you prefer, I used corkscrew but penne or elbow would work as well. You could also use any smoked sausage you like, I used turkey sausage but regular would be delicious. You could use the link version, just make sure it is cooked through. Or for some fun use mini meatballs.
OK now I want to make this dish with meatballs.
Jump into one pan meals with one everyone will love! Trust me this is perfect for a quick summer dinner. Get in and out quick so you can go play!