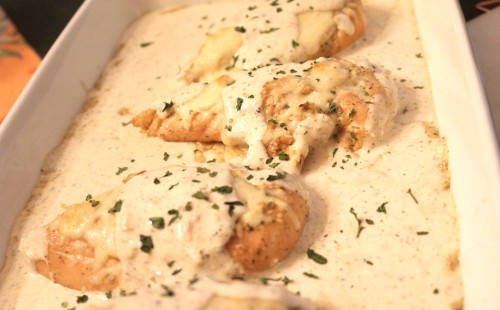 slow cooker ranch yumminess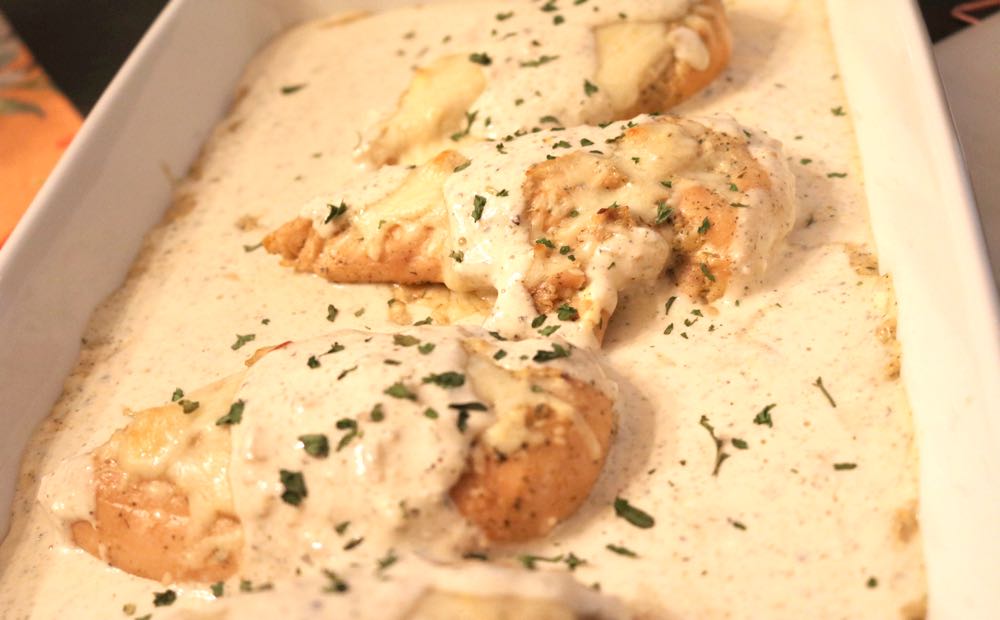 Just because it is summer doesn't mean you can't enjoy the best of all your slow cooker has to bring you.  I mean what is better than being out all day playing (or working) and coming home to dinner being 90% done and knowing that everyone is going to love it…I don't know about you but that sounds pretty good to me.
Not too long a go I started making my own Ranch seasoning and ever since then I can't seem to stop making everything with it, but favorite combo is with chicken.  I just love how it pairs with the flavors and especially in this slow cooker dish.
The Hubby couldn't wait to try this dish…he was gone all day as it was cooking and when he came home he said he could smell the "yummy goodness" all the way in the garage….it smelled that good.  The minute he came in he asked if dinner was done, and of course it was so I went to finishing everything so he could get down to it.
To finish the dish I did put the chicken under the broiler topped with some cheese to help melt the cheese and to add a little color while I finished the sauce in the slow cooker.  If you don't want to worry about the broiler, you don't have too.  You can either stir the cheese into the sauce, after you remove the chicken, or shred the chicken in the sauce and then stir in the sauce…then you would have a ranch shredded chicken which would be super yummy too.  I would put that on a potato or in a bun for dinner.  Then the next day throw it on a  salad for an updated chicken salad….ok now I am hungry for dish all over again.
MJ
6 servings

Slow Cooker Creamy Ranch Chicken

Creamy slow cooker chicken that is seasoned with ranch & cream cheese making it a dish everyone is sure to love but without a lot of the guilt

7 hrCook Time

7 hr, 30 Total Time

Ingredients

1 1/2 pound chicken breast, boneless, skinless

1 cup Chicken stock

1 oz packet Ranch dressing seasoning

2 teaspoons black pepper

1 teaspoon chili powder

4 ounces light cream cheese, cubed

1/4 cup, shredded cheese, Italian blend

1 tablespoon parsley, fresh, chopped (optional)

Directions

Spray a large crock pot with nonstick spray

Place chicken into the bottom

Pour chicken stock over chicken

Sprinkle ranch seasoning, pepper & chili powder over chicken

Place cubed cream cheese over chicken

Cover and cook on low for 6-7 hours, stirring every hour to keep cream cheese from burning

When chicken is cooked through, but not falling apart, remove from slow cooker to a small casserole dish

Sprinkle cheese over the top and place chicken under broiler until cheese is melted and starting to brown

Place slow cooker on high, and using a whisk combine all the remaining liquid until it is creamy

Let cook on high for 10-15 minutes, stirring often

Spoon over chicken & sprinkle with parsley (if using)

Serve and enjoy!!

Notes

Each serving (1 chicken breast and 2-3 tbsp sauce) is 5 WW Smart Points

Nutritional Info

Calories 145 Calories from Fat 90 Total Fat 10 g Saturated Fat 5.8 g Monounsaturated Fat 3.2 g Polyunsaturated Fat 0.8 g Trans Fat 0 g Cholesterol 39 g Sodium 369 mg Potassium 169 mg Total Carbohydrate 4 g Dietary Fiber 0 g Sugars 0 g Protein 9 g Vitamin A 10 % - Vitamin C 2 % - Calcium 6 % - Iron 0 %

7.8.1.2

66

https://sparklesnsprouts.com/2016/06/10/creamy-ranch-chicken/

All images are the property of Sparkles n Sprouts, to use image please contact the webmaster at michelle@sparklesnsprouts.com
Whether you have a busy week or weekend coming up this dish will be a perfect option for dinner very soon.  It is loaded with tons of flavor and creamy goodness making this a dish that your family will ask for again and again…and thankfully it is so easy to pull together with so many options you will be more than happy to make again and again.
Break out your slow cooker and enjoy it all summer long…stay tuned for additional slow cooker recipes that will make this summer super easy and fun!
Make everyday sparkle – MJ