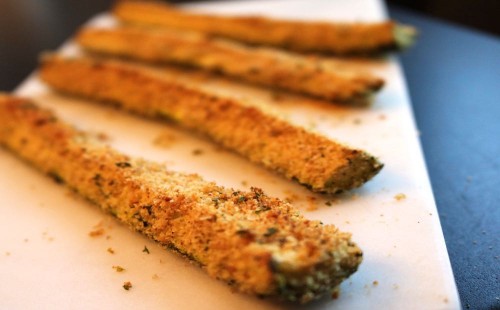 I have found that zucchini is one of those veggies that people either love or not love…but I have found a solution with these zucchini spears.
OK I know you maybe asking yourself…a spear for dinner made out of zucchini?  Yes, I made spears made out of zucchini coated in a  crispy crust that will make everyone a zucchini lover.
The very first time I had zucchini (that I can remember) was in Missouri close to my grandparents farm.  There was a restaurant on top of the hill and we would eat there A LOT!  Every time we would go there we would always order the fried zucchini for an appetizer.  Now, if it were up to me I would have ordered the fried cheese (I LOVE CHEESE) but my Grandad loved this fried zucchini, so I gave it a try.  I remember they were round disks, not very thick and coated in a delicious crust that would pull off in one bite.  But to make it even better I dipped each bite in ranch (I was like 7…they let me double dip) and it was one of the best things I have ever had.
As I grew up a little and it came time to start eating more veggies, in a more healthy way, I started to fall in love with zucchini all over again, only this time it was not fried to death and drenched in ranch…don't get me wrong I will still eat my weight in the fried version but this is just as yummy and without a lot of the guilt.
Sis-In-Law & MJ
4 servings

Serves 2 spears per serving

0

Crispy Zucchini Spears

Crispy zucchini spears perfect for dinner tonight!

5 minPrep Time

15 minCook Time

20 minTotal Time

Ingredients

2 large zucchini

1 tablespoon olive oil spray

1/2 cup Italian bread crumbs, dry

1/4 cup parmesan cheese, grated

1 teaspoon salt

1 teaspoon black pepper

1 teaspoon parsley flakes

1 teaspoon garlic powder

1 teaspoon chili powder

Directions

Preheat oven to 425

Line a rimmed baking sheet with foil

Place a baking rack on top of foil & spray with nonstick spray

Trim ends off zucchini

Cut each zucchini in half, lengthwise

Cut each half in half again, lengthwise, to create spears

Spray spears with olive oil spray

In a large bowl or plate mix together bread crumbs, cheese, salt, pepper, parsley, garlic powder & chili powder

Dip each spear into bread crumb mixture and place onto the baking rack

Place pan into oven and cook for 15-20 minutes or until spears are browned

Remove and serve

ENJOY!!

Notes

Each serving (2 spears) is 4 WW Smart Points

Nutritional Info

Calories 121 Calories from Fat 36 Total Fat 4 g Saturated Fat 1.5 g Monounsaturated Fat 1.5 g Polyunsaturated Fat 0.6 g Trans Fat 0 g Cholesterol 5 g Sodium 799 mg Potassium 487 mg Total Carbohydrate 16 g Dietary Fiber 2 g Sugars 3 g Protein 6 g Vitamin A 11 % Vitamin C 47 % Calcium 12 % Iron 6 %

7.8.1.2

50

https://sparklesnsprouts.com/2016/06/08/zucchini-for-everyone/

All images are the property of Sparkles n Sprouts, to use image please contact the webmaster at michelle@sparklesnsprouts.com
My nephew loves veggies, but zucchini has not been a favorite of his, until the sis-in law made these cute zucchini spears.  There was just something about the shape and him being able to hold it and bite it at the same time that turned him into a zucchini spear loving toddler.  For the adults it was crunchy and loaded with tons of flavor so it was a winner for us well…even my mom who is not a big zucchini fan.
Not only are they delicious but they also come together super quick making them an even better side dish for dinner tonight!
Thank you Mary, or Sis-in-Law, for reviving an old childhood favorite and making it into something that everyone will love!!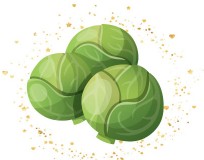 Remember make everyday sparkle – MJ