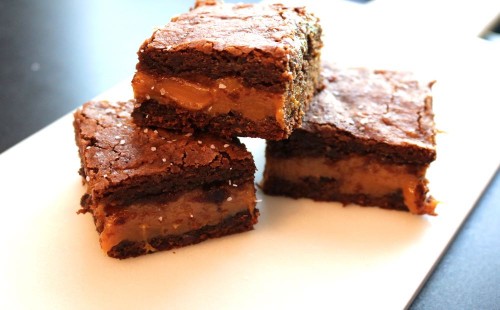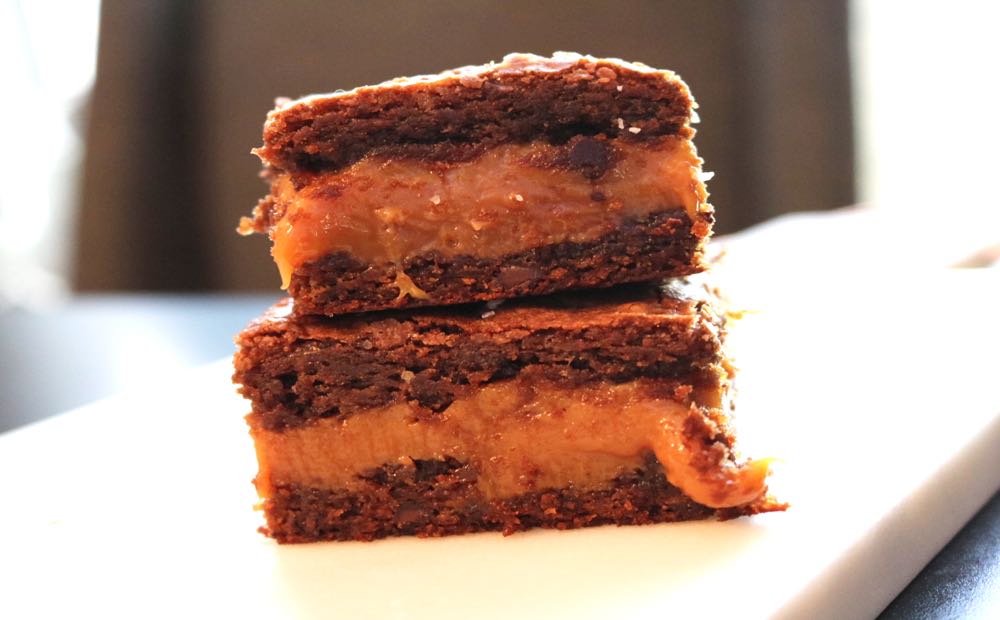 I LOVE caramel anything really. I love it in my coffee, I love it on ice cream, I love it swirled into cakes and I especially love it with brownies. Over time I have made a couple of caramel brownie recipes (like this one) but this new recipe is The Hubby's favorite one hands down.
For most of my other caramel recipes I use my super easy homemade caramel sauce (recipe can be found here) but for this brownie recipe I used the caramel candies. You know those little square bits of yummy goodness wrapped in that annoying cellophane…well just because I love caramel (& The Hubby) so much I unwrapped them all and created these amazing brownies.
The secret to these perfect brownies is letting the bottom of the brownies bake for a little bit and then cover it with the caramel layer. Lets talk for a bit about the caramel layer. First, its caramel so that is good enough…and then you add in some sweetened condescended milk to make it AMAZING!!
I am a sucker for sweetened condensed milk for sure. When I was in high school I worked at a snow cone stand and one of the optional toppings was sweetened condensed milk…and I LOVED it! It is sweet, and creamy and perfect!! When you mix it with caramel it makes for a perfect caramel layer, especially in these brownies.
MJ
36 servings

Caramel Bomb Brownies

Super fudgy brownies with a layer of ooey gooey caramel that makes these brownies something to remember for sure

45 minCook Time

1 hr, 45 Total Time

Ingredients

1 cup granulated sugar

1 cup light brown sugar

3/4 cup unsweetened cocoa powder

1 cup oil (vegetable or canola)

4 large eggs

1/4 cup milk (I used whole)

2 tsp vanilla extract

1 1/4 cups all-purpose flour

1 teaspoon salt

1 teaspoon baking powder

1 teaspoon espresso powder (optional)

1 cup semi sweet chocolate chips

14 ounces individually wrapped caramels (I used Kraft caramels)

14 ounce can sweetened condensed milk

1 teaspoon sea salt

Directions

Preheat oven to 350

Line a 9x13 baking pan with parchment paper, set aside

In the bowl of a stand mixer (or large bowl) mix together the sugars and oil until well combined

Add in eggs, mixing until combined

Add in milk & vanilla, mixing until just combined

Add in flour, salt, baking powder & espresso powder (if using) until just combined

Stir in chocolate chips

Pour 2/3 of the batter into the prepared pan

Place in oven and bake for 12 minutes

While brownies are baking, place caramels (unwrapped) with the sweetened condensed milk in a microwave safe bowl

Heat in microwave for 5-6 minutes, stirring after each minute, until smooth

After 12 minutes remove brownies from oven and gently spread caramel over brownies

Spoon remaining brownies over caramel and sprinkle with sea salt

Return to oven and continue baking for 30-35 minutes, or until center is set and a toothpick comes out clean when inserted in the middle

Remove and let cool for at least 1 hour before cutting

Serve & ENJOY!!

Notes

Each brownie is 12 WW Smart Points:

Nutritional Info Calories 275 Calories from Fat 72 Total Fat 8 g Saturated Fat 2 g Monounsaturated Fat 2.9 g Polyunsaturated Fat 2.9 g Trans Fat 0 g Cholesterol 27 g Sodium 186 mg Potassium 43 mg Total Carbohydrate 34 g Dietary Fiber 0 g Sugars 21 g Protein 4 g Vitamin A 1 % - Vitamin C 0 % - Calcium 2 % - Iron 0 %

7.8.1.2

147

https://sparklesnsprouts.com/2016/06/07/caramel-bomb-brownies/

All images are the property of Sparkles n Sprouts, to use image please contact the webmaster at michelle@sparklesnsprouts.com
As I said The Hubby LOVES these, and I have actually made them several times for him already, but the real fan was my nephew. HE LOVED THEM! Now I won't lie I do maybe bribe hime a little with sweets every now and then (or every time I make something yummy) but he really did love these. I would only give him a little at a time, and very quickly he would ask for "mooooore please" and of course, I would give him moooore and mooooore. I would do anything for that little guy!!
These brownies are a must make this summer for sure…they are a perfect treat that everyone will love.