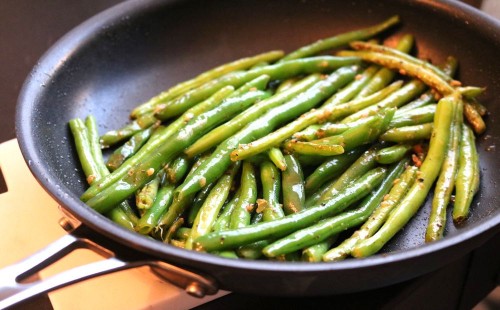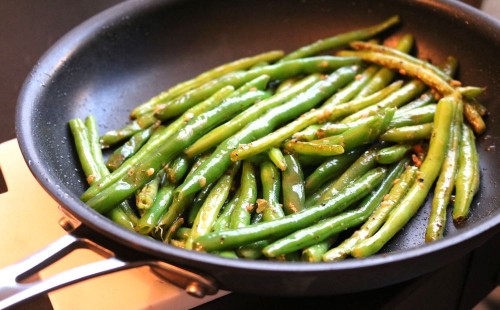 Green beans are a staple in our home.  The Hubby and I love them, my parents love them and my nephew REALLY loves them.  They were one of the first foods he ate and still asks for them all the time.  
Over time we have fixed them all sorts of ways like these delicious green bean bundles, or my brothers favorite green bean casserole  or one of my favorites simply roasted green beans but now we all have a new favorite…these skillet green beans.  
The beauty is they start out in the microwave for a quick steam, and then you finish them in a skillet until they are just crisp tender making them perfect each and every time.  
MJ & Sis-in-Law
4 servings
Skillet Green Beans
Super easy fresh green beans that start in the microwave, end in the skillet and ready for the table in 10 minutes....LOVE THEM SO MUCH!
5 minPrep Time
10 minCook Time
15 minTotal Time
Ingredients
1 lb fresh green beans
1 tsp extra virgin olive oil
2 garlic cloves, minced
1 tsp salt
1 tsp pepper
Directions
Trim green beans as needed
Place green beans into a quart size freezer ready zip closure bag
Poke several holes into one side of the bag
Place bag into microwave, holes side up
Cook on high for 3 minutes
Remove bag from microwave
Place beans into skillet
Drizzle olive oil over beans and toss to coat
Add in garlic, salt & pepper
Cook for medium heat, tossing often, for 4-5 minutes, or until beans are charred a little and tender
Remove from skillet & serve
ENJOY!!
Notes
Each serving is 1 WW Smart Points
Nutritional Info Calories 49 Calories from Fat 12 Total Fat 1.3g Cholesterol 0mg Sodium 589mg Potassium 250mg Total Carbohydrates 8.9g Dietary Fiber 4.0g Sugars 1.6g Protein 2.2g Vitamin A 16% - Vitamin C 32% - Calcium 5% - Iron 8% Nutrition Grade A
7.8.1.2
69
https://sparklesnsprouts.com/2016/05/23/microwave-green-beans/
All images are the property of Sparkles n Sprouts, to use image please contact the webmaster at michelle@sparklesnsprouts.com
My sis-in-law made this recipe for use when we were having dinner at the home not too long ago.  I was helping with something else and all of a sudden I heard the microwave go off and I asked what was in there. She said oh the green beans…and I have to say I was a little skeptical.  I don't "cook" a whole lot in my microwave and I wasn't too sure these were going to be so good, and then she threw them into a skillet and seasoned them with everything we love and then let get browned just a little giving them a perfect bite.
She started with some olive oil and then added in some garlic, salt & pepper.  The flavors are simple but come together perfectly to really let the green beans shine through and make for a perfect side dish even on the busiest of weeknight. 
I have made these green beans several times over the last month or so and each time they seem to get better and better.  Feel free to change up the seasonings as you like, you could use all purpose seasoning or a lemon pepper seasoning would be great as well. 
This is my go to green bean recipe and I hope it will be yours as well.
Make everyday sparkle – MJ