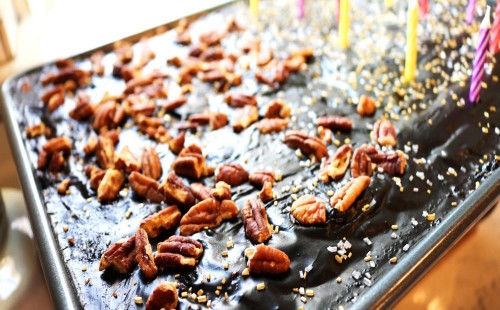 sheet cake updated for Honey
My mom's birthday was not too long ago and we had a big family dinner to celebrate her. My brother and sis-in-law grilled out my mom's favorites (ribs) and I was responsible for dessert and a side (the side recipe will come soon). For the dessert I asked her what she wanted and she said sheet cake…sheet cake really?

THE DARKER THE BETTER (AT LEAST FOR ME)
In my mind I was thinking about a beautiful layered cake, maybe cupcakes or a even a pie but mom wanted sheet cake…so I decided to take our family's favorite sheet cake recipe and amp it up a bit…to make it a dark chocolate caramel sheet cake. Now this was a BIG risk, no one in my family likes dark chocolate except for me and my sis-in-law but I knew that this cake would turn them into dark chocolate lovers without them even knowing it.
To start this dark chocolate caramel cake experiment I knew I wanted to use this traditional chocolate sheet cake recipe that was one that my MeeMaw passed down to us. It was always a treat that she made for us every time we came to visit at the farm and it was always a favorite for my mom…so I guess I should not have been too surprised when she asked for it. Now don't get me wrong I love the traditional recipe, but for my mom I wanted to take it to the next level.
MJ
36 servings
Dark Chocolate Caramel Sheet Cake
A rich dark chocolate sheet cake with a ribbon of caramel that is super moist and perfect for a little treat that everyone is sure to LOVE
15 minPrep Time
20 minCook Time
1 hrTotal Time
Ingredients
Cake:
1 cup butter
6 tbsp dark cocoa powder
1 tbsp espresso powder
1 cup water
2 cups flour
1 cup sugar
1 cup brown sugar
1 tsp baking soda
1/2 tsp salt
2 eggs
3 tsp vanilla
1/2 cup low fat buttermilk (or milk of your choice or cream)
1 cup caramel sauce
Frosting:
1/2 cup butter
5 tbsp dark cocoa powder
1 tsp vanilla
2 tsp espresso powder
3 tbsp low fat buttermilk (or regular milk or cream)
3 tbsp fat free milk (or regular milk or cream)
4 cups powder sugar
Optional Toppings:
Chopped Nuts
Sprinkles
Caramel sauce
Directions
For the cake:
Preheat oven to 350
Spray a sheet pan with nonstick spray (my pan is 18x12), set aside
In a medium saucepan melt together butter, cocoa powder, espresso powder & water until it boils
Remove mixture from heat and let cool for a few minutes
In a large bowl combine flour, sugars, baking soda & salt
Pour butter mixture over flour and stir until just combined
In a small bowl whisk together eggs, vanilla & buttermilk until well combined
Pour buttermilk mixture into batter and stir until just combined
Pour batter into prepared pan
Drizzle caramel sauce over batter, and using a knife gently combine caramel sauce into batter
Bake for 15 minutes, or until toothpick comes out clean when inserted into the center of the cake
For the frosting (prepare while the cake is baking):
In a medium saucepan melt together butter, cocoa powder, vanilla, espresso powder, buttermilk & milk, brining it to a boil
Remove from heat and whisk in powder sugar, one cup at a time, until all 4 cups are added in
Let frosting cool until cake is done
Once cake is removed from the oven, spread the icing immediately, making sure to cover the whole cake
Top with any optional toppings you prefer
Let cake cool for at least 30 minutes before serving
ENJOY!!
Notes
Each slice is 10 WW Smart Points
Nutritional Info
Calories 211 Calories from Fat 72 Total Fat 8.0g Saturated Fat 5.0g Cholesterol 30mg Sodium 164mg Potassium 36mg Total Carbohydrates 34.4g Sugars 22.9g Protein 1.4g Vitamin A 5% - Vitamin C 0% - Calcium 2% - Iron 2% Nutrition Grade F
7.8.1.2
67
https://sparklesnsprouts.com/2016/05/20/dark-choice-sheet-cake/
All images are the property of Sparkles n Sprouts, to use image please contact the webmaster at michelle@sparklesnsprouts.com
To deepen the chocolate flavor (& color) I used dark cocoa powder instead of the traditional cocoa powder and then I added in espresso powder to intensify the flavor even more…but don't worry you won't taste the espresso powder, it is just there to make the cake even better. I also added some espresso powder into the frosting, again it just intensifies the chocolate.
BRING ON THE CARAMEL
Next came the caramel…I mean c'mon everything is better with a little caramel sauce. I used my easy homemade salted caramel sauce but a jarred version would work as well…but if you have a few minutes go ahead and make the homemade version…it is just so, so good!! The caramel with this super moist & very rich cake only adds to the yummy factor and makes it a cake to remember for sure.
Being that this was her birthday cake I used some toasted pecans (for my mom) and sprinkles (she loves sprinkles…she is where I get my love of all things sparkly) and then of course candles…you can't have a birthday cake without candles now can you?
Now when everyone saw it they were a little nervous as it is much darker in color than the traditional version, but once they tasted it they LOVED it!! I will still make the traditional recipe but this will definitely be one of the versions we make … it is just so, so good!!