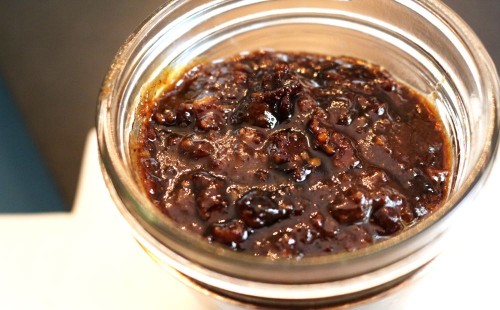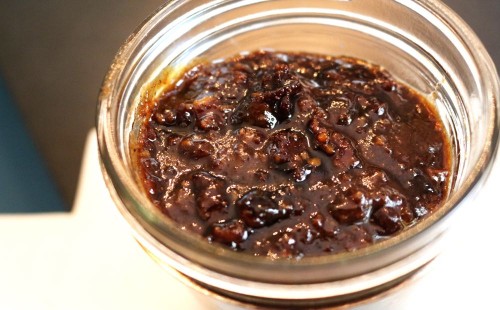 Bacon & Jam together at last…yes you read that right today is all about Bacon Jam. For those of you who have not had the distinct pleasure of enjoying this wonderful jam then you are going to be in for the treat of your life (ok at least this week, ok maybe today) but is really is so yummy!!
I first came across bacon turned into jam at a local hamburger place. They were putting it on their burgers instead of slices of bacon. Now I was a little nervous when I ordered by first bacon jam burger…but all that went away after my first delicious bite. The jam brings a bite of saltiness, with some heat and some sweet to make it a perfect combo of tastes in each spoonful.
The beauty of this jam is that you can really make it how you like, it could be more sweet than heat or more tangy, or more spicy…you can make it perfect for you and your family (& friends).
MJ
16 servings
Bacon Jam
Take bacon to the next level and turn it into JAM! It doesn't get much better. Use it on biscuits, burgers, grilled cheese...really anything!
10 minPrep Time
2 hrCook Time
3 hrTotal Time
Ingredients
1 lb bacon, cut into 1 inch pieces
4 garlic cloves, minced
1 onion, sliced
2 tbsp brown sugar
1 tbsp siracha
1 cup coffee
1/4 cup balsamic vinegar
1/2 cup maple syrup
1 tbsp pepper
1 tbsp chili powder
1 tsp espresso powder
1 1/2 cups water
Directions
In a dutch oven cook bacon until crispy & lightly browned, cook in batches if necessary
Remove cooked bacon to a paper towel lined plate and drain grease from dutch oven, reserving about 2 tbsp of the bacon grease
Add onion to bacon grease and cook until they begin to soften, about 5 minutes
Add in garlic and continue cooking or another 1-2 minutes
Return bacon to the dutch oven along with all the remaining ingredients, except the water
Stir until everything is well incorporated
Bring mixture to a simmer and cook for 2 - 2 1/2 hours adding in 1/4 cup of water every 15-20 minutes, stirring regularly
Jam is ready when the onions and bacon all look the same
Remove from heat and let cool for 10 minutes
You can serve it now, or you can place into the food processor for a few seconds for a smoother consistency
ENJOY!!
Notes
Each serving (about 2 tbsp) is 7 WW Smart Points:
Nutritional Info
Calories 191 Calories from Fat 108 Total Fat 12.0g Saturated Fat 3.9g Trans Fat 0.0g Cholesterol 31mg Sodium 663mg Potassium 219mg Total Carbohydrates 9.6g Sugars 7.3g Protein 10.8g Vitamin A 3% - Vitamin C 2% - Calcium 2% - Iron 4% Nutrition Grade B
7.8.1.2
20
https://sparklesnsprouts.com/2016/05/17/bacon-jam/
All images are the property of Sparkles n Sprouts, to use image please contact the webmaster at michelle@sparklesnsprouts.com
I made this jam for burgers but it turned into so much more. We did use it on these burgers (Bacon & Blue Sliders) but we also used it on biscuits, in a grilled cheese and I may have even snuck a bit or two just on its own. Trust me it did not last very long in the refrigerator and another batch will be made very soon…it is becoming a staple in our kitchen.
I know the name may seem strange but once you try it you will be so glad you did…it definitely takes bacon to the next level and makes it something everyone is sure to love!!