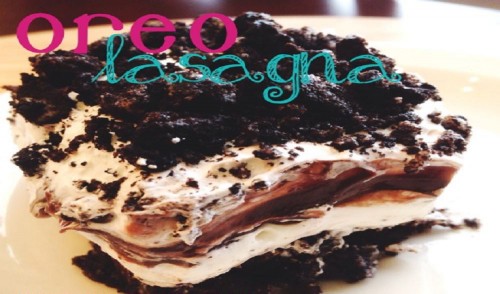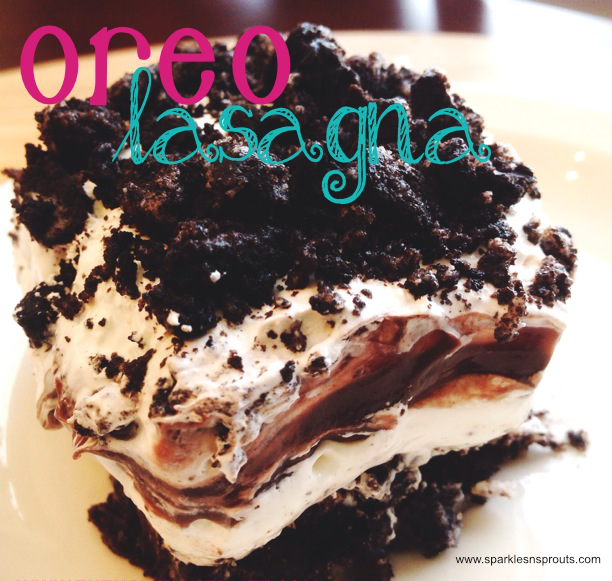 There are certain foods I CANNOT have in my house because I will eat all of it and  this dessert is full of one of those sinful treats…OREOS!  I love all Oreo's and yes I think I have tried most of the varieties….but my favorite is the original.  There is just something about the chocolate wafers and that delicious creamy middle…I just love them.
A surprise….
The Hubby loves Oreo's as well, so when I told him about this dessert he was so excited and asked me to fix it right away, & has asked me to make it several times since, so it is definitely Hubby approved.  The last time I made it was when my mother-in-law was staying the night with us and I wanted something that was pretty, special but also very easy and something I didn't have to bake…its just too hot to have the oven on…so this layered dessert was the obvious choice.  I didn't tell The Hubby that I was making it as I was afraid he would try and sneak a piece (or two) before I served it, but he was so excited when I pulled it out of the refrigerator.
I love this dessert so much because you can make it a day in advance, or even a couple of days, and it is perfect.  This would be perfect for a pot luck dinner or an end of summer get together.  Trust me this dessert will be making an appearance at a small group dinner I am sure.
You can make this…
MJ
16 servings
Oreo Lasagna
A creamy, rich and delicious way to have a little lasagna for lunch
PTH10MPrep Time
PTHMCook Time
4 hr, 10 Total Time
Ingredients
1 package oreo cookies
4 tbsp. butter, melted
8 oz reduced fat cream cheese, softened
1/4 cup sugar
2 tbsp. skim milk
12 oz fat free cool whip
6 Snack Pack Fat Free Chocolate Pudding cups (or make 1 package of chocolate pudding)
Directions
Spray a 9x13 casserole dish with nonstick spray
In a food processor, or in a zip closed bag, crush the Oreo Cookies (I used the bag version and it was super easy without all the clean up of the food processor)
Set aside 1 cup of crushed Oreos for topping
Combine remaining crushed Oreo's with melted butter
Press buttered Oreo's into the bottom of the prepared dish
In a small bowl whip the softened cream cheese using a handheld mixer until light and fluffy
Mix in sugar, milk and 1 1/4 cups of cool whip until well combined
Spread cream cheese layer over the Oreo crust until smooth and even
Layer chocolate pudding in an even layer over the cream cheese
Spoon remaining cool whip over pudding and gently smooth
Sprinkle on mini chocolate chips
Place in refrigerator to chill for at least 4 hours but overnight is best
Serve & ENJOY!!
Notes
Each serving is 14 WW Smart Points
Nutritional Info
Calories 309 Calories from Fat 127 Total Fat 14.1g Saturated Fat 7.0g Cholesterol 20mg Sodium 265mg Potassium 46mg Carbohydrates 42.9g Dietary Fiber 1.0g Sugars 28.4g Protein 3.5g Vitamin A 6% - Vitamin C 0% - Calcium 7% - Iron 6% Nutrition Grade - D
7.8.1.2
174
https://sparklesnsprouts.com/2016/05/16/oreo-lasagna/
All images are the property of Sparkles n Sprouts, to use image please contact the webmaster at michelle@sparklesnsprouts.com
Lasagna is not just for dinner anymore!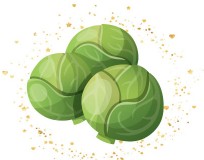 Make everyday sparkle – MJ