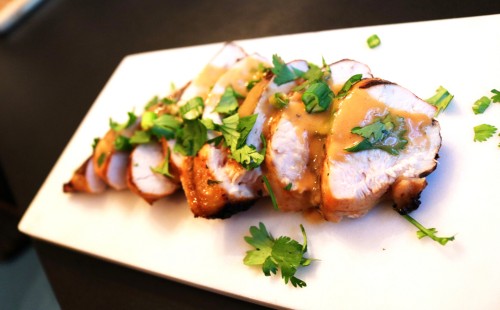 OK, so yesterday I shared my new favorite sauce (Peanut Sauce) and I mentioned that The Hubby and I love to drizzle it over grilled chicken, but we love it even more when we drizzle it over this grilled chicken.
Why this chicken?  Well it is all about the marinade.  The marinade is loaded with so much flavor…it has soy sauce, brown sugar, siracha, lime juice, fresh cilantro and so many other yummies making this chicken really something to remember.    
I love anytime I can marinade something that is going to be grilled, especially boneless & skinless chicken breasts.  I love grilling anything and everything but I LOVE grilled chicken…only problem is they can dry out really easily.  You know what I'm talking about…you get the chicken on the grill and everything is going great and then all of a sudden they are too charred and DRY…I mean really DRY.  Trust me I know it can happen to the best grillers and it can happen in no time flat…but when you marinade it you have a better chance of it staying nice and moist.
MJ
6 Servings
Thai Grilled Chicken
A delicious grilled chicken that is tender an loaded with all your favorite thai flavors with no guilt
10 minPrep Time
30 minCook Time
5 minTotal Time
Ingredients
1 1/2 lbs boneless skinless chicken breast
Chicken Marinade
1/4 cup lime juice
1/4 cup reduced sodium soy sauce
3 tbsp brown sugar
1 tbsp extra virgin olive oil
1 tbsp red wine vinegar
1 tbsp siracha
4 garlic cloves, minced
2 tsp ground ginger
1 tbsp pepper
2 tsp salt
1/3 cup fresh cilantro, chopped
1/3 cup green onions, chopped
Optional Toppings
Thai Peanut Sauce (recipe is on blog)
Chopped peanuts
Fresh cilantro, chopped
Green onions, chopped
Directions
To marinade chicken
In a medium bowl combine all the marinade ingredients until well combined
Place chicken into a large resealable bag
Pour marinade over chicken and close bag, removing as much air as possible as you close it
Toss chicken with marinade and place into refrigerator to marinade for at least 4 hours, up to overnight (or all day)
To grill chicken
Preheat grill to medium high heat and brush with vegetable oil to help chicken from sticking
Remove chicken from marinade and place onto grill
Cook for 5-6 minutes per side, or until internal temperature reaches atlas 165 degrees in the center
Remove and let cool for 5 minutes before cutting
Cut into slices and serve over salad, in tacos on it its own with any of the additional toppings you prefer
ENJOY!!
Notes
Each chicken breast is 6 WW Smart Points
Nutritional Info
Calories 268 Calories from Fat 97 Total Fat 10.8g Saturated Fat 2.7g Trans Fat 0.0g Cholesterol 101mg Sodium 1231mg Potassium 352mg Total Carbohydrates 7.5g Dietary Fiber 0.7g Sugars 4.7g Protein 33.8g Vitamin A 4% - Vitamin C 4% - Calcium 4% - Iron 12% Nutrition Grade B-
7.8.1.2
26
https://sparklesnsprouts.com/2016/04/27/no-thai-take-out-here/
All images are the property of Sparkles n Sprouts, to use image please contact the webmaster at michelle@sparklesnsprouts.com
 The flavors from the marinade and grill come together to really bring out all the flavor of the chicken while giving it some personality and fun…then when you top it with the Thai Peanut Sauce it becomes a grilled chicken to remember.
I served the chicken with some roasted veggies, and a nice salad making for a light but very filling dinner.  You could also use this chicken over a salad and use the peanut sauce as the dressing…that is one of The Hubby's favorite ways to eat it for sure.
Go ahead and bring some thai goodness to the table with just a little prep…you won't need to order take out tonight!!
Happy (half) Baked Life – MJ