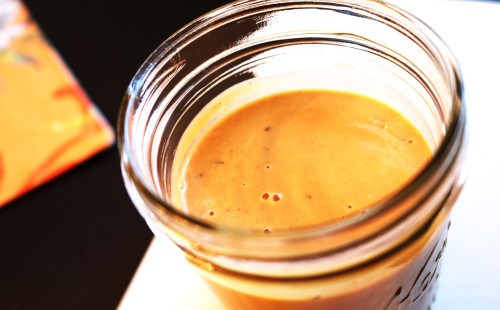 loving this thai peanut sauce…
Not too long ago I was strolling the aisles at my local Trader's Joe and came across a thai peanut salad dressing.  Now I know this doesn't sound too special but to The Hubby it is was a HIGE find.  You see The Hubby loves peanut butter, he loves thai flavors and he loves sauces so really this was a perfect find for him.
Now the Trader's Joe version is delicious but it does have some things in it that I can't pronounce so I decided I need to make my own version that The Hubby would love and with ingredients that I know what they are…and then this thai peanut sauce was born.
Now obviously the base of the sauce is peanut butter, but there is so much more to it than just peanut butter.  One of the things I love most about thai food is the balance of sweet, heat and freshness all in one,  and this sauce has all of that.  There is a bit of sweetness from the brown sugar (& peanut butter) then a little heat from the siracha, ground ginger and pepper and then some freshness from the lime juice and fresh cilantro.  When all these ingredients come together they make for a perfect sauce (or salad dressing, or dip or marinade)…it really is very versatile.
MJ
16
Serves about 2 Tablespoons
0
Thai Peanut Sauce
A rich & creamy peanut thai sauce that is perfect on your favorite thai salad, chicken or anything...trust me The Hubby drizzles this on EVERYTHING!!
5 minPrep Time
2 hr, 5 Total Time
Ingredients
1/2 cup creamy peanut butter
3 tbsp brown sugar
2 tbsp lime juice
2 tbsp reduced sodium soy sauce
2 garlic cloves, minced
2 tbsp fresh cilantro, chopped
1 tsp siracha
1 tsp ground ginger
1 tsp salt
1 tsp pepper
2 tbsp hot water
1/4 cup chicken stock
Directions
In a medium bowl whisk together all the sauce ingredients until smooth
Pour into an airtight container and place in the refrigerator to let come together for 2-3 hours, or until ready to serve
ENJOY!!
Notes
Each serving (about 2 tbsp) is 3 WW Smart Points
Nutritional Info
Calories 75 Calories from Fat 49 Total Fat 5.4g Saturated Fat 1.1g Cholesterol 0mg Sodium 360mg Potassium 86mg Total Carbohydrates 5.0g Dietary Fiber 0.7g Sugars 3.3g Protein 2.9g Vitamin A 0% - Vitamin C 0% - Calcium 1% - Iron 7% Nutrition Grade C+
7.8.1.2
27
https://sparklesnsprouts.com/2016/04/26/peanut-thai-sauce/
All images are the property of Sparkles n Sprouts, to use image please contact the webmaster at michelle@sparklesnsprouts.com
Since making this sauce I have used it for everything listed above but The Hubby loves it best as a salad dressing or sauce drizzled over grilled chicken or grilled salmon.   Trust me this sauce is so, so good you will be inventing ways to use it…and everyone will love you for it.
Whether or not you are a big fan of thai food or not, this sauce is a must make.  Trust me everyone will be loving it!!
Make everyday sparkle – MJ