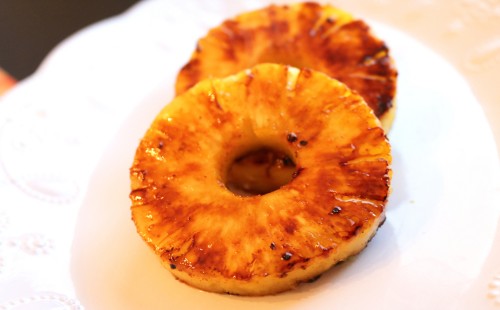 sweet & spicy…oh so good pineapple!
It is no secret that we love to grill here in Texas.  I mean c'mon we kinda live on grilled everything in the spring & summer.  We will grill anything that will sit still on the grill (or not fall through the grates)….fruits such as pineapple.
The obvious favorites are of course, steak (like this steakhouse steak), chicken, pork anything, veggies…but another big favorite is fruit!  Yes, I said fruit.  There is just something so yummy about fruits that have been charred a little…it really brings out the sweetness of the fruit while intensifying the flavor immensely.  
I love grilled peaches for sure but my favorite grilled fruit is pineapple.  It's so funny, I am not a huge fan of the raw version but I LOVE grilled pineapple.  I especially love it grilled when it is a little spicy with a little sweet.  For this grilled pineapple I used some brown sugar (a little extra sweet is always good), chili powder for a little kick, cumin for a little smoky goodness, some pepper and cinnamon for extra kick and yummy…this combo is not only delicious on pineapple but it would also work on grilled meats making this a great spice combo for everything grilled.  
MJ
6 Servings
Sweet & Spicy Grilled Pineapple
A sweet & spicy grilled pineapple making it perfect for your favorite dinner or dessert
5 minPrep Time
10 minCook Time
15 minTotal Time
Ingredients
6 fresh, thick pineapple slices
2 tbsp brown sugar
1 tbsp chili powder
1/2 tsp cumin
1/2 tsp pepper
1/2 tsp cinnamon
Directions
Preheat grill (outdoor or indoor) to medium heat
Pat dry pineapple slices with a paper towel
In a small bowl combine brown sugar, chili powder, cumin, pepper & cinnamon
Sprinkle 1/2 over each pineapple slice and place seasoned side down onto grill
Divide remaining seasoning between slices
Grill for 3-4 minutes per side, or until each side is nicely charred
Remove and serve immediately
**Serve with your favorite chicken or pork for dinner, or with ice cream for a dessert that you won't forget
Notes
Each slice is 3 WW Smart Points
Nutritional Info
Calories 46 Calories from Fat 2 Total Fat 0.3g Trans Fat 0.0g Cholesterol 0mg Sodium 19mg Potassium 33mg Total Carbohydrates 11.8g Dietary Fiber 1.0g Sugars 10.0g Protein 0.2g Vitamin A 7% - Vitamin C 11% - Calcium 1% - Iron 3% Nutrition Grade A
7.8.1.2
29
https://sparklesnsprouts.com/2016/04/21/sweet-spicy-oh-so-good/
All images are the property of Sparkles n Sprouts, to use image please contact the webmaster at michelle@sparklesnsprouts.com
This pineapple would work great with your favorite pork dish, but this is also a great dessert.  I love serving this with a little ice cream and some caramel sauce (like this easy homemade salted caramel sauce)…or pair it with your favorite pound cake, ice cream and strawberry sauce.  Oh the possibilities are endless and making me very hungry!  
Oh wait one more idea, use these grilled pineapple slices as the base for your favorite upside down cake…how good would the grilled fruit be in a cake??  Oh now I can't stop thinking about it…oh no I think I am going to be baking tonight.  
 Whether you use these delicious slices with your main course, or as desert trust me this spicy & sweet grilled pineapple will be a treat everyone will LOVE!! 
Happy (half) Baked Life – MJ