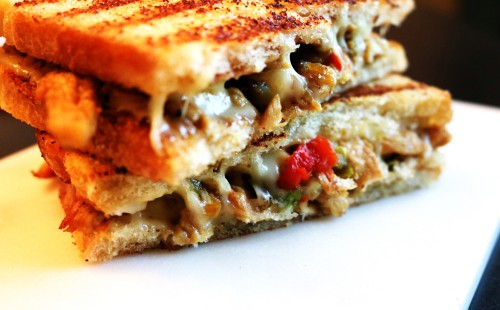 chicken + grilled cheese = perfect sandwich
One of my most very favorite things to eat in the whole world is a sandwich and a grilled cheese is at the top of the list.  OK, I know that sounds a little simple from a "food blogger" but I LOVE a grilled cheese sandwich.  There is something so yummy to my tummy about a crunchy buttered bread with ooey gooey cheese…and when you add other yummy stuff to that combo it only gets better.
Last week I made one of the most delicious grilled cheese sandwich I have ever had and it was all by accident…I just love it when that happens.  
So it all started with some thawed chicken breasts.  Have you ever thawed a couple of chicken breasts and then realized that you just couldn't eat another baked (or grilled) chicken breast?  Well I had reached that point so it was time to shake it up a bit.
I started looking in the fridge to see what I had on hand to amp up my boring chicken and I came up with bell peppers, onions & cheese.  Well that was quite the combo and then it hit me…philly cheesesteaks!!  Well, chicken philly cheesesteaks…only I didn't have any rolls…but I had bread so grilled cheese it was!
MJ
4 servings
Philly Chicken Grilled Cheese
A grilled cheese stuffed with all the best from a chicken philly cheese steak including seasoned chicken, bell peppers, onions & cheese.
5 minPrep Time
20 minCook Time
30 minTotal Time
Ingredients
1 lb boneless, skinless chicken breast, cut into 1 inch pieces
1 tsp salt
1 tsp pepper
1 tsp garlic powder
1 tsp onion powder
2 tsp extra virgin olive oil
1 cup chopped bell peppers
1 cup chopped onion
2 tsp worcestershire sauce
1 tsp brown sugar
4 slices sourdough bread
4 tsp light margarine
1 tsp garlic powder
4 slices american cheese
Directions
Season cut chicken with salt, pepper, garlic powder & onion powder, tossing to make sure all the pieces are coated
In a large skillet heat olive oil over medium heat
Add in chicken and cook for 4-5 minutes, tossing once or twice
Add in peppers, onions, worcestershire sauce & brown sugar, tossing to coat everything
Cook until veggies are soft & browned and liquid is absorbed, about 8-10 minutes
Taste and adjust seasoning as needed
Once cooked remove from heat
Heat a grill pan, griddle or large skillet over medium heat
Butter bread on both sides and then sprinkle with garlic powder
Place 4 slices of bread onto heated pan, cooking until lightly browned and then flip
Place 1 piece of cheese on two of the pieces of bread
Spoon chicken mixture onto cheese, dividing it evenly between both slices
Place another slice of cheese over chicken and then top with remaining bread slices
Cook until bread is browned and cheese is melted
Remove both sandwiches to a cutting board and lest rest for 3-4 minutes
Cut each sandwich in half and serve
ENJOY!!
Notes
Each 1/2 sandwich is 11 WW Smart Points
Nutritional Info
Calories 434 Calories from Fat 146 Total Fat 16.2g Saturated Fat 4.3g Trans Fat 0.0g Cholesterol 114mg Sodium 1261mg Potassium 511mg Total Carbohydrates 26.9g Dietary Fiber 2.2g Sugars 6.3g Protein 45.0g Vitamin A 21% - Vitamin C 53% - Calcium 17% - Iron 17% Nutrition Grade B+
7.8.1.2
33
https://sparklesnsprouts.com/2016/04/14/chicken-grilled-cheese-sandwich-is-so-good/
All images are the property of Sparkles n Sprouts, to use image please contact the webmaster at michelle@sparklesnsprouts.com
I have to tell you this was one of the best grilled cheese I have ever had.  It was super crunchy from toasting both sides of the bread and then it was filled with a delicious chicken mixture that was a little sweet and a little savory making for a perfect bite each time, and don't even get me started on the cheese…oh the cheese…it was so, so cheesy and perfect!  I used American cheese but provolone would be great as well.
 If you wanted to use beef you could, like I said I had chicken on hand…either are so, so good!
Make everyday sparkle – MJ