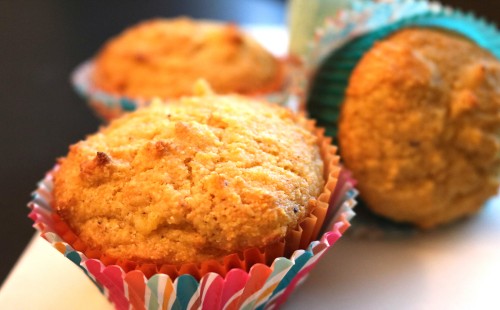 cornbread that is super cute and sweet
Cornbread is one of those things that I have 1000 recipes for (kinda like brownies) but I just can't get enough of them.  Each one is just a little different, making each one super special in its own right.  
Over time I have tried so many recipes, some with buttermilk, some without, some with cheese, some without but our favorites is always the ones with honey…we love us some sweet cornbread.  We have also determined that we love cornbreads made like muffins…I mean it is just cute to have little cornbread muffins on the table, but this recipe would work great baked in a skillet or in a pan.
For this  latest cornbread adventure I paired one of our favorite buttermilk cornbread recipes with honey (did I mention I love honey)…and it turned out so, so good.  The muffins were light, but still crumbly, and with the perfect hint of sweet in each bite making these the perfect muffins.
MJ
16 muffins
Honey Cornbread Muffins
Slightly sweet cornbread muffins that have a perfect balance of sweet & spice making each bite a perfect bite
15 minPrep Time
13 minCook Time
30 minTotal Time
Ingredients
2 cups cornmeal, divided
1 cup flour
1 1/2 tsp baking powder
1 tsp baking soda
2 tsp salt
1 tsp pepper
1 tsp garlic powder
1 tsp chili powder
1 cup fat free half & half (or regular)
1/4 cup low fat buttermilk (or use more half & half or milk of your choice)
1 cup reduced fat sour cream
1/2 cup butter, melted
1/2 cup sugar
1/4 cup honey
2 eggs
Directions
Preheat oven to 425
Line muffin tins with 16 liners, or spray heavily with nonstick spray
In a large bowl whisk together 1 1/2 cups cornmeal, flour, baking powder, baking soda, salt, pepper, garlic powder and chili powder
In a separate large microwave safe bowl stir together half & half, buttermilk and remaining 1/2 cup cornmeal
Microwave for 3-4, minutes, stirring after every 30 seconds, until mixture is thick when stirred
To the half & half mixture whisk in sour cream, melted butter, sugar & honey
Whisk in eggs, until just combined
Slowly add in flour, whisking until just combined
Using a large cookie scoop divide batter into 16 muffins
Bake for 13-15 minutes or until tops are just set
Remove from oven & let cool for 3-5 minutes in pan before serving
ENJOY!!
Notes
Each muffin is 9 WW Smart Points
Nutritional Info
Calories 216 Calories from Fat 79 Total Fat 8.8g Saturated Fat 5.0g Cholesterol 42mg Sodium 469mg Potassium 143mg Total Carbohydrates 31.2g Dietary Fiber 1.4g Sugars 12.0g Protein 3.4g Vitamin A 7% - Vitamin C 1% - Calcium 5% - Iron 6% Nutrition Grade D
7.8.1.2
34
https://sparklesnsprouts.com/2016/04/12/cornbread-cute-sweet/
All images are the property of Sparkles n Sprouts, to use image please contact the webmaster at michelle@sparklesnsprouts.com
If it was up to The Hubby he would have cornbread at every meal and this cornbread is one of his most favorites…he liked it so much I had to make a second batch because the first went so fast…and really you can serve them with anything which makes them perfect for any meal, anytime.
 Bring some sweet to the table with all the yummy of and cuteness of a cornbread muffin.
Make everyday sparkle- MJ