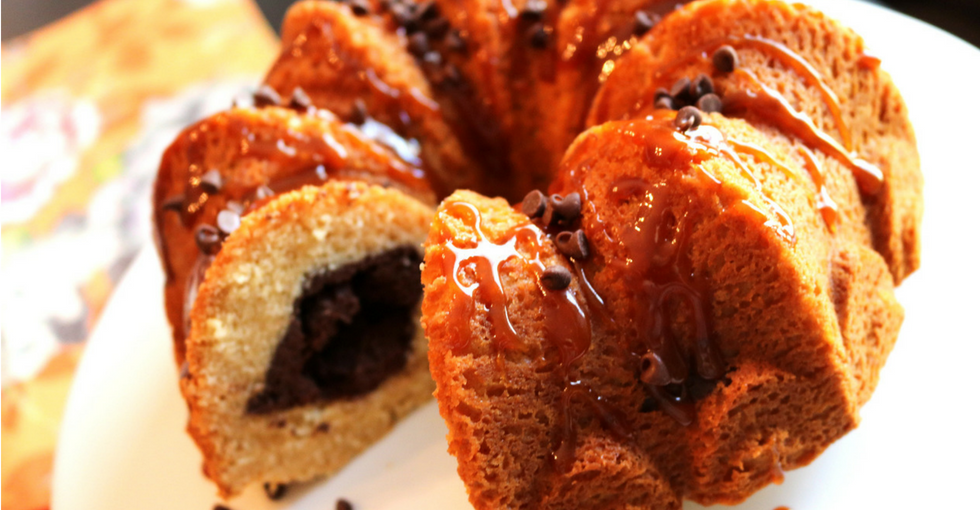 Vanilla & Fudge Bundt Cake
It is no secret that I love me some bundt cake. Not only do I love it but I also make it a lot. I have made a chocolate version, a salted caramel version, a butter version, even a flan version (among a few others) but none of them are as special as this vanilla & fudge bundt cake.
I remember seeing this cake one time at a church pot luck many, many years ago but honestly had not thought about it until just recently. We were having a little family dinner and I wanted to make something special that I had not made before so I went searching and then I found this recipe (or one kinda like it) in an old church cookbook from a small town in Arkansas…I just love these old church cookbooks. Do you have a favorite old cookbook? Sorry…back to the recipe…It was called a tunnel bundt cake, and just the name alone intrigued me.
How could you put a tunnel in a bundt cake? What was the tunnel made of? Could I really make it work? Would it be good?
After looking at several recipes I came up with one that I think takes the cake for sure… ha ha I just love that saying!!
MJ
12 slices
Vanilla & Fudge Bundt Cake
Nothing like a little fudge surprise in your favorite bundt cake...trust me this a perfect treat for all your friends & family
20 minPrep Time
50 minCook Time
1 hr, 30 Total Time
Ingredients
Bundt Cake:
1 cup butter, room temperature
3/4 cup sugar
1/4 cup brown sugar
2 eggs
1 tbsp vanilla
2 tsp baking powder
1 tsp salt
1/2 cup fat free half & half
1 1/2 cups flour
Filling:
6 oz reduced fat cream cheese
6 oz semi sweet chocolate, melted & cooled slightly
1 egg
1 tsp vanilla
Directions
Preheat oven to 325
Spray a bundt pan with nonstick spray, set aside
For the cake:
In the bowl of a stand mixer cream together butter & sugars together until light and fluffy, about 3-4 minutes, scraping the sides as necessary
Add in eggs and vanilla, mixing until smooth
Add in baking powder & salt until smooth
With mixer on low add in half & half and flour in alternating amounts, mixing until just combined
Set bowl aside if you have another bowl for your mixer or transfer cake batter to a medium bowl and clean the mixer bowl so you can make the filling
Making the filling:
In a clean bowl beat cream cheese until smooth
Add in chocolate, egg & vanilla, mixing until smooth
Layering the cake:
Place 1/2 of the cake batter into the bottom of the bundt pan
Using a spoon carefully add in chocolate filling in the middle of the bundt pan, making sure to not let the chocolate touch the sides of the pan
Spoon remaining cake batter over the chocolate, making sure to cover it completely
Place cake into oven and bake for 50-55 minutes or until cake is set
Remove from oven and let cool for 15 minutes in the pan and then remove to a wire rack to cool completely before cutting
Serve with salted caramel sauce, whipped cream or ice cream (maybe even all 3)
ENJOY!
Notes
Each slice is 12 WW Smart Points:
Nutritional Info
Calories 280 Calories from Fat 162 Total Fat 18.0g Saturated Fat 11.1g Trans Fat 0.0g Cholesterol 70mg Sodium 311mg Potassium 95mg Total Carbohydrates 29.4g Dietary Fiber 0.9g Sugars 10.8g Protein 3.4g Vitamin A 11% - Vitamin C 0% - Calcium 6% - Iron 4% Nutrition Grade F
7.8.1.2
38
https://sparklesnsprouts.com/2016/04/06/vanilla-fudge-bundt-cake/
All images are the property of Sparkles n Sprouts, to use image please contact the webmaster at michelle@sparklesnsprouts.com
The cake is dense like a good bundt cake should be and the center is a rich chocolate & cream cheese tunnel of love that makes this a truly memorable cake that everyone will love. To make just a little more special (& yummy) I drizzled some of my homemade salted caramel sauce and then sprinkled some mini chocolate chips over the top…who doesn't love a little drizzle & sprinkle?
Take a favorite dessert to the next level with a delicious tunnel of chocolate running through a delicious vanilla bundt cake. Everyone will love it for sure!
Make everyday Sparkle – MJ