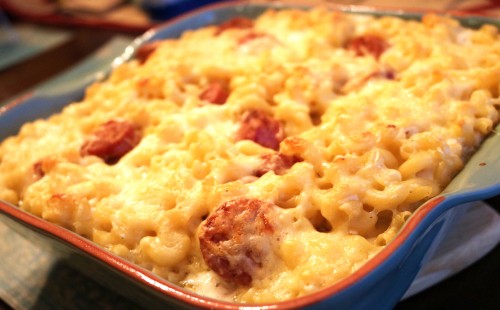 a mac-n-cheese treat for all ages…
Comfort food is always a treat and when we were growing up mac-n-cheese & sausage was a a treat for sure.  Back then my dad was the master of mac-n-cheese.  He would make it on the stovetop with noodles, velveeta and cheese and we thought this was the best mac-n-cheese EVER.  We loved how creamy it was and how cheesy it was…even better my dad would grill up some link sausage and it was a perfect dinner.  
As I have grown up my taste have changed some but mac-n-cheese is still a favorite for me…and when paired with sausage it is still a treat.  To make it a little more to my grown-up tastes I decided to use a few different cheeses such as havarti & gruyere (but the velveeta version is still a good one).  You could use almost any combo of cheeses you prefer, but this is definitely a new favorite of mine.  I also went with turkey sausage to lighten it up a bit, but I also love the taste of it…especially once it is browned and it caramelizes some.  I also love that it is all put into a casserole, which is not only perfect for busy families, but it is also just SO GOOD!
MJ
12 servings
Mac-n-Cheese & Sausage Casserole
A rich and creamy mac-n-cheese studded with smoked sausage throughout the casserole
15 minPrep Time
45 minCook Time
1 hrTotal Time
Ingredients
1 lb smoked turkey sausage, cut into bite size pieces
1 lb short pasta (I used macaroni)
2 tbsp butter
3 tbsp flour
2 cups fat free milk
1 cup half & half
2 tsp pepper
1 tsp salt
1 1/2 cups shredded havarti cheese, divided
1 1/2 cups shredded gruyere cheese, divided
1 tbsp grated parmesan cheese
Directions
Preheat oven to 375
Spray a large casserole dish with nonstick spray, set aside
In a large pot cook pasta as directed on package until al dente, drain when cooked reserving 1/2 cup of pasta water
Return pasta to same pot and stir in reserved pasta water
While pasta is cooking brown sausage and make sauce
In a large skillet brown sausage over medium-high heat
Once sausage is browned place onto a paper towel lined plate to let cool a little, reserving 1 tbsp of grease in the skillet
In the same skillet melt butter with the grease over medium heat
Whisk in flour, stirring constantly for 3-4 minutes, allowing roux to form and flour taste to cook out
Slowly whisk in milk, eliminating lumps as you stir
Add in half & half, again whisking to ensure no lumps form
Stir in salt & pepper
Bring to a boil and then reduce heat to a simmer and let cook until thickened nicely (about 5-6 minutes)
Remove from heat and stir in cheeses (reserving 1/4 cup of each shredded cheese) stirring until melted and well incorporated
Pour cheese sauce over cooked pasta and stir until well sauce is distributed evenly
Stir in browned sausage
Pour into prepared pan and top with reserved cheese
Bake for 25-30 minutes or until top is nicely browned and cheese is bubbly
Let sit for 5 minutes before serving
ENJOY!!
Notes
Each serving is 10 WW+ points:
Nutritional Info
Calories 376 Calories from Fat 153 Total Fat 17.0g Saturated Fat 9.0g Cholesterol 60mg Sodium 760mg Potassium 107mg Total Carbohydrates 36.2g Dietary Fiber 1.5g Sugars 4.5g Protein 19.2g Vitamin A 9% - Vitamin C 2% - Calcium 30% - Iron 11% Nutrition Grade C
7.8.1.2
39
https://sparklesnsprouts.com/2016/04/05/mac-n-cheese-for-all-ages/
All images are the property of Sparkles n Sprouts, to use image please contact the webmaster at michelle@sparklesnsprouts.com
The first time I fixed this combo for The Hubby he was a little unsure about it.  He did now grow having it like I did and really didn't understand my love for it…but once I put it in a casserole he LOVED it.  He is quite the sucker for a casserole.  It is rich, creamy and oh so cheesy with bites of sausage making for a perfect meal that everyone (of all ages) is sure to love.
 Take mac-n-cheese to the next level…giving the family a treat for sure.
Make everyday Sparkle – MJ