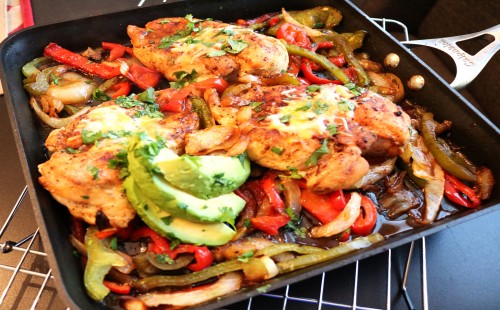 quick, skinny and oh so good fajitas
I have a confession (one I have made several times before, but it probably needs to be made again) I LOVE MEXICAN FOOD! I am not overly picky…I love tacos, burritos, enchiladas but I especially love fajitas!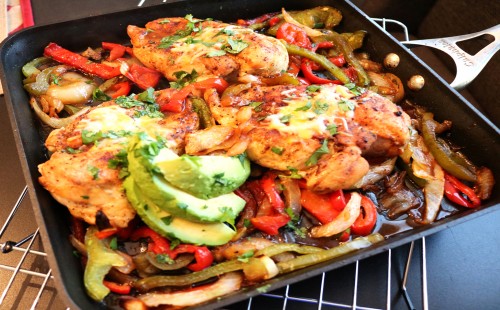 I love that you get all the yummies that Mexican food has to offer but without a lot of the calories and fat of some other options (such as tacos, burritos or enchiladas). You can have fajitas made with beef, shrimp, chicken or just veggies…all of which are good but when I decided to do a quick one pan fajita skillet at home I knew I wanted to use chicken as it cooks quick and it is lean.
As much as I love mexican food I also love one pan meals that make preparing and cleaning-up super simple while still being super delicious. For this one pan dinner it all started with chicken and seasoning it just right, then adding in the veggies, not only letting them get all nice and tender but also helping give flavor to the chicken all at the same time. If you want to add other veggies, you definitely could add in some mushrooms, broccoli or jalapeños … any would be delicious roasted with the chicken and other veggies.
MJ
4 servings
Skinny Fajita Skillet
A one pan dinner that brings all the best of your favorite fajitas to your dinner table in no time and with no guilt
5 minPrep Time
30 minCook Time
35 minTotal Time
Ingredients
1 tbsp extra virgin olive oil
2 lbs boneless, skinless chicken breast (cut into equal pieces
1 tbsp chili powder
1 tbsp ancho chili seasoning blend (or any all purpose seasoning blend you prefer)
2 tsp salt
1 tsp pepper
2 bell peppers (I used green & red), sliced into thin strips
1 onion, sliced
2 tsp chili powder
1 tsp salt
1 lime, juiced
1 tbsp reduced fat mexican blend cheese
---Additional Toppings
Avocado
Fresh cilantro
Sour cream
Salsa
Directions
Preheat oven to 375
In a large oven safe grill pan, or skillet, heat olive oil over medium high heat
Trim chicken of any visible fat as needed
In a small bowl combine chili powder, ancho chili blend, salt & pepper
Season one side of chicken and place seasoned side chicken into heated skillet & season 2nd side of chicken
Cook for 3-4 minutes or until chicken is browned
Flip chicken
Add sliced peppers & onion to the skillet with the chicken arranging it around the chicken evenly
Season veggies with 2 tsp chili powder & 1 tsp salt
Place skillet into oven & cook for 20 minutes, flipping veggies once
Remove and squeeze lime juice over chicken and top with cheese
Place back into oven for an additional 5 minutes or until cheese is melted
Top with any additional toppings you prefer
Serve & ENJOY!!
Notes
Each serving (1 chicken breast & 1/4 of the veggies) is 5 WW Smart Points
Nutritional Info
Calories 289 Calories from Fat 55 Total Fat 6.1g Saturated Fat 1.4g Trans Fat 0.0g Cholesterol 132mg Sodium 1266mg Potassium 1079mg Total Carbohydrates 7.5g Dietary Fiber 2.6g Sugars 3.8g Protein 49.8g Vitamin A 48% - Vitamin C 136% - Calcium 6% - Iron 8% Nutrition Grade B+
7.8.1.2
40
https://sparklesnsprouts.com/2016/04/04/quick-skinny-fajitas/
All images are the property of Sparkles n Sprouts, to use image please contact the webmaster at michelle@sparklesnsprouts.com
When The Hubby and I had this simple skillet we ate it with a side of this simple mexican rice and some black beans but it is great on its own or over some greens for a delicious fajita salad.
This quick one pan dinner is perfect for a busy weeknight without a lot of guilt but with tons of flavor!
Make everyday Sparkle – MJ