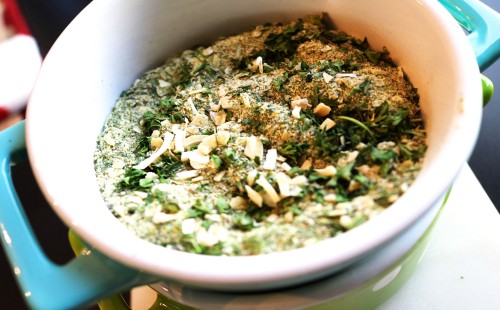 no more ranch packets needed
What is your favorite salad dressing?  Are you Italian all the way? Are you a thousand island fan?  Maybe blue cheese?  Even better are you a fan of the great Caesar?  For me…I am a fan of all listed but my favorite go to is the good ole standby…ranch.  There is just something so comforting about this good ole standby especially when its all homemade!!
Not only do I like it for ranch dressing but I am also a fan of it for dips, as a seasoning…really in any way possible.  I have been known to use it on chicken or pork chops to add some herby goodness and also on some veggies to add some great flavor without any added fat or calories.  Even better with this homemade version you know exactly whats in the mix  so you don't have to worry about extra sodium or strange things you can't pronounce.
I tried several combos of dried herbs and seasonings before I finally settled on this combo.  I had never used dried dill in anything before this seasoning mix and I have to say I have become quite the fan.  It has a slight spicy quality that really helps bring all the flavors together with a great balance…I will definitely be finding other uses for this great dried herb.  
MJ
12 servings
Homemade Ranch Seasoning
Homemade ranch dressing seasoning that is better than any package you can buy and you probably have everything you need in your spice rack
5 minPrep Time
5 minTotal Time
Ingredients
4 tbsp dried parsley
2 tsp dried dill
5 tsp garlic powder
4 tsp onion powder
4 tsp dried onion flakes
2 tsp dried chives
2 tsp black pepper
2 tsp salt
Directions
Combine all ingredients
Store in an airtight container in the refrigerator for up to 2 months
**For a smoother consistency pulse all ingredients in a food processor until desired consistency is reached
--3 tablespoons of this mix equals one packet of the store bough variety
---To make ranch dressing---
Combine 1 tbsp seasoning with 1/3 cup mayo (or greek yogurt) and 1/3 cup milk, whisking until well combined
---To make ranch dip---
Combine 3 tbsp seasoning with 16 oz container sour cream (regular or reduced fat) stirring until well combined, store in airtight container for at least 1 hour before serving
Notes
Each serving (1 tbsp) is 0 WW Smart Points
Nutritional Info
Calories 10 Calories from Fat 0.0g Total Fat 0.1g Cholesterol 0mg Sodium 390mg Potassium 47mg Total Carbohydrates 2.4g Sugars 0.8g Protein 0.5g Vitamin A 3% - Vitamin C 5% - Calcium 1% - Iron 2% Nutrition Grade A
7.8.1.2
41
https://sparklesnsprouts.com/2016/04/01/no-more-ranch-packets-needed/
All images are the property of Sparkles n Sprouts, to use image please contact the webmaster at michelle@sparklesnsprouts.com
Don't worry though…if you don't have all the herbs on hand, or don't want to invest in all of them I completely understand.  Use what you have, adding in and leaving out what you need, make adjustments as needed…just try to keep the total volume the same.
No more packets ever needed for a favorite seasoning combo…you can make it at home and have it on hand for all your favorite dressings, dips and things that need to be seasoned.
Happy (half) Baked Life – MJ