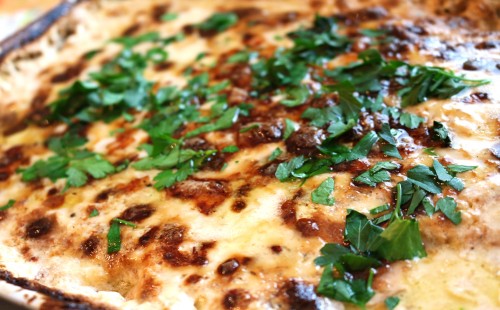 an au gratin star is born…
The life of a food blogger is not as glamorous as some might imagine, my poor Hubby rarely gets a repeat meal (even his favorites), sometimes a recipe has to be made several times before it is right, and sometimes we even celebrate a Holiday early so I can get all the recipes ready to post… but having these au gratin potatoes several times is well worth it.
This year we celebrated Easter a week early and had my brother, sis-in-law, their precious kids, sis-in-laws mom and my parents.  It was a great day filled with lots of great food, but the star of the dinner (besides the ham, carrots, green bean casserole & the desserts) were these amazing Gruyere AuGratin Potatoes.   They are so rich, creamy and cheesy they really were the perfect side and quickly became the favorite dish on the table…and so they should be.
MJ
16 servings
Gruyere Au Gratin Potatoes
Super rich & creamy au gratin potatoes that are topped with a delicious crust of browned gruyere cheese making these the BEST AuGratin potatoes EVER!
15 minPrep Time
1 hr, 30 Cook Time
2 hrTotal Time
Ingredients
5 lbs russet potato's (washed and dried)
3 cups heavy cream
3 cups fat free half & half (or use regular half & half or more cream)
2 tsp salt
1 tsp pepper
1/4 tsp nutmeg
1 tsp chili powder
4 garlic cloves, minced
2 cups fancy shredded Italian blend cheese, divided
1 cup gruyere cheese, shredded
Fresh chopped parsley for topping
Directions
Preheat oven to 400
Spray a large casserole dish with nonstick spray, set aside
Either using a mandolin or the slicing blade in your food processor, thinly slice the potatoes with the skin on
In a large bowl whisk together heavy cream, half & half, salt, pepper, nutmeg, chili powder & garlic until well combined
Spoon 1/4 of the cream mixture in the bottom of the casserole dish
Layer 1/3 of the potatoes over the the cream mixture
Sprinkle 1/3 of the italian cheese over potatoes, repeat layering process of cream, potatoes and cheese until the last of the cream is used
Cover casserole dish with foil and bake for 45 minutes
Remove foil and sprinkle with gruyere cheese and bake uncovered for an additional 30-40 minutes or until potatoes are tender and cheese is browned and sauce is bubbly
Remove from oven and let rest for 10-15 minutes before serving to allow sauce to thicken
Sprinkle with chopped parsley just before serving
Notes
Each serving is 10 WW Smart Points
Nutritional Info
Calories 283 Calories from Fat 122 Total Fat 13.6g Saturated Fat 8.2g Trans Fat 0.0g Cholesterol 46mg Sodium 517mg Potassium 642mg Total Carbohydrates 31.0g Dietary Fiber 2.0g Sugars 4.0g Protein 9.0g Vitamin A 11% - Vitamin C 1% - Calcium 19% - Iron 1% Nutrition Grade D+
7.8.1.2
48
https://sparklesnsprouts.com/2016/03/25/au-gratin-potatoes-cheese/
All images are the property of Sparkles n Sprouts, to use image please contact the webmaster at michelle@sparklesnsprouts.com
The beauty of this dish is that you can make it ahead of time.  I sliced the potatoes, in the food processor, and then mixed up the super rich creme mixture and layered everything in the casserole dish, covered it and stored it in the refrigerator overnight (which always makes it super nice for those busy Holidays).  It does take a little bit of time and effort to put this casserole together, so making it the day before made the actual day of the dinner a lot easier (& a lot less messy).
These potatoes are hands down our favorite au gratin potatoes and will be on many a Holiday table to come (& maybe a few dinner tables here and there).
 Make your Easter table (or any special dinner) something to truly remember with these AMAZING Gruyere AuGratin Potatoes!!
Make everyday Sparkle – MJ
PS…On a side note I know gruyere may seem a little extravagant but it is totally worth it…trust me this is something to splurge on!!