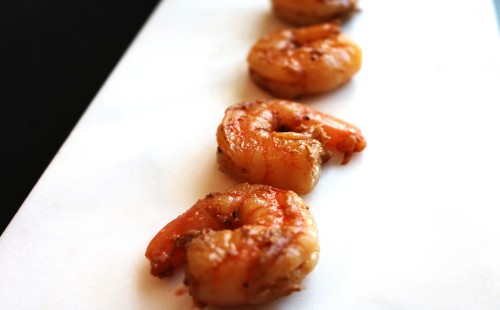 kicky shrimp on the grill
I love shrimp!  There I admit it…I L.O.V.E those cute little things!  Since I was a little kid I have always been a fan.  One of my earliest memories involves this favorite treat.  There was a restaurant in Houston that I loved, JoJo's.  It was a family type of place that we ate at quite often and I would always get their fried shrimp.  To my 6 year old self this was without a doubt the BEST dinner ever…I didn't care that they were frozen, rubbery or over cooked (really over fried, but I don't think that is a legitimate cooking term)…none of that mattered to me … I loved my JoJo's fried shrimp.  
My mom and MeeMaw tell the story that everytime we would pass the restaurant on the freeway that I would yell "JoJo Shrimp" over and over again,  now I don't remember that exactly, but I do remember the shrimp (and the huge aquarium in the middle of the dining room)…anyway not important.  
As I have got a little older (just go with me on the little part) my love for the cute little things has only grown.  Not only do I still love a good fried version, my love has grown to broiled, roasted and of course grilled….and this grilled version is a perfect balance of heat with a  little sweet making it perfection.
MJ
4 servings
Chili Grilled Shrimp
Grilled shrimp with just a little bit of heat in each bite making them a perfect addition to dinner tonight
5 minPrep Time
7 minCook Time
15 minTotal Time
Ingredients
1 lb raw shrimp, peeled & deveined (16-18 count)
1 tbsp chili powder
2 tsp cumin
1 tsp garlic powder
1 tsp salt
1 tsp pepper
1 tbsp extra virgin olive oil
Directions
Place shrimp in a large flat surface (I used a rimmed baking sheet lined with parchment paper)
In a small bowl combine chili powder, cumin, garlic powder, salt & pepper
Sprinkle over shrimp and toss to coat completely
Heat grill pan (or outside grill with a grill plate over the the grates, or thick aluminum foil)
Drizzle olive oil over pan
Lay shrimp in a single layer on grill pan, cooking for 3-4 minutes, or until tails begin to curl
Flip and continue cooking until they are cooked through (about 2-3 additional minutes)
Remove & serve
ENJOY!
Notes
Each serving (4-5 shrimp) is 3 WW Smart Points: Nutritional Info Calories 178 Calories from Fat 54 Total Fat 6.0g Saturated Fat 1.2g Cholesterol 239mg Sodium 879mg Potassium 261mg Total Carbohydrates 4.1g Dietary Fiber 1.0g Protein 26.4g Vitamin A 18% - Vitamin C 3% - Calcium 12% - Iron 8% Nutrition Grade B+
7.8.1.2
72
https://sparklesnsprouts.com/2016/03/08/shrimp-chili-grill/
All images are the property of Sparkles n Sprouts, to use image please contact the webmaster at michelle@sparklesnsprouts.com
We served this shrimp with our new favorite risotto to make it a light and pretty healthy dinner, but it would great with pasta dressed in a lemon butter sauce or with some cheese grits (ok now I am craving shrimp & grits).
If it is not outside grilling time in your part of the world you can definitely grill these inside on your favorite grill pan or even sear them in a hot skillet.
 Bring a little kick to dinner tonight!
Happy (half) Baked Life – MJ