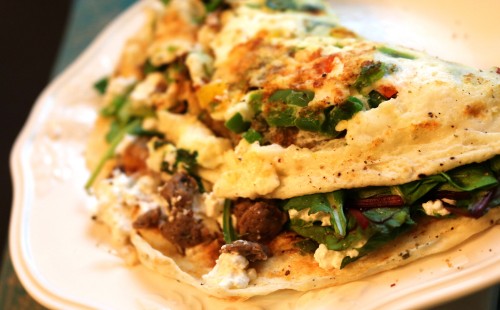 a loaded omelette to make your morning great
I am so proud of The Hubby.  He has been getting up at 5:00 AM three times a week to go to cross fit.  Yes you read that right…he is doing CROSS FIT!  Whats even more crazy is that he is loving it!  
As part of The Hubby's new morning routine he has been trying out some great breakfast options and this egg white omelette has become a favorite for him and me.  It started out with just a little cheese and some turkey bacon and has turned into something that is not only delicious but is healthy, filling and so pretty.  Yes I said pretty…it really is.  
Over the last month or so The Hubby has perfected his omelette and so now I get to show you his hard work.  To give it a ton of flavor he starts with chopped bell peppers, we buy the pre-chopped peppers from the grocery store to make it a little easier.  He adds those to the skillet first and lets them cook until they just been to soften and then adds in the egg whites and spices.  That alone would be good but then he adds in some crumbled turkey sausage, greens and the surprise a little goat cheese.
MJ & The Hubby
1 omelette
Loaded Egg White Omelette
A protein packed omelette that is loaded with tons of yummy without guilt...this truly is a perfect way to start or even end your day
5 minPrep Time
10 minCook Time
15 minTotal Time
Ingredients
1/2 cup chopped bell peppers
1 cup egg whites
1 tsp salt
1 tsp pepper
1/2 cup Jimmy Dean Heat n Serve Turkey Sausage Crumbles, heated briefly in the microwave )or 2 heated sausage turkey patties cut into small pieces) or turkey bacon
1 tbsp goat cheese crumbles
1 cup power greens (or spinach)
Directions
Spray a small skillet with nonstick spray
Add in bell peppers and cook over medium high heat for 3-4 minutes, or until they just begin to soften
Reduce heat to medium heat
Pour egg whites into skillet over bell peppers
Sprinkle salt & pepper over egg whites
Let cook for 4-5 minutes, or until edges are cooked and middle is starting to set
Gently flip omelette over, using a spatula as needed
Top omelette with sausage, goat cheese & greens (& any other raw or cooked veggies you prefer - I love to use leftover roasted veggies from dinner the night before, I do heat them up briefly in the microwave before adding to the omelette)
Cook for an additional 1-2 minutes
For a more traditional omelette, fold half of the omelette over the other half, or serve open faced
Remove from pan and serve immediately
ENJOY!!
**If you pack it with enough veggies you could easily share this with someone making it even lower in fat & calories
Notes
Each omelette is 5 WW Smart Points: Nutritional Info Calories 265 Calories from Fat 64 Total Fat 7.2g Saturated Fat 2.8g Trans Fat 0.0g Cholesterol 40mg Sodium 3161mg Potassium 643mg Total Carbohydrates 8.2g Dietary Fiber 2.4g Sugars 4.7g Protein 40.6g Vitamin A 67% - Vitamin C 124% - Calcium 10% - Iron 16% Nutrition Grade B-
7.8.1.2
75
https://sparklesnsprouts.com/2016/03/07/loaded-omelette/
All images are the property of Sparkles n Sprouts, to use image please contact the webmaster at michelle@sparklesnsprouts.com
Yes there is goat cheese in this omelette…we love the tang and creaminess it adds to the omelette.  We buy goat cheese crumbles in our deli which makes it super easy but really any cheese you prefer would work, such as some shredded cheddar, pepper jack or colby jack.  Just be wanted according to The Hubby goat cheese is the best option (I promised I would say that).
Make your mornings or dinner something to remember with this healthy omelette that everyone is sure to love!
Make everyday sparkle – MJ